NostoNews, Mar 1, 2010
by Tommy Jasmin

Big sales

There have been some big, big sales recently. To quote Mr. Krabs, "these are strange times we're livin' in". It's always fun when high-end items go on the block. The first item I want to mention was right there on the front page of my morning newspaper last Tuesday. Action Comics 1, featuring the first appearance of Superman, sells in CGC VF 8.0 for $1 million. I've been pointing people to our Top 100 comic books list for years, saying if a NM copy of this book was ever discovered, our algorithms predict it would sell for well over a million dollars. Personally, I'm a little skeptical of this sale, being from "anonymous seller to anonymous buyer", and being coincidentally exactly 1 million dollars. We will enter the sale in our database, but it will have lower weighting, or influence, in our pricing algorithms than sales whose validity we are very certain of.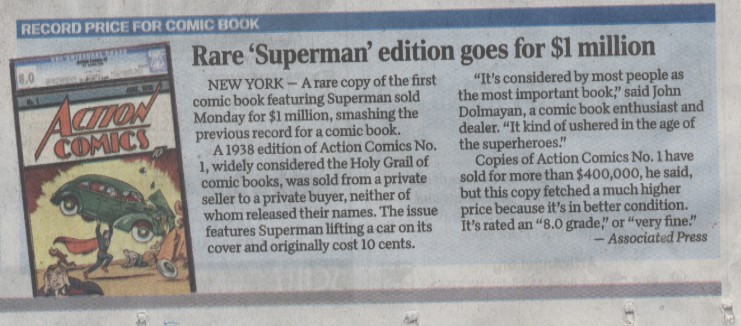 Action Comics 1, CGC VF 8.0


The Action Comics 1 was a record sale for comic books, and it didn't even last a week. Just a few days later, a copy of Detective Comics 27, featuring the first appearance of Batman, sold in the same grade, CGC VF 8.0, for $1,075,500.00. It was an interesting coincidence that the two top comic books in the world sell the same week, in the same grade, for so close in price. Also interesting is that our current NM 9.4 values for these two books differ by only $10,000.00. The Nosto data has been pointing to these two being far and away the top two comic books for years - back in 2006 I called out Detective Comics 27 as a million dollar book.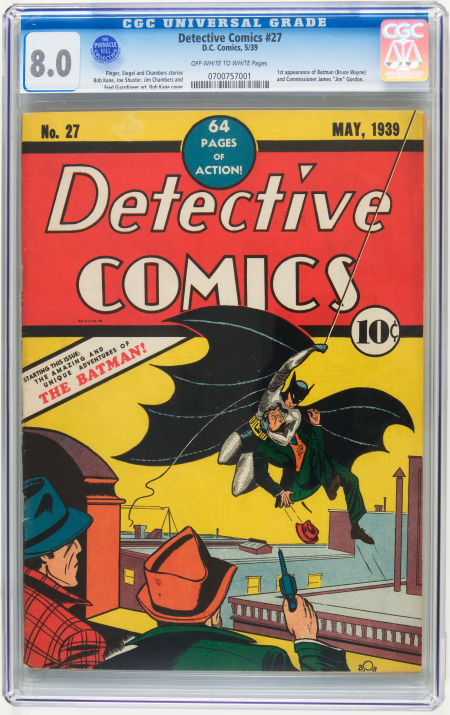 Detective Comics 27, CGC VF 8.0


On the coins side, what more can you ask for than for one of the five existing 1913 Liberty Nickels to go up for auction? The result was the 3rd most ever paid for a U.S. coin at auction. Graded NGC PF-64, this item sold through Heritage Galleries for $3,737,500.00. This coin is currently number 4 on our Top 100 coins list.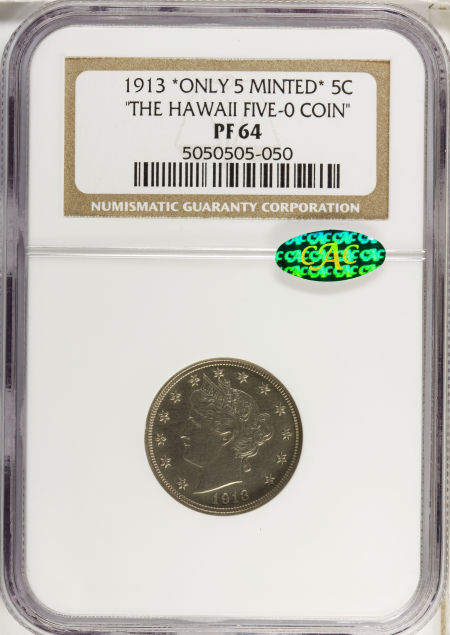 1913 Liberty Nickel, one of five in existence


Another recent sale that for me is also one of those legendary coins, is a copper 1943-S Lincoln cent. As most people know, the 1943 American pennies were wartime coins - they were minted using steel instead of copper to alleviate the copper shortage during World War II. To make life interesting though, a few copper cents snuck out of the San Francisco mint. This particular one is interesting in that, graded at PCGS VF-35, it would appear this coin actually circulated for awhile! It sold for $207,000.00.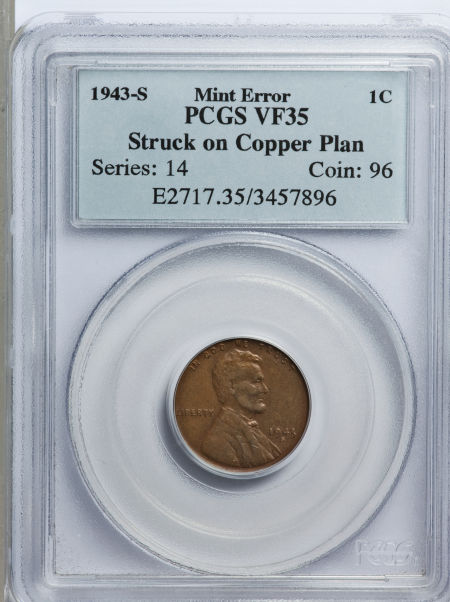 1943-S Lincoln Cent, copper, around 6 in existence
---

Thanks, we'll see you all next month.

Visit our NostoNews Archive.