NostoNews, October 1, 2016
by Tommy Jasmin

New pricing for 4th Quarter 2016, market comments

The just-computed 2016 4th Quarter pricing data is here! Sign in and see how the current market is affecting your collection value. Remember, we compute separate pricing for each grading service, as well as non-professionally graded items. So if you add an item to My Lists as non-graded, your collection value will likely change much less than if that item were graded by CGC, NGC, etc. Below I make a few market observations for each supported category.


---

Comics

We've got monster sales this quarter for early Superman-cover Action Comics. I posted the news about the near-million dollar Action Comics 1 sale to our Twitter feed. This sale pushes the CGC NM 9.4 value for Action Comics 1 to over $7 million on our 100 Most Valuable Comics list. Here, I highlight an uncertified PR 0.5 copy of Action Comics 13. Check out the image below. Beat to hell and no back cover, and it brings $14,340.00 in one of the recent Heritage weekly auctions. Pieces missing, detached cover, taped tears, this thing is a mess. I would expect the early, iconic Superman covers from this title to continue to climb, but this is crazy. Needless to say, this sale set off alarm bells in our pricing code.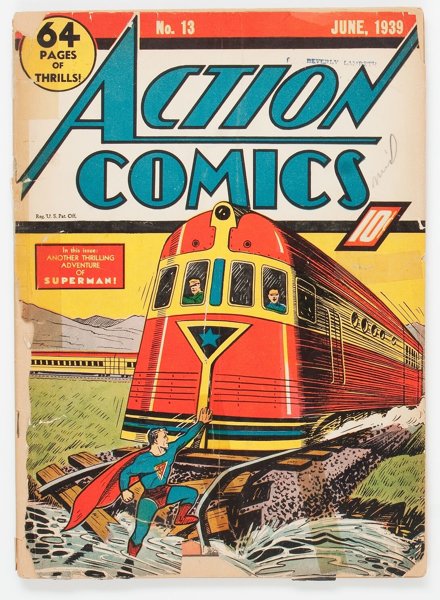 Hey owner, time to haul that CGC 9.2 out?


It's simple supply and demand folks. Right now there is a glut of CGC NM/MT 9.8 Eternal Warrior 5's out there. You see one every week in the Heritage auctions. We can pretty much guess the backstory - some guy was sitting on an unopened case, he cherry picked 50 copies and pre-screened them at 9.8. Not a bad plan, depending on the book, and with the recent Valiant revival I can sympathize with the gamble. But prices have leveled off well below slabbing cost, unfortunately for this person. The copy below could only muster $20.00.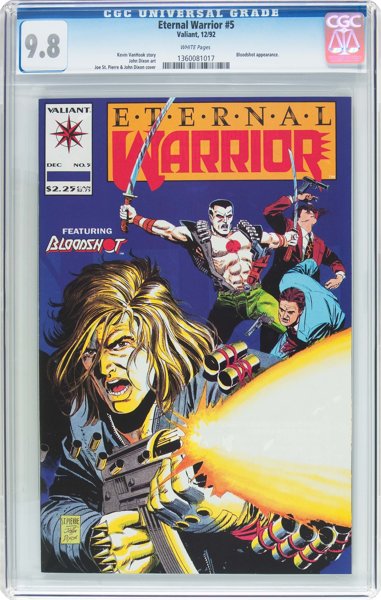 Supply >> Demand


For years me and my buddy Professor Jack have been saying, those Maurice Whitman covers for Fiction House titles are phenomenal and way underrated. Looks like people are finally starting to notice. I remember many years ago trying to put a run of Ghost together, but it was damn hard - they are not easy to find! And starting now they are not cheap. The uncertified FN 6.0 copy of Ghost 6 below just sold for $1,912.00. Damn that hindsight!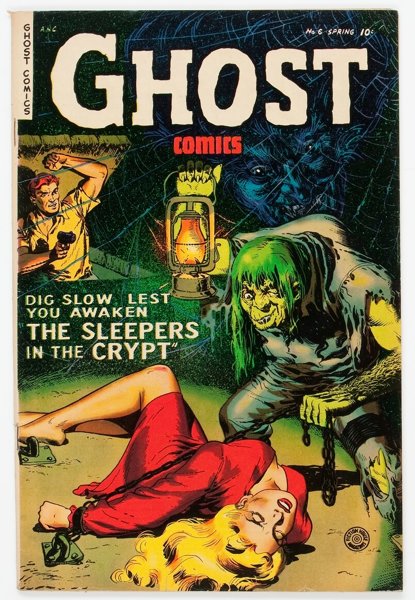 That's Fine. Uncertified.


I was starting to think the market for eclectic and knock-off titles was just too small to sustain any real demand in the Internet age. Once again I appear to be wrong. Witness Sherry The Showgirl. Don't look to Overstreet's FN value of $78.00 for any help on this one. The CGC FN+ copy shown below is, for now, the finest known copy. It sold recently via Heritage for $3,585.00. Yes, I do think that bold font is justified :-)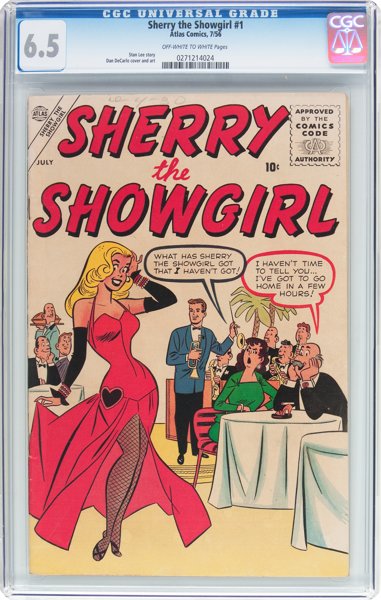 Dan DeCarlo cover/art, Stan Lee story


Here's one I hate to say, but I feel is a little overrated and overpriced. The copy of Marvel Tales 1 shown below, graded CGC NM+ 9.6, sold recently via Heritage for just shy of ten grand, at $9,560.00. It is the finest known copy, and the Heritage catalogers are the best, so it was hyped up well. I personally just don't feel this reprint book warrants five-figure prices. It's a square-bound but doesn't suffer from the spine glue problems the Bronze Age Marvel Giant-Size titles did. It's just not that tough to find in high grade.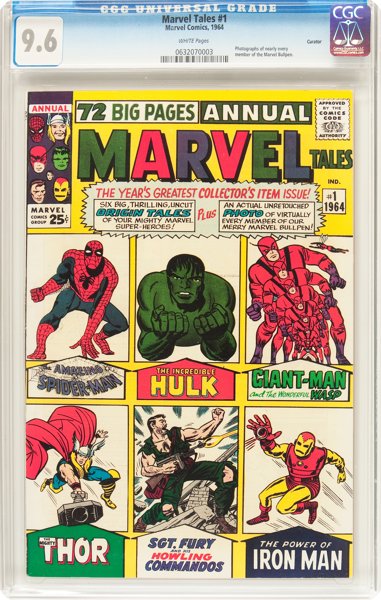 Overrated IMO


A personal fave this quarter has to be the copy of Romantic Marriage 24 below (as opposed to regular marriage). This CGC VF 8.0 copy sold recently via Heritage for a very impressive $2,360.13. What's the deal? Well it's just one of those odd, interesting books. What's the story here, are these two married, or is that his best friend's wife? Buy the book and find out! Scarce last issue in the run.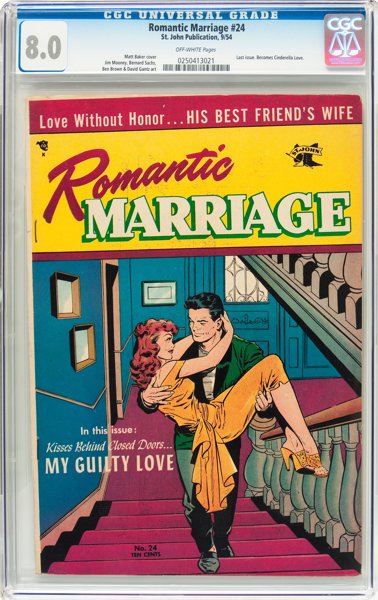 Matt Baker cover doesn't hurt

Other items of note:
Once a dollar-bin book. Origin and 1st appearance of Moon Knight. Below: Werewolf by Night 32, Uncertified VG 4.0, $215.10
Frazetta still kicking everybody's ass. Classic Ghost Rider cover. Below: Tim Holt 17, Uncertified VG 4.0, $478.00
Just plain scarce in high grade, Marvel westerns from this era. Below: Kid Colt Outlaw 103, CGC NM- 9.2, $1,553.50
Iron Fist meets Power Man for the first time, sparks fly years later. Below: Power Man 48, Uncertified NM- 9.2, $69.00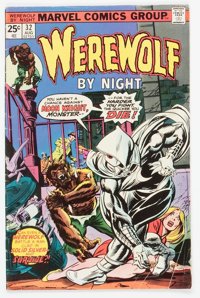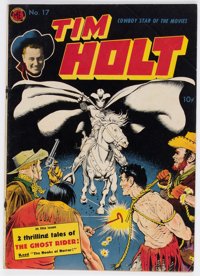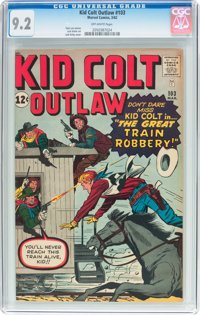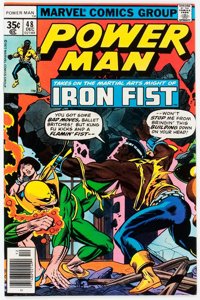 ---

Coins

I think I will just focus on Jefferson Nickels this quarter, so we have a bit of a theme here. I really need to change the format of these reports and expand the coins and magazines coverage and stop favoring comic books in the market reports. So let's just pick out a few sales where I feel the coins performed well. How about the 1963-D Jefferson below, graded PCGS MS-66. This coin sold recently via Heritage for $517.00. I see Heritage now has their own "Value Index" for coins. Interesting because in the past Jim said he didn't want to get into the pricing game, when I always thought they should. Anyway, the good news is their number in this grade is a very conservative $170.00 - $215.00. Interesting, a range. The bothersome part for me is the PCGS value - overestimated this time at $750.00. The overestimating of pricing for their own coins seems to be a troubling pattern I've noticed. I've said many times a grading company should not be in the business of computing pricing data.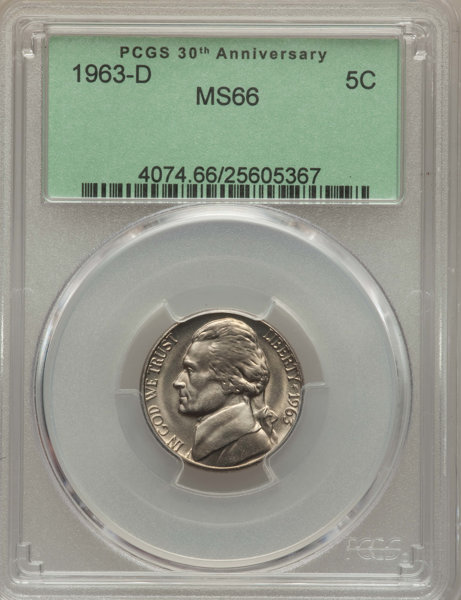 PCGS number seems high here



Next we look at a 1957 Proof Jefferson Nickel. Graded PCGS PR-67 DCAM (Deep Cameo), this coin, shown below, sold recently via Heritage for $3,055.00. Check out that "classic" green PCGS holder! So cool. How long has PCGS been grading coins? I should know but I'm not sure. Again though, the sale price here is somewhat close to the Numismedia value of $3,750.00, and the Heritage Value Index of $3,400.00 - $4,200.00. Once again, the PCGS value is quite high, at $6,500.00. That's actually more than double the sale price. This is one of the reasons I tell coin collectors to use Nostomania - get an additional, unbiased estimate for the value of your collection. I don't care which service is best, I just want to compute accurate pricing for each of the major certification companies.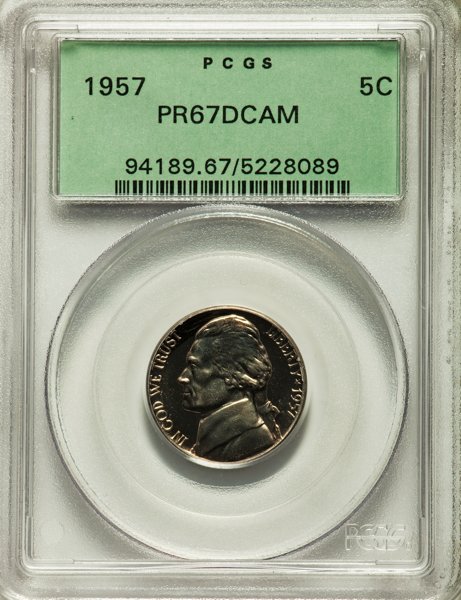 ...and here


One more Jefferson Nickel, this time a 1943-P 3 over 2, Doubled Die Obverse, FS-101, PCGS MS-67 Full Steps. That's a lot of variations rolled into one coin, and it makes for a very expensive item. The sale price, again for a recent auction via Heritage, was $5,522.50. I swear it's getting to the point you need a degree in Numismatics to be able to sanely collect and correctly identify variants these days.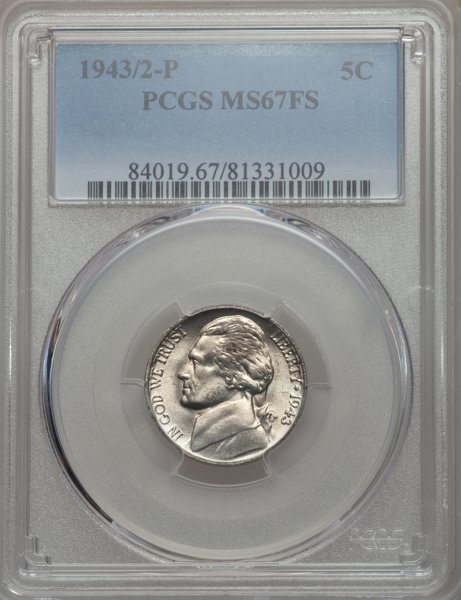 Did they miss anything?
---

Magazines

If you are scratching your heads wondering what is this strange magazine that has, from seemingly out of nowhere, crashed the Nostomania Top 10, relax and I'll explain. Black Laughter 1 is certainly an oddball humor mag. What happened is we registered a sale for an uncertified FN 6.0 copy that, at $239.00, went for many multiples over the only previously known sale, a CGC VF 8.0 copy. This drove the pricing algorithm crazy, and with sparse sales it's hard to say if this is really a thing. I'm pretty sure it's not. With the next sale I'm fairly certain it will drop well out of the Top 10. And what is this cover all about? Is that Mr. Habeas Corpus? And is it supposed to be really funny that he's taking a big digger? Why does the lady seem mad he's falling? Don't lose that cigar, whatever you do. The entertaining part for me is that the cover is so bad.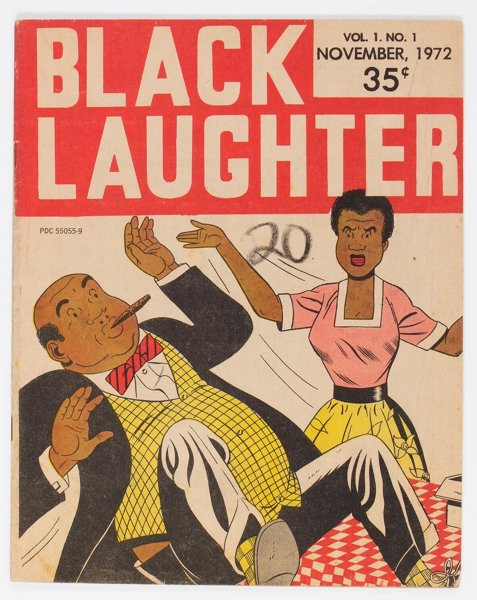 I suspect with a few more sales this will calm back down
---

Thanks, we'll see you all next month.

Visit our NostoNews Archive.