NostoNews, March 1, 2012
by Tommy Jasmin

Caught up on data entry for the 1st time

Ok Premium Subscribers, we heard you. Top request - when will you guys get caught up on new issues? For the first time, I believe, since Nostomania went live in 2001, we are up-to-date on new entries in all 3 supported databases. You won't see this on the production site until next month, when we roll out the new pricing data, but it's a great feeling here. More detail on that, along with some random ramblings, below.

Comics

Nostomania Data Specialist Pauly Nimmer has some choice words for top-tier publishers Marvel and DC, after working long hours to get the Nosto database up-to-date these past few months. Yes, we realize this is old news for collectors, but DC's decision to reset all ongoing titles to number 1? "What the $#@?! was DC thinking?!" said Pauly when he first saw his job for that month. He used to joke about how Internet Explorer would struggle to bring up all the info for Detective Comics when he'd have to modify that title (I told him to try bringing it up in Chrome instead). It was a sad day, Pauly said, when he no longer brought up a title with a start date of 1937, and had to create a new title for Detective Comics (along with 51 other titles that month, just DC). I agree with Pauly - when will Marvel and DC learn? Sacrificing short-term profits for alienating long-term customers is not good business. Stick with writing ongoing, quality titles and have self-respect. Comics can be cool. Yes, even the top-tier characters like Batman, Superman, and Spider-Man can ooze cool if you just let the great writers and artists do their work and not mess with the numbering. Some months, Pauly will whine (rightfully so) that he has to enter over 70 new titles. Detective Comics potentially hitting issue number 1,000? Now that would have been cool.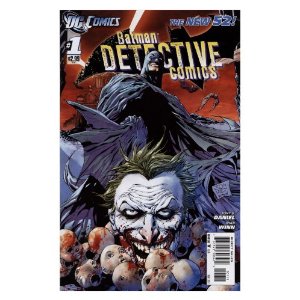 Detective Comics #1, not 1937. A sad day.


Pauly has been equally frustrated by top-gun Marvel Comics for the past several months as well, trying to unravel pointless, ridiculous renumbering schemes. Come on, Marvel! Example: Black Panther: The Man Without Fear #523?! Then... series continues as Black Panther: The Most Dangerous Man Alive #523.1?! "Seriously, last time I checked, normal people counted in whole numbers, not 1, 2, 2.1, 2.7, 3", grumbled Pauly.

Coins

Getting coins caught up has been no walk in the park either. We would like to pass on a note to our friends at Heritage Galleries - it's great you have such knowledgeable staff that you are able to correct mis-id'd VAM and Overton numbers, and correct them! This is a tremendous value to bidders. But please update the PCGS numbers accordingly. Speaking of PCGS, when are you guys going to realize we are generating better PCGS pricing than PCGS is? Wink.

Yes, very interesting times for coin collectors. Gold worth more than platinum. The Obama Administration talking about reworking the alloy for pennies and nickels. We sort-of agree here. You all know how many times I've commented in the past how the metal and manufacturing costs for these coins far exceeds the value. Go back to my coin column from 2006 for an example. At Nosto, we think the U.S. should just do away with the penny completely.

Also cool, IMO, is the fact that fairy tale finds are still happening to good people This recent Yahoo News story is a great example.

Other Stuff

Also cool in recent news is the discovery of the Billy Wright comic collection. And I couldn't be happier that my pal Lon at Heritage got the call on that one. I've been around comics for over 40 years, and I know the good guys from the many not-so-good. Lon is one of the best.

Even in unsupported categories like Movie Posters, we get fired up when finds surface like the Berwick Discovery, being offered by Heritage this March. We had a similar find here in Madison, when the original Orpheum Theatre was bought and renovated. I tried hooking Grey Smith up with owner Henry Doane, but for various reasons it never happened and I have no idea who ended up getting the cache of original posters found in a sealed pit in the theatre.


---

Thanks, we'll see you all next month.

Visit our NostoNews Archive.