NostoNews, June 1, 2015
by Tommy Jasmin

Heritage is the new Gerber Scarcity Index

Hardcore comic collectors from the pre-Internet era have fond memories of the legendary Gerber Comic Book Photo Journals. This massive effort by collector Ernst Gerber did a fantastic job of cataloging nearly every Golden Age comic book, with photos, dates, publisher info, and the Gerber Scarcity Index. The Scarcity Index (SI) is a 1 to 11 (yes, it went up to 11!) rating on how rare each comic book is.

The numbers of significance were basically anything 7 or higher, with Ernst Gerber's estimates as follows:
: Estimated 21-50 copies still exist
: Estimated 11-20 copies still exist
: Estimated 6-10 copies still exist
: Estimated 5 or less copies still exist
: Was known to be printed, but no known copies exist
The numbers were bolstered by those mysterious "empty spaces" in the photo journals, representing those copies where Gerber was unable to find any copy to document and photograph. I have great memories of the occasional time myself or fellow collector Chris Costello would get home, look a comic up, and inform each other "The Fantastic Comics 17 you picked up at ChiCon today? It's a Gerber 7!".

The Gerber journals remain to this day a fantastic reference, but how do we gauge scarcity accurately today? My hope was Nostomania would become this reference. The problem is, while we can (and do) display the Nostomania census for each item, this is simply a count of how many Nostomania members note in their collections they own that item. Anybody can create a fake entry and there's no way for us to validate it. In fact, the Nosto user who claims to have a NM 9.4 Action Comics 1 in their collection is just messing with you. Well, we're pretty sure, wink.

At this point, it turns out probably the best measure of scarcity is how many times that book has been offered for sale by Heritage Galleries. Let's look at a couple recent sales for examples.

As touted in my last market report, a Jumbo Comics 6 in FR/GD 1.5 (yes, one-point-five) recently sold via Heritage for $3,585.00. Pretty crazy, right? Heritage notes the only other copies they have ever seen are the Mile High copy, and a VG 4.0 copy they handled in 2008, acknowledging Gerber was probably correct in assigning this book an SI 9. Incidentally, Overstreet values this book at $550.00 in GD 2.0. Nostomania has automatically integrated this sale into its pricing algorithms, and adjusted the current GD 2.0 price to $3,880.00.

So why can't we just use the CGC census as a basis for scarcity? Simple - many of these books (these two examples included) sell uncertified - they have not been slabbed and are therefore not counted in any census by any certification service.

Let's look at a second example, Exciting Comics 25. This is a Gerber SI 6, but Heritage noted in their auction description from February that this is only the second copy they have ever handled, and look what happened. An uncertified VG/FN 5.0 copy (shown below) sold for $1,434.00. Overstreet has the VG 4.0 value for this book at $162.00. We've got it at $692.00, and feel this book must be at least a Gerber SI 7. Regardless of scarcity, our pricing is set by what you people are paying for these books, and right now you are laying out some pretty crazy dollar amounts.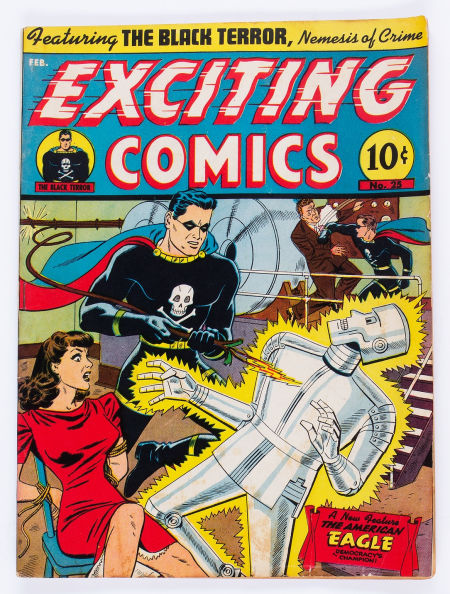 Only the second copy handled by Heritage
---

Thanks, we'll see you all next month.

Visit our NostoNews Archive.