NostoNews, July 1, 2012
by Tommy Jasmin

New pricing for 3rd Quarter 2012, market comments

The just-computed 2012 3rd Quarter pricing data is here! Sign in and see how the current market is affecting your collection value. Remember, we are now computing separate pricing for each grading service, as well as non-professionally graded items. So if you add an item to My Lists as non-graded, your collection value will likely change much less than if that item were graded by CGC, NGC, etc. Below I make a few market observations for each supported category.


---

Comics

The market right now overall is down quite a bit, a surprise since this is the first time in quite awhile it's taken a dip. The deceiving part is while anything pedestrian is down quite a bit in value, key golden age books are scorching hot, in any grade. Here is a prime example. The Batman 8 shown below, a CGC VF 8.0, sold recently through Heritage for $38,837.50. This is absolutely insane! We have no good explanation for this, and certainly will not attribute such a gain to the infinity cover alone. As you might have guessed, Batman 8 is now a solid entry in our Top 100 comics list.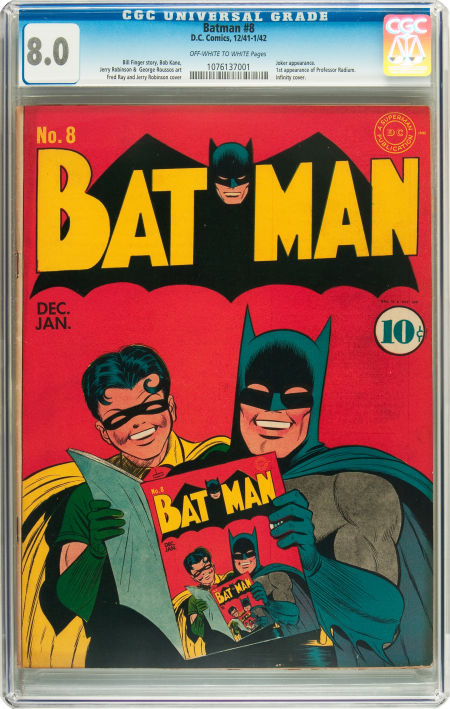 Almost infinity return on investment!


A second absolutely insane auction this quarter? Pep Comics 22. Certainly a big MLJ Golden Age key, with the 1st appearance of Archie. But who would have guessed the CGC GD 2.0 copy below would sell via Heritage for $33,460.00?! Heritage even writes about the scarcity and ranking of this book, musing that it could pass up More Fun 53 on Overstreet's Top 100 list. Not so on the Nostomania list (link in previous paragraph), but it did move up 30 slots, and is now within 8 slots of More Fun 53.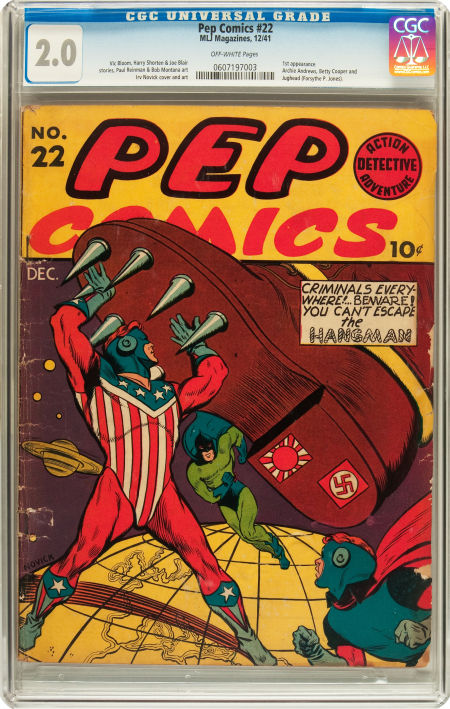 1st appearance of Archie scorching hot


I believe the simple explanation for the huge gains by a small set of Golden Age keys this quarter is the same thing I have emphasized many, many times in past market reports. Iconic characters will continue to be great investment books for early or key issues. Propping up that theory is this sale: Captain America Comics 2, CGC VF 8.0, for $65,725.00. Interestingly, the sale last quarter of a CGC 9.4 copy was needed to bust this book into our Top 100 list. This CGC 8.0 sale moves the book up another 24 slots, and makes it one of the best comic book investments anyone could have made in the past 3 years.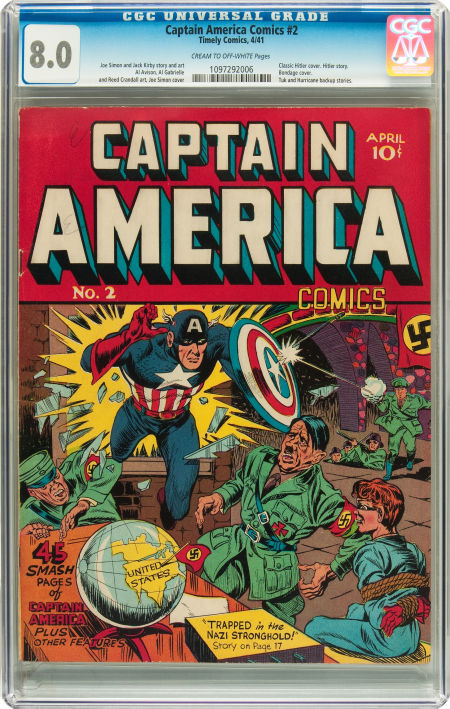 Huge return on investment last 3 years


And once again I can't resist an example of a great cover driving value way up. This quarter, you wish you would have bought a Thrilling Comics 41. Here's why: Hitler and Mussolini, not-exactly-pc Alex Schomburg cover. The uncertified GD/VG 3.0 copy below went for $657.25. Way above Overstreet value and a key example of why you need Nostomaia to accurately track value for books like this.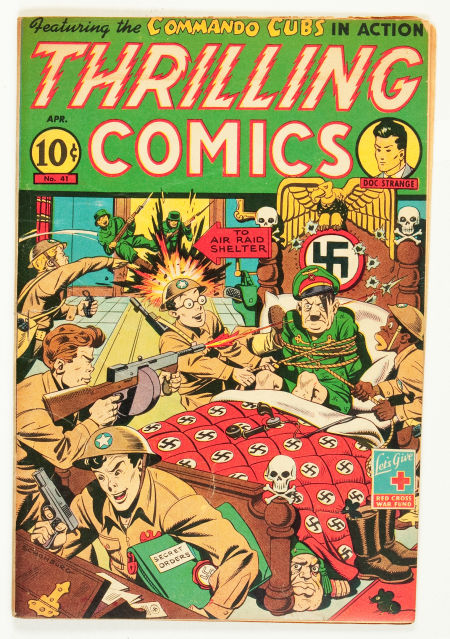 Great cover, great price


Ok, what about all that red ink I was talking about? The majority of the comics market is way down this quarter. It can be summed up pretty simply - if it's a 2nd or 3rd tier title, the pricing is 4th tier. Look at poor Skull the Slayer 1 below, a gorgeous CGC NM+ 9.6, but really, Marvel was looking a little too hard for another Conan, it was not gonna work. This book came nowhere near covering slab costs, selling for a pittance at $15.00.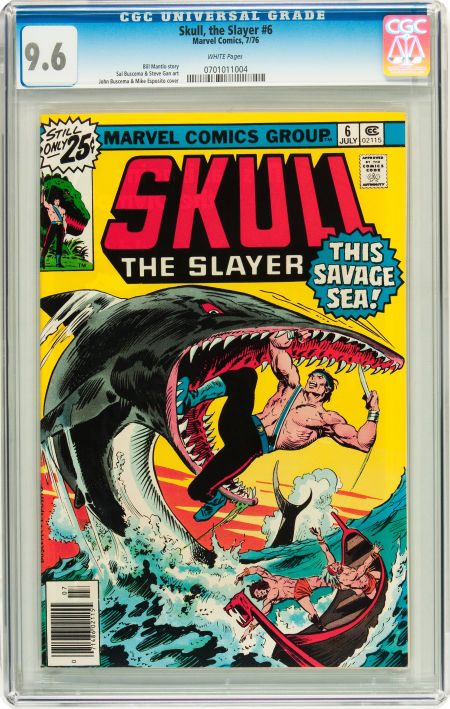 The lesson? Don't slab Skull!


And here is some red ink that really makes me sad. Check out this classic Romance cover! First Romance 7, CGC FN/VF 7.0, and it comes nowhere near covering slabbing costs with a sale price of only $15.00. What a crime! I would have gladly paid $15.00 myself, and lag-bolted it to my wall (that way it's on display, but nobody can steal it at late-night parties like Nick Cage's Action Comics 1). Wink.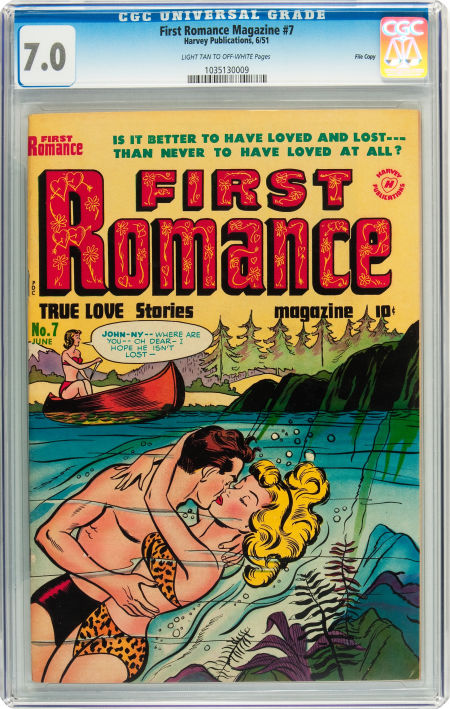 Oh dear.

Other items of note:
The Atlas revival flame is down to a faint flicker Example below: Grim Ghost 1, CGC NM+ 9.6, $26.00
Batman? Yes! Batman Family? Shrug... (and it's a giant!) Below, Batman Family 5, CGC NM+ 9.6, $20.00
Another great "cover sells the book", Frazetta's best?? Below, Creepy 4, CGC NM 9.4, $155.35
Undergrounds also are way down, across the board Below, Zap Comics 2, 2nd printing, CGC VF- 7.5, $30.00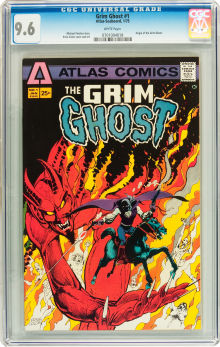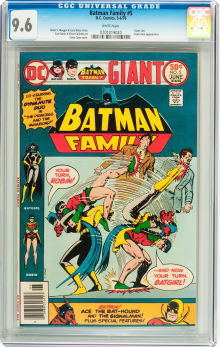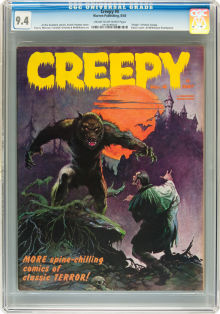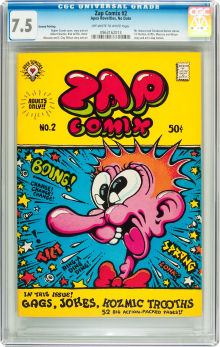 ---

Coins

So here's the thing about coin varieties, why does an error in the minting process, creating variety designations that in many cases is a reach to say the least, create such value? I believe in the case exemplified here, the 3-Legged Buffalo Nickel, it is a rare example of warranted demand. But for most varieties, it's a marketing gimmick and a novelty at best. All it takes is someone to convince NGC or PCGS to tag it with a unique id, and you have instant demand. I suppose I should mention the PCGS MS-65 example below hauled in a nice $32,200.00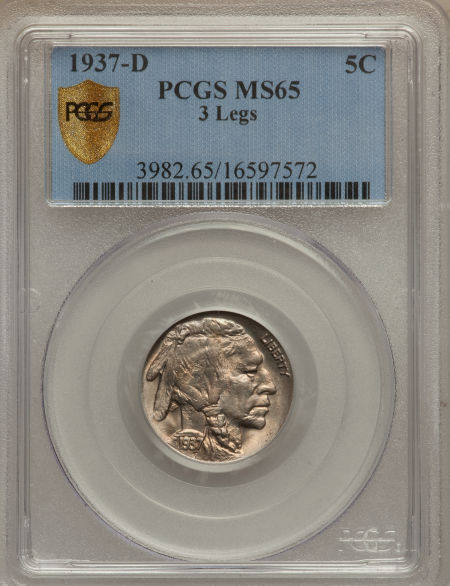 I'm personally not a fan of novelty coins, with a few exceptions



Stellas were always an interesting set of coins for me - small run, two main types (coiled and flowing hair), and that odd, odd number, a $4 coin. Coins, like anything else for me, need a certain cool factor. What many numismatics don't realize however, is that the Stellas lose a lot of cool factor once you realize there were not regular issues, but patterns. For some reason this rarely comes up and they get listed right next to all the U.S. regular issue coins. In any event, they sure pull in the bucks. The 1879 Flowing Hair issue below, a PCGS PR-64, sold through Heritage for an impressive $184,000.00.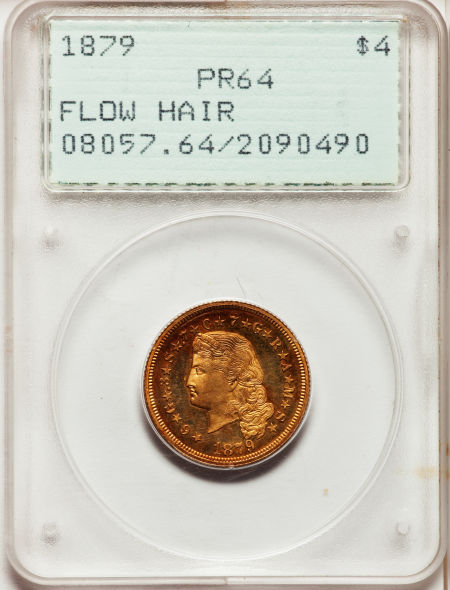 Flowing Dollars (more than 4)


Our last sales example I chose to emphasize that Nostomania is now supporiting U.S. Commemorative coins, something that was absent for far too long. These coins are a nice piece of U.S. history, with lots of appeal IMO. The 1936-S Columbia Half Dollar shown below is an exceptional coin, super high grade at PCGS MS-68, and very nice toning. The sale price was very impressive too: $16,675.00.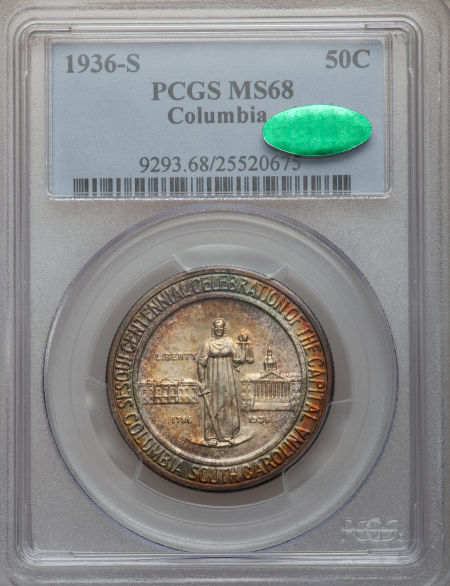 Nosto does support Commemoratives
---

Magazines

The lesson this quarter for magazines is the same one I have mentioned too many times relating to comics - make sure you know the value before slabbing. In fact, Nosto Premium Subscribers have a service available on the site which will tell you which items in My Lists are worth slabbing. A very useful tool. The example below sold recently through Heritage. Screen Thrills Illustrated 6, CGC VF/NM 9.0, came nowhere near covering slabbing costs at $23.00, a net loss for this seller for sure.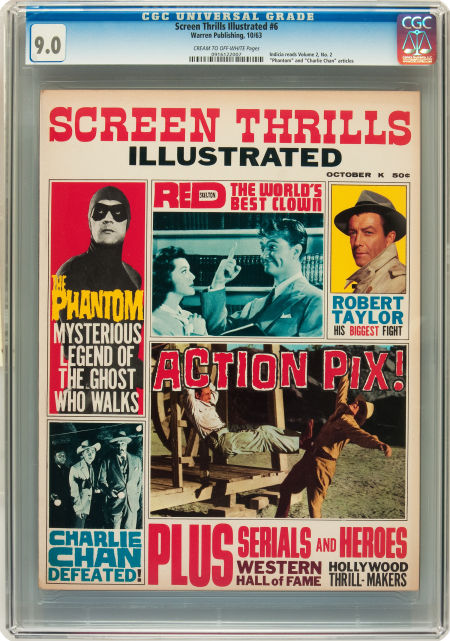 A certain loss for seller
---

Thanks, we'll see you all next month.

Visit our NostoNews Archive.