NostoNews, January 1, 2018
by Tommy Jasmin

New pricing for 1st Quarter 2018, market comments

The just-computed 2018 1st Quarter pricing data is here! Sign in and see how the current market is affecting your collection value. Remember, we compute separate pricing for each grading service, as well as non-professionally graded items. So if you add an item to My Lists as uncertified, your collection value will likely change much less than if that item were graded by CBCS, PCGS, etc. Below I make a few market observations for each supported category.


---

Comics

In the auction description, Heritage stated Journey Into Mystery 83 was the fourth most valuable Marvel Silver Age comic. That was true at the time, but after this sale it moves past Fantastic Four 1 to the #3 slot. See our Nostomania Top 100 list for detailed rankings. Likely fueled by yet another great Thor movie this year, the CGC NM 9.4 copy below sold in the recent Heritage Signature auction for $191,200.00.



Not alone - 7 other 9.4s out there, and one 9.6


I wonder how many times one of us has passed up this book in a bargain box or some antique store, assuming it's complete garbage? No offense to Nancy and Sluggo fans of course! But I'm pretty sure next to the Overstreet dead-tree listing it doesn't say "Classic frame cover". Also, I'm fairly sure nobody reading this market report would pull this book out of a box and think "hhmm... this book might eek out a 1.0, that should fetch me a grand!". The CGC FR 1.0 copy shown below did that and more, selling in a recent Heritage auction for $1,314.50. The hook is it ties for first appearance of The Peanuts.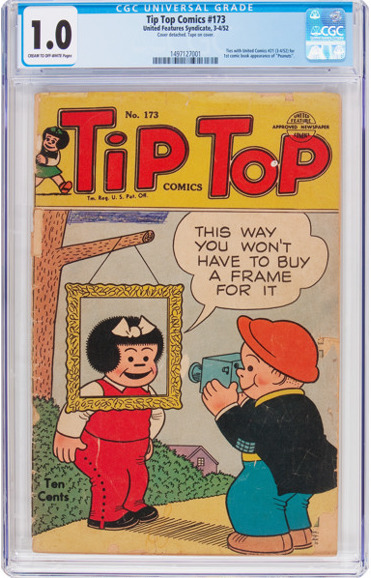 Keep an eye out for this sleeper book


Say what you want about the Modern Age variant cover craze (I have both good and bad things to say about it), but some of these variants have real demand and sell for serious dollars. Here's a good example: Supergirl and the Legion of Super-Heroes 23. This book goes back to 2006, already over a decade old, but the Adam Hughes (AH!) cover is in high demand. The CGC NM+ 9.6 copy shown below sold recently via Heritage for $806.63.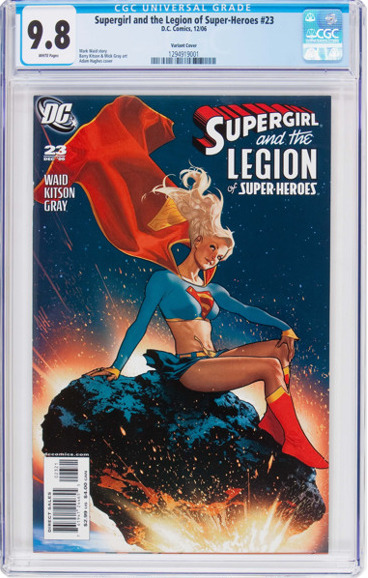 Originally a 1:10 retailer incentive variant


The Heritage cataloger did a great job with this CGC NM- 9.2 copy of Showcase 22, stating, "One of the most remarkable Silver Age DCs we have offered in our history, this is the sole highest-graded copy of the origin and first appearance of the Silver Age Green Lantern, Hal Jordan". The hammer price was equally remarkable, at $149,375.00. This sale propels Showcase 22 to #47 on our Nostomania Top 100 list.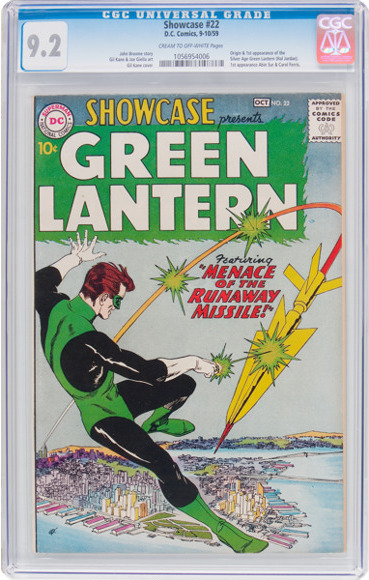 Amazing that 9.2 is finest known for this book


G.I. Joe comics continue to be published to this day, but seldom do we hear mention of G.I. Jane. Yet this 10-issue Stanhall Golden Age run is scorching hot across the board. The CGC VG+ 4.5 copy shown below sold recently via Heritage Auctions for $956.00. The other price guides, on and off-line, are way low on this run. The Overstreet 2017 VG 4.0 value sits at only $44.00. At that price, buy every copy you can find.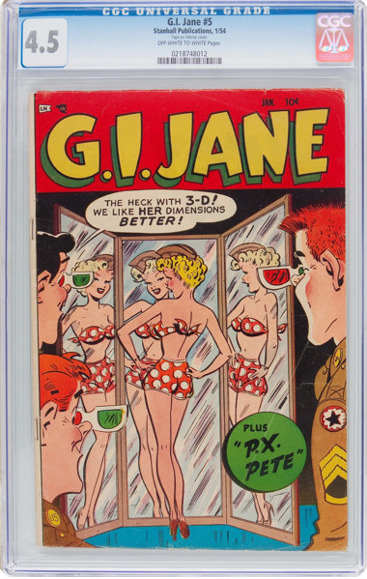 It is quite a cover


We are completely impartial here at Nostomania, but that doesn't mean we won't express criticism or praise for any or all professional grading company practices. This sale showed up as an outlier for further analysis by our pricing algorithms. A low outlier. Our code says this book should have sold for well over $100.00. So what's the deal? We have a copy of Wings Comics 43, CGC VG/FN 5.0, selling for only $49.00. The deal is, 5.0 and "Brittle Pages" do not belong in the same sentence, and smart buyers realize this.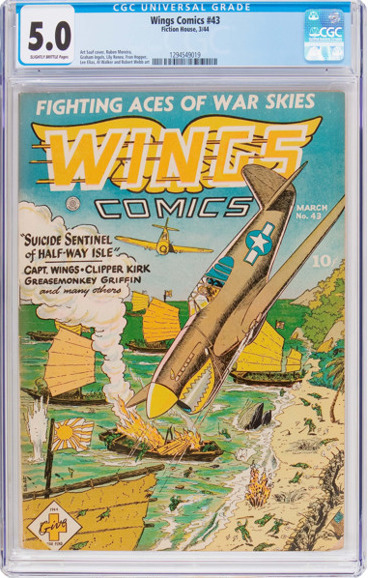 A poor grading policy CGC continues to allow

Other items of note:
A personal fave and classic indy, nice to see it doing so well.
Below: Love & Rockets 1, CGC NM/MT 9.8, $3,824.00
In all my years I don't recall ever seeing a copy of this in a dealer box.
Below: The Farmer's Daughter 3, CGC VF- 7.5, $2,868.00
One of L. B. Cole's best covers, and finest known copy by far.
Below: Blue Bolt Weird Tales 115, CGC NM+ 9.6, $16,730.00
Alex Schomburg cover and the only graded copy to date (hint to raw copy owners).
Below: Kathy 2, CGC VG 4.0, $155.35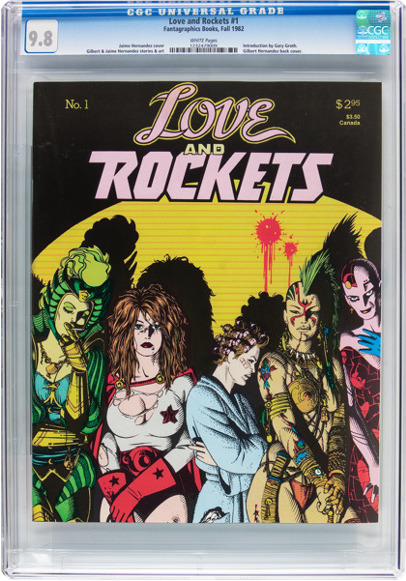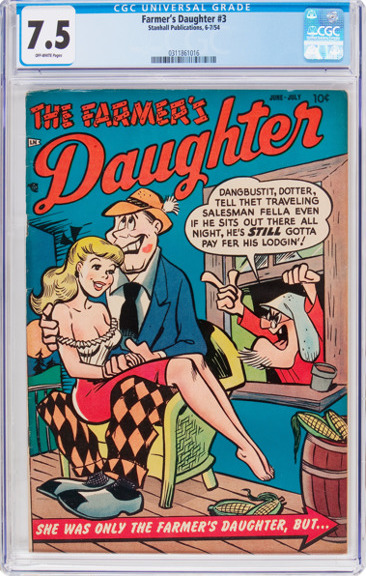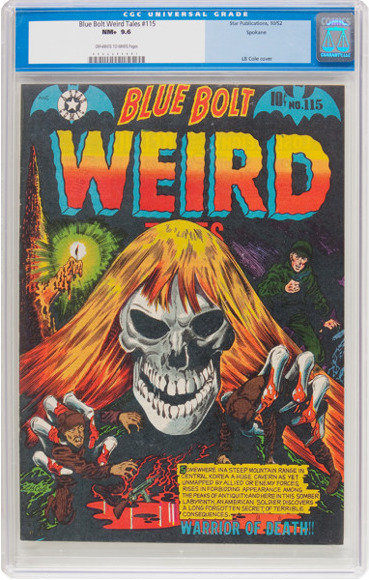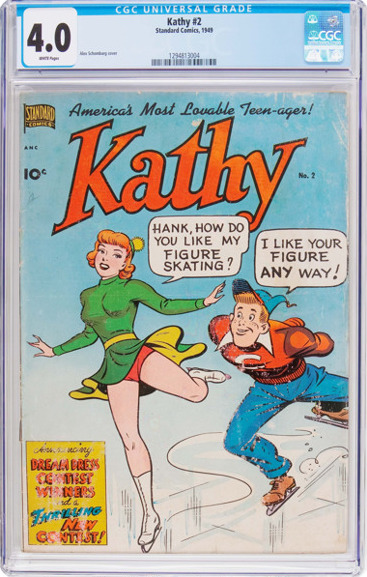 ---

Coins

Here's an interesting one. This 1918-S Liberty Standing Quarter sold by auction recently via Heritage. Graded PCGS MS-65 Full Head, it showed up as an outlier in our Nostomania pricing code. Yet most of the online price indexes listed on the Heritage auction page had it within close range of the sale price of $12,000.00. For example, the PCGS price guide values listed on the auction page ranged from $11,000.00 to $13,000.00. So one has to wonder how much influence these numbers have on bidders. The troubling part is, nowhere could I find any prior actual MS-65 FH sales over $10,000.00.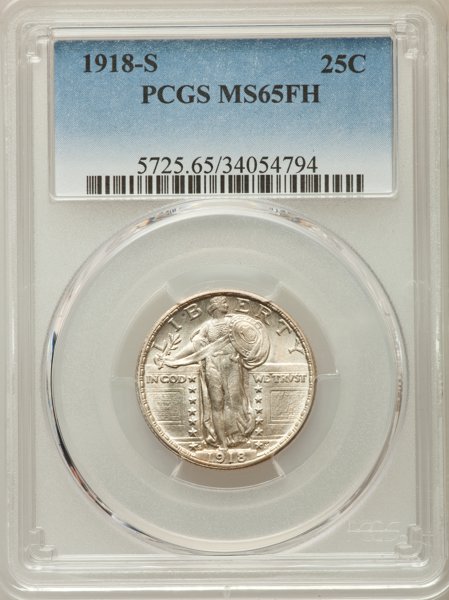 The sales should determine the price index



This coin out-performed all the price guides (including ours) and all the previous sales. The 1968-S Kennedy Half Dollar shown below, graded PGCS PR-70 Deep Cameo, sold recently via Heritage for an impressive $21,600.00. There are 16 PCGS examples at this grade. The factors at play here which lead to differentiation among those 16, boil down to visual appeal. As the Heritage cataloger put it, "fully struck and brilliant with stark white-on-black contrast. The surfaces are perfect. Registry Set collectors should give this coin close consideration as the finest obtainable".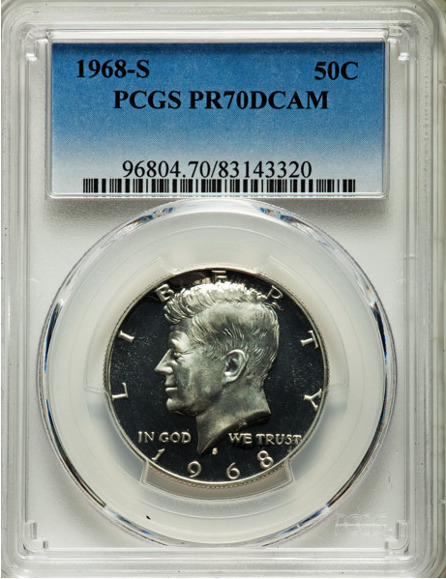 Technically tied for finest known, but a bit better looking?


The nostalgic description from the Heritage cataloger for this coin struck a chord with me, and I share a presumed affinity for odd-denomination coins. The 1878 Three Dollar Gold piece shown below, graded PCGS MS-67+, sold recently via Heritage for $60,000.00. The difference in hammer price the "+" brings, IMO, is fair argument to finally move to a wider and more logical 1 to 100 grading scale. Unfortunately, the mountains of logical impediments mean this change will probably never happen.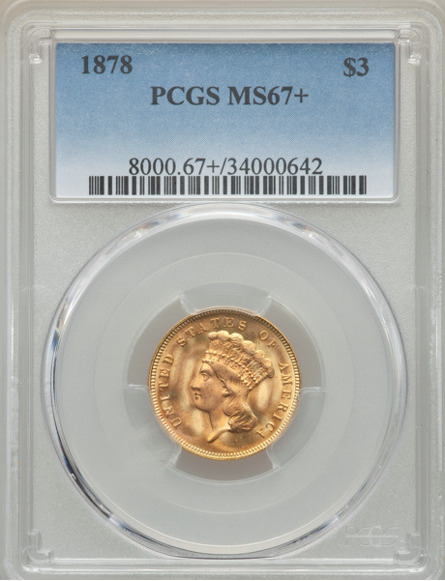 The cataloger exhibiting a bit of nostomania?
---

Magazines

The value in the existence of 3rd party grading services like CGC can't be overstated when considering cases like the magazine below. This version of Playboy 1, published in 2007, is an exact replica of the original 1953 version, including the 50 cent cover price. I could easily see cases where an unsuspecting buyer is duped into thinking it's an original. CGC clearly identifies the mag as a Reprint Edition, with the word "reprint" appearing three times on the label! The copy below is graded CGC MT- 9.9, and sold recently on eBay for $76.00. This is a tiny fraction of our theorectical computed value of $416,000.00 for an original copy in that condition (which almost certainly does not exist).



Beware the replica, if it seems to good to be true, it probably is
---

Thanks, we'll see you all next month.

Visit our NostoNews Archive.