NostoNews, January 1, 2016
by Tommy Jasmin

New pricing for 1st Quarter 2016, market comments

The just-computed 2016 1st Quarter pricing data is here! Sign in and see how the current market is affecting your collection value. Remember, we compute separate pricing for each grading service, as well as non-professionally graded items. So if you add an item to My Lists as non-graded, your collection value will likely change much less than if that item were graded by CGC, NGC, etc. Below I make a few market observations for each supported category.


---

Comics

It's been quite a while since we've seen a pre-1960 book rise so abruptly in value! Just one more testament to the effect of movies and television on the comic market. Action Comics 252 features the first appearance of Supergirl, who is probably more popular than ever, now having her own TV series. As is almost always the case, we highlight here a recent sale from Heritage Galleries. The CGC NM- 9.2 copy shown below recently sold for $45,410.00, vaulting it onto our Top 100 List for the first time.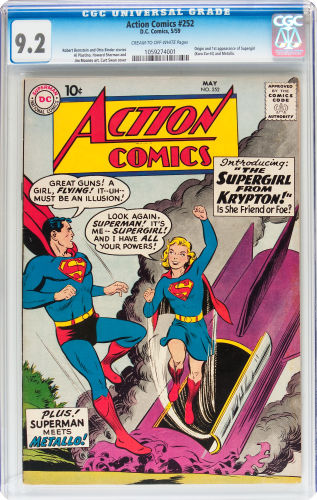 Up 184 positions to #100 this quarter!


Now that the Deadpool ads are running, New Mutants 98 is hotter than ever. I bet quite a few of you are kicking yourself for not snapping up a bunch of these when they were dirt cheap. Here we have a lowly Uncertified FN 6.0 copy selling, again via Heritage, for $203.15. Wow! I didn't know any copies existed less than VF!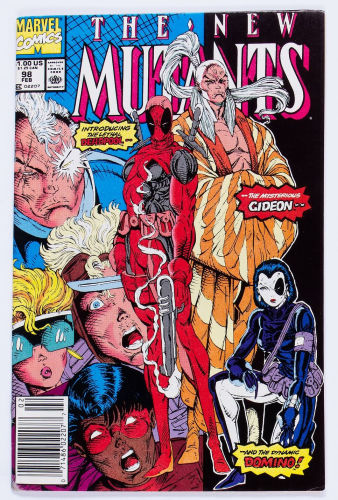 First Deadpool


This time I found a good example of a CBCS book pulling its weight. Along with a small run of Munsters that did well recently, so did a small run of early 'Tec. The CBCS VF+ 8.5 copy of Detective Comics 76 below pulled in way over last year's Nosto value, netting $11,352.50. The grading seems a little soft to me. With those rounded, frayed corners this looks more like an 8.0 to me (says a guy who never saw the book first-hand). But the big concern with an early Detective is whether it's been altered in any way. And if there's anybody I trust to make that call for me, it's Steve Borock.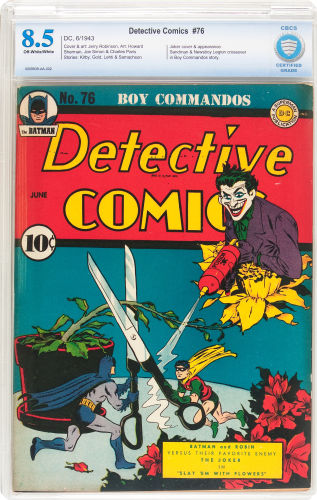 Early Joker cover


The Golden Age uber-keys show no sign of losing steam, and here is yet another example. $71,700.00 for a Superman 1 in CGC FR/GD 1.5? Believe it folks. Crazy stuff - the cover is detached and the spine is completely split on this copy. You'll note Supes 1 has inched up to be the #3 most valuable comic in the world on our Top 100 list this quarter.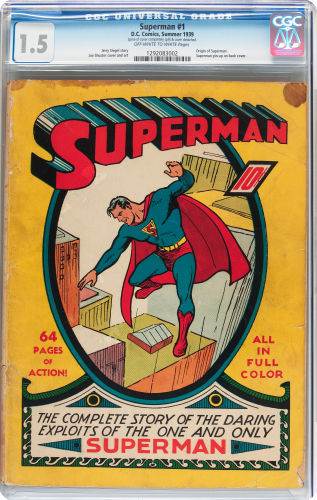 #3 on the Nosto Top 100 now


Interest in The Inhumans is already at a fever pitch, and the movie is still years away, scheduled for 2019! Their first appearance was Fantastic Four 45, and the CGC NM+ 9.6 copy below recently pulled in a stunning $26,290.00. Whoever is sitting on those 9.8s must be loving this! Just don't sit too long.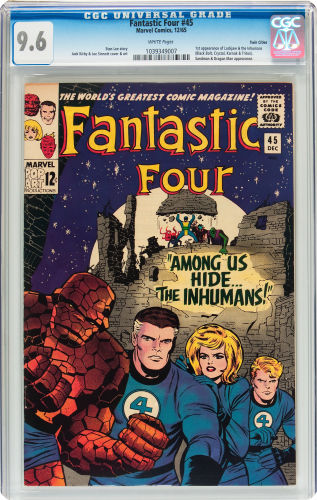 First Inhumans


Ok, who honestly saw this coming? Early issues of DC 1960s Aquaman and Hawkman in high demand! In fact, Hawkman 5 is now a much more sought after book than Hawkman 1. Featuring the first appearance of Zatanna, the Uncertified VF 8.0 copy shown below sold recently via Heritage for $573.60.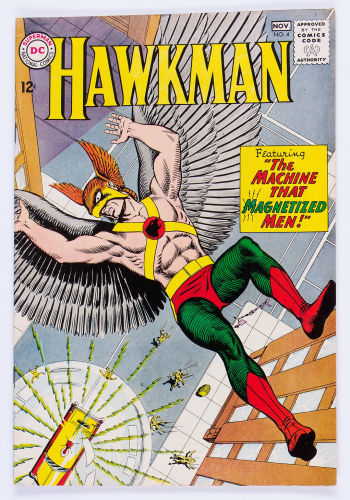 Hotter than #1

Other items of note:
Wow what a cover and what a sale, and right after I was crowing about issue 5.
Below: Weird Mysteries 4, CGC FN 6.0, $4,063.00
What was I saying about early issues of Aquaman?.
Below, Aquaman 11, CGC VF 8.0, $836.50
As I note often - first time offered by Heritage = huge bucks.
Chilling Tales 16, CGC FN 6.0, $1,075.50
Kirby monsters in Kid Colt? Sign me up!
Below, Kid Colt Outlaw 107, CGC VF 8.0, $687.13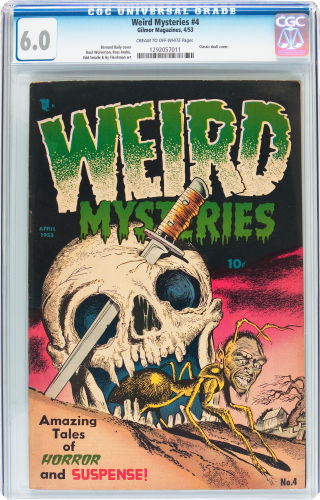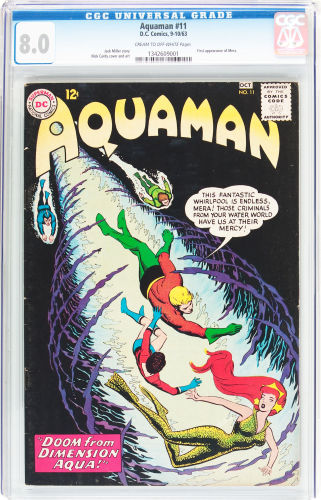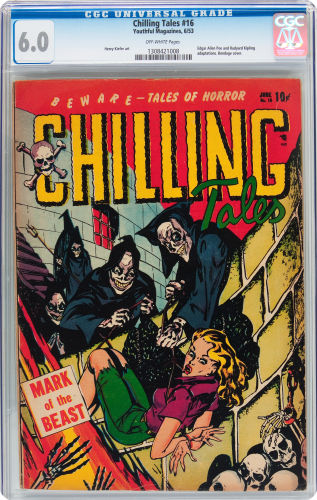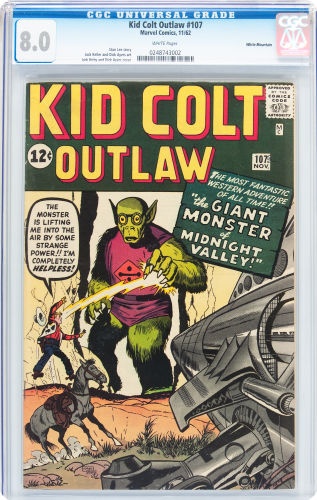 ---

Coins

Last quarter I touted some really low-grade sales doing well, but this quarter a reminder that nothing drives the hammer price like a Finest Known. The example below is a 2010-D Kennedy Half Dollar. No big deal, right? Unless it snags a PCGS MS-68 grade. Then it's the best example, and the price is $3,995.00, over ten times what you get for one point lower, which is still an incredibly stunning MS-67.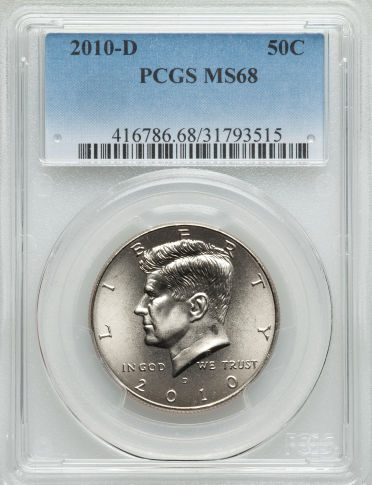 10X Next Lower Grade



Now, getting back to those low-grade giants, I can't resist this example. One of four known 1853-O Seated Half Dollars, No Arrows, sold recently via Heritage. Graded PCGS VG-8, this example is second best and the first offered by Heritage. The sale price for this storied coin was a remarkable $199,750.00. The provenance for this particular coin goes back to authenticity notes from the 1800s.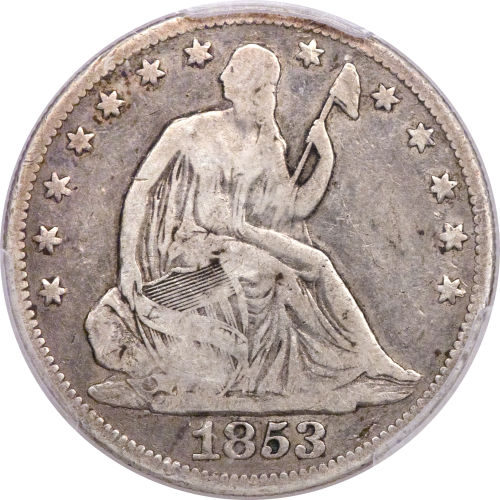 New Orleans Mint, 2nd Best


The last coin example this quarter is a sample sale where our pricing algorithms were telling us something must be in error with this data. Either it's mis-identified or the price is incorrect. But credit Heritage once again with fantastic quality control. A PCGS MS-67 Mercury Dime should usually selll in the $150.00 range. But this beauty hauled in a exceptional $2,232.50, causing our software to throw up big red flags. The explanation must have something to do with the gorgeous toning, and two collectors decided they just had to own this piece, going 20X past typical pricing.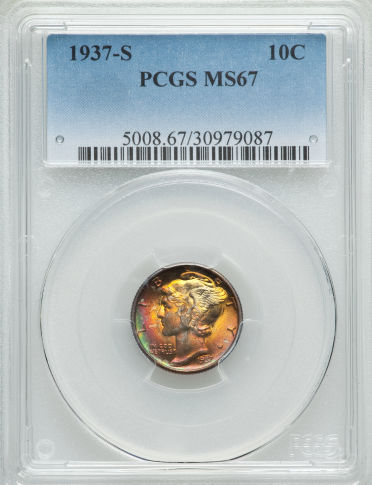 20X typical numbers
---

Magazines

The magazine sale I want to highlight this quarter is an item I just happened to notice and found really interesting. Somebody slabbed a nice CGC NM+ 9.6 copy of the Chicago Mirror 3, and it sold via Heritage for an impressive $1,314.50. This mag was the proving ground for Chicago-area underground artists Jay Lynch, Skip Williamson, and Steve Stiles. Super cool, and I'm embarrassed to say the title is not even in the Nostomania database! If you collect these and would like us to list it, please drop us a note.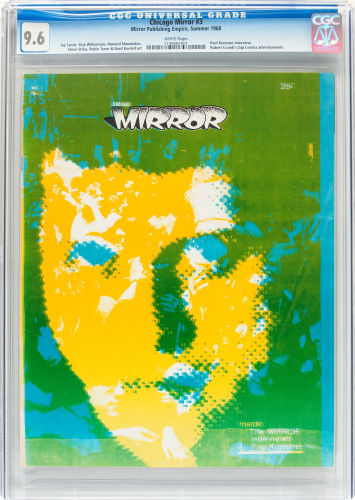 Mirror Publishing Empire, 1968
---

Thanks, we'll see you all next month.

Visit our NostoNews Archive.