NostoNews, January 1, 2007
by Tommy Jasmin

What's hot and what's not - January 2007

The 2007 1st quarter pricing data is now available. Login and see how the current market is affecting your collection value. Below I highlight an area in each category where demand and values are increasing, and an area in each category where demand and values are dropping.


---

Comics

Hot! While modern Walt Disney comics languish with barely-justifiable print runs in the low thousands, early Golden Age Disney is red hot, with Walt Disney's Comics and Stories 1 nearly breaking the $100,000 mark this quarter (we currently have it valued at $99,400 in NM 9.4). The lower grade, GD+/VG- copy shown below sold recently via Heritage Galleries for $2,270.50. Other notable issues include Four Color (Series I) issues 4 and 16 (early Donald Duck and Mickey Mouse) which moved up 28 and 32 places respectively in our Top 100 list. The Disney Empire is alive and well it seems.

Not! Esoteric Gold is in decline. This is good news for those who collect it of course, but bad news for anyone investing in this area recently. What might be behind the downslide? A big factor may be the enormous Davis Crippen, or "D" collection, which is thick with Esoteric Gold. This collection has been gradually dumping 11,000 books on a shrinking market for these lesser known titles. Even the mighty Suspense Comics title is not immune, with issue 3 dropping 20%, below the $100,000 mark in NM 9.4. The Mile High copy of issue 9, shown below, recently fetched $6.572.50. A great price, but this was the Mile High - Mile High copies often go for multiples of "guide". The Nosto value for this issue in NM 9.4 dropped from $8,810.00 last quarter to $6,620.00 this quarter.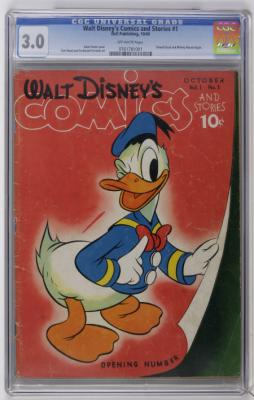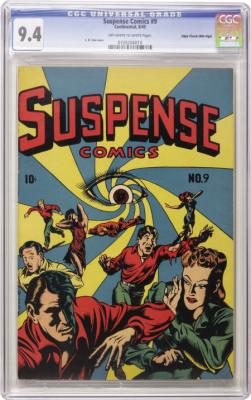 © Heritage Galleries
---

Coins

Hot! Focusing on something completely different this month, we puzzle over a surge in popularity for Accented Hair Proof Kennedy Half Dollars. We are seeing average gains of 25% in higher grades for all designations, not just Deep Cameo. A recent check of eBay's most watched coins showed two of these in the top 15 watched coins. As for recent sales, the PCGS PR-68 Cameo specimen shown below (you have to admit, it's a beautiful coin) recently sold via Heritage Galleries for $1,092.50. Nostomania currently has the PR-68 value for this item at $531.00, and this includes a 27% increase this quarter. Earlier this year, two NGC examples in the same grade both sold for under $200.

Not! Some of you will be disappointed when you log in and check your newly recomputed collection values, because the Statehood Quarters again showed common declines of 20-30% in the higher grades this quarter. As we've reported many times, the high mintage at very high grades for these items is catching up with the novelty. Take the 2005-P California Satin Statehood Quarter shown below. Last quarter, an MS-69 sold for $54.00. This quarter we see an ANACS MS-70 going for only $33.00.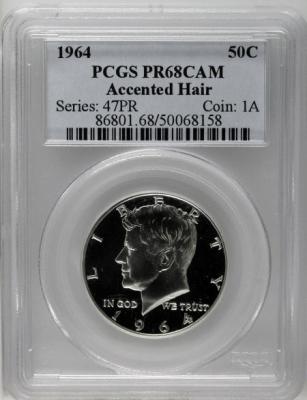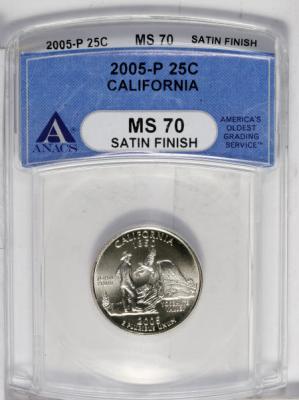 © Heritage Galleries
---

Prizes

Don't forget, all you have to do is create a single Collection, Wantlist, or Salelist item during the appropriate month to qualify for our sweepstakes. Why not take a look and see what we're giving away (and gave away last month), free as always.


---

Thanks, we'll see you all next month.

Visit our NostoNews Archive.