NostoNews, April 1, 2018
by Tommy Jasmin

New pricing for 2nd Quarter 2018, market comments

Happy Easter everybody. The just-computed 2018 2nd Quarter pricing data is here! Sign in and see how the current market is affecting your collection value. Remember, we compute separate pricing for each grading service, as well as non-professionally graded items. So if you add an item to My Lists as uncertified, your collection value will likely change much less than if that item were graded by CBCS, PCGS, etc. Below I make a few market observations for each supported category.


---

Comics

Moving up one slot to #13 on our Nostomania Top 100 list is Captain America Comics 1. It seems like every time a CGC VG- 3.5 copy of this book sells, it roughly triples in price: $11,950.00 in 2009, $32,265.00 in 2013, and now $119,500.00. Dig further on the Nostomania sales detail page, and with some minor detective work you will learn two of these sales are actually the exact same book.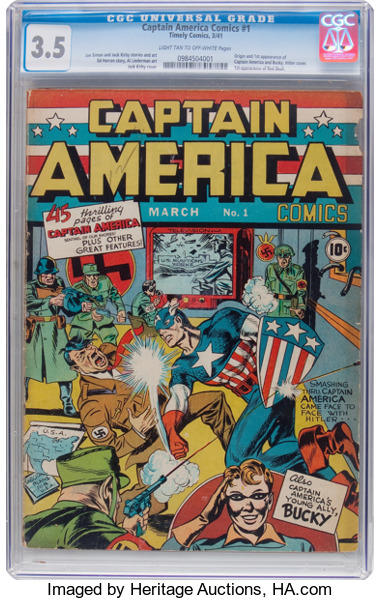 How's that for return on investment?


Here is a book I have always marveled at as representing a high point in DC's Golden Age. All-American Comics 61, with a classic (yep, we agree with Overstreet here) Paul Reinman cover. The mood on the cover is the definition of Nostomania for me (overwhelming nostalgia), and I wasn't even alive then, heh. This modest CGC FN- 5.5 copy sold recently via Heritage for a very impressive $11,651.25. This Heritage auction, as they often do, blew away all previous comparable sales.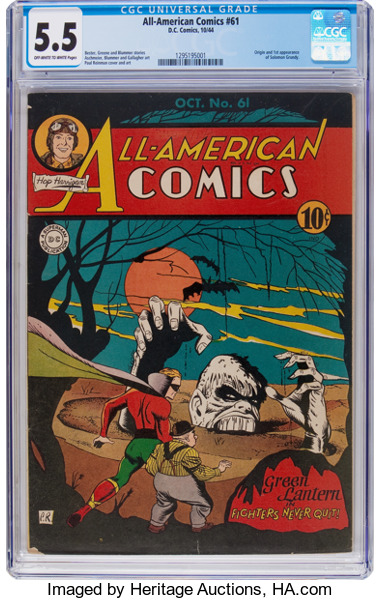 Well done Solly!


Here is more evidence these Ace horror books are tougher than people thought. The last sale Nostomania captured for this book was an eBay sale many, many years ago (check the item detail page) - an uncertified VG- 3.5 copy that sold for $27.30. Contrast with this uncertified VG 4.0 copy which recently sold via Heritage for $1,105.38, wow! Perhaps the book got a boost given the connection one could draw from the cover/story and last year's Best Picture Oscar winner The Shape of Water?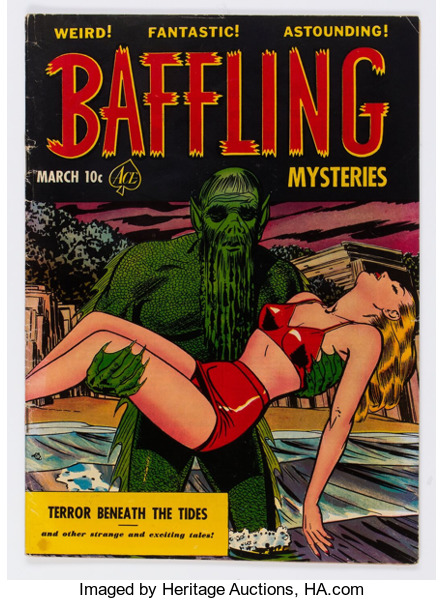 Fish-man and beautiful girl, a winning combination!


Golden Age horror is strong pretty much across the board. Low grade E.C.s are doing amazingly well. Below is a great example. We've got an ultra-cool Tales of Terror Annual 2 (the 1952 issue), but a very ragged uncertified GD- 1.8 copy. Even this ratty, the book had no problem hauling in $896.25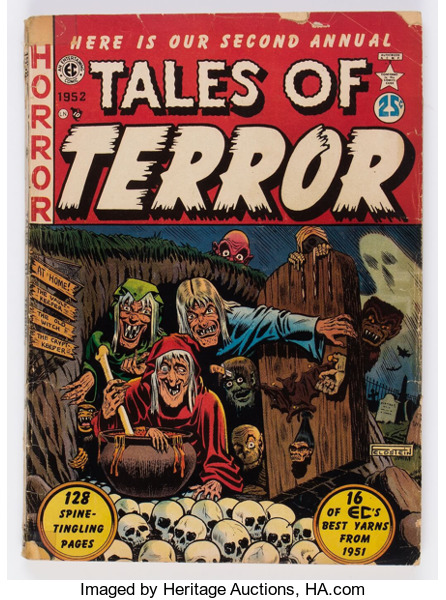 All taped up but still finds a good home


My Girl Pearl?! An Atlas Archie knockoff? Well, kinda, yeah. But the important bit here, is the CGC VF 8.0 copy shown below, auctioned recently via Heritage, is the only CGC graded copy for the moment. And you know what that means - the owner is printing money. The final hammer price was $3,346.00. Remember this is considering only the CGC census. With Nostomania, you are able to check for actual sales from not just CGC, but CBCS, PGX, and uncertified sales, a huge advantage over the CGC-only pricing services.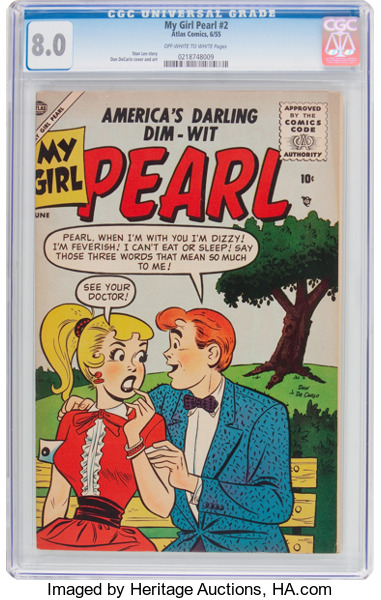 Kinda crazy, but that's what finest knowns do to people


Listen up people, you are going to be seeing this theme a lot, and if you have these books there is money to be made. The Golden Age cute girl humor books don't get slabbed much. When they do, Heritage is very good at letting people know there are no other options, and almost always that translates to a much higher than expected sale price. Here is one of several other examples we could point to this update - Millie the Model 48, graded CGC FN/VF 7.0. Since it's the only graded copy, the sale price of $1,912.00 set off alarm bells in our pricing code this quarter. It's the only copy Heritage has ever handled.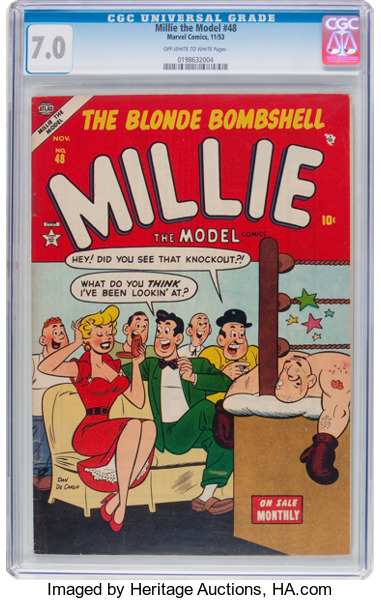 HSI - The Heritage Scarcity Index at work

Other items of note:
Crash or anomaly? (last CGC 9.8 sale: $2,629.00 in 2017).
Below: Avengers 58, CGC NM/MT 9.8, $956.00
Just when you thought it had finally levelled out (1st Black Cat).
Below: Amazing Spider-Man 194, CGC NM/MT 9.8, $1,314.50
Under-sold by the Heritage cataloger with no comments, 1st Lone Ranger in Four Color.
Below: Four Color 82, Uncertified VF+ 8.5, $896.25
Finest known at only CGC VG+ 4.5, Matt Baker cover.
Below: Diary Secrets 30, CGC VG+ 4.5, $2,390.00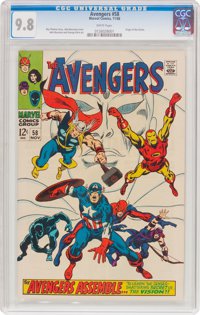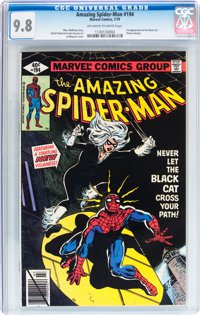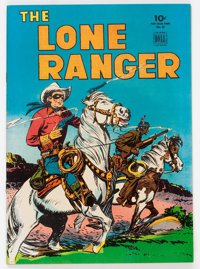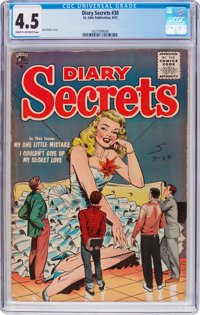 ---

Coins

We had many really interesting coins show up this quarter as outliers in our Nostomania pricing code. These typically make for great highlight reel items, since they tend to be rarely offered, exceptional items. The 1835 Capped Bust Quarter shown below, graded PCGS PR-65 Cameo, is a great example. It is the first cameo proof Capped Bust Quarter Heritage has ever auctioned. We believe this same item was auctioned in 2012 by Stacks/Bowers. This time around, the final hammer price was an incredible $168,000.00.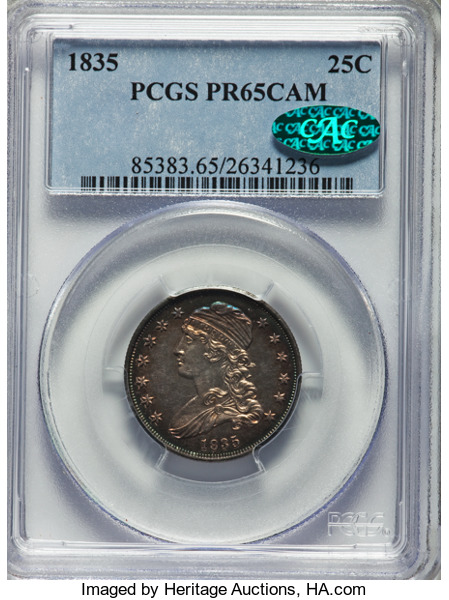 Seven known examples



Next we have another stunning Finest Known example. The 1961 Franklin Half Dollar shown below graded out tied for the best at PCGS PR-69 Deep Cameo. The Heritage catalogers are always great with these items. This time he/she states with simple clarity: "The 1961 Franklin half dollar proof, in PR69 Deep Cameo, is a great rarity and an item of unsurpassed desirability among Registry Set collectors." The hammer price on this coin far surpassed previous similar offerings, at $40,800.00.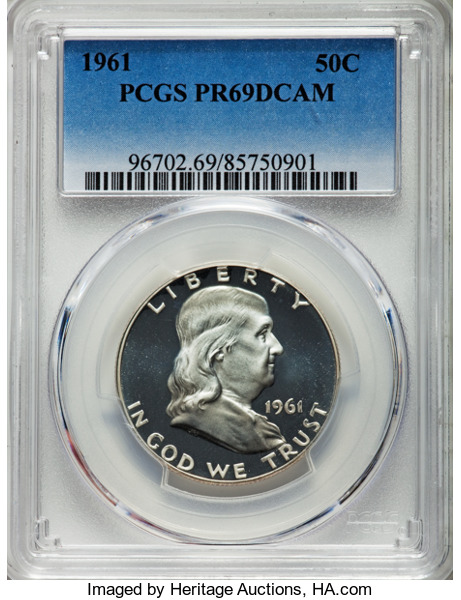 Blows away previous sales


Our last coin example sale this quarter is really something - an 1861-O Coronet Double Eagle graded PCGS MS-60. Struck during the transition from Union to Confederate control of the New Orleans mint, this was the last double eagle struck there until 1879. A rare piece with historical Civil War ties, the sale of this example blew away all value indeces and price guides, netting a remarkable $312,000.00.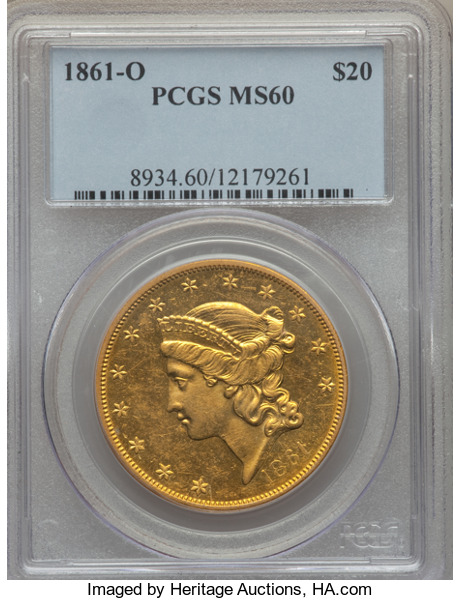 Classic Civil War era double eagle
---

Magazines

Some of the later issues of Famous Monsters of Filmland must have had pretty low print runs. Combined with erratic publishing schedules due to frequent publisher changes, and high cover price, there probably just weren't that many made. Recently captured Nostomania sales for some of these issues seems to support this. Check out Nostomania sales data for the 235 A and B issues, and for issue 249 shown below. This mag sold recently on eBay, and was graded with decent detail at Uncertified VF+ 8.5. The issue sold for an impressive $100.98.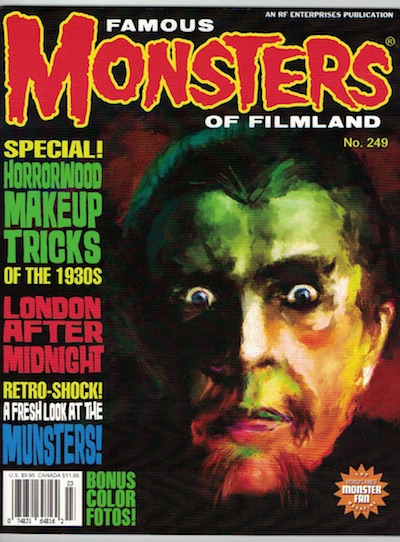 Scarce but how scarce?
---

Thanks, we'll see you all next month.

Visit our NostoNews Archive.