NostoNews, April 1, 2011
by Tommy Jasmin

New pricing for 2nd Quarter 2011, market comments

The 2nd quarter 2011 pricing data is in! Sign in and see how the current market is affecting your collection value. Remember, we are now computing separate pricing for each grading service, as well as non-professionally graded items. So if you add an item to My Lists as non-graded, your collection value will likely change much less than if that item were graded by CGC, NGC, etc. Below I make a few market observations for each supported category.


---

Comics

The biggest mover this pricing update, easily, was Archie Comics 1. The CGC VF+ copy shown below, a Finest Known, sold in the last Heritage Signature auction for a very strong $167,300.00. Way, way over Overstreet value, and this book jumped 19 places on our Top 100 list, making it now the 14th most valuable comic book with a CGC NM 9.4 value of $208,000.00. The irony here is that this title survives to this day. Barely, with current circulation numbers under 3,000 copies per month! It's sad to say, one of the longest running titles in comic book history, which began in 1942, today barely has a pulse.



1942 - 2011, R.I.P. ?


Another surprising sale this update is the copy of Gobbledygook 1 shown below. Graded Uncertified VF+ 8.5, it sold for an astounding $11,352.50. Personally, I wouldn't go near this book. Sure, it's the rarest, and now, technically most valuable Copper Age comic book, but you are essentially paying for a Xerox copy. Since the original print run of 50 copies was made on a photocopier, it's got to be the easiest comic book to counterfeit. CGC won't touch these. The draw, in theory is the fact that the Teenage Mutant Ninja Turtles appear for the first time in comics (back cover). Front cover is the Fugitoid. I remember when Westfield Comics here in Madison coulnd't give copies of Fugitoid away, and they held pretty much the whole print run of a few thousand, being early leaders (give them credit) distributing these Mirage books. Who knows, maybe this was just Eastman and his buddies bidding against each other for fun. What's ten grand to them?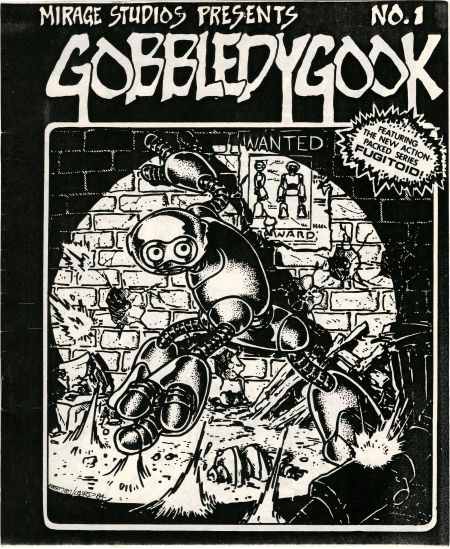 Provenance is the only valid explanation


A similarly amazing sale is the CGC NM+ 9.6 copy of Vampirella 1 shown below. Even at a whopping $10,157.50, this sale makes a little more sense to me. Warren mags was, initially at least, an E.C. revival. Very cool, and what better than a naughty, sexy female vampire? I recall a time (that I regret, of course) when I could have picked up a copy almost, but not quite this nice for 50 bucks. Vampi, you've come a long way baby.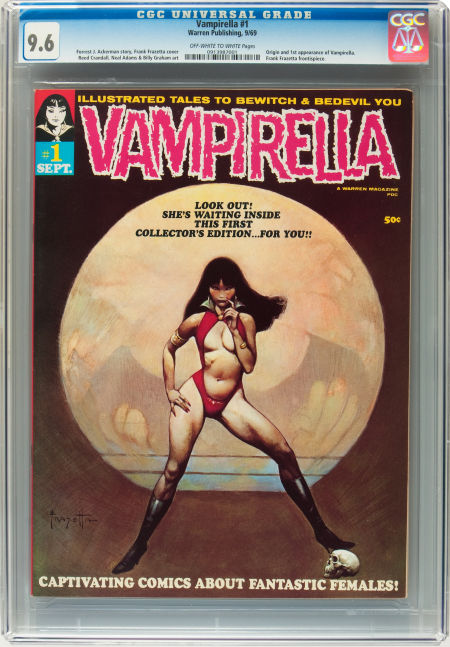 Frazetta cover doesn't hurt


This month's "the cover sells the book" example is just crazy. The CGC NM 9.4 Superman 24 below sold through Heritage for an insane $41,825.00. Ok, classic patriotic flag cove, we get it, but wow! This sale drives Superman 24 into our Top 100 comics list, and if you have one the one-year return on your investment is over 400%. Not bad. An even better flag cover to watch out for - Superman 14. When a nice copy of that hits the market, watch out.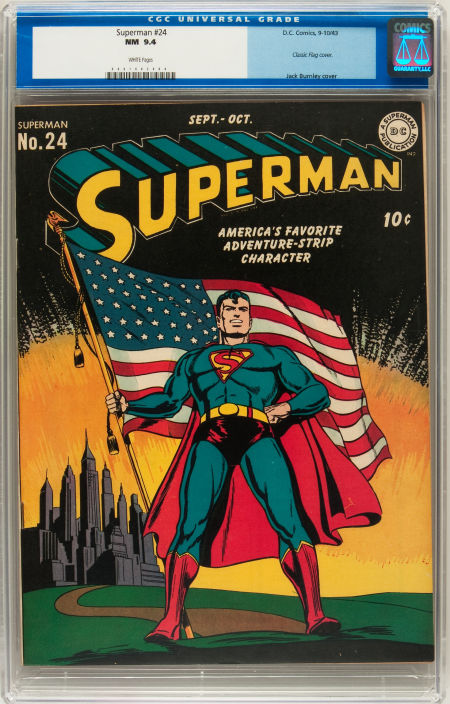 What could Superman 14 do?


For more crazy, these Savannah pedigree books are just sizzling hot lately. It's like the Oakland pedigree V 2.0, the buyers love them. Take the example below, G.I. Combat 123, CGC NM 9.4. Sure, Russ Heath cover, Haunted Tank, cool stuff. But it's a 1967 book in 9.4, nothing Earth-shattering. The $2,868.00 sale price gave the Nosto value for this book a big shot in the arm. One point to make in support of the hammer price - the copy is a Finest Known.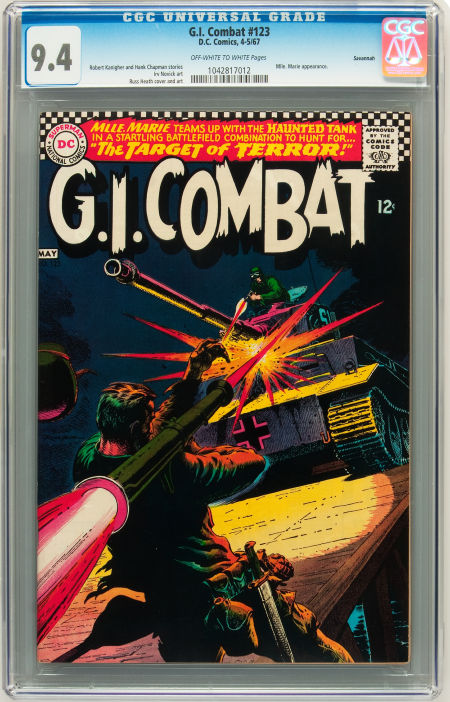 Russ Heath, Haunted Tank


As much as I like to pick on the glut of Harvey File Copies, I must admit they do occasionally still over-perform. Below is a good example: Richie Rich Zillions 1, CGC NM/MT 9.8. A Finest Known, it pulled in a very impressive (and to me, inexplicable) $956.00. Yes, another Finest Known. Who knows, maybe it was the Koch brothers bidding against each other, dreaming about that next comma...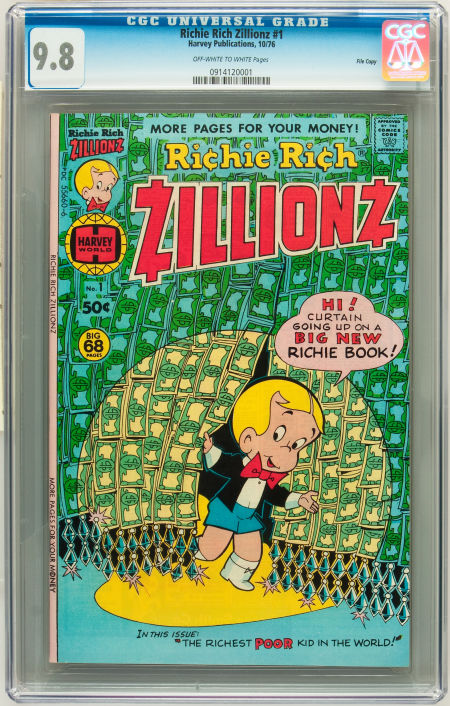 How many zeros is that?

Other items of note:
A revival in popularity of propaganda books? Example below: How Stalin Hopes We Will Destroy America nn, CGC VF/NM 9.0, $896.25
Marvel Team-Up has come back down to Earth (previous 9.8 sales were over $350!): Example below: Marvel Team-Up 54, CGC NM/MT 9.8, $69.00
This month's Uncertified is better, I want to look inside book: Example below: Weird Adventures 1, FN/VF 7.0, $776.75
A nice example of Bronze Age Marvel horror reprints pulling some nice weight: Example below: Uncanny Tales 1, CGC NM+ 9.6, $286.80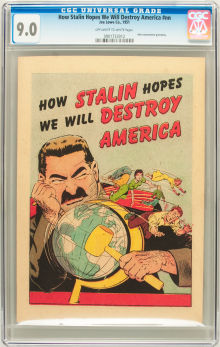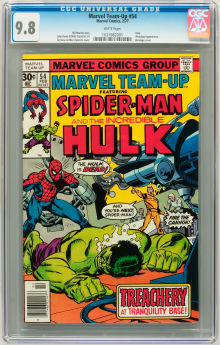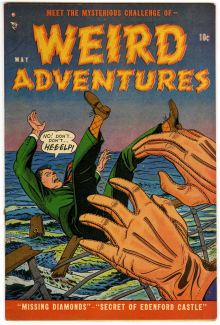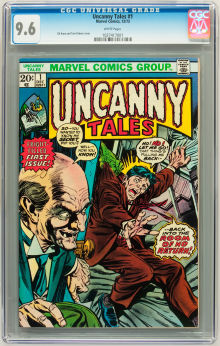 ---

Coins

The coin market is still very healthy, strill driven by the continually rising prices for precious metals. Showing even a nice Lincoln Cent can pull some serious weight on its own, let's look at a nice Deep Cameo. The 1950 coin below, graded PGCG PR-66 Deep Cameo, pulled in a very respectable $8,050.00.



Deep Cameo makes all the difference



Moving on to silver, which has had a surprising run up in value, let's look at one of my favorate series, the Liberty Walking Half Dollars. The 1942-S example below, a beautiful stone-white gem, was graded NGC MS-67, and pulled in a very impressive $27,600.00. A tie for Finest Known, tops in sale price.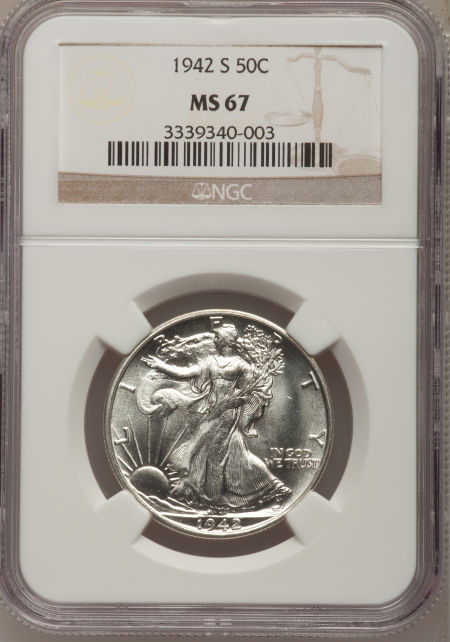 Love the Walker


And last, let's look at a nice gold example. The 1873-CC Half Eagle shown below, tied for Finest Known, was graded PCGS MS-62, and sold in the last FUN Auction for a jaw-dropping $161,000.00. With only two Mint-State examples extant, this is arguably one of the most import Carson City mint coins.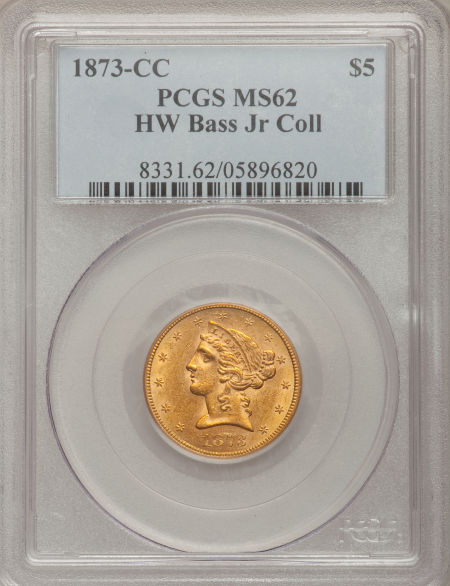 Only two known above 60
---

Magazines

This update I want to note that CGC continues to expand their magazine title coverage, and you can now find slabbed Sports Illustrated out there. They seem to be off to a slow start, but we'll see what happens once word gets around and some nicer copies get certified. A CGC FN 6.0 copy of issue 2, shown below, sold for only $131.45. It's actually a somewhat interesting issue, with gatefold NY Yankees trading card portraits in it. How about that subscription stamp - annoying, or provenance? Betty or Veronica I suppose, personal preference.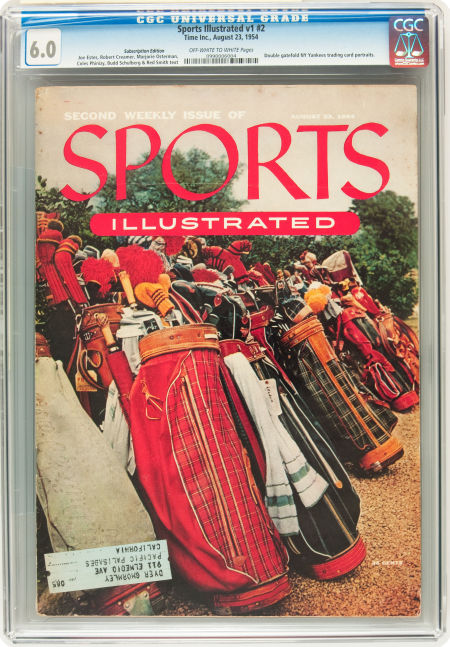 CGC expands magazine coverage
---

Thanks, we'll see you all next month.

Visit our NostoNews Archive.