NostoNews, April 1, 2009
by Tommy Jasmin

New pricing for 2nd Quarter 2009, market comments

The 2nd quarter 2009 pricing data is in! Sign in and see how the current market is affecting your collection value. Remember, we are now computing separate pricing for each grading service, as well as non-professionally graded items. So if you add an item to My Lists as non-graded, your collection value will likely change much less than if that item were graded by CGC, NGC, etc. Below I make a few market observations for each supported category.


---

Comics

One of the complaints we hear often is that our pricing is "too high", and fanboys on chat boards quickly discount it. They are looking at the MT 10.0 values, and simply don't understand them. In some ways, I agree, MT 10.0 values are ridiculously high. But what you have to realize, is these numbers are driven by actual sales. The 10.0 numbers are stratospheric because somebody is paying insane prices for CGC MT 10.0 books. Take the Uncanny X-Men 156 shown below. It sold recently through Heritage for $2,868.00. Sales like this are driving our 10.0 pricing for similar comics even higher. The interesting part is the fact that a MT 10.0 copy of this book is very plausible. This was an era, after all, when speculators were buying multiples for investment and setting them aside untouched. There will be a few 10.0s. Does that justify almost three thousand dollars for a definite non-key? Somebody thinks so. Actually, two people think so.

Now, those who understand the mathematics of hierarchical classification will understand that sales like this make our Golden Age 10.0 numbers hard to believe. Rightfully so, since a MT 10.0 Golden Age book in all likelihood does not exist. We compute theoretical numbers, based on the best information we have.

There is that CGC MT- 9.9 Zip Comics (#7?) though. If that ever goes on the market, it will sure be interesting to see how close the hammer price is to our computed number (half a million dollars last time I checked).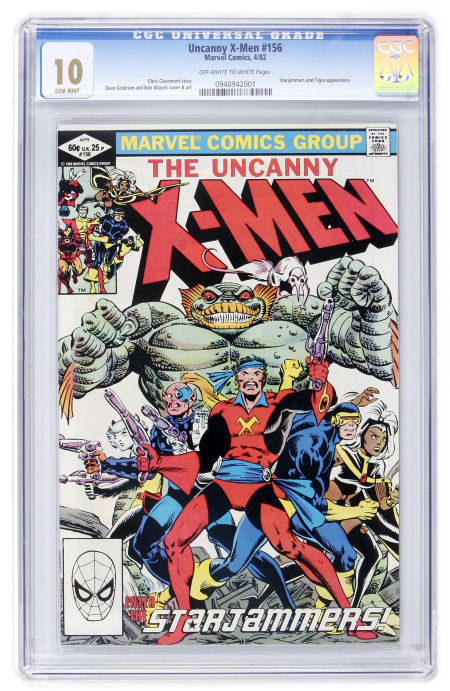 A CGC MT 10.0 Uncanny X-Men 156


Once again, Silver Age Marvel keys are the biggest gainers in our Top 100 list, with two exceptions I'll mention later. Amazing Spider-Man 1 is now a $100,000.00 book in NM 9.4. Don't you wish you would have had the hindsight to cash out your 401K last year, take the 10% tax penalty, and put that money into investment-grade Marvel keys?

I'd like to point out, it's not just the big gun books - those that most of us cannot afford, that are making huge gains. Below is a good example - Captain America 117, CGC NM 9.4. It is a key, with the first appearance of the Falcon. This copy sold for $1,434.00 recently through Heritage, way more than most pricing sources have it pegged at. This is not a shell game. Some of these books really are tough to find in grade. When they turn up, investors and collectors will pay big money for them, and our data lets you research exactly which ones.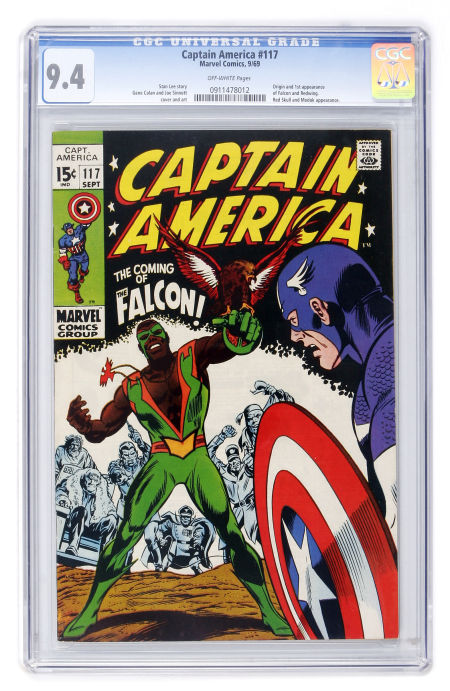 Even the secondary keys are pulling away


Before you start thinking all news is good, remember, the days when anything in CGC NM/MT 9.8 meant a $100 bill are long gone. People are still trying, but it's a big gamble now. Case in point: Valiants. People keep expecting a comeback, and 9.8 slabs are turning up. But they don't even recover the slabbing cost. The X-O Manowar 8, CGC NM/MT 9.8 shown below netted only $11.00.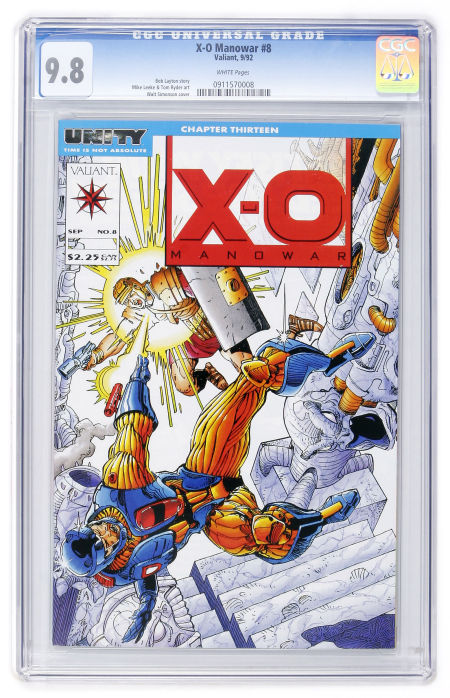 Doesn't even cover grading cost


At the other end of the spectrum, there were a few very big gainers this round on our Top 100 list. The biggest was Superman 6, which before this pricing update was nowhere near our Top 100 and now sits at slot 76, clocking in at $60,700.00 in NM 9.4. The copy shown below sold in the last Heritage Signature Auction for $56,762.00 in CGC VF+ 8.5, an astounding return on investment for that fortunate owner. And it's not even a Finest Known (1 better copy known).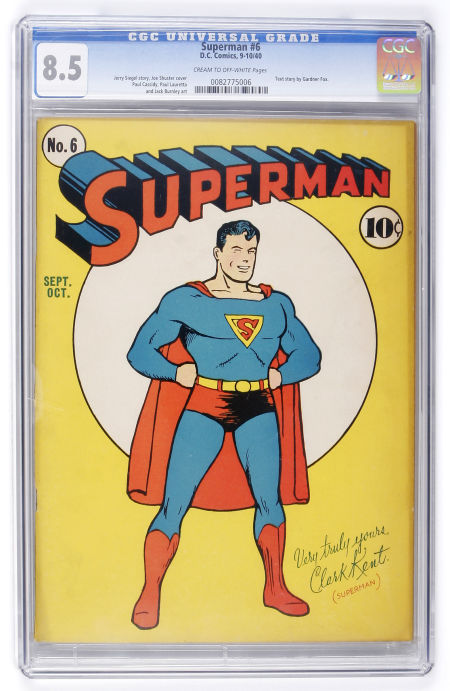 Huge gains for Superman 6


I could go on all night, there is so much interesting change in the market. But I'll close with a reminder to anticipate higher demand for a character once a major motion picture is a go. We all saw what happened to Watchmen comics. One minute, you are finding them in quarter bins. Next minute, slabbed copies are going for hundreds of dollars. Poetic justice if you ask me. Another to watch for - Jonah Hex (with Josh Brolin in the lead?). It appears the build-up has begun, as the CGC NM+ 9.6 copy of All-Star Western shown below (1st Jonah Hex) recently sold for $3,346.00 (stunning for a Bronze-Age book).



Jonah Hex heating up?

Other items of note:
Harvey file copies still trending down
Looney Tunes and Merry Melodies still trending down (why I wonder?)
Strange Tales 135 is white hot! (Sgt. Fury promoted to Colonel Nick Fury)
9.8 Amazing Spider-Mans are on average down while 9.9s are way up
---

Coins

We have to remind ourselves from time to time just how unlikely it is any regular mint coins from the 1800s exist in grades like MS-69. These are coins that were meant to be banging around in bags together, getting scratched and scuffed from day one. Take this gorgeous example, a PCGS MS-69 1881-S Morgan Silver Dollar. It sold recently through Heritage for a nice sum of $48,875.00. While at prices under $100,000.00, you won't find these on our Top 100 list, that doesn't diminish just how amazingly impressive they are.



PCGS MS-69 Morgan goes for $48,875.00


To further illustrate the point above, let's look at how difficult it can be to get close to perfect MS-70 even for modern issues. The 1976-D Eisenhower Dollar shown below is graded MS-67 by PCGS, and sold recently for $2,185.00. Being a modern, bicentennial issue, you'd think, like the Morgan mentioned above, that an MS-69 or maybe even MS-70 might exist. Not so - to date there is not even an MS-68 graded by PCGS.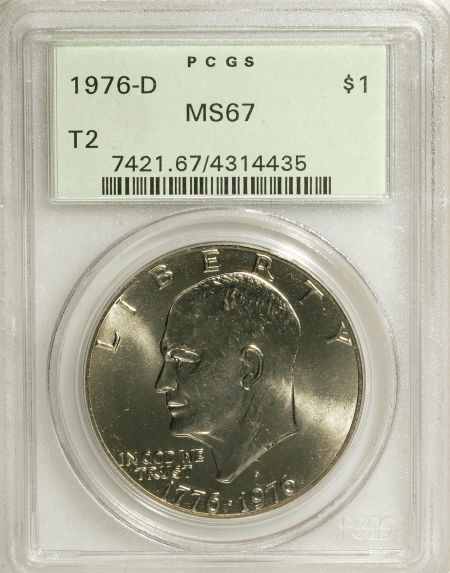 1976-D Type Two Eisenhower, at PCGS MS-67, a Finest Known!


Continuing our Lincoln Cent theme from last pricing update, this time we emphasize that color definitely matters. This 1909 Lincoln (not VDB) is PCGS MS-65, but designated RB for Red-Brown. Usually, you need the straight RD (Red) designation to crank the value way up. But this one, possibly due to the unusual toning, did very well at $920.00.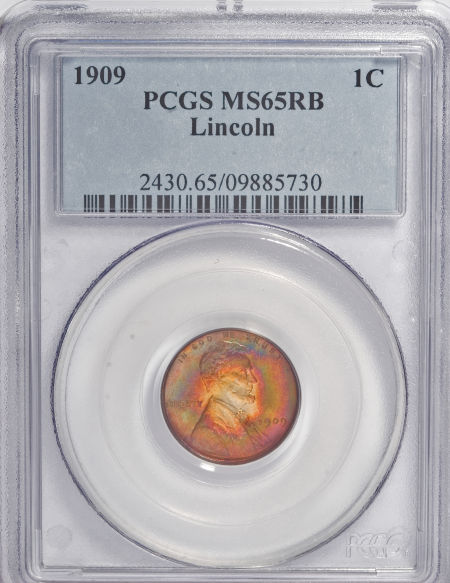 Nice color and toning, nice price
---

Magazines

There are a lot of magazines you can find in piles at garage sales or flea markets for next to nothing, like Life and Mechanix Illustrated. Most people won't even give them a second glance. But perhaps you should. All it takes is a special interest feature or cover, and suddenly you have a standout issue with demand. Take for example the May 1954 issue of Mechanix Illustrated, which has a Creature from the Black Lagoon cover. The copy shown is very low grade, stated FR 1.0 when listed for sale recently on eBay. Even in this poor condition the magazine still sold for over $10.00, and puts our current NM value for this magazine at a respectable $165.00.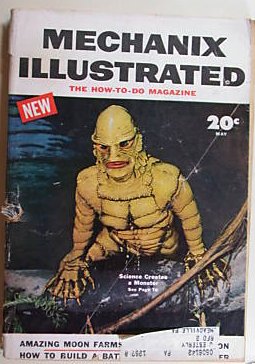 Unusual cover for Mechanix Illustrated
---

Thanks, we'll see you all next month.

Visit our NostoNews Archive.