$5 million for 5 cents
by Tommy Jasmin

As many of you have probably heard, the finest known 1913 Liberty Head Nickel recently changed hands for a record-breaking five million dollars. The coin is PCGS graded PR-66, and was held by Legend Numismatics, who sold it to a West Coast collector who wishes to remain anonymous.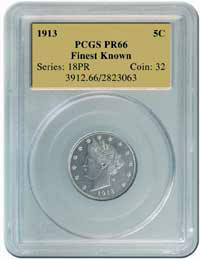 The 5 million dollar nickel



It sounds like the buyer is a true throwback collector, and the purchase is not for investment purposes but more stewardship and a real love for the hobby, which is really nice to hear. This sale is just one more example of the collectibles formula for increasing value: combine true scarcity with beauty and retained popularity, and you've got a winner.

Until next month, happy collecting.
---

Tommy is subbing this month for David Albanese, a Nostomania coins advisor. Albanese Rare Coins can be reached at their outstanding web site.

Visit our Coin News Archive.