Post FUN show report and CAC coins
by Dean Albanese

Isn't this a wonderful medium of 21st Century communications. Where is it all leading to? Especially in the world of Numismatics!

We are just back from the Great FUN Show and as far as we're concerned it was a success. I just wish there were more super coins available. Actually there were just "No super coins available" plain and simple. What we are experiencing is something that has never occurred over this extended period of time.

A super Bull Market. Make no mistake, this is definitely different from the late 80's, as in my estimation that was a contrived market. 2008 and forward is going to be something never experienced before. Now there is a distinction on what is going on. True rarities are through the roof and common coins once thought rare continue to languish. Over the past five or more years I have been foretelling of what was going to happen and basically it has happened as I said it would. True Numismatic rarities are really the last frontier of collecting for investment purposes. Shrewd deep pocket investors are looking at the numbers and liking what they are seeing. I further feel that no matter what is written in the negative and how much some market makers try to hold back prices they will explode, but only for accurately graded coins with a clear rarity and super eye appeal quality.

Now that leads me to another very important subject: "CAC".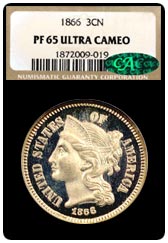 A CAC stickered coin


Collector acceptance graded coins. This is the single most important happening for the betterment of all collectors and investors alike. There has been a lot of talk on the subject and some very negative talk by those who just seem to be down on anything and everything no matter the subject. As far as I'm concerned I want our clients to have every assurance that they are getting what they are paying for - nothing more and nothing less, just the real deal. I actually had a known coin doctor come up to me at the FUN show and bitch about how none of his submissions made it through and four coins got "Body Bagged" because of CAC's influence to make the right thing happen when coins are submitted. "Oh how terrible for him!" We all know (Rare Coin dealers) who these guys are and it's about time they got shut down. Finally good things are in the works and all should feel very confident about buying CAC stickered coins. We totally endorse the service and will be a market maker in CAC coins. God Bless and good luck in finding the coin of your dreams.

All the very best,
---

Dean's father David Albanese is a Nostomania coins advisor. Albanese Rare Coins can be reached at their outstanding web site.

Visit our Coin News Archive.