King of Eagles Soars
by David Albanese

Record $5 Million for 1804 Proof Eagle, $1.7 Million for Farouk/Pittman 1838 $10

(Albion, New York) - Two of America's most famous, rare gold coins have been purchased for record prices. One of the four known 1804 proof Eagles was sold for $5 million on September 26, 2007 in a transaction brokered by Albanese Rare Coins, Inc. of Albion, New York. In the same transaction the buyer also acquired the Farouk/Pittman specimen proof 1838 Eagle for $1.7 million.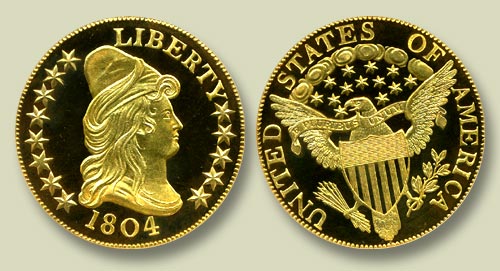 1804 Plain 4 NGC PF-65 Eagle


"The buyer and seller want to remain anonymous. Both are Northeastern United States entrepreneurs who have been collecting coins since they were young boys," said David C. Albanese, President of Albanese Rare Coins.

The 1804 proof $10 gold coin, one of only four known examples, is graded NGC Proof 65 Ultra Cameo (with star designation). Although dated 1804, the coin was actually struck in 1834 to be included in presentation sets given as trade mission diplomatic gifts overseas on behalf of President Andrew Jackson.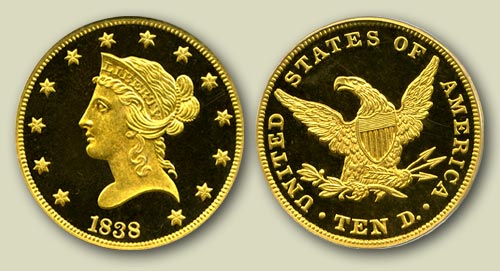 1838 Eagle, PCGS PF-65, Farouk/Pittman


Two of the four known specimens are in private collections; the third is part of the famous, privately-owned King of Siam proof set; and the fourth 1804 proof Eagle is part of the Harry Bass Collection at the American Numismatic Association museum in Colorado.

"This is the third time I've sold this coin. It's the King of Eagles. In the last four years it's increased in value from $1 million to now $5 million; a testament to both the strength of the rare coin market and this particular masterpiece coin," said Dean Albanese, CEO of the company.

"I know this coin probably better than anyone on the planet due to the extensive research I've done for a forthcoming book. It's the greatest proof $10 gold piece ever created with a great story behind it about its long journey, and I love it! To me it's more beautiful and certainly rarer than the 1804 silver dollar, and one of those (the Sultan of Muscat specimen) sold for over $4 million."

The 1838 $10 gold piece, one of only three known proofs, is graded PCGS Proof 65. Its pedigree includes some of the most famous names in United States numismatics including Lorin Parmelee, a prominent 19th century collector; Virgil Brand, an early 20th century Chicago beer baron; Col. E.H.R. Green, another enthusiastic, early 20th century collector; William H. Woodin who served as U.S. Treasury Secretary during the administration of President Franklin D. Roosevelt; and John Jay Pittman, a former ANA President who acquired it at the historic 1954 Cairo auction of Egyptian King Farouk's fabled collection and then kept it for decades until his death in 1996.

The anonymous buyer issued a brief statement: "To own these two coins is a dream that's come true. These are truly rarities for the ages, and I feel honored to be able to make these the centerpieces of my collection. The beauty and historical numismatic importance of these cannot be understated."

The anonymous seller also praised the coins: "It has been a tremendous honor to have owned these two remarkable coins. The 1804 and 1838 proof Eagles are two of the most important numismatic treasures in existence. The 1804 is highly underrated and will emerge as one of the most coveted rarities among all U.S. coins because of its extraordinary history and significance. And the 1838 Eagle's significance and rarity makes it a perfect companion to the 1804."

The $5 million purchase price for the 1804 Eagle ties the record for the world's second most valuable coin that was established earlier this year with the private sale of a 1913 Liberty Head nickel. The previous record prices for an 1804 proof Eagle and 1838 proof Eagle were $2,274,000 and $1,177,000, respectively, in February 2005.

For additional information, contact Albanese Rare Coins, Inc., P.O. Box 146, Albion, NY 14411. Phone: (585) 589-1803. Online: see below.
---

Tommy is subbing this month our for usual contributor - David Albanese, a Nostomania coins advisor. Albanese Rare Coins can be reached at their outstanding web site.

Visit our Coin News Archive.