NostoNews, October 1, 2022
by Tommy Jasmin
4th Quarter 2022 Market Comments
---
Finally, we have a correction in the collectibles markets. The trend is affecting not just high print-run Copper Age books (whose abundance has finally saturated high, movie-fueled demand), but has spread to Silver Age, including keys! We're not seeing as big a drop for major keys of course, but significant nonetheless. For example, Fantastic Four #48 between GD and FN is down 12% this quarter. This is the first time since 2019 that Amazing Fantasy #15 has dipped in value from one quarterly pricing update to the next. It's nothing to panic about, a correction was long overdue. There are many areas that are still hot, and performing very well. For example, great Golden Age covers, and Finest Knowns, of course. Here are a few sales that caught my eye this past quarter, enjoy!
---
Superman #18 Complimentary Copy (DC, 1942) Uncertified VF 8.0, $8,400.00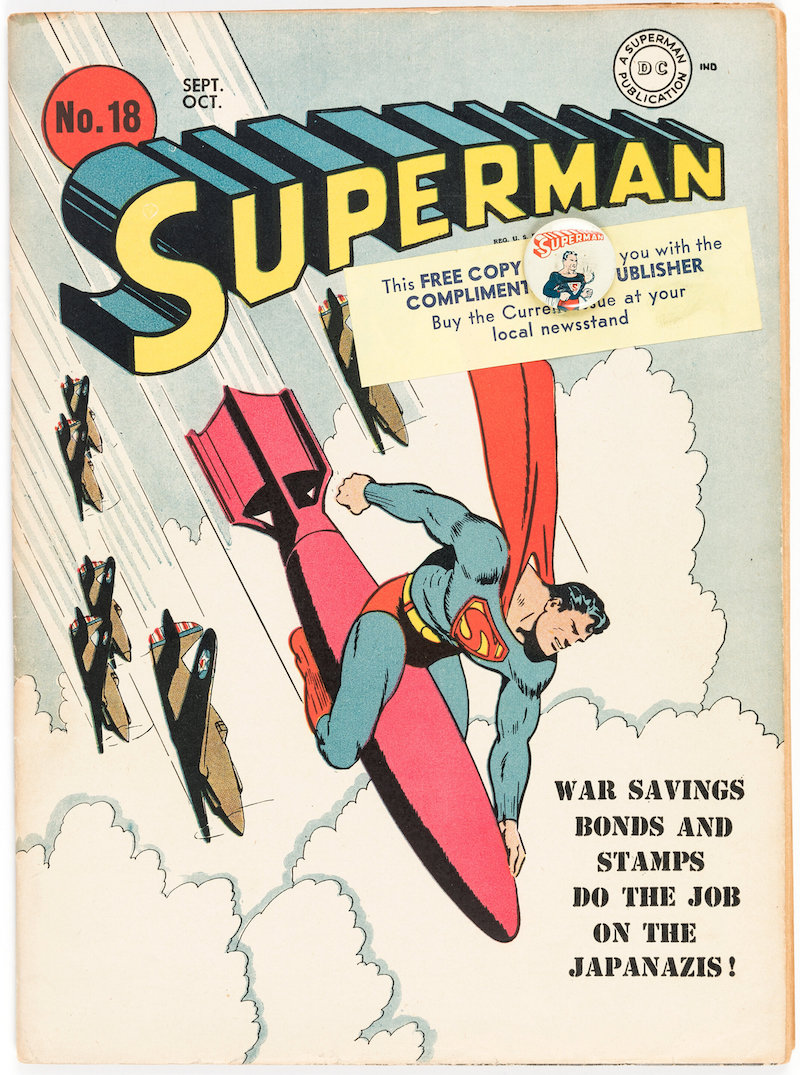 It's definitely fun to ponder the existence of elusive variants of Golden Age comics. For years, people searched for the Marvel Mystery comics 128-page Variant, because it was called out in Overstreet. Turns out there never was a variant. At least nobody has shown any tangible evidence of one to date. Here is a variant that, while we know other copies should exist, for now this is the only known copy. The variant is a complimentary copy of Superman #18 that was given out by DC with a pin and sticker pasted to the cover. Since most online guides only compute CGC values, we may be the only site to have this item in a pricing database.
Tales of Suspense #39 (Marvel, 1963) CGC VG/FN 5.0, $13,800.00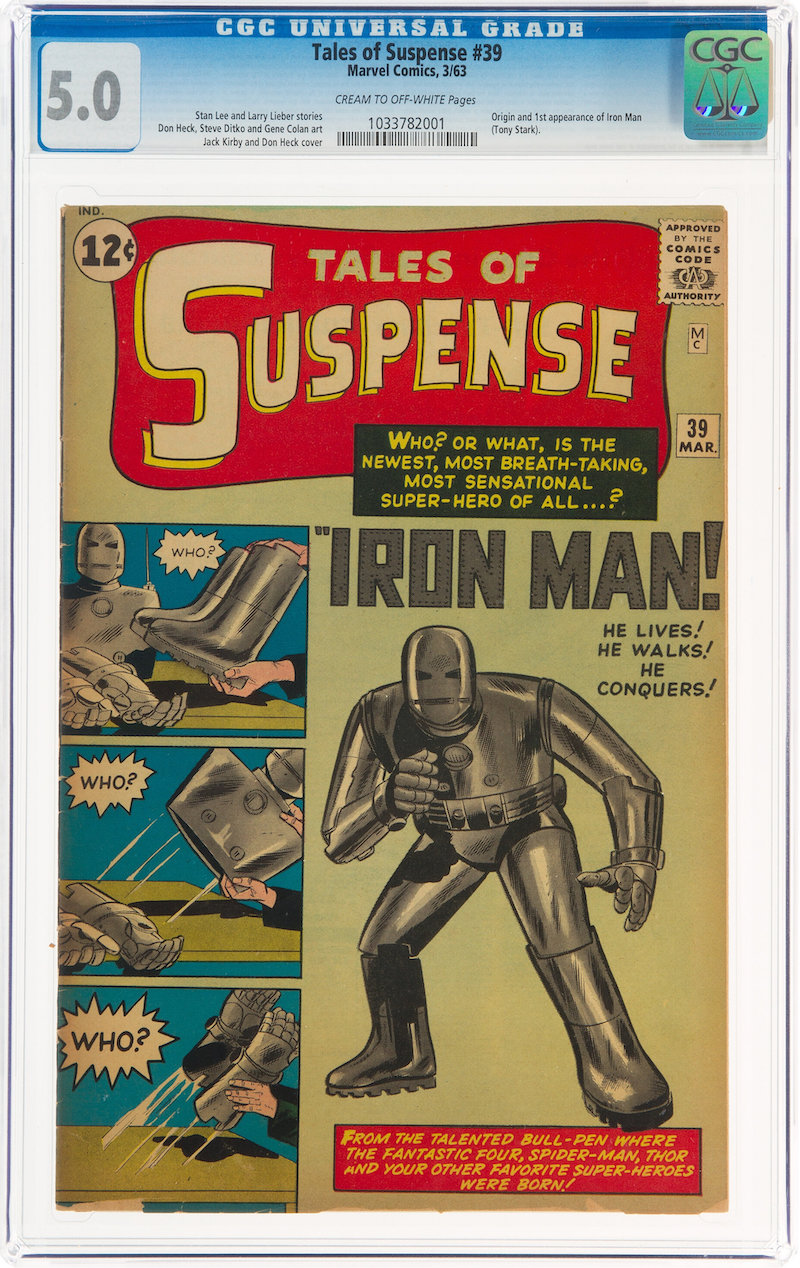 Show me some evidence of this correction, you say? If you got the Premium Subscriber newsletter, I gave several examples there. Here is another. Yes, $13,800.00 is a lot of money, but let's put this late August sale in context. As I type, the current Nostomania CGC VG/FN 5.0 value is $17,700.00. This sale price is even below the current Nostomania CGC VG 4.0 value of $14.700.00. Back in April, a CGC FN- 5.5 copy sold for $22,800.00. No matter how you slice it, this sale was 22% below guide. Again, don't panic. It was only three years ago this book in this grade was selling for under $10K.
Afterlife with Archie #1 Pepoy Variant (Archie, 2013) CGC NM/MT 9.8, $456.00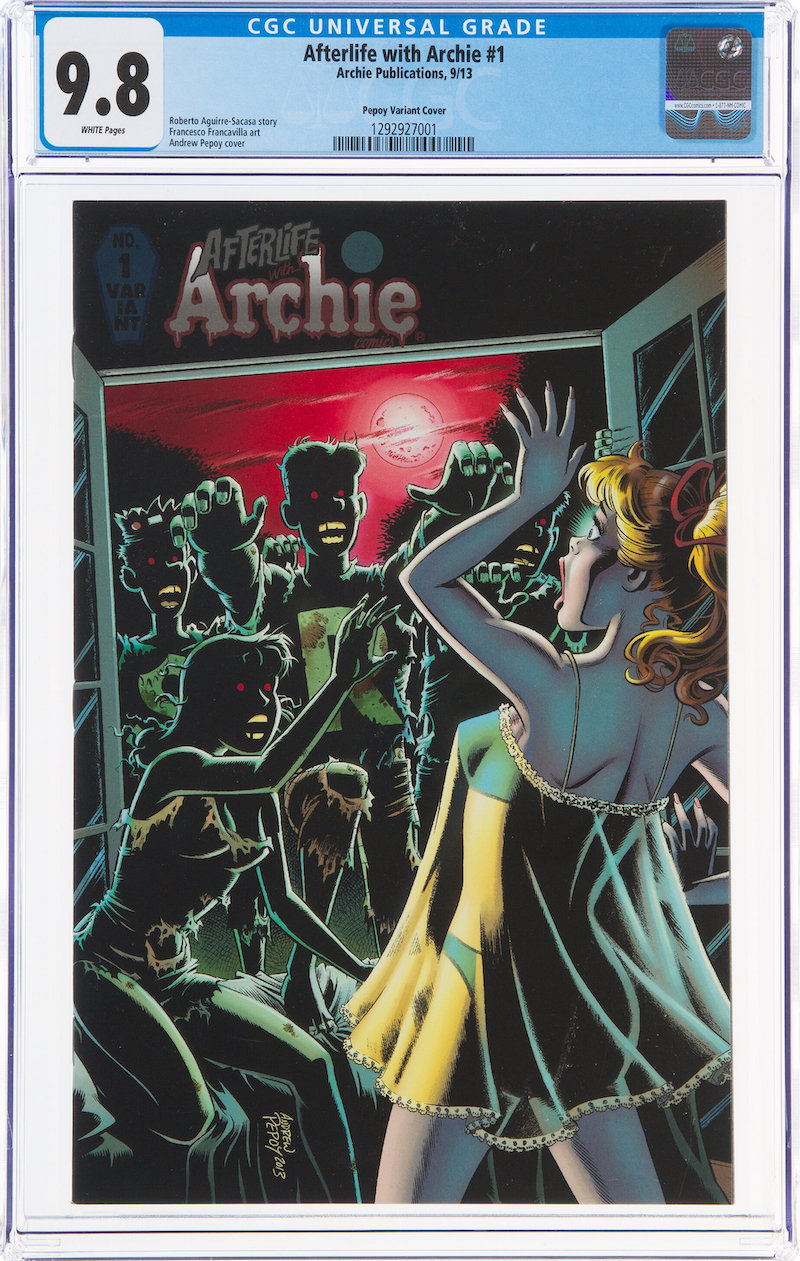 I try to include at least one Modern Age book in the market report, so here's one that caught my eye, and showed up in our stats as an outlier (up sharply in value). I chalk the appeal up thus: take a well-known character in a well-known franchise (Archie), cross that over with a new element that feels unusual for the character (horror), and throw one of the main characters on the cover scantily clad with a decent artist. That's a recipe for success! It's Archie's teen humor meets The Walking Dead. Yes, I realize this is exactly what they did with Riverdale, making it a supernatural crime drama series on TV, and I rest my case.
Amazing Ghost Stories #14 (St. John, 1954) CGC FN+ 6.5, $18,000.00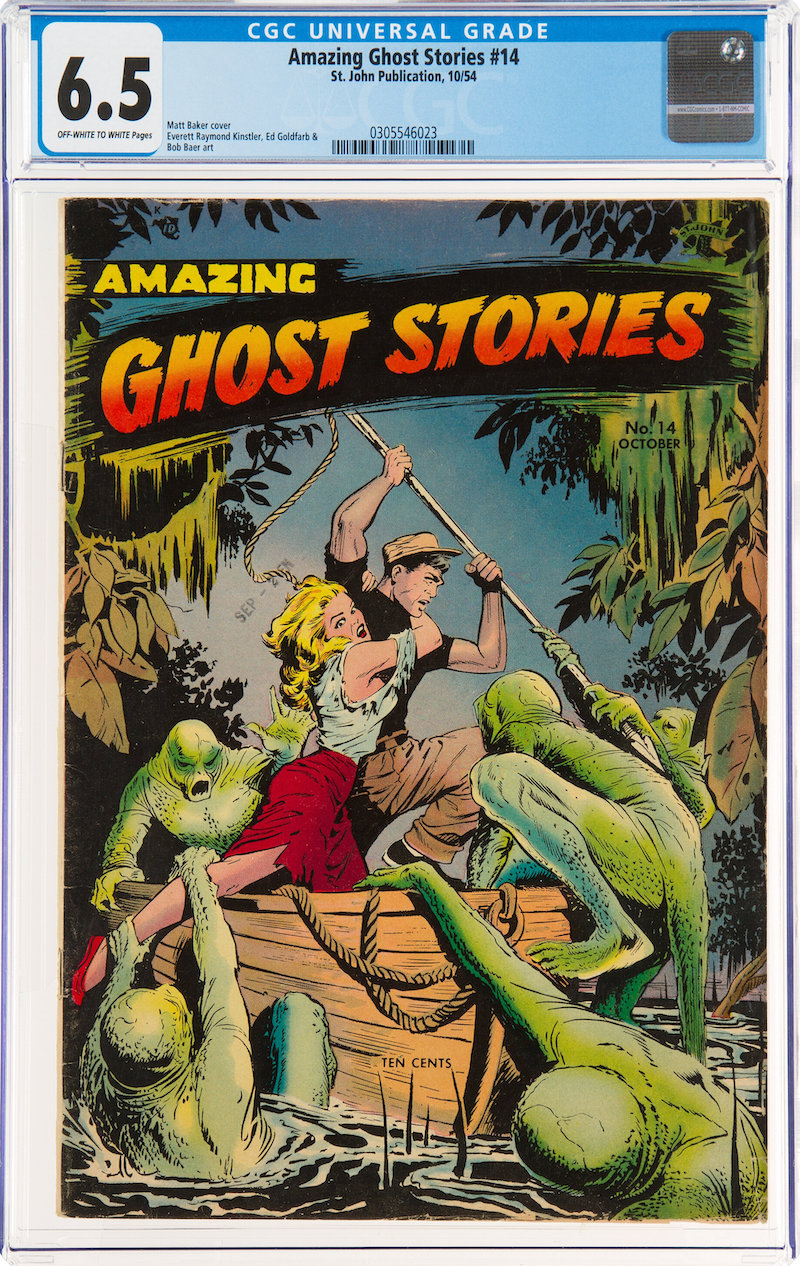 I have been talking this book up for years, and it shows no signs of letting up. Not your typical Matt Baker cover, this one features a fantastic swamp monster cover. It was almost certainly strongly influenced by the Creature From The Black Lagoon movie, which came out the same year as the comic. These St. Johns are never easy to find, so if you've been hunting for this comic, unfortunately it is becoming increasingly out of reach for most collectors.
Across the Seas in a War Torn World #nn (EC, 1948) CGC FN+ 6.5, $4,560.00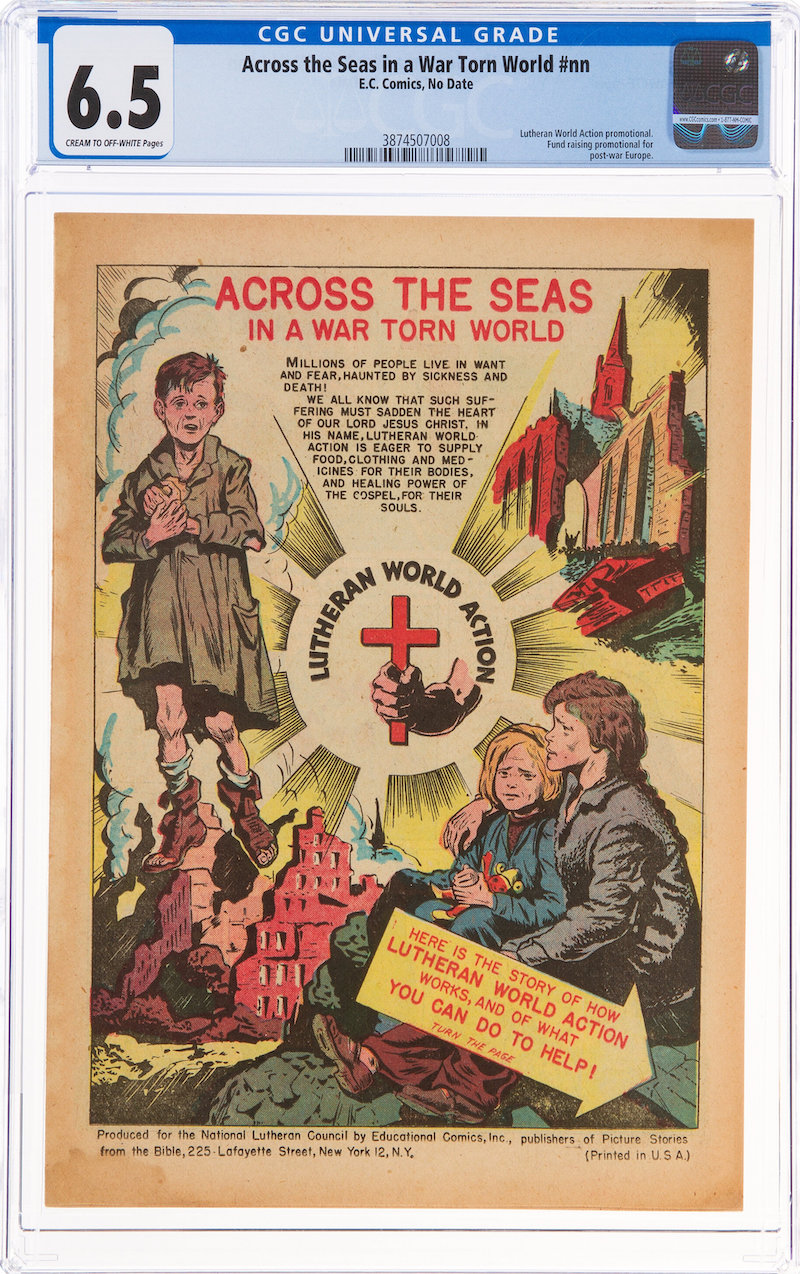 This sale is a lesson to never overlook the potential of promotional comic books. I did not even know E.C. created promos like this. It's a Lutheran World Action fund-raising promo for post-war Europe. Probably pretty scarce, and the avid bidding on this copy seems to support that theory. Not in Overstreet, and it wasn't on Nostomania either, but it is now! Wish I knew who did the art, looks to me like potentially Jack Davis.
Prize Comics #22 (Prize, 1942) CGC VG- 3.5, $9,866.40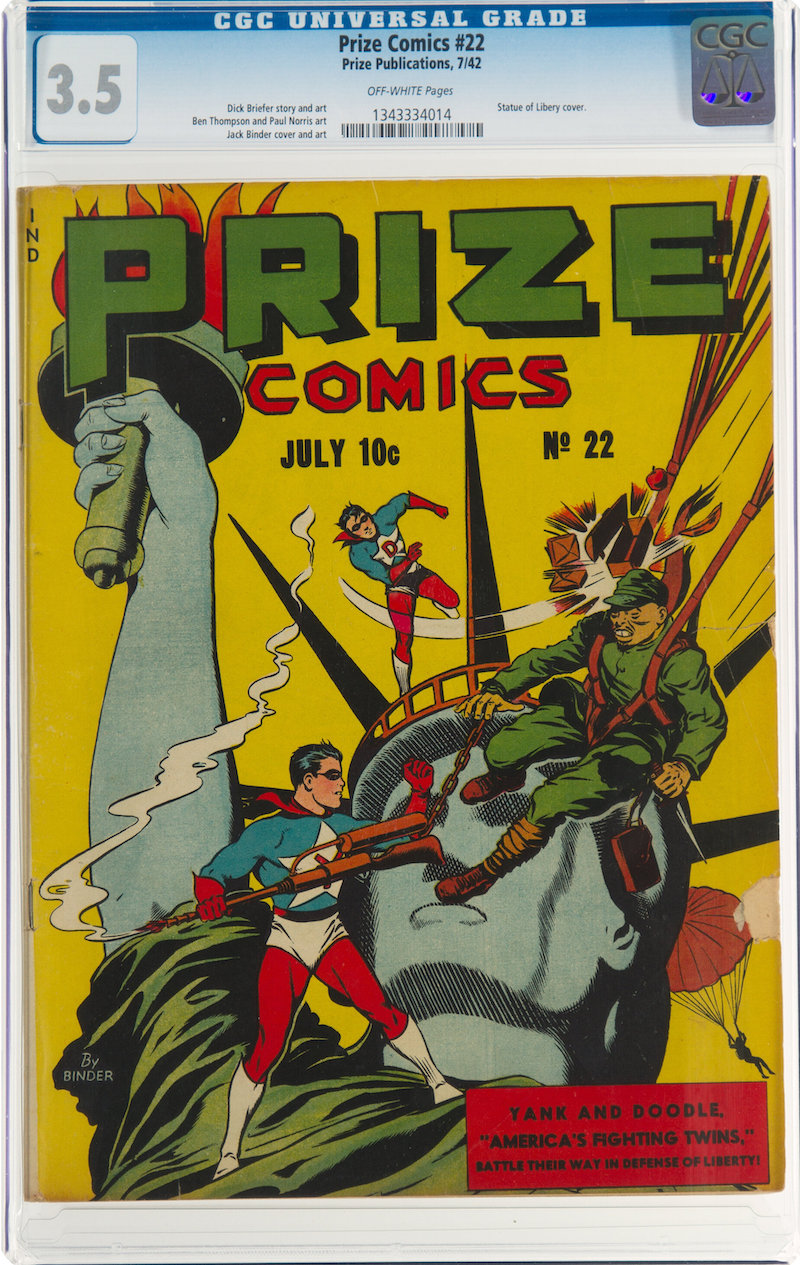 Many of you may not grasp just how significant this sale is. I'd be curious what the other pricing sites say about this book. I suspect many of them have no idea what to do, their code is just not nearly as sophisticated as ours. Anyway, besides the fact that this is a cool early Golden Age, World War II cover book, it's super scarce. There are only five total CGC certified copies, that should tell you something. But this should put it in perspective for you - one of those five copies is the Mile High. That book is CGC NM+ 9.6, and sold in late 2009 for $2,151.00!
1885-O Morgan Dollar, PCGS MS-64, $1,200.00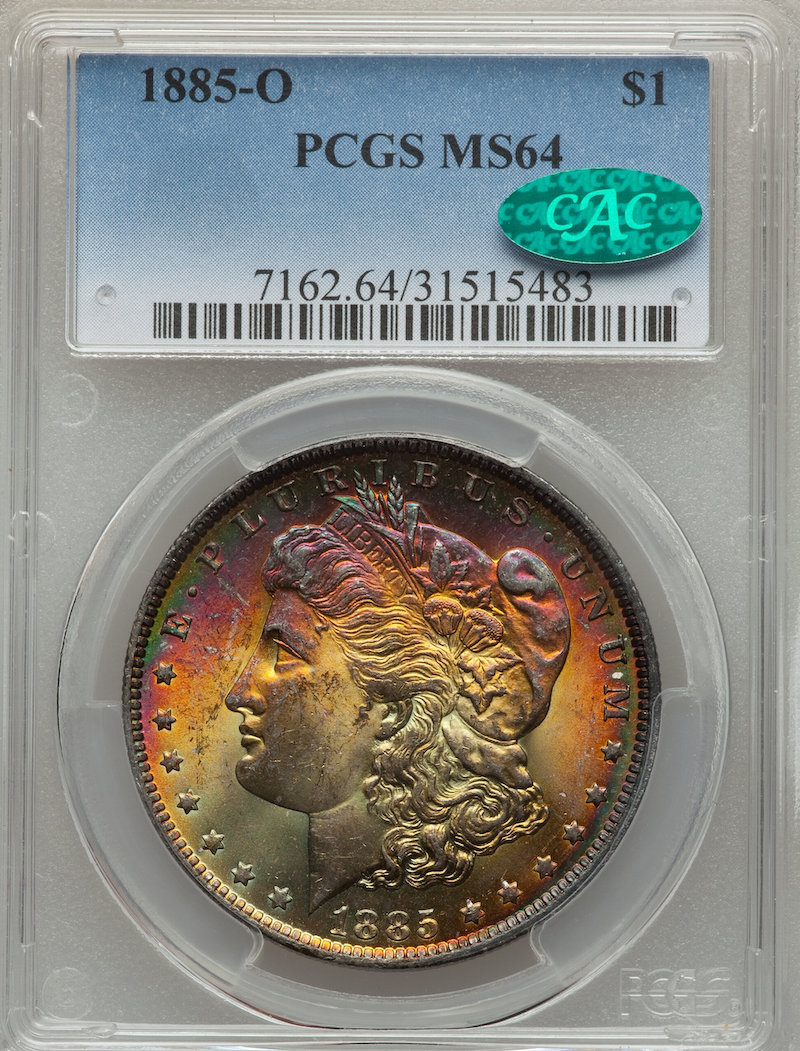 Why am I highlighting this sale? This is a very common coin, with a mintage of over 9 million (reminder, we now have mintage on the site!). Most recent sales, even with a CAC sticker, are a little over a hundred dollars. This one broke the thousand dollar barrier for one reason - look at that remarkable toning! Since this aspect is subjective, these are tough to deal with, and can throw our pricing algorithms off. I almost wish examples like this would get a plus grade, but again, toning alone is subjective.
1893-CC Morgan Dollar, NGC MS-63, $8,700.00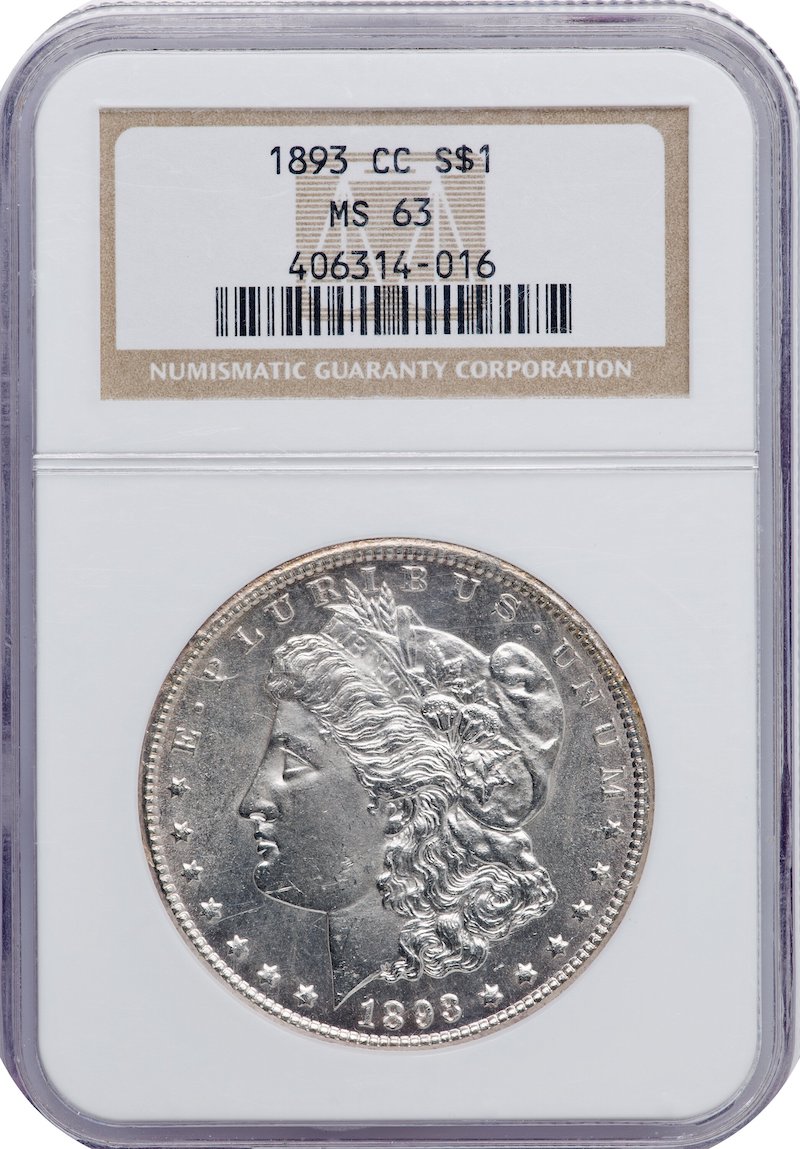 This coin was from a cool Carson City only recent Heritage auction. It's an historical example because this was the last year Morgan Dollars were minted in Carson City, NV. The view in the holder doesn't do the coin justice. It looks much better in a close-up view, which may explain the high sale price, well out-performing all other recent NGC sales in the same grade.
TV Guide V1 #26 (TV Guide Magazine Group, Inc., 1953) CGC NM- 9.2, $1,980.00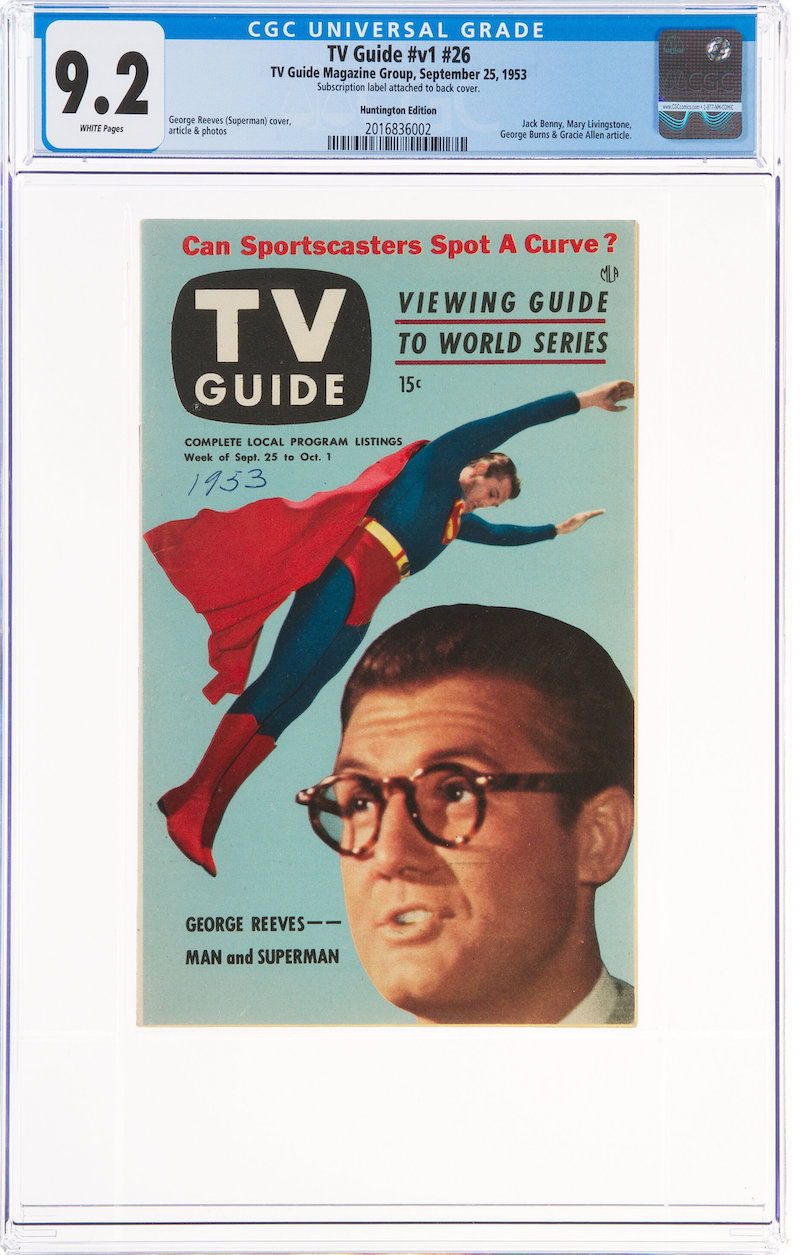 For the most part, TV Guide is overlooked as a junk magazine. But if you sift, you can find some valuable items in the run, like this one. I suspect part of the killer price here is Heritage having a knack for touting Finest Knowns. They glossed over the fact that this is also the only CGC copy at present. How scarce is it, and what's the real demand? Time will tell as more get sent in for certification.
---
---