NostoNews, October 1, 2018
by Tommy Jasmin

New pricing for 4th Quarter 2018, market comments

Happy fall everybody. The just-computed 2018 4th Quarter pricing data is here! The collectibles markets continue to be incredibly strong overall, and we continue to set record prices that none of us could have imagined a decade ago. Sign in and see how the current market is affecting your collection value. Remember, we compute separate pricing for each grading service, as well as non-professionally graded items. Depending on the item, this may result in significant value differences when using My Lists. Below, I make a few market observations for each supported category.


---

Comics

Incredible Hulk #1 has been a hot book in low grade over the past few years (any grade, really, it's just that most copies that come to market are low grade). I've been waiting to see what happens when a high grade copy goes to market. We got to find out in the last Heritage Signature auction, where the CGC VF/NM 9.0 copy shown below was auctioned off. I know I sometimes pick on how far off other price guides are from actual sale prices, but give Overstreet credit on this one; they were significantly closer. The sale price was over a quarter million dollars. Think about that, somebody laid down $264,000.00 for a Hulk 1. The Overstreet value at the time of sale was $157,400.00 at VF/NM 9.0, and $265,000.00 at NM- 9.2. Nostomania (at the time of sale) was $145,000.00 in CGC VF/NM 9.0 and $249,000.00 in CGC NM- 9.2.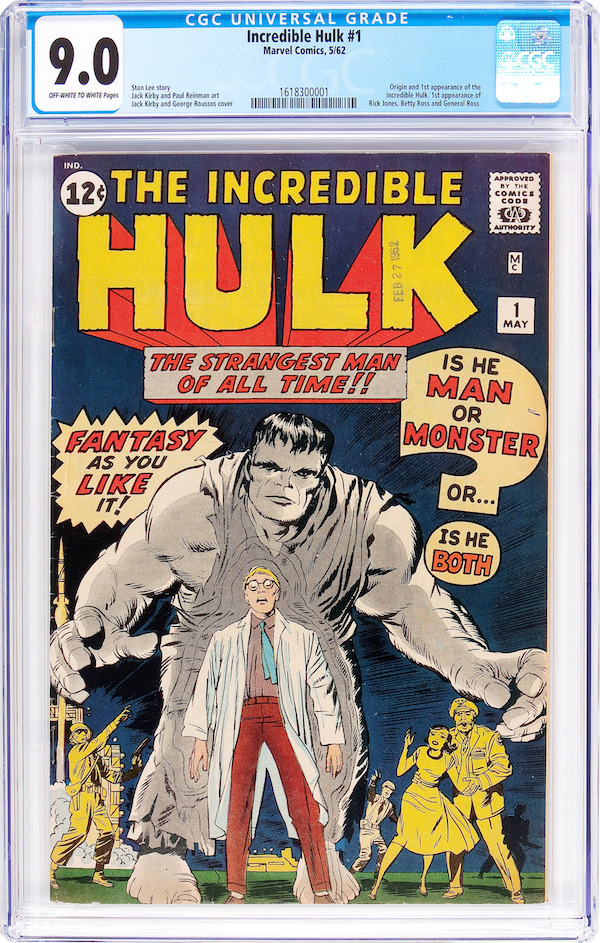 Note the spine stress you can get away with on a 9.0


The run of Frank Frazetta Buck Rogers covers in Famous Funnies is now legendary. Almost every time a high grade copy comes up for sale, these books climb higher. Here's one I bet you've all marveled at, but has anyone ever puzzled over this cover like I have? It's a stunning image, but why would Buck and his hot space companion have fancy space suits with no pants? I have only two plausible explanations for this. 1) Perhaps when the monster came on board, the rush of oxygen leaving the airlocks ripped their pants right off, and sucked them into space? Or, 2) Perhaps the monster broke into the spaceship at a very unfortunate time for Buck and his girl, interrupting a little "afternoon delight". Either way, look at the monster's eyes, he's clearly not happy that he can't un-see Buck's junk hanging out the back of his shirt. I'm sorry, did I ruin this comic forever for you? Well don't worry, because somebody happily took this CGC VF 8.0 copy off a seller's hands for $6,000.00. That's right, six thousand dollars!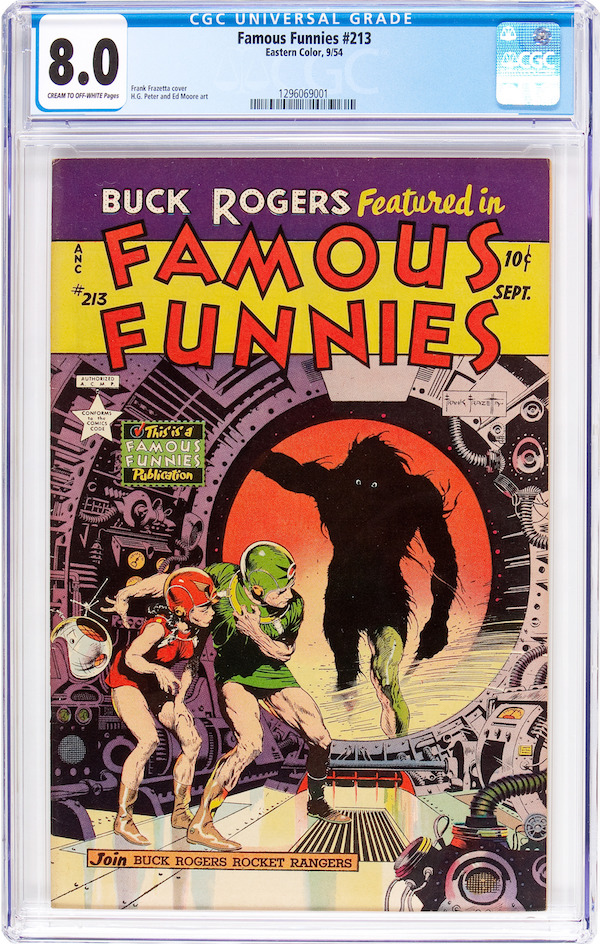 You've heard the term Space Junk


Just how much influence are movies having on our hobby? Many collectors like to downplay it, but it's crystal clear. Movies are driving the huge price increases in recent years. Now that an Eternals movie is under development at Marvel Studios, a book that dealers, not long ago, had a hard time moving in dollar boxes is now selling for $100.00 unslabbed in the NM range, and $1,000.00 for high grade slabbed copies. The uncertfied VF+ 8.5 copy shown below sold recently via Heritage for $94.00.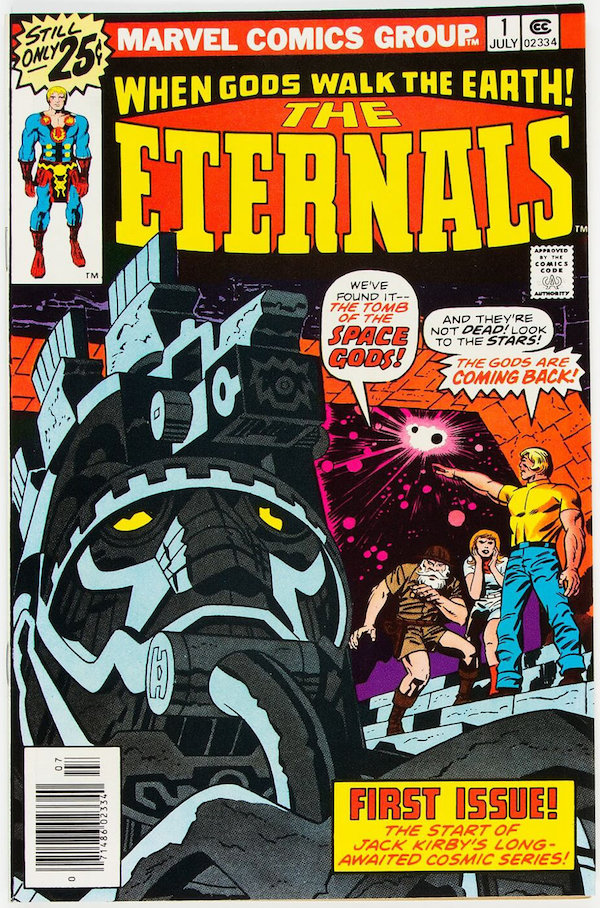 Movie in the works
To collectors who say Charlton had little to offer, owners of some early Chartlon books, like The Thing! 11 shown below, will beg to differ. What an amazing cover, you have to wonder how the artist came up with it. Graded CGC VG+ 4.5, to be honest, I could easily see this book doing better than the $456.00 it sold for in a recent Heritage auction, given it also features an H.P. Lovecraft Necronomicon story, and the always noteworthy "injury to eye" panel. I'd be more than happy to have this comic sitting alongside some classic E.C.'s of the era.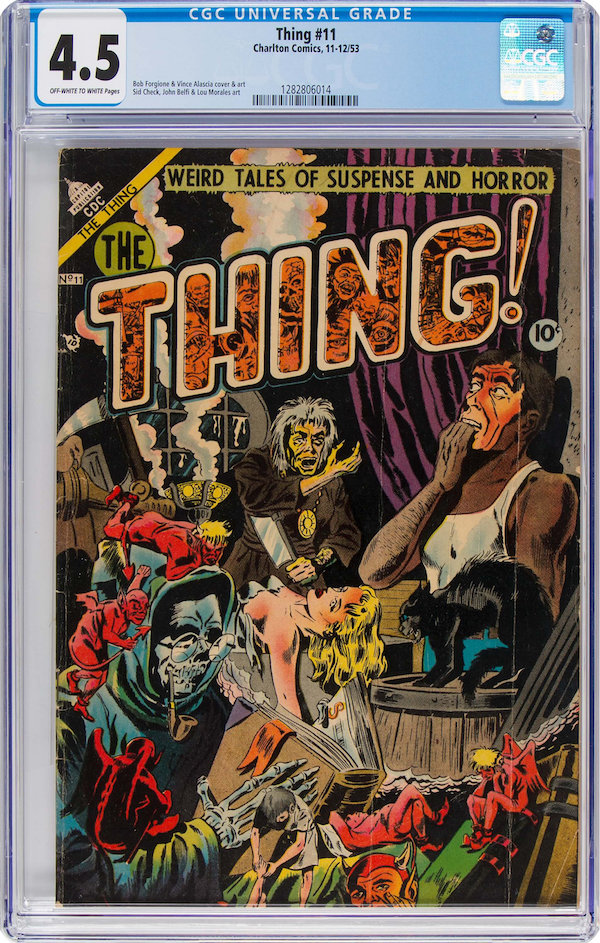 Cover credited to Forgione and Alascia


Here's a head-scratcher. First off, why would Heritage even offer a CGC VF- 7.5 copy of Spawn 1 in one of their auctions? This is a one-to-two dollar book. Second, why would anybody bid this up to the closing price of $45.00? This is just pure speculation on my part, I'm certainly not accusing anyone of anything, but my guess is somebody sitting on a ton of high grade Spawn 1s (and what dealer isn't?) talked Heritage into including this in their lots, and had friends shill it up, so all you collectors would think you should bid twice this much when you see a 9.4 copy offered. A little advice: don't. Just look to the CGC Census data: 32 in 7.5, 6889 higher.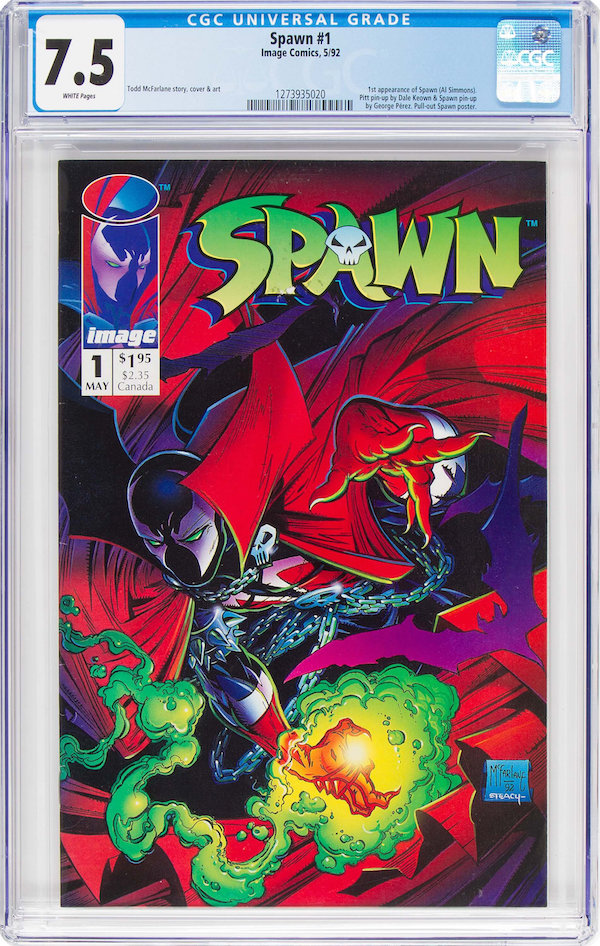 Shill?


When I was young, Amazing Spider-Man 14 was a holy grail book. The Green Goblin was the most infamous Spidey villain, and that issue had The Hulk too. I never would have expected to see a day when an uncertified copy of ASM 13 does better than a certified copy of ASM 14 in the same grade, but that's where we are today. With Mysterio announced as the villain in next year's Spider-Man, Far From Home movie, we have the Uncertified FN 6.0 copy of Amazing Spider-Man 13 shown below selling in a recent Heritage auction for $1,680.00. In the same auction, a CGC FN 6.0 copy of Amazing Spider-Man sold for a bit less, at $1,500.00.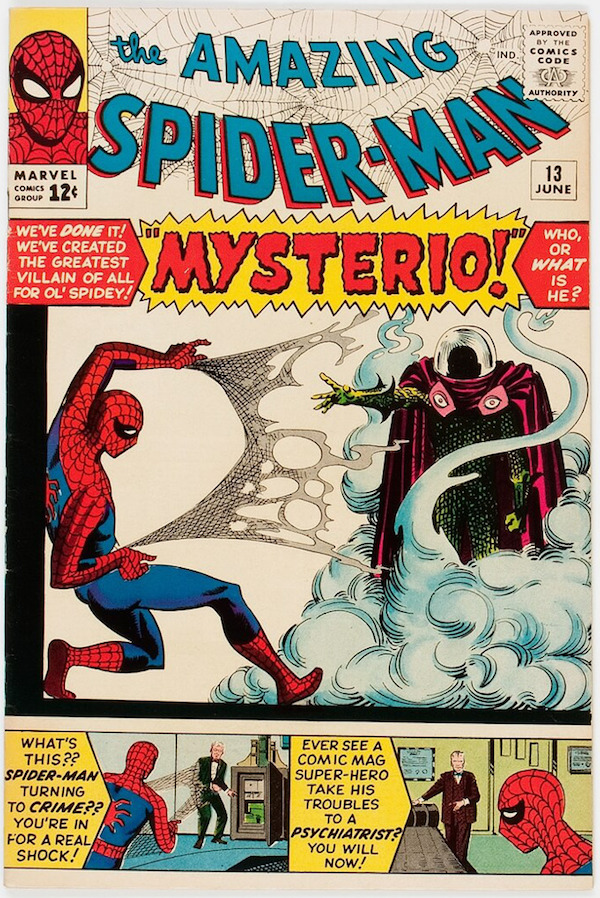 Mysterio works magic

Other items of note:
Venom movie around the corner. This book re-tells Venom's origin.
Below: Amazing Spider-Man 361, CBCS NM+ 9.6, $204.00
It's a visual media, a great cover will always sell the book, and wow!
Below: Jungle Comics 49, CGC VF/NM 9.0, $2,040.00
Another Archie sleeper anybody could find lurking in a bargain box.
Below: Archie's Girls Betty and Veronica 320, CBCS NM+ 9.6, $1,260.00
No slabbing necessary here, just a great Maurice Whitman Fiction House Ghost cover.
Below: Ghost 2, Uncertified VG+ 4.5, $1,440.00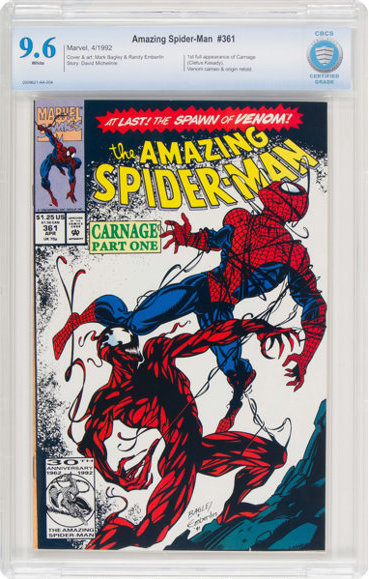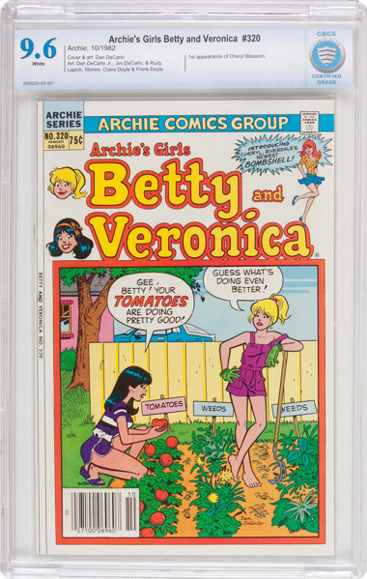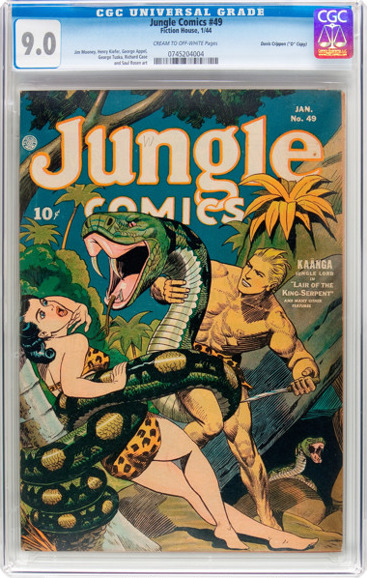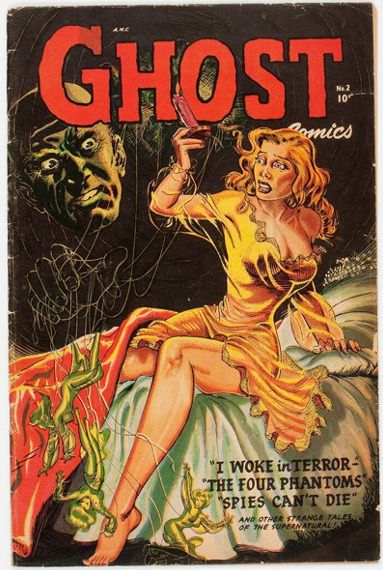 ---

Coins

Our first featured coin is a remarkable item that exemplifies how difficult a task it is to generate accurate pricing for coins that rarely, if ever come up for sale. The 1795 50 Cent Piece, Two Leaves, O-132, T-27, R.8 variety, has only two known specimens, and one has not seen daylight in 89 years. The NGC VG-10 example, shown below in that old NGC holder, was recently auctioned by Heritage and brought in $66,000.00. The sale firmly places this coin at the #15 slot on our Nostomania's Top 100 Coins list, with an estimated baseline MS-63 value (used so we can make apples-to-apples comparisons for rankings) of $2,460,000.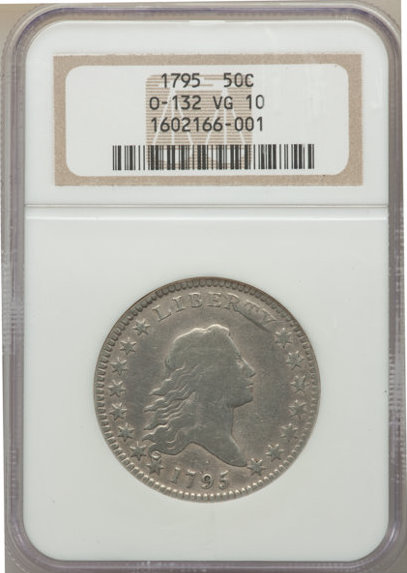 Only two known!


This is by far the biggest news item of the quarter right here. If you are not familiar with the story, check out the link we posted on our Forums. The short version is the San Francisco mint produced only 268 1854-S Half Eagles, and only 3 were believed to have survived to this day, but a 4th was recently discovered. I was really happy to that learn Heritage would auction this coin, and the world sat and watched this NGC XF-45 coin sell for over two million dollars: $2,160,000.00. This is a classic U.S. coin story of an initial very small mintage, with the mystery and wonder whether any further surviving examples will one day be discovered.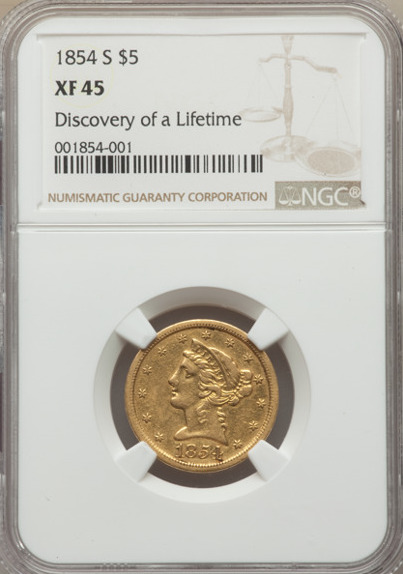 Discovery of a lifetime


The last coin example this quarter is also a cool recent sale example of a legendary coin. As Heritage called it, the 1794 Flowing Hair Silver Dollar is a classic American rarity. Even in the mid-1800s, this coin was considered an extreme rarity with great historical significance. Nice examples brought hundreds of dollars when they were offered for sale, which was as crazy back then as the $780,000.00 the NGC AU-58 example below sold for at a recent Heritage auction.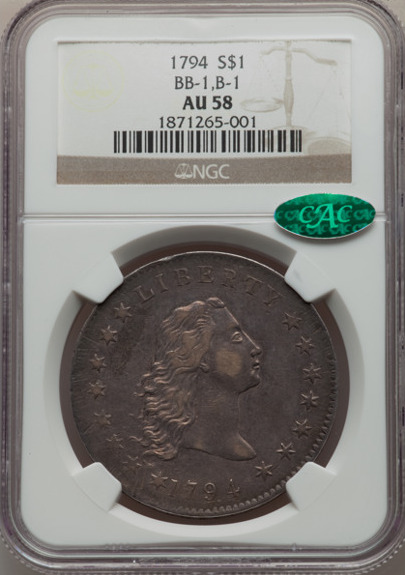 Census: 2 in 58, 5 Finer
---

Magazines

The vast majority of old copies of TV Guide have very little value, for obvious reasons (no demand). But there are a few issues that stand out and are valued by collectors. Here's one. TV Guide Volume 15 #9 featured Leonard Nimoy and William Shatner on the cover while this new groundbreaking science fiction series, Star Trek, started capturing viewer's attention. This Uncertified FN/VF 7.0 copy sold recently via Heritage for $61.00, which is impressive for a TV Guide. Look at the young Shatner, you gotta wonder what Bill thinks when he sees stuff like this. When someone plops down a copy for him to sign at major comic conventions, which he still actively tours (he's making the Wizard World circuit again this fall). As a kid, I spent a lot of time outside, but no matter how much fun I was having, I would dash home in time to watch Star Trek.



Fond memories for this guy
---

Thanks, we'll see you all next month.

Visit our NostoNews Archive.