NostoNews, October 1, 2011
by Tommy Jasmin

New pricing for 3rd Quarter 2011, market comments

The 4th quarter 2011 pricing data is in! Sign in and see how the current market is affecting your collection value. Remember, we are now computing separate pricing for each grading service, as well as non-professionally graded items. So if you add an item to My Lists as non-graded, your collection value will likely change much less than if that item were graded by CGC, NGC, etc. Below I make a few market observations for each supported category.


---

Comics

For starters this month, let me just say that this first example is why our 9.9 and up pricing is so crazy. Because you people are crazy! Paying crazy prices for a MT- 9.9 book like the Detective Comics 576 shown below. We figure even at 9.9, this book is so common in super-high grade (McFarlane doing Batman) that it should be a $100 book tops. But somebody just paid $388.38 for this comic, driving our MT- pricing higher than astronomical.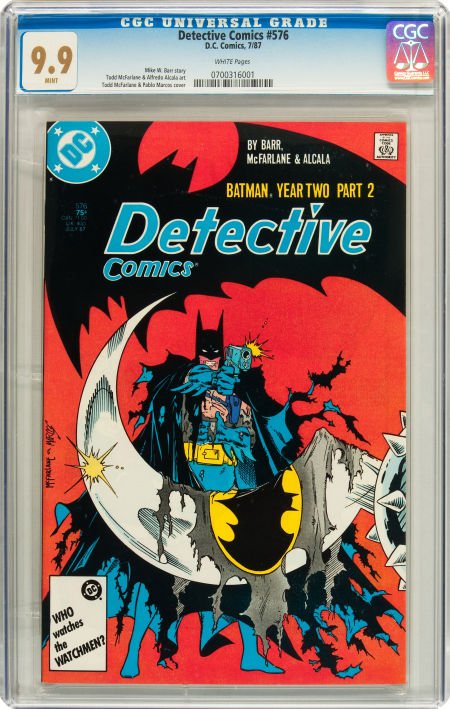 MT- 9.9 really gets the job done


Now, just to show that everything is not going ape-shit (yes, that's a bad joke as you will soon see), check out the recent Heritage sale of Tarzan 209 (which is really Tarzan #3 as far as DC is concerned). This superb copy, a CGC NM+ 9.6, sold for only $34.00. We would have expected this book to pull a solid $100. It's a 52 pager, and has Joe Kubert and Murphy Anderson art, besides being a super high grade Bronze Age DC key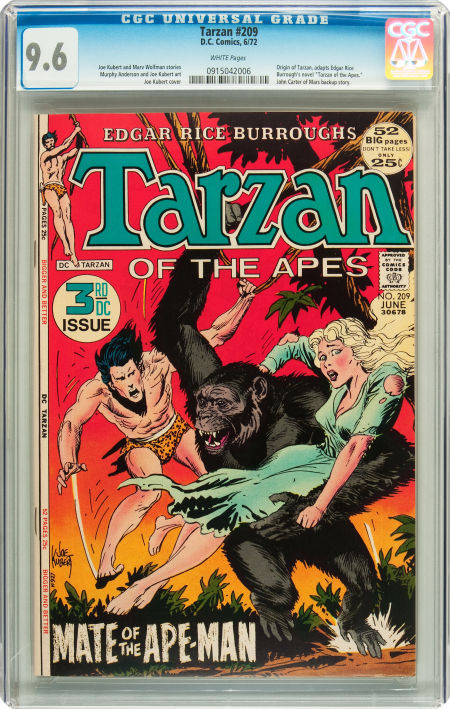 Not to mention a "hottie hauled off by a gorilla" cover


And to show other genres are vulnerable to the down economy, how about some esoteric stuff? Check out the Brain Boy 2 below, again, a helluva copy at CGC NM+ 9.6. What a bizarre book, somebody must want it, right? Normally, I kinda gravitate toward this weird stuff. But not for the $300+ we previously had it priced at. This book sold for a much more realistic $107.55. Did I mention this copy is Finest Known by a mile?



I gotta wonder, who collects Brain Boy?


Ok, what else can I pick on this month? I know, I do it all the time. The whole "Katzenjammer Kids" thing - in anothe 10 years, almost noboby is going to remember or care about these Golden Age books. Do I have to remind you people every pricing update? Well ok then, here's this quarter's example, Famous Funnies 55. Nice white cover, CGC FN 6.0, and all it can muster is $47.00. Barely covering slabbing cost, and this is a 1939 book!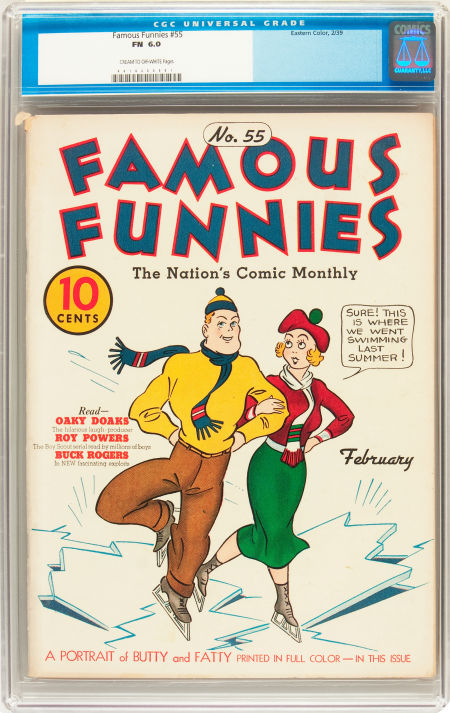 Dust to dust


I'm not trying to continue with all downward trend examples, but I do feel compelled to convey that the Disney books are finally coming down to Earth. Let's look at a very pedestrian example. Book-wise, not grade-wise. Take the Uncle Scrooge 181 shown below. Ties for Finest Known at CGC NM/MT 9.8. Three months ago this book would haul in (check our sales data) $150.00 easy. Now, it musters $36.00, which makes much more sense to us.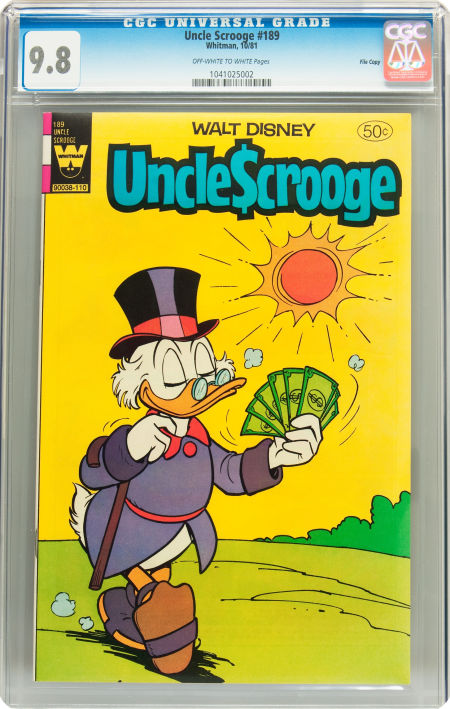 Back to Earth


For this report's "the cover sells the book" example, as always, a good bondage cover will get the job done. I'd be curious what Overstreet has this book at. The CGC FN/VF 7.0 copy below, nice but not that nice, sold recently through Heritage for a whopping $2,151.00. You gotta admit, as far as bondage covers go, this is not your typical one.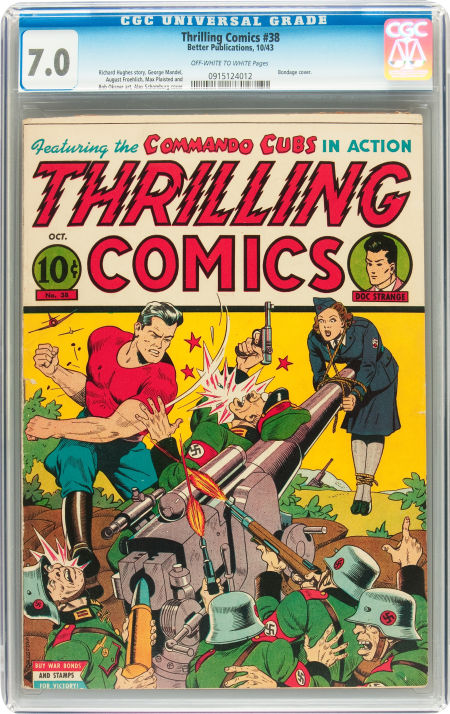 Bondage brings the bucks (that's called alliteration folks)

Other items of note:
Archie 1, still strong, even in low grade Example below: Archie 1, CGC CGC 3.5, $20,315.00
Wow is Green Lantern 76 hot! This is insane. Example below: Green Lantern 76, CGC FN/VF 7.0, $1,135.25
Once more, the cover sells the book, who cares if it's uncertified. Example below: Daredevil Comics 11, Unc FR/GD 1.5, $334.60
More down to Earth, 2nd-tier DC titles (this was a $500 book 3 months ago) Example below: Lois Lane 11, CGC NM+ 9.6, $179.25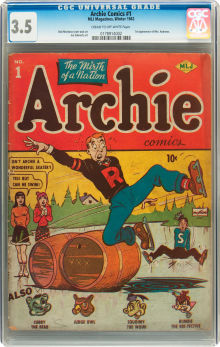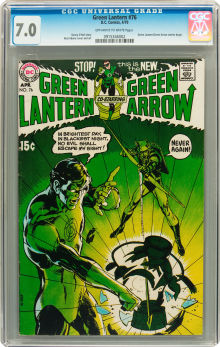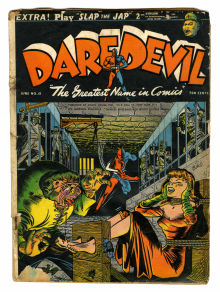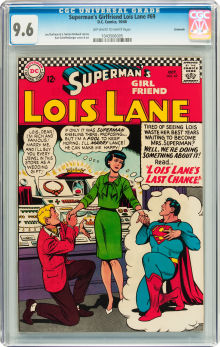 ---

Coins

The coin market remains strong, as one would expect given the sharp rise in precious metal prices over the past several years, corrections or not. Let's look at a nice Pan-Pac $50 coin recently auctioned by Heritage Galleries. I've always been intrigued by this coin, especially the octagonal version. That, and just the idea of a $50 face-value U.S. coin is an unusual combination with a high cool factor. This 1915-S $50 Panama-Pacific 50 Dollar Round is graded NGC MS-64. It pulled in a nice $92,000.00, a respectable margin higher than what I might have expected for this coin (somewhere in the $80 thousand dollar range).



TBD



Moving on to silver, an excellent sale example this quarter is the 1895 Morgan Silver Dollar, Ultra Cameo, graded NGC PR-67. The slab image just does not do this coin justice, you'd have to see it in person to appreciate it. This one slightly underperformed, believe it or not, at $89,125.00. I would have expected it to get close to $100,000.00. PCGS has this coin priced at $145,000.00, but I maintain, as I have stated in the past, Nostomania computes better PCGS pricing that PCGS themselves!



TBD


And last, let's look at a nice quarter of a million dollars for a single coin sale, wow! The 1795 Flowing Hair Silver Dollar, Two Leaves, shown below, brought in a whopping $253,000.00 through Heritage. This is an exceptional coin, a Finest Known for the 1795 Flowing Hair dollar with Two Leaves reverse.



TBD
---

Magazines

The most interesting sale this month was a decent CGC FN/VF copy of Heidi Saha, An Illustrated History Of. Nosto has had this book pegged as one of our top 10 most valuable magazines since the start of that category, and many have doubted whether it should be there. This recent sale, while dropping it a notch to number 8, still validates the demand for this magazine. Makes sense to us, since it features an early Vampirella model for Warren, and there were only 500 printed. Can't be too many still floating around.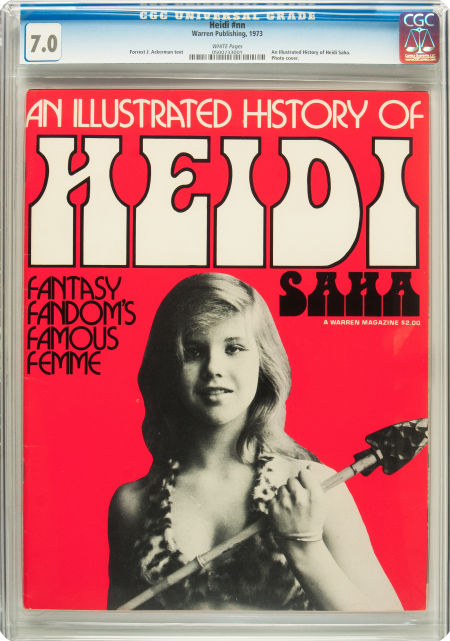 Very scarce, with a print run of 500
---

Thanks, we'll see you all next month.

Visit our NostoNews Archive.