NostoNews, October 1, 2005
by Tommy Jasmin

What's hot and what's not - October 2005

The 2005 4th quarter pricing data is now available. Login and see how the current market is affecting your collection value. Below I highlight an area in each category where demand and values are increasing, and an area in each category where demand and values are dropping.


---

Comics

Hot! High-grade Bronze-Age horror is smoking hot. Sure, there have always been some stalwarts commanding top dollar, like DC's House of Secrets 92 (1st Swamp Thing) and Marvel's Marvel Spotlight 2 (1st Werewolf by Night, in a tough squarebound format). But now even the 2nd tier is heating up. Case-in-point: Man-Thing 1. Marvel's incarnation of your basic muck-monster is on the move. The NM+/MT- 9.8 copy you see on the left below sold September 11 on eBay for $548.00. A fluke? Another 9.8 sale (not the same copy) from a few months back by Heritage says otherwise. The book you see on the right below sold in a Heritage Signature auction for a stunning $690.00. Current top Overstreet value? $60.00. Current Nosto value? Look it up.

Not! My how the mighty have fallen. A little more than 10 years ago, a small group of upstarts called Image Comics turned the comic world on its ear. For a time, they had it all. Namely, outstanding talent and phenomenal sales. When CGC first came on the scene, Steve Borock must have dreaded one aspect of coming in to work, "how many Spawn 1's do I have to grade today?". Unfortunately, this drove our pricing on high grade modern books up to dizzying levels. Many of the hoard of collectors who owned early Image books now needed to own them in 9.8 or better, and paid crazy money to do so. We are finally seeing a much needed correction in this area. Though the image is no longer available, we all know what a Spawn 8 looks like, and a PGX MT- 9.9 copy sold August 30 on eBay for $16.81, barely covering the cost of slabbing it!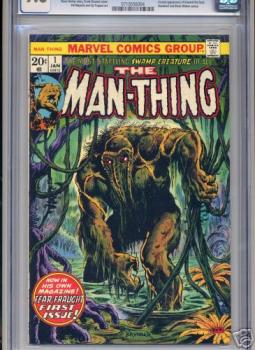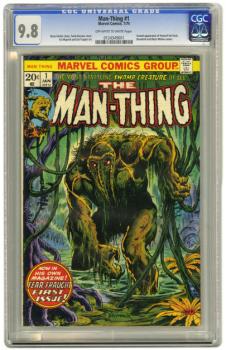 © 2005 Heritage Galleries
---

Coins

Hot! Perfect and PCGS seems to be the magic combination these days. That particular grading service does not give out perfect scores lightly, and the prices paid when it happens reflect this. Take the example on the left below: a 1980-S Lincoln Cent, PCGS PF-70, Red, Deep Cameo. This piece sold through Heritage Galleries at the September Long Beach Signature Auction for a whopping 2,760.00! Wow, over twenty-seven hundred dollars for a modern penny, that's something. The Numismedia value in this grade, as posted on the Heritage web site? $460.00. Oddly enough, the current Nosto value for this piece in the stated grade is $2,720.00, off by a little over 1%. Even we admit that's a little unusual!

Not! Modern bullion coins in grades below MS-67 have softened a bit. Coins like the MS-66 American Silver Eagle shown below can be found for under $10.00. It makes sense if these coins are minted for collecting and not general circulation that only the highest grades should command a premium price. It seems to me that below a certain grade, items like this should approach the spot-price of the metal in value. On average our pricing has dropped around 10% this quarter for bullion coins in MS-65 and MS-66.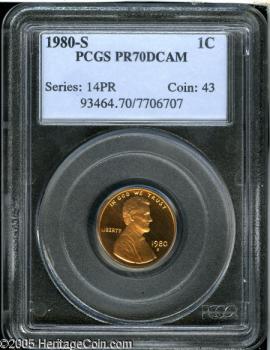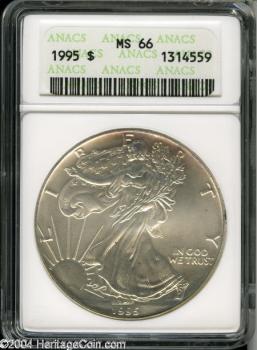 © 2005 Heritage Galleries
---

Prizes

Don't forget, all you have to do is create a single Collection, Wantlist, or Salelist item during the appropriate month to qualify for our sweepstakes. Why not take a look and see what we're giving away (and gave away last month), free as always.


---

Thanks, we'll see you all next month.

Visit our NostoNews Archive.