NostoNews, May 1, 2011
by Tommy Jasmin

Nostomania and Heritage bring original owner Golden Age collection to market

Yet another nice Golden Age comic collection emerges from the Twin Cities. When I sent my nephew and part-time Nostomania employee Chris Costello over to do an initial assessment, I knew it would be a great story. Chris in my opinion now ranks as one of the top comic book experts in the Midwest. Here is what Chris remembers from that day with Arvid Dittbenner (Arvid passed away late last year).

"I will do my best to recall some highlights from my glorious afternoon with Arvid. I dressed up a little bit for my appraisal and when I got there, Arvid was wearing a Superman T-shirt! I should have trusted my instincts and wore a comic book related shirt as well.

He immediately rose from his seat and was excited to get down to the basement. I settled him down a bit and asked him if we could sit and talk for a while so I could gather some information about him and his history of comic books. He then began, with a little prodding from me, to regale me with some stories from his past.

His father owned a business that was across the street from a store that sold comic books. Arvid got to know the owner of that store well as he bought quite a few comics from him. So well, that the man would set the new comics aside until Arvid would come in to look thru them. Arvid would go in and the man would direct him to the new arrivals. Only after Arvid bought what he wanted would the rest of the inventory go out for sale to the general buying public.

Arvid's father was a truly generous man and a bit of a visionary as he would loan Arvid sometimes up to $2.00 to buy comic books! Arvid would then work off that loan stocking shelves and filling the coolers. What a great trade!

Comic books were a big passion for Arvid and like many of us as we grow up, comics get put aside, at least for a while. Arvid joined the Army and his comic book collecting went into hibernation for a few years. He did have some artistic ability he learned from all the great Golden Age artists, Shelly Moldoff being one of his favorites. His run of Flash Comics cements that point. He did do some artwork for his fellow soldiers the like of which one can easily imagine given the audience.

Arvid attended college in Mankato and once graduated, he took his teaching degree to Staples Minnesota and his first teaching job. He eventually was hired in Wayzatta where he stayed until retirement. It was in Wayzatta that two great events happened. He brought comics books out of retirement and was given the nickname of Mr. "D" by his students. His last name of Dittbenner was too long for the students to pronounce. His students are partly responsible for his renewed interest in comics as often they would bring the suit and bow tie wearing Mr. "D" some comics they had bought or found for his appraisal. Sometimes he would buy the books from the students. The Golden Age had been great to Arvid and now the Silver Age would give him even more good times and memories.

Arvid, his wife Marsha and his daughter Sandy were wonderful people to meet and spend the afternoon with. We looked thru piles of comics, went to lunch and then looked thru more piles of comics. Arvid and his family trusted me completely as I was, for the second part of the day, alone in the basement with nothing but comic book nostalgia surrounding me. I held original owner Golden Age Batman, Detective Comics, Superman and Flash Comics in my hands. My humble hands likely being the only others to ever touch those books to that point! I was thrilled and honored as I recalled the story Arvid told me about his Superman #1. Arvid decided to donate his Superman #1 to his church so that they could sell it to raise money. The church called in a local dealer who came to the trusting church, stole the centerfold from the book, gave them an appraisal of $30,000.00 and left with his stolen page. A very painful day for Arvid making his trust in me that much more valuable.

I will never forget Arvid and the day I spent with him. To me, spending time with one from the original comic book collecting generation was as awesome as it gets! We talked about Buck Rogers and Buster Crabbe, Tarzan and Johnny Weissmuller, Batman long before Adam West, Science Fiction before Bill Gaines and EC Comics! We talked about The Shadow, The Lone Ranger, the War of the Worlds, Frankenstein and Dracula! We talked about kids that both could read and did read comic books! I know about the things we talked about because I learned them from grown up little boys like Arvid. But Arvid, he lived it and those things will always belong to his generation. I am grateful for him and I think about him very often. I miss him. More than he knows."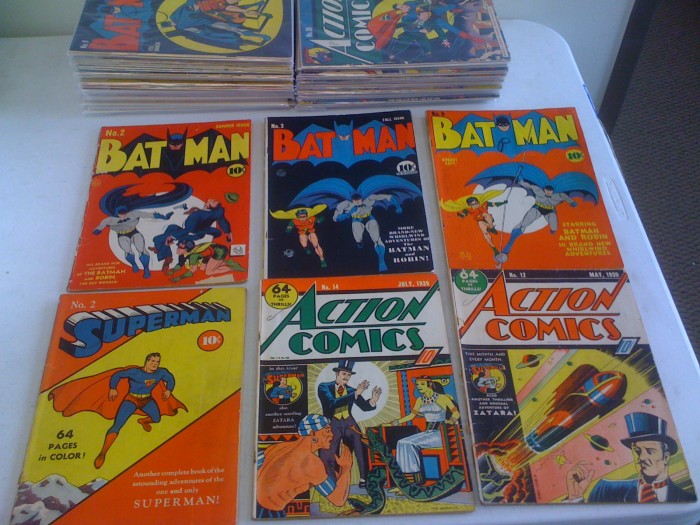 A few of the books Arvid bought off the stands


So once I heard the story from Chris, and the fact that there were two boxes of comics kept in a safe deposit box, I decided the best thing to do was bring in my friends at Heritage. I called Ed Jaster and Lon Allen and told them the story. Chris saw, in the basement, Detective 26 and 28. Superman 1 was supposed to be in the safe deposit box. What other treasures could be around? I impressed on the daugther Sandy and her husband Ken - what is of utmost importance here is that a) you get these to market in as safe a manner as possible, and b) we work to make sure you maximize your return on them. And the truth is, for this kind of stuff, Heritage is who you want to work with. I finally arranged for Sandy and Ken to meet with Lon and myself last week. We had a great day and Arvid's collection is being prepared for auction as I type, all original owner and hitting the blocks with no reserve. No carrot-dangling here, just great books fairly available to everyone.

As often happens with these things, it takes time to arrange meetings, gain trust, and work deals. I always remember Ed Jaster telling me "Tommy, as more time goes by, only bad things can happen to the books." Well, Ed was sure right this time. A few of the sour notes follow.

Sour Note 1: At some point the basement had a flood. You probably saw that one coming, didn't you? Many books suffered water damage and many have at least some moisture damage such as light staining and rusty staples.

Sour Note 2: In the intervening time, several key books have mysteriously "gone missing". Among these, unfortunately, are the Tec 26 and 28, and the Superman 1. Ken and Sandy have hope they will still turn up, but the rest of us are sadly not so confident.

Sour Note 3: Deciding she wanted to save money and not pay for two safe deposit boxes, at one point Arvid's wife decided to cram all the bank comics into one safe deposit box. As a result of cramming too many comics into too small a space, several key books were torn right through the protective bags. The Sensation Comics 1 was one of these victims.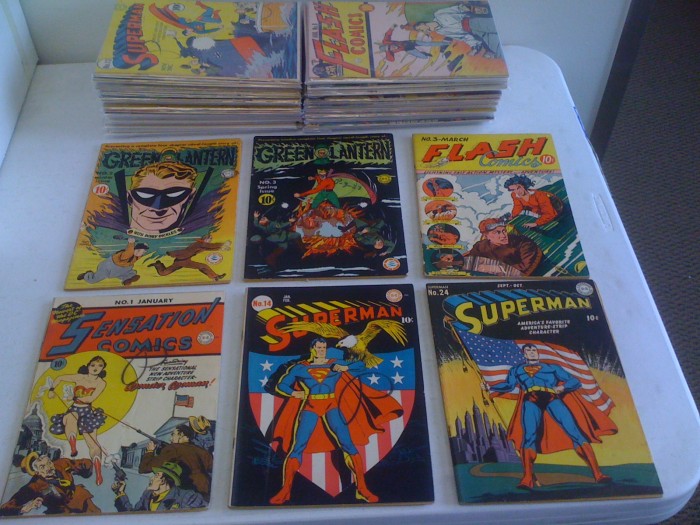 More comics Arvid bought off the stands


The sour notes are to be expected though - there's always a few disappointments in a big find like this. The good part is Lon and I spent a fun day with Sandy and Ken, very nice people who really need some extra cash flow right now as Arvid's wife is also suffering from Alzheimers now and her health-care costs are around $5,000.00 a month. Feels good to know you did the right thing, and here's hoping Arvid's comics all find great new 2nd homes.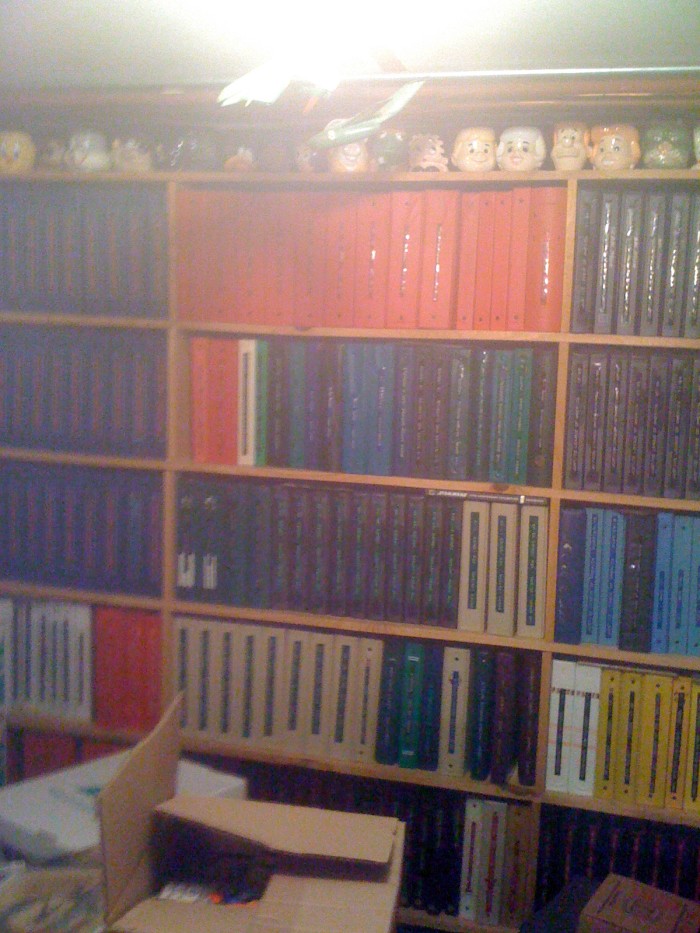 A glimpse into Arvid's basement menagerie
---

Thanks, we'll see you all next month.

Visit our NostoNews Archive.