NostoNews, March 1, 2021
by Tommy Jasmin
Nostomania 500 Index Improvements
---
Most Recent Sales Noted
So much for my promise to Premium Subscribers - here it is another month and I'm still making adjustments to the Nostomania 500. We now note, with each issue in the index, the most recent sale captured and confirmed by Nostomania. Please keep in mind we do not count Restored, Qualified, or Signature Series sales as contibuting to the index. There is simply too much variance in these categories. To compute a meaningful index, we can only consider unrestored, universal sales. See the "most recent sale" example pic below.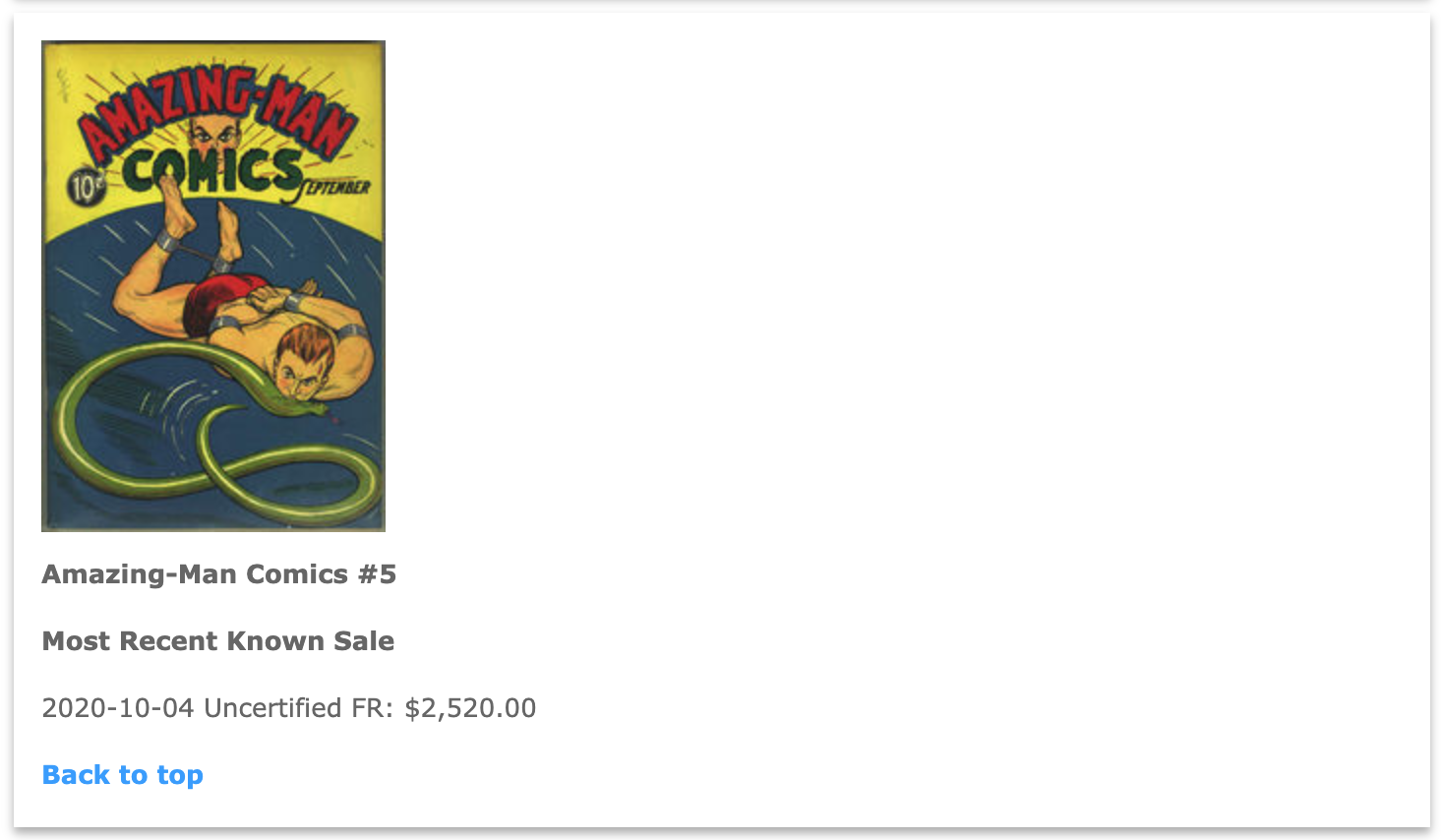 I chose this example to highlight the fact that some of these sales don't come around every day, and also to highlight the importance of not ignoring uncertified sales. As far as the stock index and pricng algorithms go, uncertified sales are of course not directly compared to certified sales.
Another problem with the index algorithm, this one also uncovered after discussions with ICv2.com's Milton Griepp, has been addressed and resolved. Long story short, the integrity of the index depends on the current version of the Nostomania pricing algorithm being applied across the entire history of our sales database. The corrected algorithm still shows surprising gains following a dip during the first severe months of the coronavirus pandemic in the United States (March and April of last year).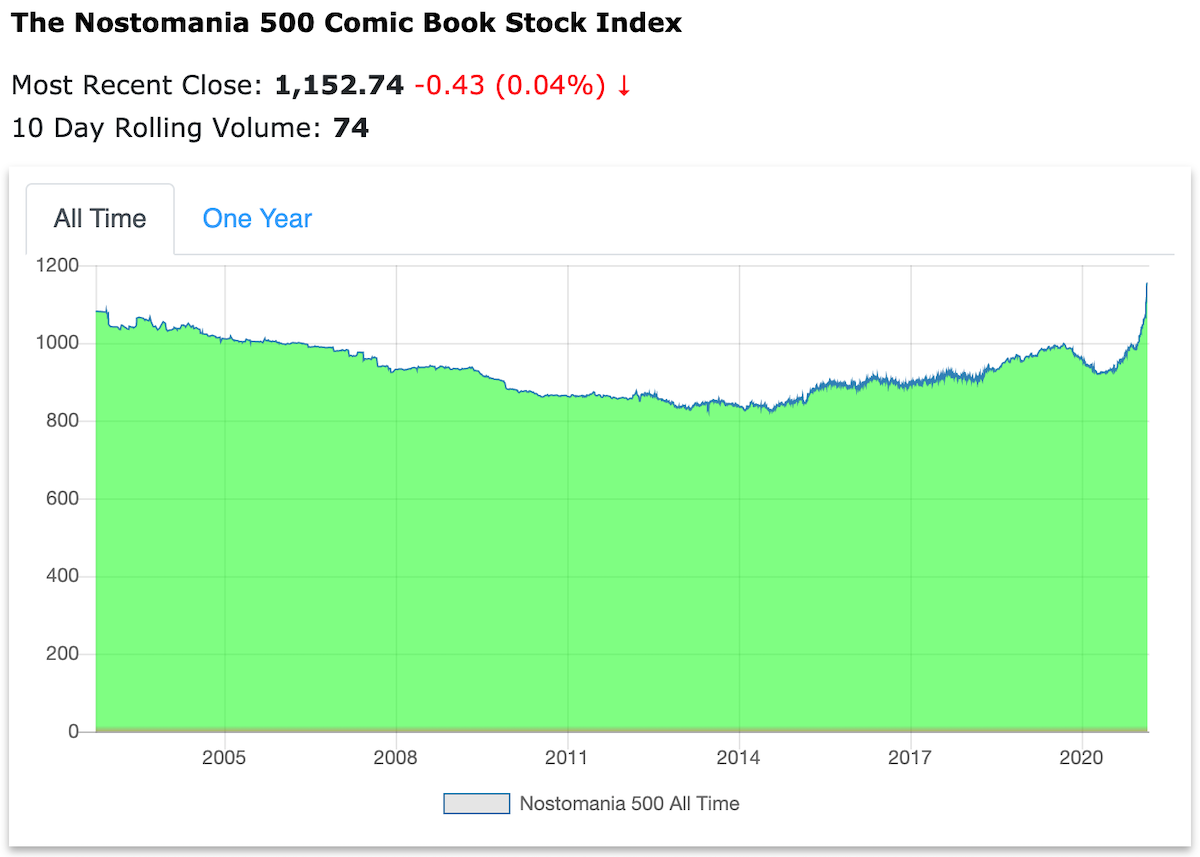 ---
Collectibles Surging
At this point we feel very confident our index is representative of a remarkable surge in collectibles sale prices during this pandemic. Those of us who monitor individual sales see this occurring in real time and many of us keep scratching our heads.  I see lots of discussion online, and jokes on blogs that make me chuckle "My boss has started paying me in Darkhawk #1s". Let me show you a few examples of the data that flows by my screen daily for approval clicks. You know things are hot when an uncertified NM+ 9.6 Amazing Spider-Man #129 sells on eBay for 4,950.00. That's a 40% gain over current Nostomania value. This is a respected seller and high bidding activity - the kind of stuff we approve to go into our database.
One More Sales Example
Iron Man #55 had been faltering. Here's a CGC VG- 3.5 recent eBay sale. Years ago, who would bother slabbing a 3.5? It was a $25 book in that grade. This copy sold for $395.00, which, I know it's not thousands of dollars but put it in context - in this grade, this example is also a 40% gain. The shocking thing is just how many sales flow by now that are routinely not just 1.5X, but 2X or 3X Nosto value.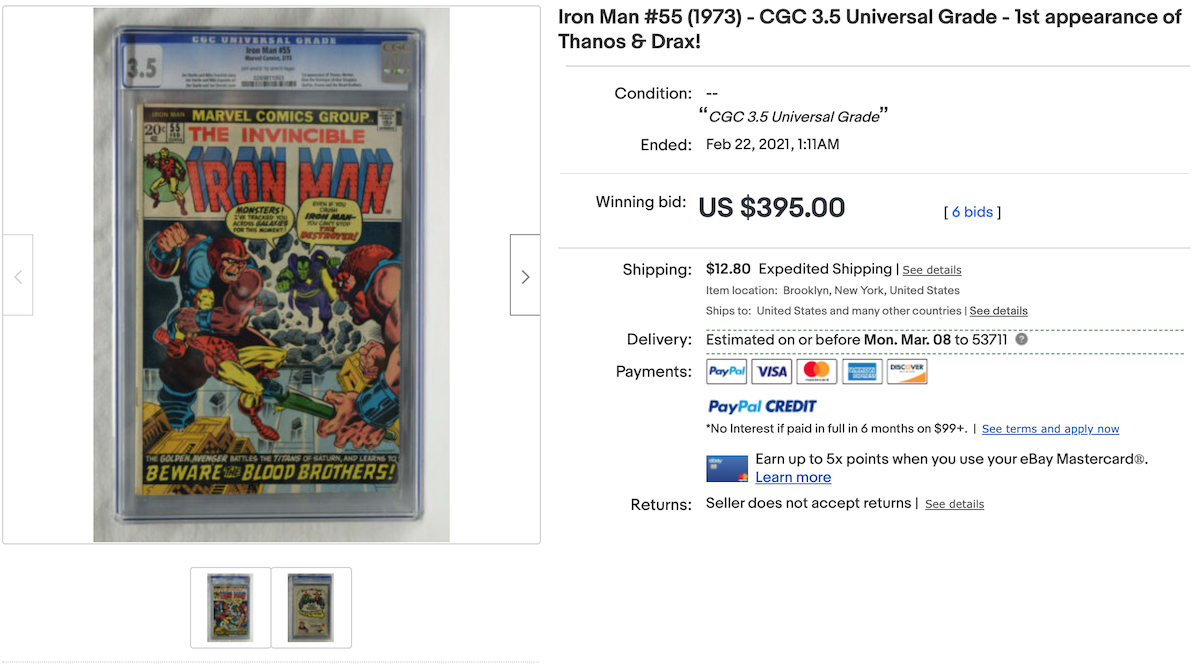 ---
---