NostoNews, March 1, 2009
by Tommy Jasmin

The Nostomania Premium Subscription - fun and informative

NOTE: This month's news is essentially a repeat of last month's, geared this time toward coin collectors.

Thanks to the Premium Subscribers who are helping build the Nosto database and community, with the highest quality collectibles data. Read on and let me show you how you can contribute, and why this part of our service is so valuable. If you are one of our Basic Subscribers happily tracking the nearly 2 million items in our database, please consider signing up for a Premium Account - at $2.99 a month we have never raised the price. All you are sacrificing is one latte or beer a month, a small contribution that goes a long way toward building a better site for all of us.


---

Each one of you can contribute

Did you know that if you are a Premium Subscriber, you can contribute images, notes, and mintages? We made this capability available to the Premium Subscribers, knowing this is the community that would contribute quality information. And we still quality-check everything that goes in the database, since nobody is perfect and mistakes will happen (for example, someone recently uploaded an Annual issue in place of the regular issue). The result is a growing, quality database for all Premium Subscribers. Below is part of the information a Premium Subscriber sees on the page for the octagonal Panama-Pacific $50 Gold Piece.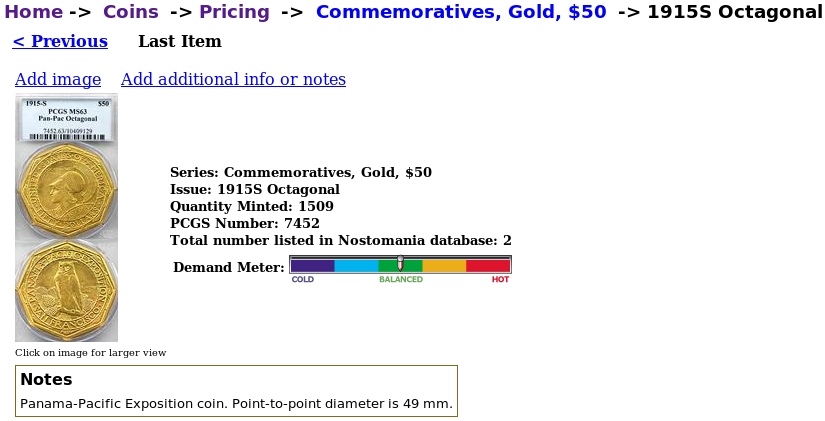 Image, mintage, and notes, all user-contributed!
---

The best pricing data

Nosto Premium Subscribers also have access to the best pricing data on the Internet. We gather enough sales data and have software algorithms smart enough to compute values for all grading services, as well as "raw" or "unslabbed" collectibles. I must emphasize here: pricing in the top grades may be theoretical. An item may not exist in all grades, and in fact often does not. We are able to compute theoretical numbers, however, based on all sales data gathered.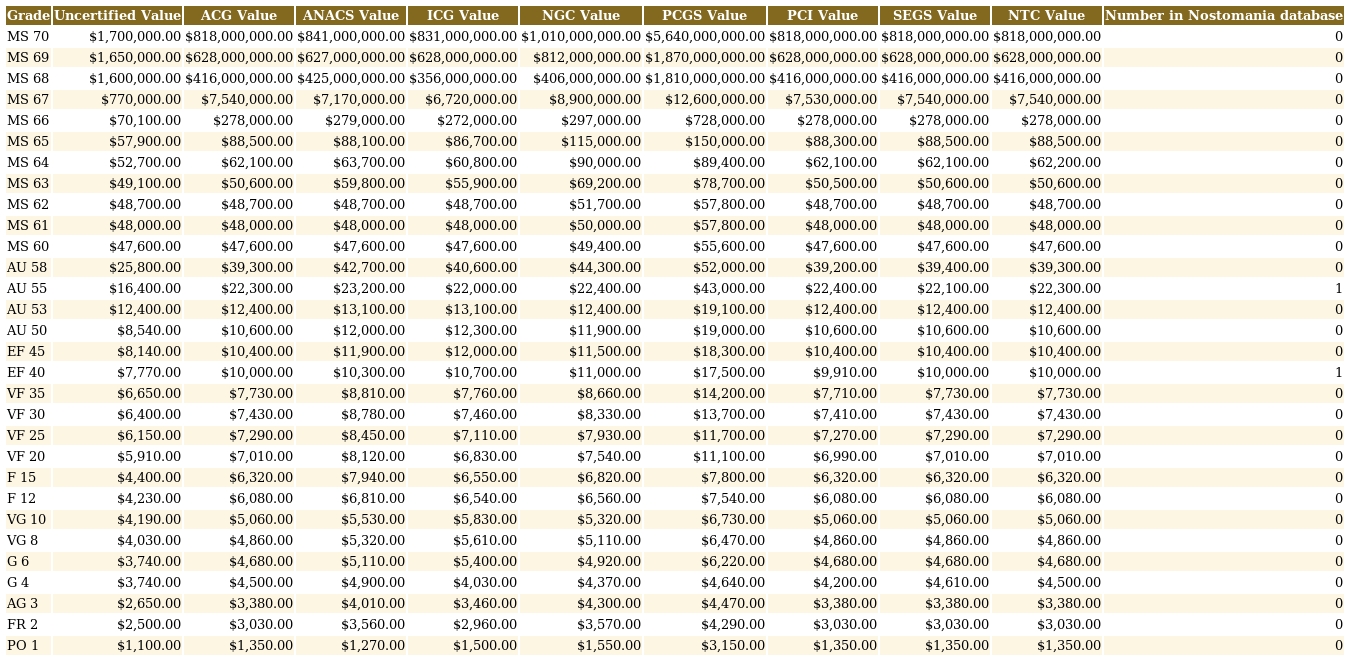 Current pricing for 1915-S $50 Octagonal
---

And of course, the actual sales

If I was seriously considering buying a Pan-Pac $50, I would definitely consult the actual sales viewable as a Nostomania Premium Subscriber first. The table below is what Premium Subscribers see. If they click on an individual sale, they see the date we gathered and verified this sale, the source of the sale (Heritage Galleries or eBay for example), and an id number which lets you trace and verify each sale to its source. As an example, if the sale is from Heritage, this number would reflect the auction number and lot number.






Actual sales for 1915-S $50 Octagonal
---

Thanks, we'll see you all next month.

Visit our NostoNews Archive.