NostoNews, June 1, 2004
by Tommy Jasmin

Nosto goes exclusive with CGGroup (yes, that's two G's)

Continuing our efforts to level the playing field, Nostomania has just entered into an exclusivity agreement with Comic Grading Group, the professional comic book grading service more commonly known as CGGroup.

Without disclosing exact details, the net result is that CGGroup is now our recommended grading service, is used exclusively for our sweepstakes giveaways, and will have a strong presence on our site.

Here, I briefly explain the need and justification for grading services, and the significance of our deal with CGGroup.

What's a grading service?

I don't have to explain this to coin collectors - for coins the grading services have been around for many years, and there are a lot of them. For comic books, however, grading services are a relatively recent phenomenon. You send your collectible to a third-party, who professionally grades it, evaluates its authenticity (including a restoration check), encapsulates it, and sends it back to you.

When CGC first came on the scene, there were many doubters. Who would want their comic books encased in a plastic slab so that they couldn't even open them up and look inside? But the doubters were proven wrong. They drastically underestimated the impact the Internet was having on comic book collecting. As more and more collectors began buying books via the Internet, the need to be certain of a book's true grade became crucial.

All veteran collectors know how crazy the difference in grading can be from dealer to dealer. But in traditional markets like a convention dealer room, that wasn't a critical issue. You could look the item over, flip through it, and decide on the spot the grade for yourself. Who cares if the dealer was sitting there telling you "this thing is NM" when you could see the book up close for yourself, form your own opinion of the grade, and decide whether to buy it for the asking price.

When buying over the net, it's a whole different story. You either:
Need a known quantity (a dealer you trust, or whose grading style is familiar)
Take a chance (make a small, "test buy" to hopefully find a new dealer to work with), or
Need an impartial, third-party to evaluate and grade the item.
Point 3 brought the birth of CGC. At first, there was only CGC, but luckily, competition has arrived. It's a healthy thing. Nobody likes monopolies, unless of course they own one. For comics, recent entrants into the foray are Comic Grading Group (CGGroup), and 3rd Party Grading (3PG).

Pairing up

Nosto believes in solid partnerships. Associating yourself with organizations of similar philosophies and ideas is a good way to grow and build strength. To this end, Nosto presented exclusivity proposals to both CGC and CGGroup for consideration. While we have a long relationship with CGC, CGGroup was probably not as familiar with Nostomania's services. They must have seen something they liked though, as the response from CGGroup was very positive. Of course, while CGGroup was checking out Nostomania, we were also testing out their services to see how they stacked up against the incumbent CGC. Primary grader Daniel Patterson might not have been aware at the time, but hopefully he's smiling now that he knows that CGGroup passed with flying colors.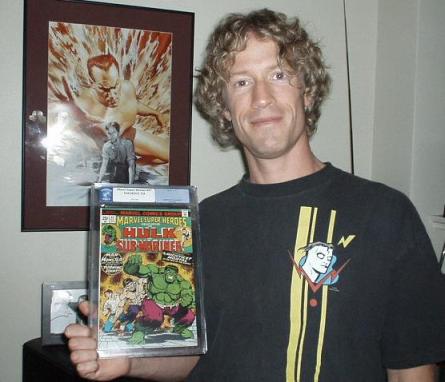 Tommy with the first book back from CGGroup


The test

I very carefully chose a gem book, a Marvel Super-Heroes 47 I bought many years ago from Joe Vereneault at the annual Chicago convention for $2.00. Hey Joe, are you out there? Thanks! This book was chosen for one reason - I felt with high certainty it would come back from CGC at least 9.8. The test was to make sure CGGroup didn't give out perfect 10.0's willy-nilly. To my pleasure, it came back as I expected, a NM/MT 9.8. No blatant over-grading here. As many coin collectors know, the same coin submitted to different grading services could come back with surprising differences in grade. See this month's Coin News for an example of this. While grading is not an exact science, it is extremely important that any professional grading service we are associated with produce results we feel are close to reality.

But how do they stack up overall?

Can we truly compare CGGroup to CGC? Are they even in the same league? Yes, and yes. Here's a head to head comparison on several key issues:

CGGroup is much cheaper than CGC. CGGroup's rates max out at $40 for next-day service, while CGC charges close to that for their economy rate.
CGGroup is much faster than CGC. The current turnaround for CGC's economy rate is 40 business days.
CGGroup has a better holder, in our opinion. Not only does it look and feel more solid, they include nice additional touches like tamper evident stickers, and the date the book was graded printed on the holder label.
Both services handle Golden Age through Modern books, both have at least three individuals contribute to the analysis, and both provide a restoration check as part of the service.
Given all this, the choice is clear to us - we're using CGGroup exclusively for our sweepstakes and as our recommended grading service.

Leveling the playing field

Nostomania was created to level the playing field for collectible pricing by giving everyone up-to-date, realistic market values. We're very happy to report that CGGroup's entry into third party comic grading has made that field more level as well, as CGGroup is a top-notch alternative to CGC. Give CGGroup a try, you'll be pleasantly surprised.

Prizes

Don't forget, all you have to do is create a single Collection, Wantlist, or Salelist item during the appropriate month to qualify for our sweepstakes. Why not take a look and see what we're giving away (and gave away last month), free as always.

Thanks, we'll see you all next month.

Visit our NostoNews Archive.