NostoNews, July 1, 2019
by Tommy Jasmin

New pricing for 3rd Quarter 2019, market comments

Hi everyone. The just-computed 2019 3rd Quarter pricing data is here! Sign in and see how the current market is affecting your collection value. Remember, we compute separate pricing for each grading service, as well as non-professionally graded items. Depending on the item, this may result in significant value differences when using My Lists. Below, I highlight some interesting sales for our supported categories.


---

Comics

The strength of the comic market has pushed us into an era where fragments of comics are valued and collected. CGC extended its possible grades for this, using "NG" for "No Grade" and "PG" for a page. CBCS was a little smarter about this and introduced two further numeric grades lower than PR 0.5 - INC 0.3 and INC 0.1 (Incomplete). The flaw with their model is that a coverless book automatically gets an INC 0.3, while often an INC 0.1 book with many pages missing may perform better than an INC 0.3, if the cover is present. Go look at our sales for Wonder Woman #5 for an example of this (click the link back to the original source of the sale to see the book). Regardless, the sales data being gathered for comics assigned these grades validate the need. Below is an example from a recent Heritage auction. Shown is a Captain Marvel Adventures #18 graded INC 0.1 by Heritage, due to being coverless and having a missing wrap. Even this partial comic managed to bring in $156.00. I thought it was pretty funny that the Heritage cataloger's description for this lot said "Classic painted cover by C. C. Beck."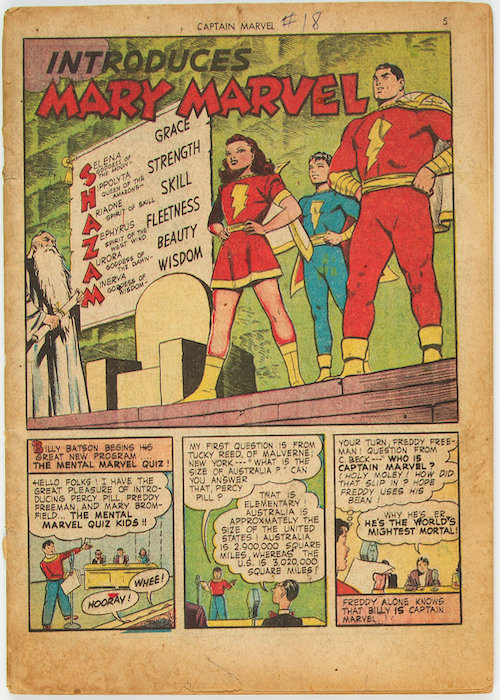 Too bad about that classc cover


I know I sound like a broken record but another quarter goes by, and still, sale after sale of pre-code horror books, many uncertified, keep smashing records. I could spent the entire market report on this stuff and not put a dent in the highlights. As is often the case, much of what drives this are the covers. If you love this genre, you can't deny the appeal and variety from the various publishers of the time. For example, the L.B. Cole covers created for Star Publications had a very unique flavor, partly due to the use and contrast in primary and secondary colors. Shown below is a cool uncertified VG 4.0 copy of Shocking Mystery #50, which sold recently via Heritage for $600.00.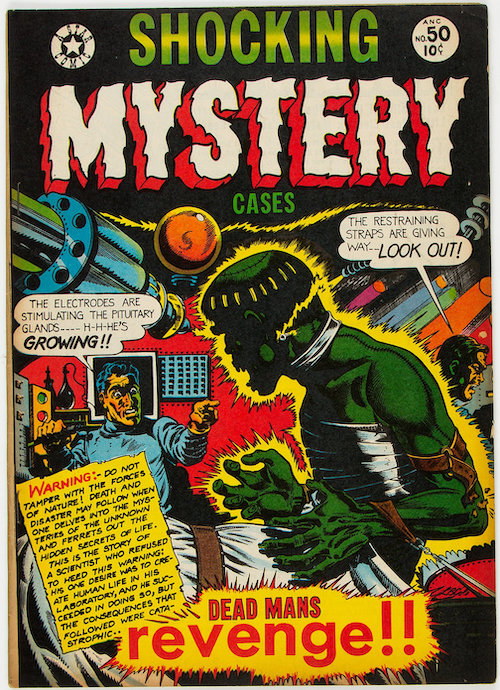 Usually the bad pun goes here, so "shocking price"


I can't resist mentioning at least one more example of these over-performing horror books. Trying to pick just one is really tough, but "over the top" always equates to dollars here. Take the bizarre and oddly, seldom-mentioned cover for The Thing! #7. This nice high grade CGC VF+ 8.5 copy sold recently via Heritage for $3,600.00. Most price guides are way off on this book, but hey, it's a Charlton, right? It's a sack of cash is what it is.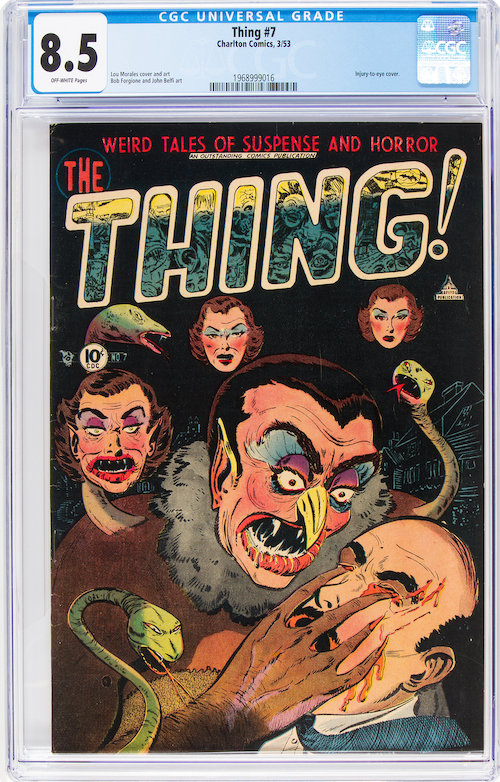 Crazy eye-gouging cover
For something completely different, how about Illustrated Stories of the Operas - Carmen? A comic book about opera? That might explain why this book has a Gerber Scarcity Index of 9. For an SI 9, there are estimated only 6 to 10 copies still in existence! The copy pictured below is graded CGC FN- 5.5 and sold recently via Heritage Auctions for $720.00. The rarity makes sense, I suppose. Think about it - a little kid browsing the comic stands in the 1940s, what is he going to choose? Batman or opera?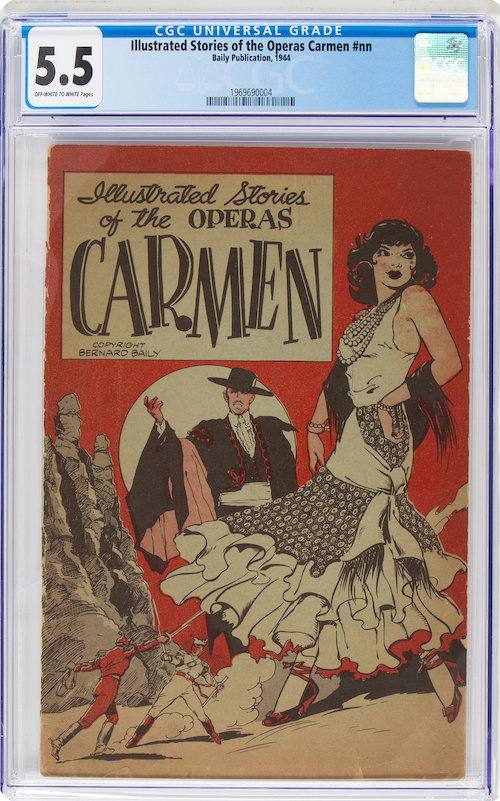 Interesting that 3 are certified by CGC so far


A beautiful CBCS NM+ 9.6 copy of Tales of Suspense sold recently via Heritage Auctions. Shown below, it features, as most of us know, the 1st appearance of Iron Man. The sale price was $111,000.00. Do we say hooray or ouch? Six figures is a lot of money, but this sale is actually down significantly from our Q2 CBCS value in that grade ($166,000.00). Nostomania now has two recorded CGC sales in this grade over $250,000.00, and two CBCS sales in the same grade below $200,000.00. This is a little troubling - in my view we should see more parity here. I hate to say this but I think the one thing CBCS could do that would help their case is to improve the label. It just feels lacking in quality. That label has to convey the absolute highest level of quality. No need to mimic CGC the same way PGX did - blaze a new trail and make it pop.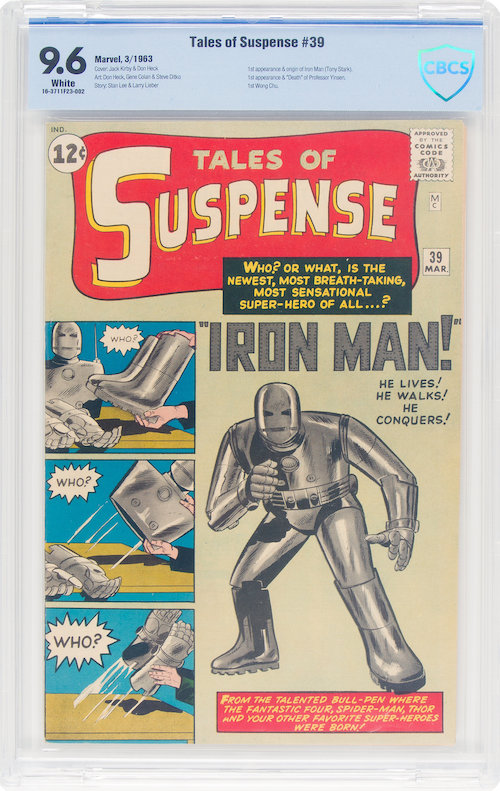 After Avengers-mania, you'd think this would be rising


Nothing like the sale of a 9.4 to recalibrate pricing on Golden Age books like Timelys. Sold recently via Heritage was the CGC NM 9.4 copy of Marvel Mystery Comics #19 shown below. Typically a book from this era in this grade is a pedigree, usually a Mile High. This time it's a San Francisco copy. The sale price of $32,400.00 feels pretty remarkable, and when you look at the Nostomania trend chart, it is. But with a few seconds of admiring this amazing cover, maybe we shouldn't be surprised. The little corner ad for Sub-Mariner Comics #1 doesn't hurt either.



What is it with aliens and drills?

Other items of note:
Another example of an incomplete book doing well (missing pages, affecting story).
Below: Jackpot Comics #6, INC 0.1, $312.00
One of those books you really could find in dollar bins not that long ago.
Below: DC Super-Stars #17, Uncertified VF 8.0, $114.00
In constrast to ToS #39, 1st appearance of The Black Widow is still on fire.
Below: Tales of Suspense #52, CGC VG+ 4.5, $1,140.00
16 9.8s and after this sale, I'm certain more are on the way.
Below: Werewolf by Night #37, CGC NM/MT 9.8, $900.00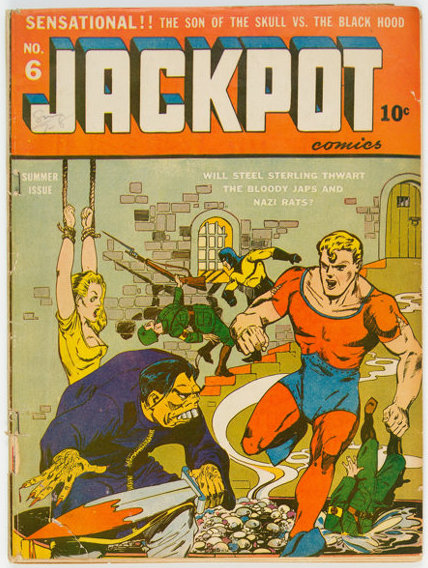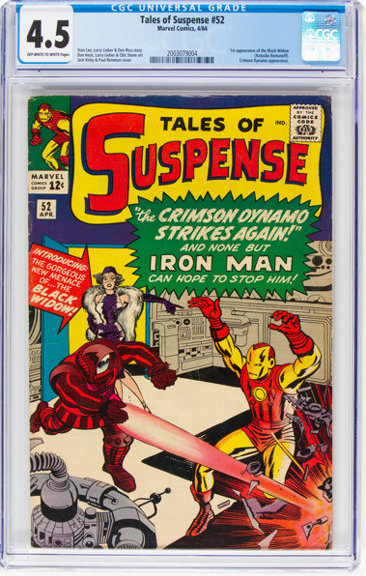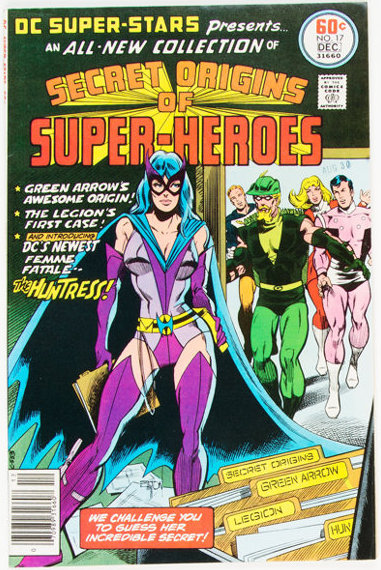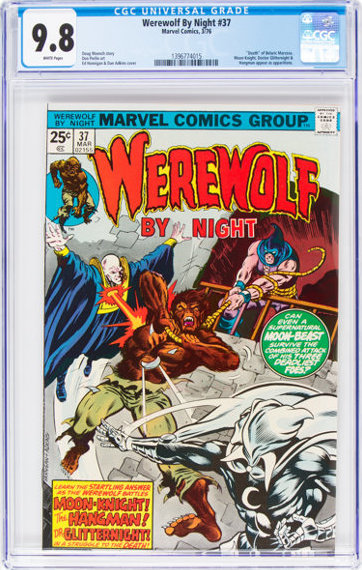 ---

Coins

The Lincoln Cent series was the starting point for so many young coin collectors. One could easily assemble a good portion of the run, if you weren't too concerned with grade. The 1909-S VDB was pretty much the Holy Grail for this series, a variety that was easy to understand and grasp the significance of for the novice collector. Here we've got an outstanding example of this coin, a PCGS MS-67 Red, which sold in a recent Heritage Signature auction for $50,400.00. While not uncommon, no examples of this coin with the Red designation have been certified higher than MS-67 to date.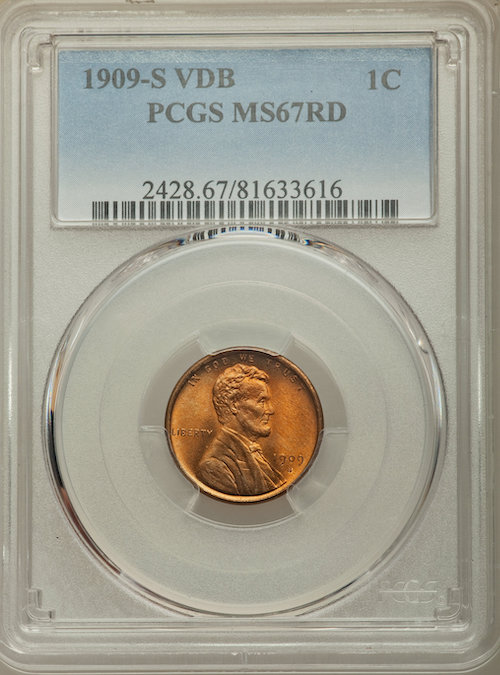 Designer's initials ordered removed


Toning is, I'm guessing, one of those characteristics of coins that some collectors initially perceive as a bad thing. Beauty is in the eye of the beholder and toning probably just doesn't work for some people, or might at least seem a little puzzling. Below is a nice coin that exemplifies the appeal of toning. This 1896-S Barber Quarter sold recently via Heritage. Graded NGC MS-64+*, it brought an impressive $31,200.00. As they so often do, the Heritage catalogers did their bit to capture the feel of this coin with well-chosen color names: "The vibrantly lustrous surfaces of this borderline Gem display exquisite border toning in shades of electric-blue, violet, and russet-brown."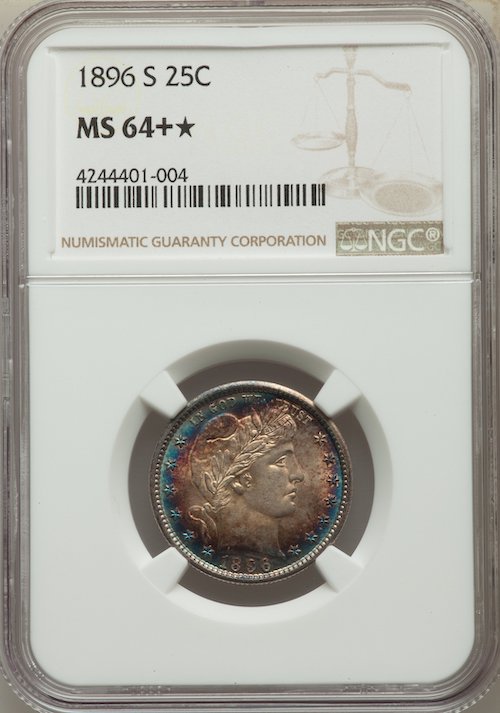 One of the Top 3 rarities in this series


While not yet present in the Nostomania database, I sometimes mention U.S. Colonial coins partly as a reminder that we might consider adding support. This particular example illustrates some reasons why including them isn't an obvious clear choice. The 1787 Copper Pattern, Eagle Reverse, shown below sold in a recent Heritage auction for $78,000.00. Being certified PCGS MS-66 Brown provides confidence to bid high on an item like this. The catalogers note that it's not easy unravelling the history of these colonial patterns, and it wasn't even clear where these were manufactured - possibly in England. This coin is the single finest certified example.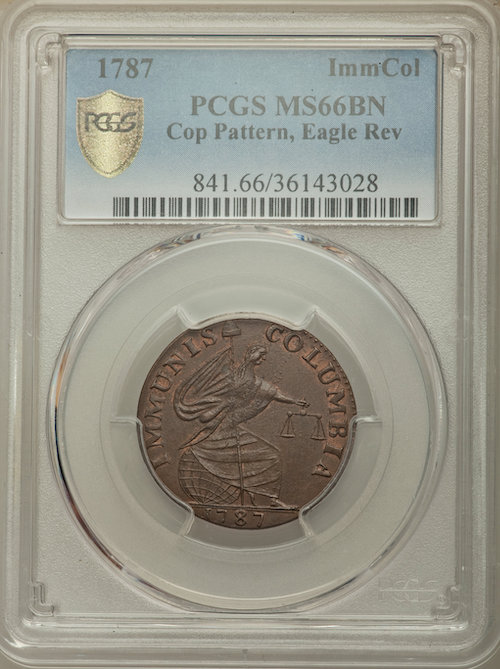 Now believed to originate from New Jersey
---

Magazines

When does slabbing matter? When you are selling, of course! Meaning though, in what cases are the lack of slabbing leaving money on the table? If you read my market reports regularly, you know I often point out cases where both seller and buyer are actually better off not slabbing. In many situations, however, getting your item certified is the obvious best choice. Figuring out that breakpoint can be tricky though. Luckily there are tools to help you decide this, like the service all Nostomania Premium Subscribers get, where we tell you which items would benefit from certification. Here is an interesting case. Last quarter, we showed you a CGC VF+ sale for Famous Monsters of Filmland #5. This quarter, we found an uncertified copy of the same magazine in the same grade, which also sold via Heritage, but for $528.00 (only about half the price of the slabbed item).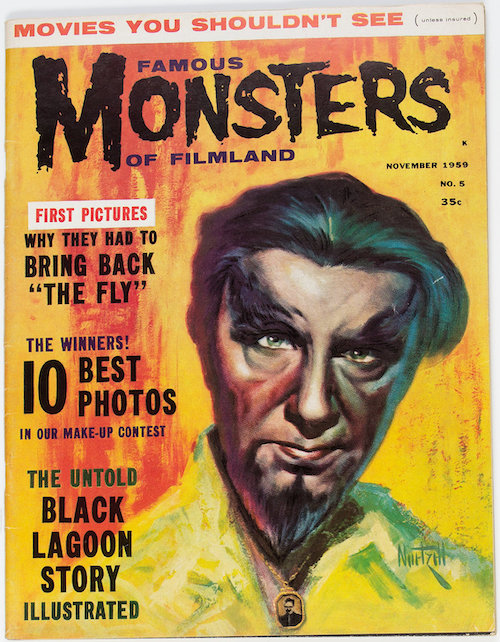 for this one, if you sell, slab
---

Thanks, we'll see you all next month.

Visit our NostoNews Archive.