NostoNews, July 1, 2018
by Tommy Jasmin

New pricing for 3rd Quarter 2018, market comments

Happy summer everybody. The just-computed 2018 3rd Quarter pricing data is here! There have been so many record prices I don't know how I can possibly condense all the key sales down to a brief market report, but here goes nothing. Sign in and see how the current market is affecting your collection value. Remember, we compute separate pricing for each grading service, as well as non-professionally graded items. Depending on the item, this may result in significant value differences when using My Lists. Below I make a few market observations for each supported category.


---

Comics

A big sale this quarter for the big dog - Action Comics 1. The CGC VG 4.0 copy shown below sold in the Heritage Chicago Signature Auction for... I'd say better sit down but it's really not far off our price guide value. The sale price was $573,600.00. The Nostomania value prior to this sale was $504,000.00. Sure, off by almost $70,000, but I'm guessing no other price guide, online or print, was closer. And you can bet our just released pricing is now even tighter.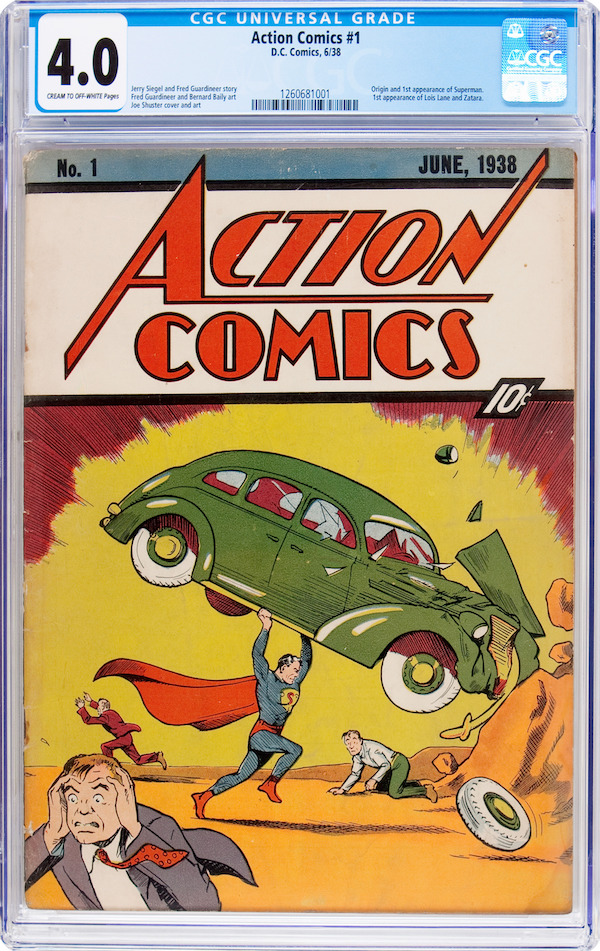 Half million plus for a 4.0 Action Comics #1!


Another early issue of Action Comics sold this quarter for a hefty price. This time Nostomania was way off on current pricing. Or maybe Nosto is just struggling to keep up with the blistering pace of these books. Behold the copy of Action Comics 13 that also sold in the recent Heritage Chicago auction, also graded CGC VG 4.0. The pre-sale Nostomania value was $20,400.00. The pre-sale Overstreet value was actually much closer, at $28.000.00. The final hammer price was a remarkable $77,675.00. This is a fairly iconic cover, and this is the 3rd most valuable issue of Action Comics, behind #1 and #7.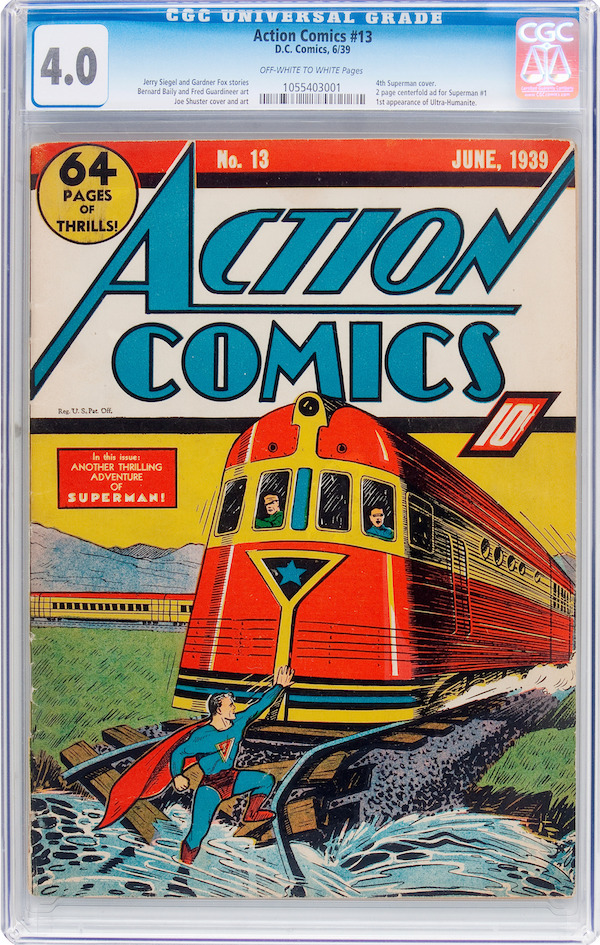 Ignore physics and just agree it's a great cover


I feel like this has been said already in too many past market reports, but who could have predicted the enormous impact of comic book themed movies on comic book pricing? Books like the 1970s Black Panther and The Eternals, which for ages we could find easily in dollar bins (and in very high grade too) now sell for hundreds of dollars. Books like The New Mutants 98 (which certainly got no help from the cover art), featuring the 1st appearance of Deadpool. The Uncertified VG 4.0 copy shown below sold recently via Heritage for $286.80, which is over twice what a CGC NM/MT 9.8 copy sold for via Heritage ($131.44) less than 10 years ago! How do you even find a copy in that low grade?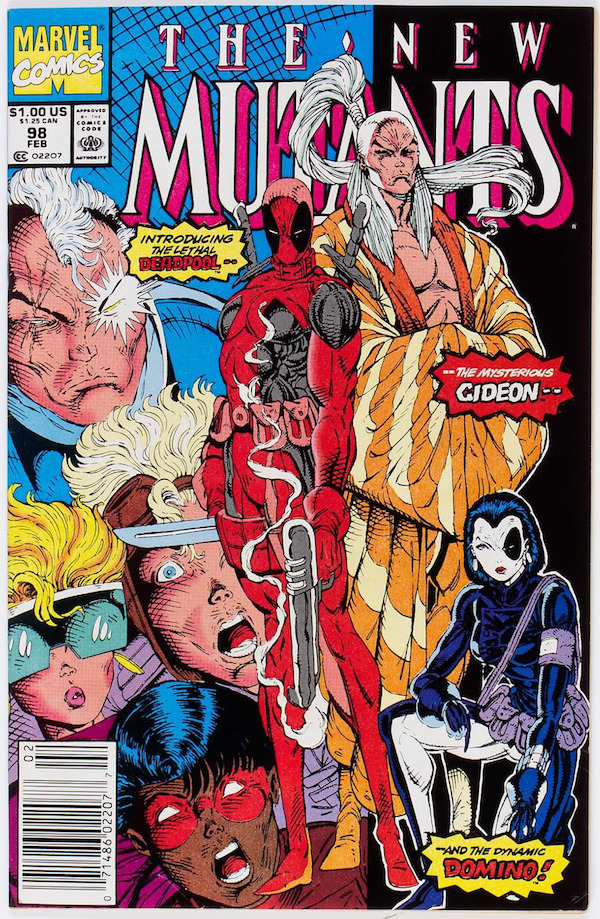 How can Deadpool even stand on those little stick ankles?
Continuing with the movie theme - as the first trailer for the upcoming Venom movie plays in theaters, we now see demand sharply on the rise for Venom comics. Here is a comic I meant to touch on last market update but forgot. Most of you are familiar with the Black Cover Variant error version of Venom: Lethal Protector, where the embossing process failed on the Red Foil editions. Apparently, a similar White Cover error version exists where the embossing failed on the much rarer Gold Foil editions. One of these White Cover variants, shown below and graded CGC NM+ 9.6, sold last quarter via Heritage for $8,066.25.
I feel sorry for the original buyers of the Black Cover copies who took Marvel up on their offer to return the "defective" book for a "correct" version, realizing later the error version sells for as much as 200 times the correct version. As the movie approaches, I expect counterfeit versions of the White Cover to appear on the market, so if you believe you have one, please send it to one of the grading companies for certification. Worse, I expect this type of "error" to start occurring more frequently, as printing insiders more and more realize a mistake could translate to a nice source of supplemental black market income.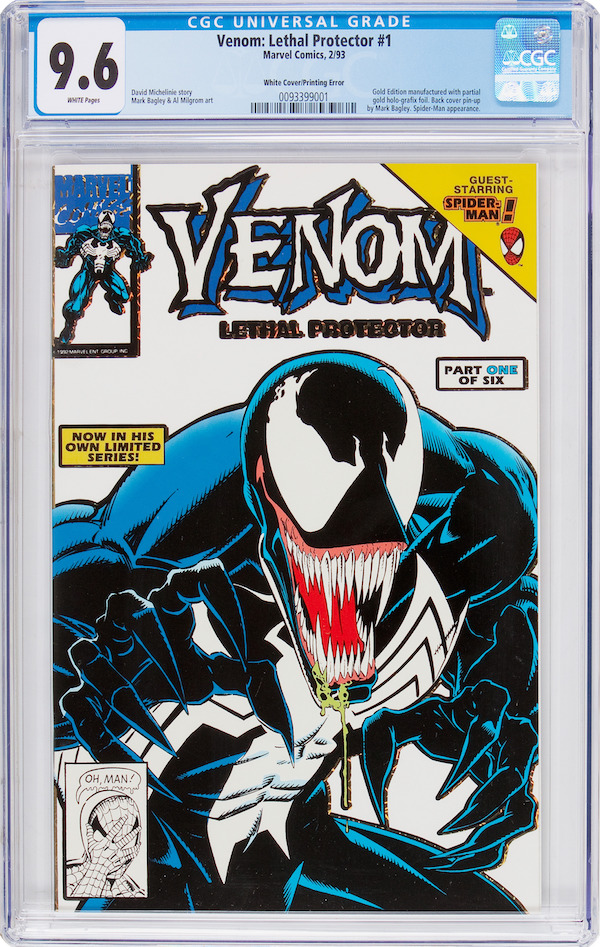 A super-scarce variant, but be wary


Here's another great recipe for high demand on a Golden Age comic. A cheating wife just happens to have bottles labeled "ACID" lying around (just generic acid, no particular brand), and splashes one in her husband's face. Husband seems less bothered by his actual face melting off than teaching his wife a lesson. Throwing acid in his face was not a great idea, he would have been fine with just granting a divorce. But now with this acid thing? Now he will stab and kill her. Not to worry though, she'll call John, the guy she's cheating with, to help! But no, John knows when to bail on this scene, he'll take the high road and just jump off the balcony. This CGC VF- 7.5 copy of Crime Mysteries 15 sold for what I presume is a record $1,553.50, I'll have to check the Nostomania sales history once this update is live to be sure.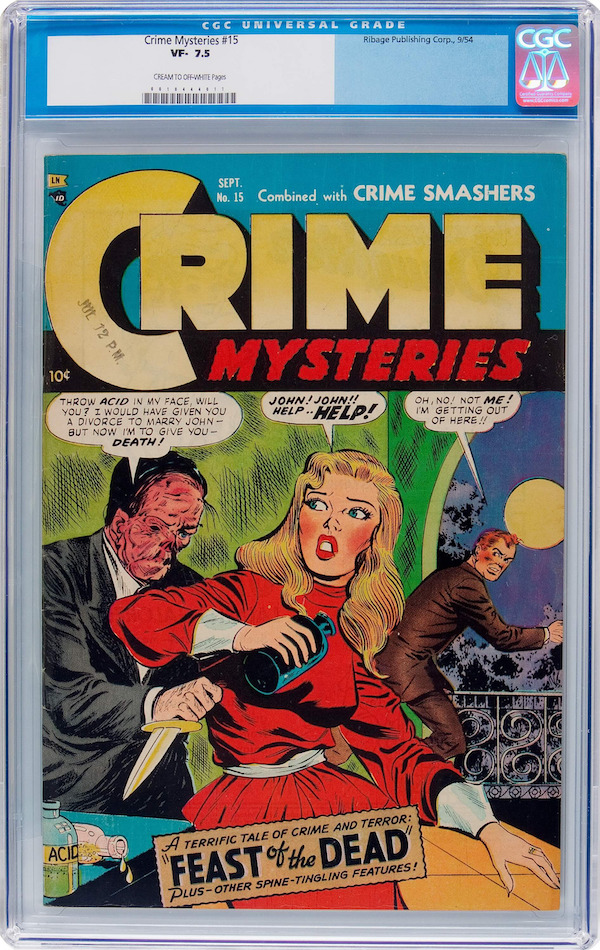 So we call this "Classic acid-in-face cover" ??


Now that's what I call pirate booty! This copy of Jeanie Comics 17, graded CGC NM 9.4, sold recently via Heritage Auctions for $3,107.00. Ok, it's a Timely, that doesn't hurt. And yes, it's the Mile High copy, so that probably explains most of the crazy as far as sale price. But you can't deny it's quite a cover. If Jeanie has as much speed going as it appears, that skull and crossbones on her hat may be a bit of foreshadowing, and this quickly becomes a horror comic.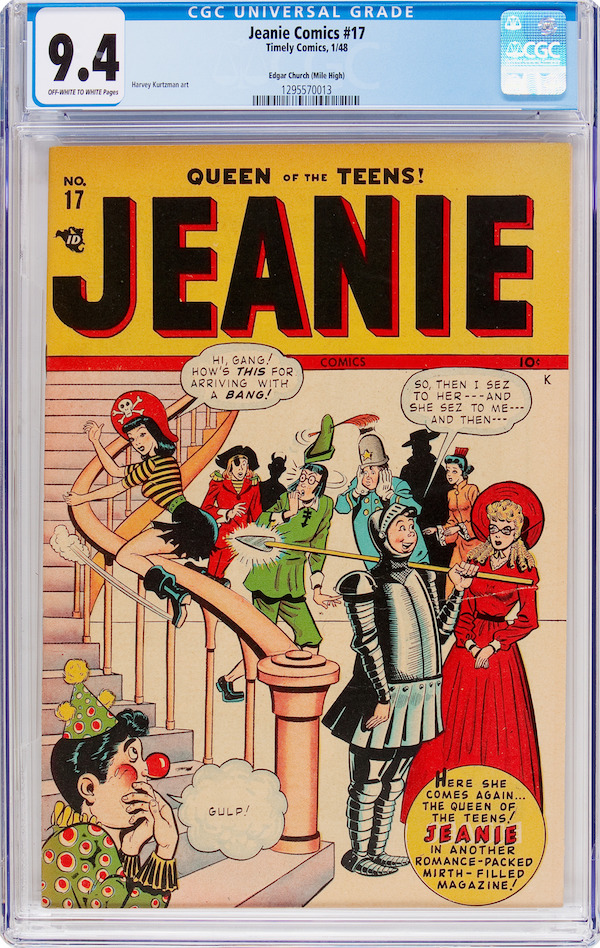 Surprise surprise, Finest Known copy too.

Other items of note:
Ok... I think we all know why this one did so well.
Below: Laugh Comics 140, CGC VF+ 8.5, $657.25
The later issues of Jumbo, when Ghost Gallery started, are so cool and very hot.
Below: Jumbo Comics 161, CGC FN+ 6.5, $746.88
Her love is not tamed. It is un-tamed. Wait, this is a comic book? Wow!
Below: Untamed Love 3, CGC VF 8.0, $1,673.00
Yes, that number is correct - over 200 grand for a JLA 1.
Below: Justice League of America 1, CGC NM+ 9.6, $215,100.00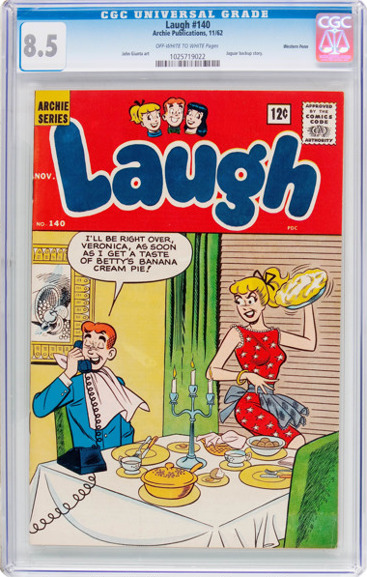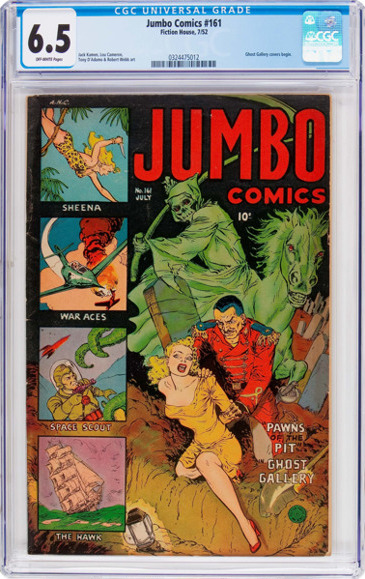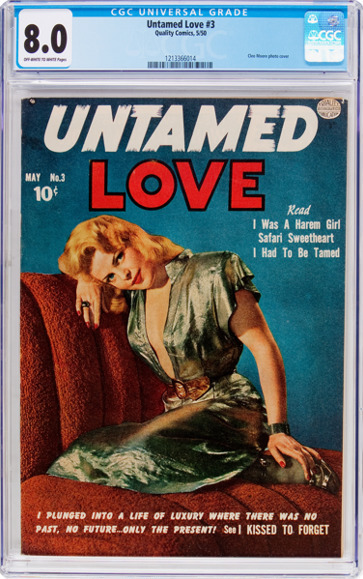 ---

Coins

There is no need to re-hash background information for the 1804 Dollar, it's been done countless times. There are just a few points I'd like to make about the recent Heritage sale of the Mickley-Hawn-Queller 1804 Class I Original. This coin is graded PCGS PR-62, and sold in the June Long Beach Signature Auction for $2,640,000.00. An extraordinary point to note about this sale is that the Nostomania PCGS PR-62 value at the time was $2,590,000.00, a difference of less than 2%. The other point I wanted to make is how this particular coin is exemplary of the investment potential of rare coins and collectibles in general. The sales history of this particular coin over time includes the following years and purchase prices:
1868 : $775.00
1970 : $77,500.00
1993 : $475,000.00
2018 : $2,640,000.00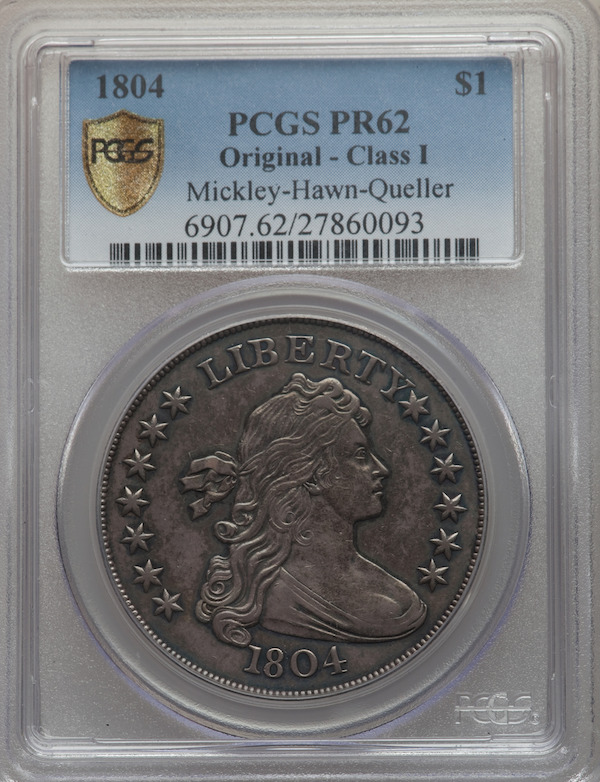 A book could be written about just this one coin



The same Heritage Signature Auction offered many other coins with historical significance. This 1793 Chain Cent is among them. It is the Eliasberg coin, and is graded PCGS MS-65 Brown. This was the very first coin produced at the new United States Mint in Philadelphia, in March 1793. Incredibly, mint records show the actual number of coins produced at 36,103. This particular variety (S-4, B-5, R.3) is considered very distinctive and only three S-4 examples are known in Mint State condition. This particular coin ended up selling at just under a million dollars: $990,000.00.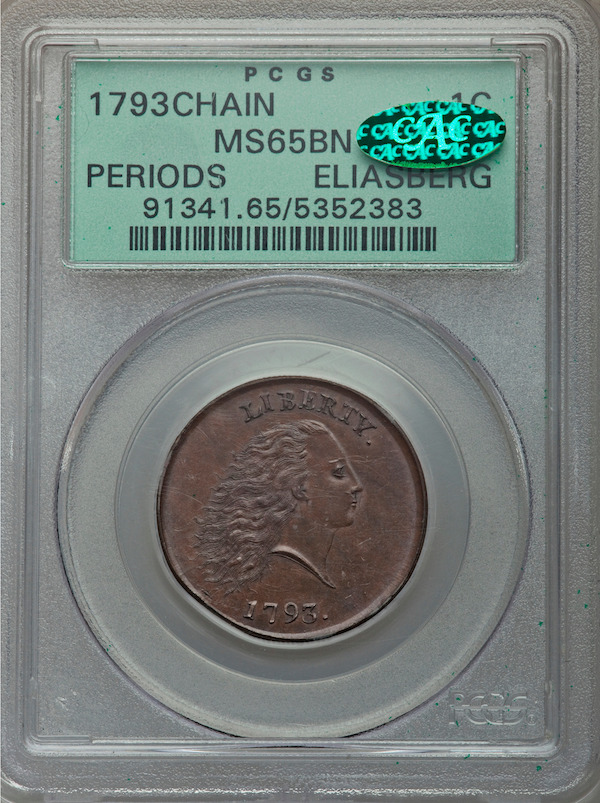 If I understand correctly, this same coin sold for over $1 million in 2012


One last interesting example from the same auction is the 1796 No Stars Quarter Eagle shown below. Graded PCGS MS-61, the coin sold for an impressive $396,000.00, a significant increase over an unconfirmed sale of the same coin in late 2015 for $352,500.00. The coin looks a bit odd at first glance, doesn't it? I believe that's simply due to it being the only gold or silver U.S. coin from this era that does not have stars on the obverse.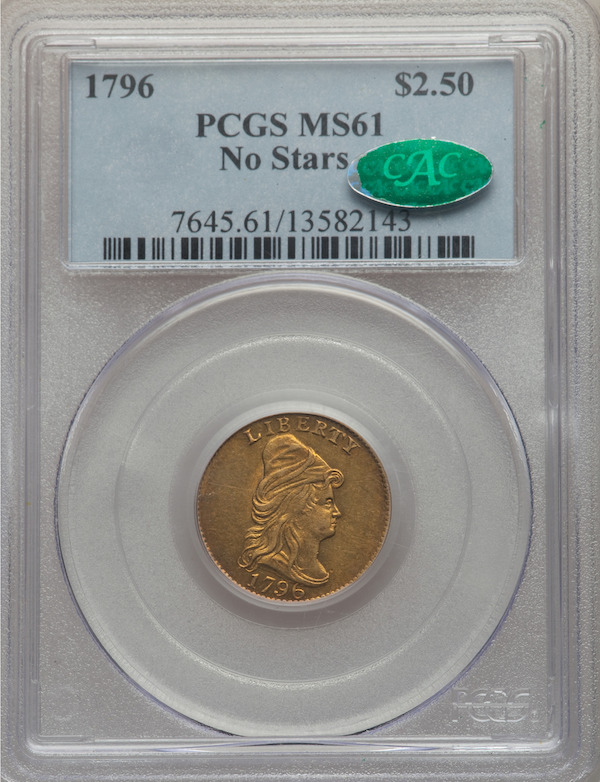 Why no stars? Still a mystery to this day
---

Magazines

We might be getting to the point where collectors of Playboy Magazine start taking real interest in the CGC census for bidding. Take the copy of Volume 2 #8 Newsstand Edition shown below. Graded CGC NM+ 9.6, Heritage touted it as the "highest grade yet awarded by CGC for this issue". And while a copy in the same grade (same copy?) sold only two years ago for $776.75, this copy sold very recently for significantly more, as in between 4X and 5X more: $3,346.00. Pretty nice Joanne Arnold painted cover too.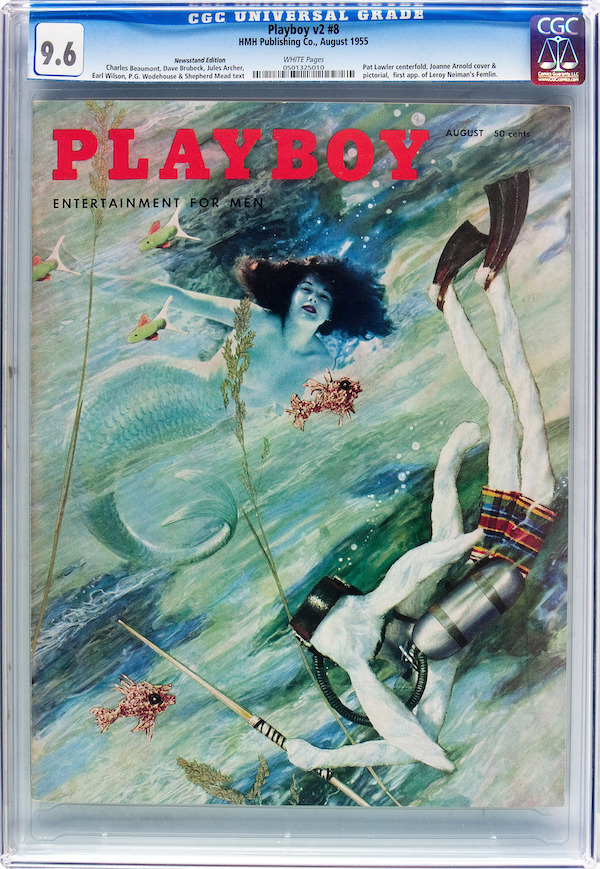 Interesting that magazine Newsstand Editions are being noted by CGC
---

Thanks, we'll see you all next month.

Visit our NostoNews Archive.