NostoNews, July 1, 2014
by Tommy Jasmin

New pricing for 3rd Quarter 2014, market comments

The just-computed 2014 3rd Quarter pricing data is here! Sign in and see how the current market is affecting your collection value. Remember, we are now computing separate pricing for each grading service, as well as non-professionally graded items. So if you add an item to My Lists as non-graded, your collection value will likely change much less than if that item were graded by CGC, NGC, etc. Below I make a few market observations for each supported category.


---

Comics

Give us a classic bondage/torture cover from a bygone era and what do you have? Another shattered record price. Sales like this make me think of the old Gerber Photo-Journals, the original means to ferret out exceptional covers. Nobody cares that this issue isn't slabbed, a lowly uncertified VG 4.0 seems to barely break a sweat bringing in $645.30 in a recent Heritage auction. This book has doubled in price over just the last year, but since you use Nostomania, you already knew that right?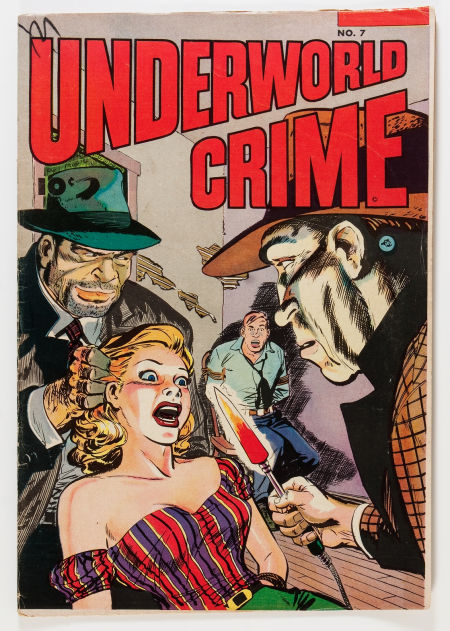 Yow!


Movie timing is everything these days for turning profit on previously mediocre books. Five years ago who would have thought you could get $370.45 for a CGC NM+ 9.6 Incredible Hulk 271? Any clever person intently following Marvel's movie development plans, that's who. You don't want to know the 10-year gain on this book. Psst - owners of the close to 100 CGC 9.8's out there - now is the time to sell!



First? Early for sure - Rocket Raccoon appearance


While we're on the movie tie-in subject, the hottest cult book remains Mystery Tales 40, all because it was used in Season 4, Episode 11 of the TV series Lost. The uncertified VG- 3.5 copy below sold recently via Heritage for yes, a crazy price. $1,732.75 to be exact.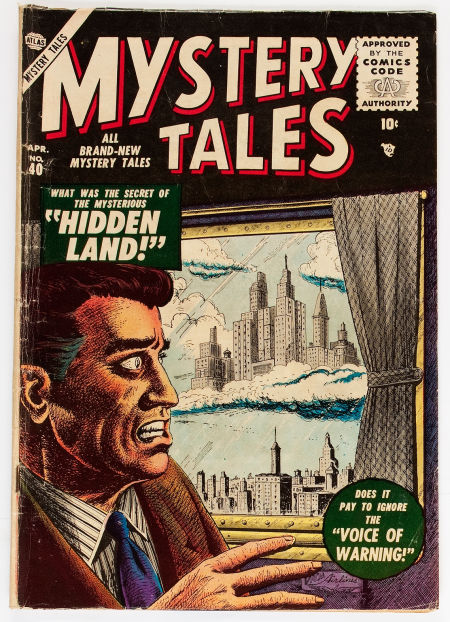 Still hiding secrets of the Universe?


Bouncing back to great covers again, this time we look back to a master at his peak. Frank Frazetta, all warmed up doing incredible work for E.C., did a short but stunning run of Buck Rogers covers for Famous Funnies. This particular copy - ratty and uncertified at a lowly GD- 1.8, but even then it can muster an impressive $298.75. You gotta admit, that's a good looking 1.8. It would be fun to see one of the slabbed 9.6 copies thrown up for auction.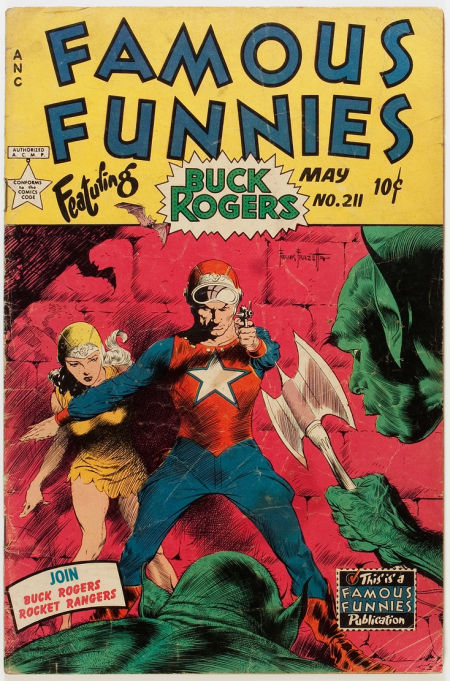 Covers don't get much better than this


Ok fine, let's bounce back to TV once more. Who says Gold Key can't move dollars? The owner of this Scooby Doo 1 didn't even bother slabbing it, letting Heritage assign the VF+ 8.5 grade. But the trusted Heritage name was enough to get the job done and bring in a very impressive $860.40.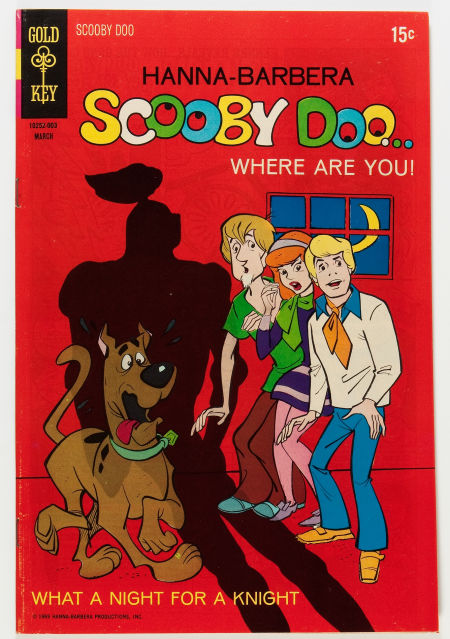 That will buy a lot of Scooby Snacks


Here's one that makes me kinda weepy. It's another example of a classic, truly great Golden Age book withering on the vine, a slowly fading memory. Think about this - you've got an absolutely stunning CGC NM+ 9.6 Heroic Comics 8. It's the finest known copy (sorry Mile High), and comes with a fantastic Bill Everett Hydroman cover. But instead of climbing in price over time, all this copy can muster is $553.29. Remember, Nosto pricing tracks important declines over time as well, not everything continues to rise. You can bet Overstreet won't lower the value of this book next year, if you want reality, you should follow our pricing on books like this.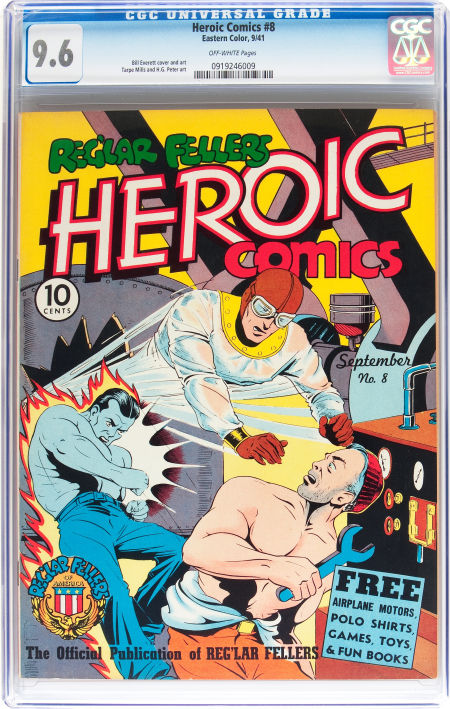 I'll do my bit and tell my kid who Everett was

Other items of note:
Cry for owners of Cry for Dawn, used to be such a hot book. Example below: Cry for Dawn 1, CGC NM- 9.2, $85.00
Is something brewing in movieland with Cloak and Dagger? Below, Spectacular Spider-Man 64, CGC NM/MT 9.8, $250.95
What is up with Avengers 28?! Let's just say this was not one of Kirby's best covers. Below, The Avengers 28, CGC NM 9.4, $2,509.50
Likewise, what is up with Justice League of America 103?! Yes, finest known, but wow. Below, Justice League of America 103, CGC NM/MT 9.8, $2,629.00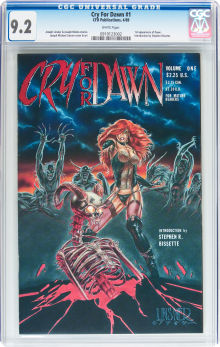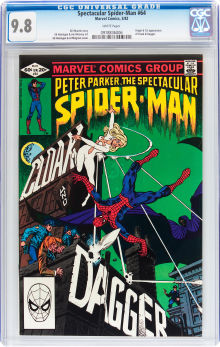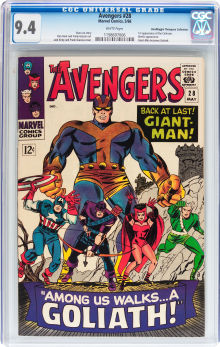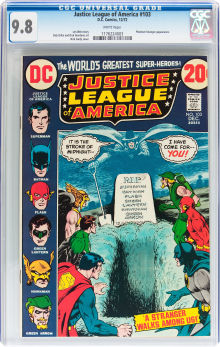 ---

Coins

A remarkable sale this past quarter is the NGC XF-45 1864-S Coronet Half Eagle pictured below. To see an example in this grade sell for $79,312.50 might seem really surprising at first. Auctioned via Heritage in the Bently Foundation Signature Auction, this coin is what they call a quiet rarity. There are only four scarcer dates in the series. With an already small original mintage of 3,888, it is estimated less than 30 remain extant.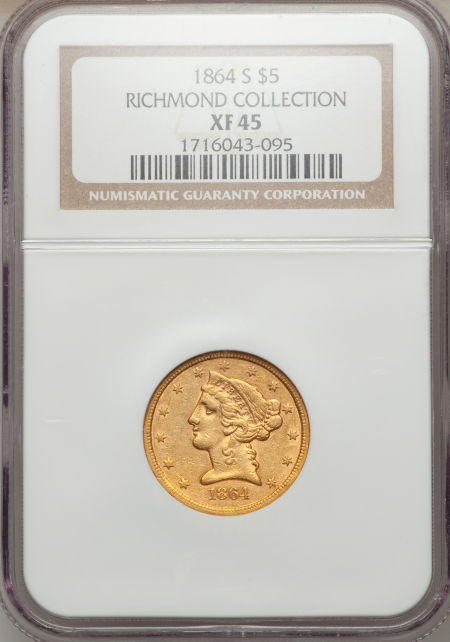 Not so quiet any more



Ok, does anybody know the four scarcer Half Eagles referred to above? The second rarest is the 1875, an example of which also sold recently, at the CSNS Signature Auction in Chicago. This NGC AU-55 example shattered previous sales records with a stunning $211,500.00. With a tiny original mintage of 200, it's estimated maybe 10 remain. Only the legendary 1854-S from this series is scarcer.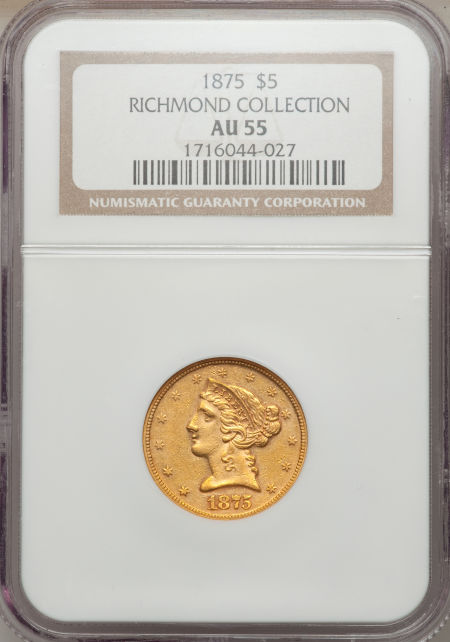 Maybe 10 extant?


I wish we could talk about an 1854-S Half Eagle sale, but almost as good, we did have an 1854-S Quarter Eagle sale from the same Bently Signature Auction. So think about this one - graded only PCGS GD-6, this coin still got close to 200 grand, with the final hammer price stopping at $193,875.00. The history on this coin is similar to our previous example, with 246 struck (lowest business-strike mintage for the series), and around 12 still remain today.



The lowest graded of known specimens
---

Magazines

I'm happy to report a resurgence in monster magazine values, with huge gains being driven by sales like the CGC NM+ 9.6 copy of Famous Monsters 26 shown below. From the Don and Maggie Thompson collection (glad CGC tagged it "Collection" and not "Pedigree"), this book sold via Heritage for a very impressive $2,987.50. A slew of similar books from the Thompson collection have single-handedly driven up many monster mag values this quarter.



Note to self: see if Outer Limits is on Netflix
---

Thanks, we'll see you all next month.

Visit our NostoNews Archive.