NostoNews, July 1, 2009
by Tommy Jasmin

New pricing for 3rd Quarter 2009, market comments

The 3rd quarter 2009 pricing data is in! Sign in and see how the current market is affecting your collection value. Remember, we are now computing separate pricing for each grading service, as well as non-professionally graded items. So if you add an item to My Lists as non-graded, your collection value will likely change much less than if that item were graded by CGC, NGC, etc. Below I make a few market observations for each supported category.


---

Comics

The MT 10.0 sales I spoke of last quarter are even crazier this quarter. And the number of 10.0s we are seeing on the market is increasing too. These sales continue to push our 10.0 values to greater heights. For example, look at our pricing for Amazing Spider-Man 216. The casual observer might say "Nosto has the CGC 10.0 value at $1,920.00? That's crazy!" But go to the bottom of the page, where the actual sales are listed, and you'll see the recent CGC 10.0 that sold through Heritage for $4,780.00. And this is one of the milder cases! For some real insanity, check out the CGC MT 10.0 Wolverine 1 below, which sold recently through Heritage Galleries for $15,535.00. Some people I speak to simply don't believe anyone would be foolish enough to pay that much. They are certain these data points are artificial, created by a few high rollers in the market who pick a few items to hype. Such a scenario is certainly plausible. Big Dealer X says to Big Dealer Y, "you bid my book up to $15K; I'll bid yours up to $15K". When the dust settles no actual money has exchanged hands, and the collectors think the market is on fire.

What are my thoughts on this? Heritage would never knowingly falsify data. I am aware of other, less regarded, but still well-known auction companies providing false data, and we have eliminated them from our database. CGC MT 10.0 copies of this book are easily believable. This is a book speculators bought and hoarded multiples of. Last, Big Dealer X and Big Dealer Y could easily cook up such a scheme with both the auction house and general market completely unaware (buyer remains anonymous).

Meanwhile, what about how these sales are affecting Nosto pricing? Well, unless I know otherwise for certain, I have to consider them actual, legitimate sales, let them slip into our database, and feed them to our pricing algorithms. There are plenty of other CGC MT 10.0 sales captured this quarter that, while all somewhat stunning, are I suppose believable. One example is a Marvel Team-Up 117 at $1195.00.



Did some fool really pay over 15 grand for this?


At the other end of the market, I want to once again remind potential customers - when submitting to the professional grading services (CGC and PGX being the only two we recognize at this time), more than ever you need to carefully consider what is worth slabbing. We see so many people losing money, not even recovering the significant cost of slabbing. Look at the example below, Marvel Super-Heroes 13. This is a decent book, solid at CGC VF 8.0, and a key being the 2nd appearance of Marvel's Silver Age version of Captain Marvel. It also has cool Golden Age reprints featuring the Human Torch, the Vision, Captain America, and the Sub-Mariner. Yet it could muster only $15.00, nowhere near the cost of grading.

On the plus side here, I bet the guys at CGC and PGX no longer have days when they come in to work greeted by 20 Spawn #1s fresh in for grading! Also, if you are a Nosto Premium Subscriber, I suggest you use our service which computes for you which items in your collection would be worth slabbing before sending anything in.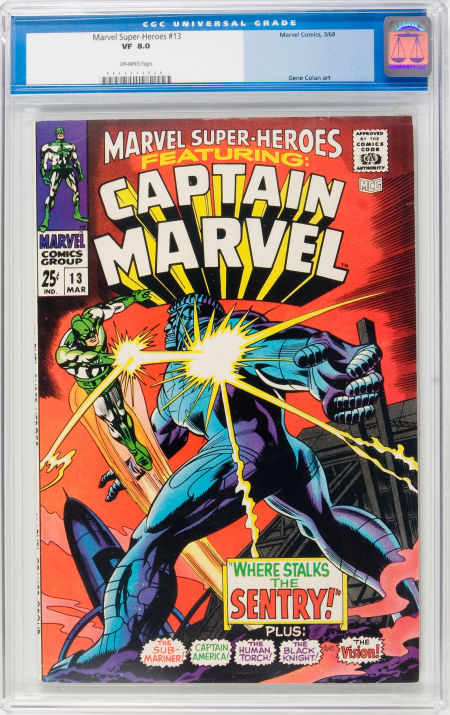 Great book, but not worth the cost of professional grading


With each market report I like to highlight a specific book that stands alone. Possibly the most significant is Detective Comics 27, the first appearance of Batman. What is particularly interesting is how much this book is fetching even in very low grades. Perhaps many people feel that is the only chance they will ever have of owning one. Check out the example below. A CGC FR/GD 1.5 is considered garbage for many books, but this one hauled in a surprising $83,650.00. Think about what this means - Tec 27 is close to becoming a 100 thousand dollar book in any grade.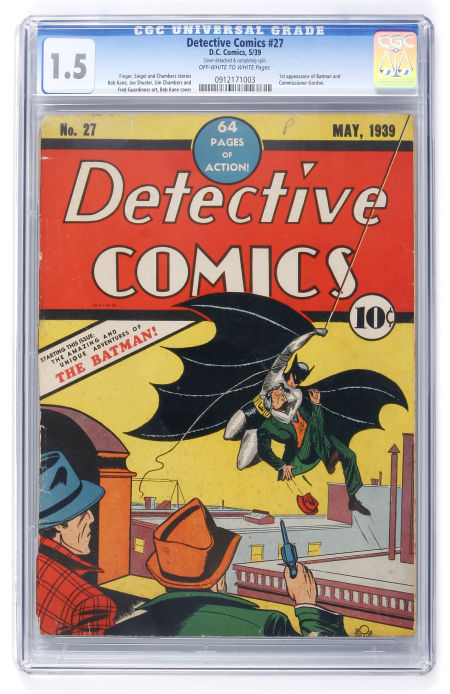 Detective Comics 27, the 1st appearance of Batman


Sometimes you'll see our pricing for a particular book go way up, with of course actual sales in our database to back it up, but the change seems puzzling. Often, this is the pedigree effect. Even if the book is not super high grade, the fact that it's, for example a Mile High copy pulls a lot of weight. It bugs me the way pedigree designations are getting handed out like pink slips these days. Many are not warranted. But lately I've seen examples where nobody is "buying it", and I find this very refreshing. Look at the Mile High II copy of Strange Tales 156 below. Graded CGC NM 9.4, it pulled in $119.00, well below our current CGC NM 9.4 price. Mile High II - what a crock. Some coke-head accumulates a warehouse full of undistributed Silver Age, and this is a pedigree? Please.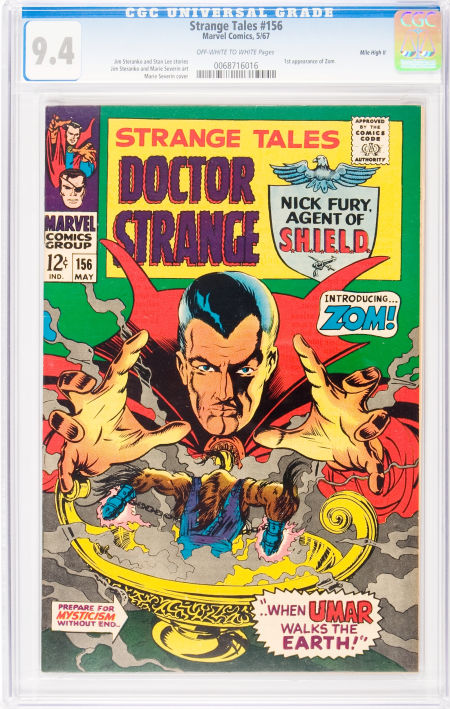 From the pedigree assigner's club to you, half the price of non-pedigree


Like last quarter, I could go on all night. There is so much interesting change going on in the market right now. But I'll close comics with a reminder of how quick things change. Timing is everything. Last pricing update, Watchmen comics were on fire. This quarter, you can't give them away. Actually, you can, I'd take them. The Watchmen 6 shown below, CGC NM+ 9.6, brought only $13.00 recently, a poor investment for this submitter.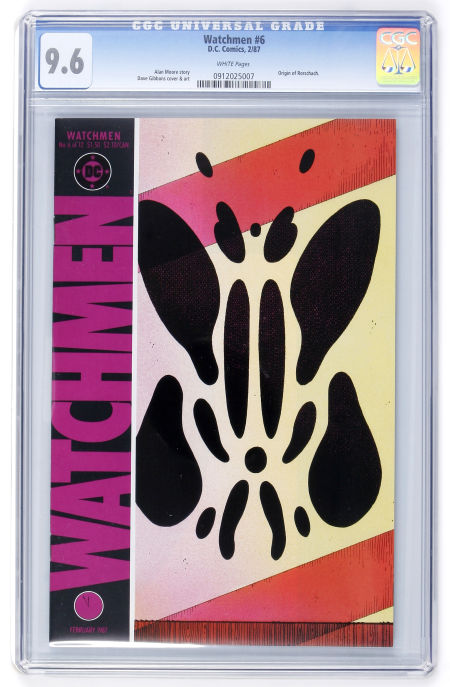 Fast rise, fast fall, great book regardless

Other items of note:
Harvey file copies still trending down
9.8 and higher Marvel Team-Up is unusually hot, while titles like Marvel Two-In-One are not
Vampirella 1 (Warren magazine) is very hot
McFarlane art books (like his run on Amazing Spider-Man) are way down
---

Coins

This time around I want to focus on the Finest Known effect. We love it when these go on the market, as it provides key, hard to get data for our pricing algorithms. Below is a PCGS MS-67 Nickel Three-Cent Piece, which sold recently through Heritage Galleries for $14,950.00. Note the CAC designation, becoming very common on items like this. When David Albanese, one of our advisory board members, started touting this service, I was skeptical. I thought "why do we need a certification company to give us the thumbs up on a PCGS certified coin?" But I'm on board now, mainly because of the increasing and unsettling number of fake certified coins circulating these days.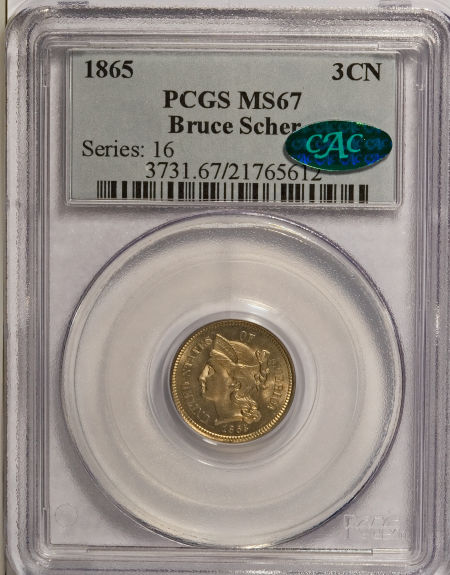 Tied for Finest Known, and the best assurance, PCGS/CAC


I've always had a soft spot for Buffalo Nickels. The piece below is tied with 7 others for Finest Known among PCGS graded examples. This PCGS MS-68 example, and another PCGS MS-68 example, both sold in the same May 3, 2009 Heritage auction for over $8,000.00 each. The thing I find interesting here, is examples of this coin only two points down, at MS-66 (same grading company, PCGS) sell in the $60 range.



What a difference two points make


My last example shows just how much difference it makes when a coin stands alone as the single Finest Known example. Look at the 1919-D Liberty Walking Half Dollar below. If you didn't know the coin market that well, you'd think, "ok, it's an MS-66. That's a nice coin, but is it that big a deal?" Yes it is. This coin was recently auctioned for an amazing $253,000.00. Over a quarter-million dollars for an MS-66 20th century half dollar. Pretty cool.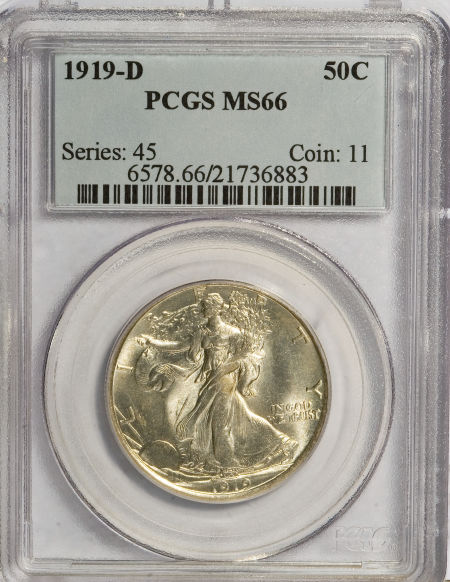 Regular issue Walker sells for over a quarter million dollars
---

Magazines

It's nice to see some CGC graded magazines turning up on the market, especially early Famous Monsters of Filmland. We need more data here, and these are key sales data points, so keep submitting and listing these! The example below is a cool Famous Monsters of Filmland 3, CGC FN- 5.5. It pulled in a respectable $275.00, despite the crappy images provided. Interesting that even though the centerfold is detached, CGC still gave it a 5.5.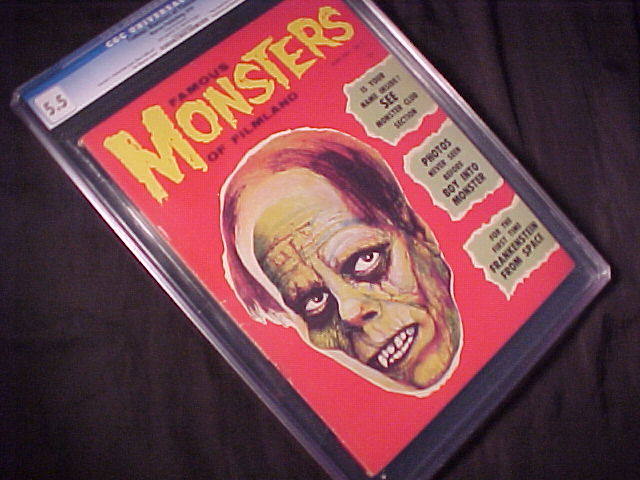 Forrest J. Ackerman, R.I.P. brother
---

Thanks, we'll see you all next month.

Visit our NostoNews Archive.