NostoNews, July 1, 2006
by Tommy Jasmin

What's hot and what's not - July 2006

The 2006 3rd quarter pricing data is now available. Login and see how the current market is affecting your collection value. Below I highlight an area in each category where demand and values are increasing, and an area in each category where demand and values are dropping.


---

Comics

Hot! This came as a bit of a surprise to us, but Golden Age strip reprint books made huge gains this quarter. See our respected Top 100 List for the new pricing update and note the double-digit gains made by books such as Famous Funnies 1, King Comics 1, and Century of Comics. Realize our list doesn't imply there were actual sales for NM copies of these books. The sales driving the price increases were certainly for lower grade copies like the one shown below. Rather, it is indicative of the true scarcity, and possible non-existence of copies in high grade. Our pricing algorithms compute values for all books in all grades, some of which may be simply theoretical. Copies in NM of pre-1935 books may never surface, but the recent discovery of the 11,000 book Davis Crippen, or "D" collection, which will be auctioned at no reserve by Heritage Comics (way to go Heritage, we love this!) gives a glimmer of hope.

Not! Successful movies and all, we are still seeing a moderate drop in value for NM 9.4 Modern Age superhero books. As we mentioned last quarter, this is most likely a continued correction due to the plentiful supply of any Modern Age book in high grade. The lesson is fairly simple: don't lay down any long green on a Modern Age book for investment purposes. They are just too plentiful in high grade, even all the way up to NM+/MT- 9.8. Take Uncanny X-Men 267, shown below, as an example. Here we have a book with Jim Lee art, and the 2nd appearance of Gambit. Even with the recent success of the new X-Men movie, this book still showed a drop in value of 26% in NM 9.4 this quarter, from $13.00 to $9.55. Check the Nosto News archives to read our prediction of a continued correction in the last "What's Hot and What's Not" which turned out to be on the mark.



© Heritage Galleries, Marvel Comics
---

Coins

Hot! No surprise here, as low-mintage early gold continues to drive record prices. With the spot-price gold trends bringing more and more investors into the market, the smart ones with big bucks realize the true scarcity of this area, with survivors of some dates measuring only a handful. Due to infrequent sales of many dates, Nostomania is still honing in on true market value on many of these. Take the 1854-O Three Dollar Gold Piece shown below. We had this item valued at "only" $34,500.00 previously (Coin World Trends and Numismedia were off even more), but the sale of this PCGS MS-61 piece for a whopping $86,250.00 drove a 61% gain this quarter in the MS-63 grade. Incidentally, with an original mintage of only 24,000, many of which were melted, there are no known examples in MS-63.

Not! Early copper is again showing modest declines for us. There were many Large One-Cent Pieces and Half-Cent Pieces showing drops in value this quarter in our Top 100 List. Again, given the fact that many of these coins may not exist in the reference grade of MS-63, many of these values are theoretical. But many items like the 1799 9 over 8 Draped Bust One-Cent Piece pictured below showed double-digit value declines across almost all grades. The biggest drop for this particular coin was 33% in AG-3, down to $2,540.00 The example shown is a FR-2 specimen that sold via Heritage Coins this year for $1,380.00.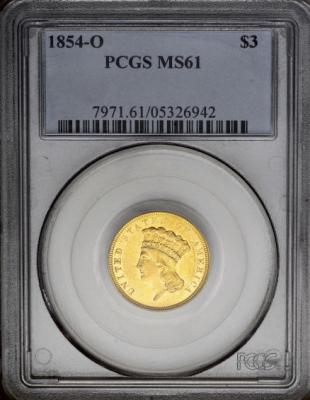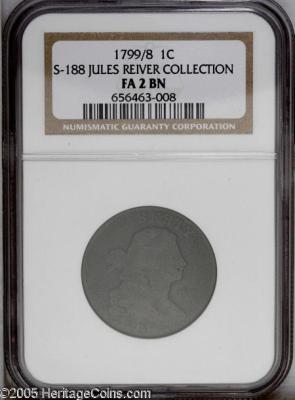 © Heritage Galleries
---

Prizes

Don't forget, all you have to do is create a single Collection, Wantlist, or Salelist item during the appropriate month to qualify for our sweepstakes. Why not take a look and see what we're giving away (and gave away last month), free as always.


---

Thanks, we'll see you all next month.

Visit our NostoNews Archive.