NostoNews, July 1, 2005
by Tommy Jasmin

What's hot and what's not - July 2005

The 2005 3rd quarter pricing data is now available. Login and see how the current market is affecting your collection value. Below I highlight an area in each category where demand and values are increasing, and an area in each category where demand and values are dropping.


---

Comics

Hot! Anything MT- 9.9 or MT 10.0 is pushing the envelope these days. In particular, now that CGC is grading magazine-sized comics, we're seeing some phenomenal sales data in this area. For example, the MT- 9.9 Savage Sword of Conan 202 shown below recently sold in a Heritage Signature auction for a stunning $373.75, blowing the last quarter's Nosto value of $14.20 right out of the water. The curious user may want to check and see how our sales-driven pricing has adjusted values on that item this time around. The current Overstreet guide doesn't list values above NM- 9.2, so the $6.00 value listed there isn't much help. The true scarcity of 9.9 and better books, from any era, is a driving force in the market right now.

Not! A cooling trend continues for Humor and Cartoon Character books, from any era. Our example below is Katzenjammer Kids 2, a beautiful NM+ 9.6 copy also from a Heritage Signature auction. It sold for only $143.75, well below last quarter's Nosto value of $694.00. My theory is the segment of the population familiar with these lesser known cartoon and strip characters of the past is dwindling fast. The market for this stuff is shrinking as anyone who remembers them fondly is now reaching old age. In another 10 years will anyone care? I don't see a Katzenjammer Kids blockbuster movie on the horizon.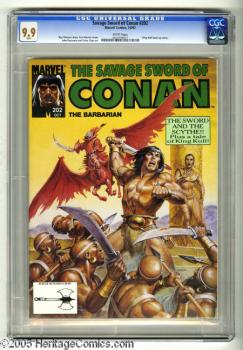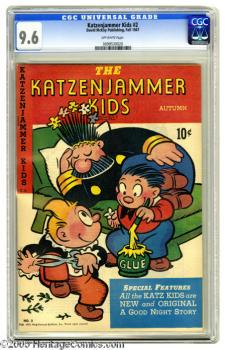 © 2005 Heritage Galleries
---

Coins

Hot! Ultra-high grade Mint State coins dating back fifty years or more continue to set record prices. Regular issues from this era surviving in MS-68 or higher are extremely scarce as hardcore collectors know. A nice example is the 1913 Type One Buffalo Nickel shown below. It grades MS-68, a finest known, and sold for a whopping $19,550.00 at the FUN Signature auction. Again, this realized price is well above last quarter's Nosto value of $2,820.00.

Not! Continuing their cooling trend are the Statehood Quarters. Particularly anything less than Deep Cameo in designation and less than MS-69 or PF-69 in grade. Remember, these coins are not scarce by any means. It was only a matter of time before the novelty started to wear off and a correction in values occurred. The piece shown below, another recent Heritage sale, is a PF-69 1999-S Proof Connecticut, Deep Cameo. It sold for $19.00, much less than last quarter's Nosto value of $42.10.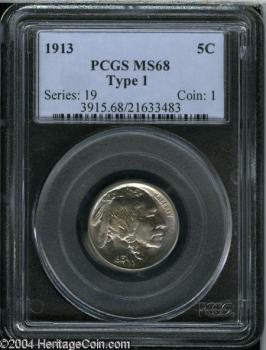 © 2005 Heritage Galleries
---

Prizes

Don't forget, all you have to do is create a single Collection, Wantlist, or Salelist item during the appropriate month to qualify for our sweepstakes. Why not take a look and see what we're giving away (and gave away last month), free as always.


---

Thanks, we'll see you all next month.

Visit our NostoNews Archive.