NostoNews, January 1, 2023
by Tommy Jasmin
1st Quarter 2023 Market Comments
---
Hello everyone - wishing you all health and happiness in 2023. Are things still a little off in the marketplace? Dare I say we may be burning out on superhero movies? Too much of anything will saturate the market. It's been a non-stop barrage for over a decade, and each great movie sets a higher bar for the next, an impossible feat to maintain. I haven't seen them myself, but movies like Morbius and the 2nd Black Panther seem to have come and went with very little post-release buzz. I don't know the future so let's talk about the present. Here are a few sales that caught my eye this past quarter, enjoy!
---
Blackhawk #14 Mile High Pedigree (Quality, 1947) CGC NM+ 9.6, $900.00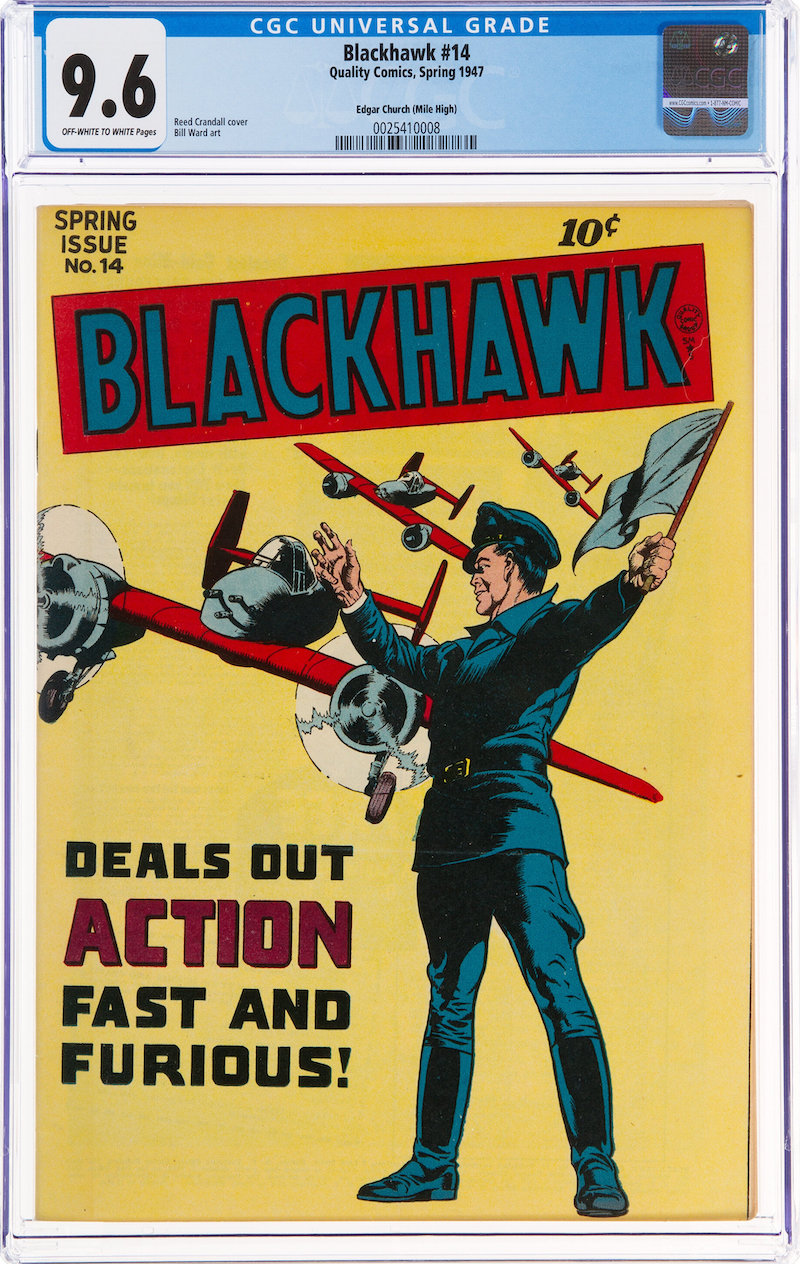 It's fun for me to look at odd nuggets of data, like this one. Above is the Mile High copy of Blackhawk #14. As is often the case with Mile Highs, it stands alone at the top of the CGC Census, the finest known, graded NM+ 9.6. It sold last month via Heritage for $900.00. The crazy part is this same copy sold four previous times via Heritage, going all the way back to 2005, including at least one resubmission to try and pop out a 9.8. Each of those prior sales were for over $2,000.00. Rarely do you see a Mile High go down in value.
Brenda Starr V2 #4 (Superior Comics, 1948) CGC VG+ 4.5, $720.00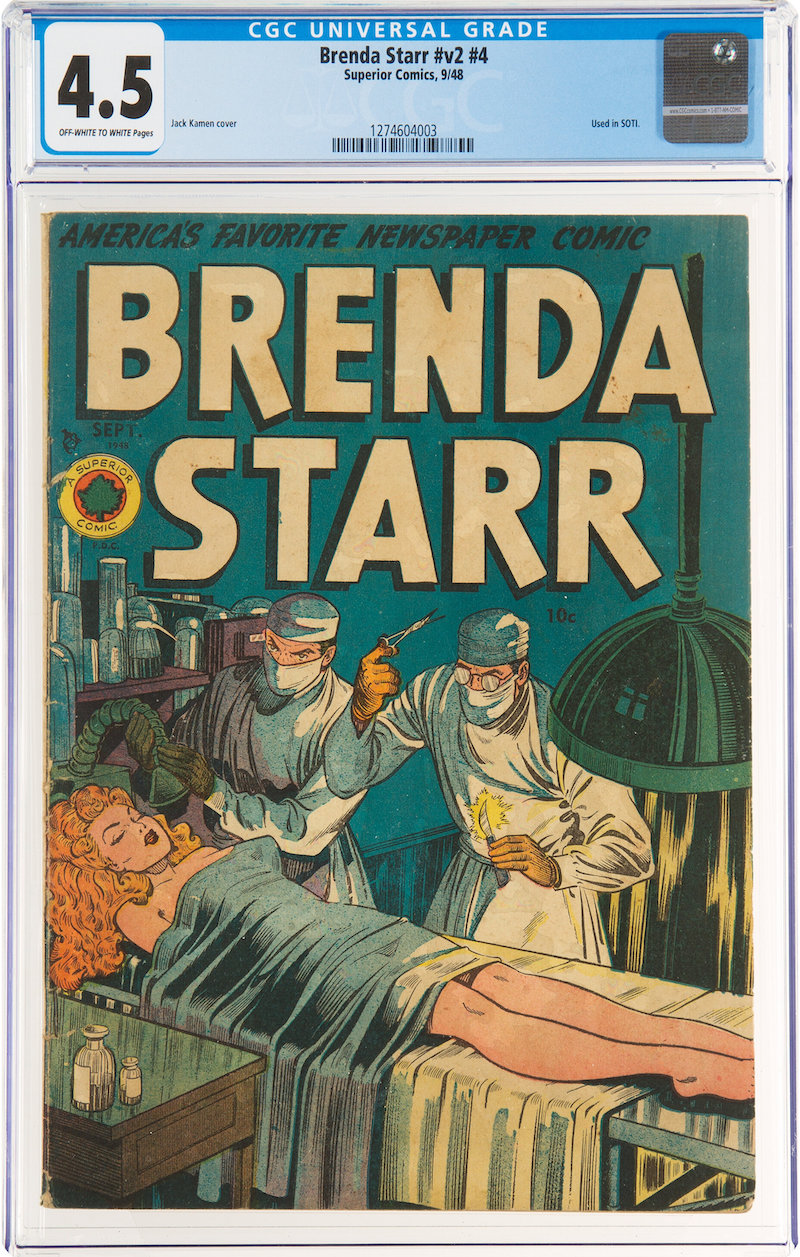 As I've stated, however, there remain some very hot pockets in the marketplace. The best of these, IMO, are no longer tied to movie speculation, but to scarcity and great cover art, mostly from the Golden Age. Surprisingly, there are still great covers to shine or re-shine a light on. This recent Heritage sale I was drawn to look at, due to showing up in our data files of unusual sales needing further examination. A copy of Brenda Starr V2 #4, CGC VG+ 4.5 sold for $720.00. Not a huge dollar amount, but nearly a 40% increase over our CGC value in that grade. I'm sure I've seen this book before, it's not super scarce, but this was the first time I really looked at the cover. What a bizarre, pre-E.C. era Jack Kamen effort. The juxtaposition of creepy medical horror with Kamen's trademark curvy babes is both disturbing and stunning.
Weird Comics #20 (Fox Features Syndicate, 1942) CGC FR/GD 1.5, $16,200.00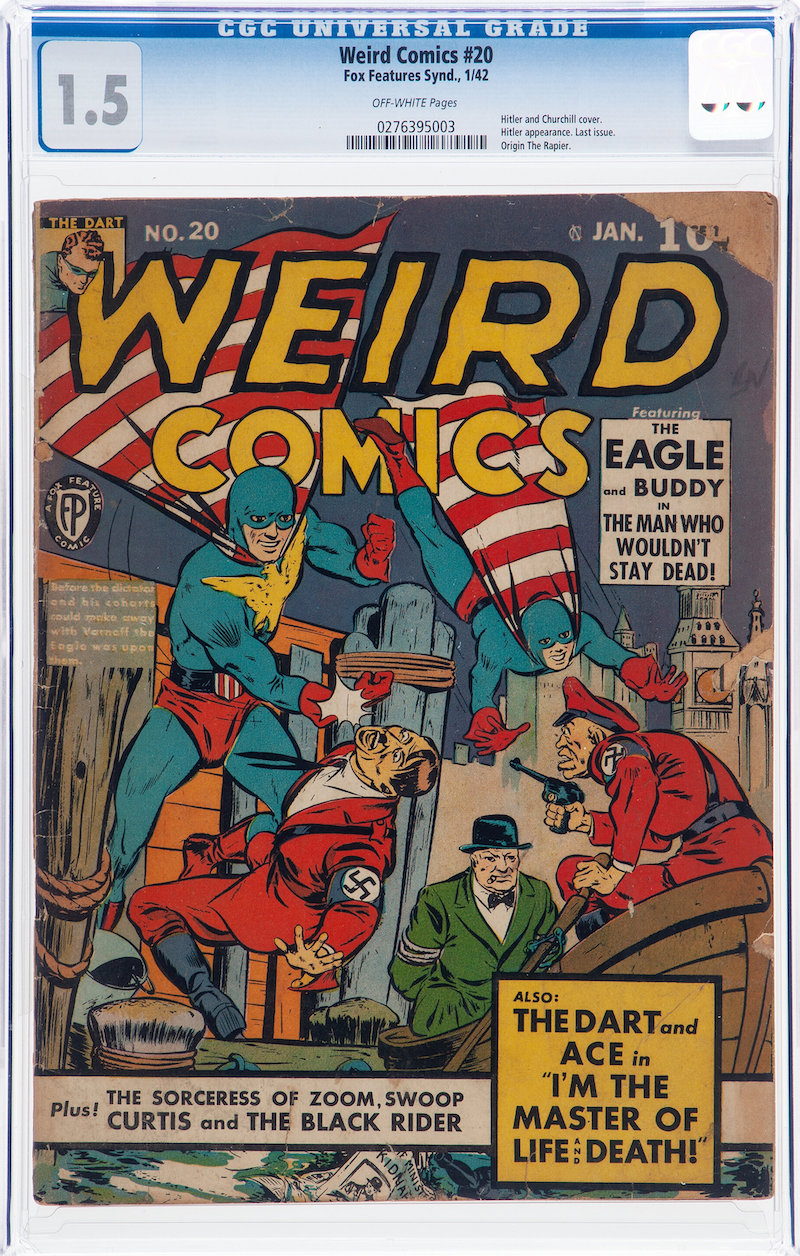 For a more dramatic example of demand and price increase, reach back further into the Golden Age, to the wartime superhero titles of 2nd tier publishers. The Fox titles are finally getting their due. Above is a recent sale of Weird Comics #20, CGC FR/GD 1.5, for $16,200.00. Are you kidding me? It's only a 1.5! Consider though, the CGC "clean" census is under 10. Collectors realize now, they may never see any copy. This was "only" a 300% gain over Nostomania value at the time. Yes, we had it at $4,000.00 in CGC FR/GD 1.5. If that seemed crazy, yes, turns out it was crazy low. One of the telltale hints at scarcity is present here - this was the final issue for the title (often an indicator sales were in decline). The fact that both Hitler and Winston Churchill are on the cover throw fuel on the demand fire.
Mystery Men Comics #30 (Fox, 1942) CGC VG+ 4.5, $24,000.00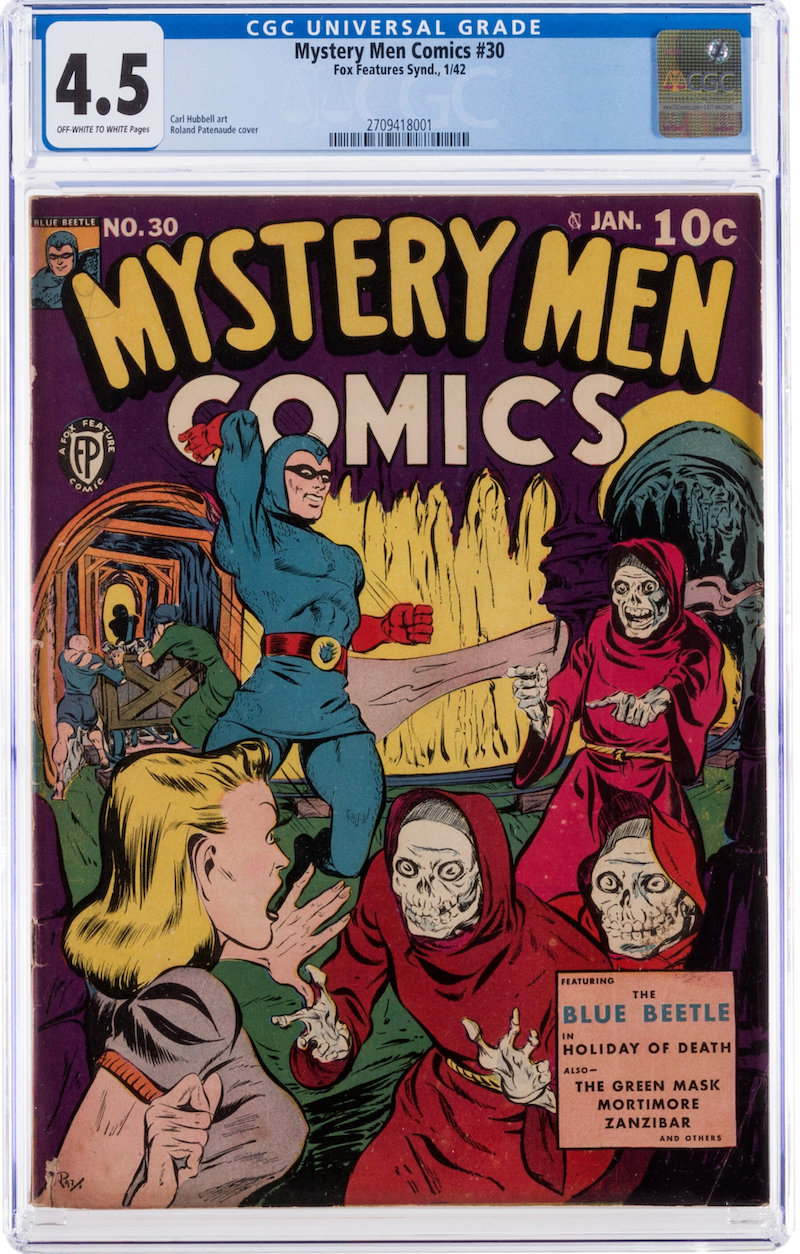 I can't help but highlight one more recent Fox title sale from Heritage. Check out Mystery Men Comics #30. This CGC VG+ 4.5 copy sold for (you better sit down) $24,000.00. To be fair, give it credit. You've got the wartime superhero and sidekick, presumably Fox's knockoff of Captain America and Bucky, battling some scary skull-men (can never go wrong there) who seem to be emerging from a creepy cave. But 24 grand, wow. To put that in perspective, in 2009, another CGC VG+ 4.5 sold via Heritage for $227.05. There's a lesson here somewhere, and I think it's the best (paraphrased here due to fuzzy memory) advice I ever got from Nostomania advisor Gary Carter - "When you go to a show, pool whatever you can afford and purchase only 1 or 2 really nice items". I haven't heard from Gary in many many years. If you're still out there Gary, drop us a line. He was such a great influence, Comic Book Marketplace was awesome. CGC Census on this book: 7 (including 2 Restored copies), Nostomania Census: 0.
Ka-Zar the Savage #16 (Marvel, 1982) CGC VF+ 8.5, $5.50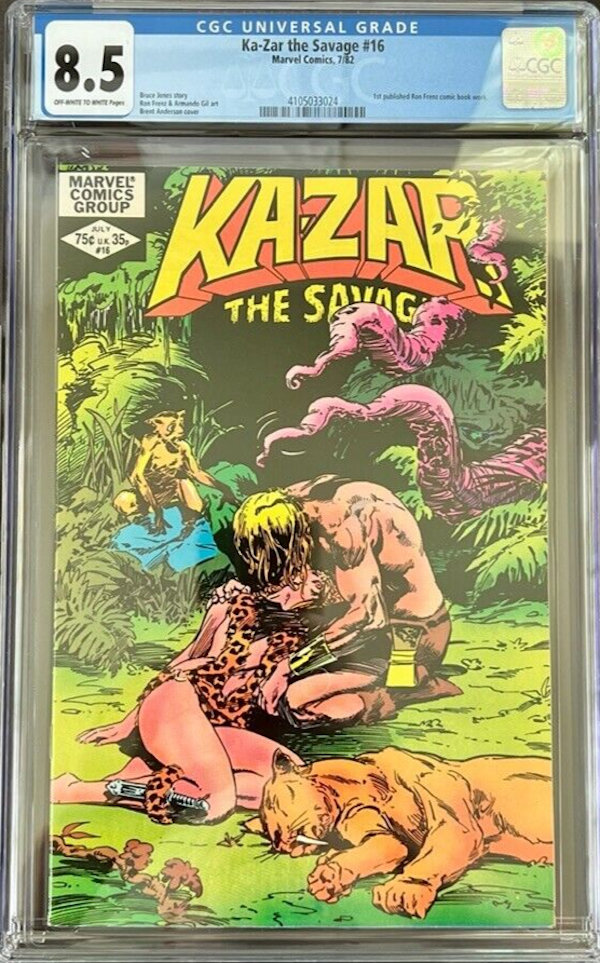 I continue to see, and continue to be baffled by, many sales of certified items for way below the cost of certification. Here's one example. This recent sale of Ka-Zar the Savage #16 was an eBay sale (Heritage would be hesitant to bother with something like this) in CGC VF+ 8.5 for $5.50. I realize of course, in most of these cases the seller is asking a lot for shipping, and buyers will factor that in to their bid amounts. Buyers understand this is life and having someone bring a collectible safely across the country for you costs money. I see so many of these, and can't help but wonder why people submit books like this. The only thing I can figure is they are simply novice pre-graders and truly believe they have a 9.6 or 9.8 on their hands. But after going through not just the deflating process of selling at a financial loss, but the ordeal of filling out forms, carefully packing items, paying postage, and waiting forever for your items to return, you'd think the lessons would be learned quickly. Maybe the fact that I continue to see loads of examples like this is just a testament to CGC's dramatic continued growth. Whatever the explanation, it's great sales data for our pricing algorithms.
Shock SuspenStories #13 (EC, 1954) Uncertified VG 4.0, $552.00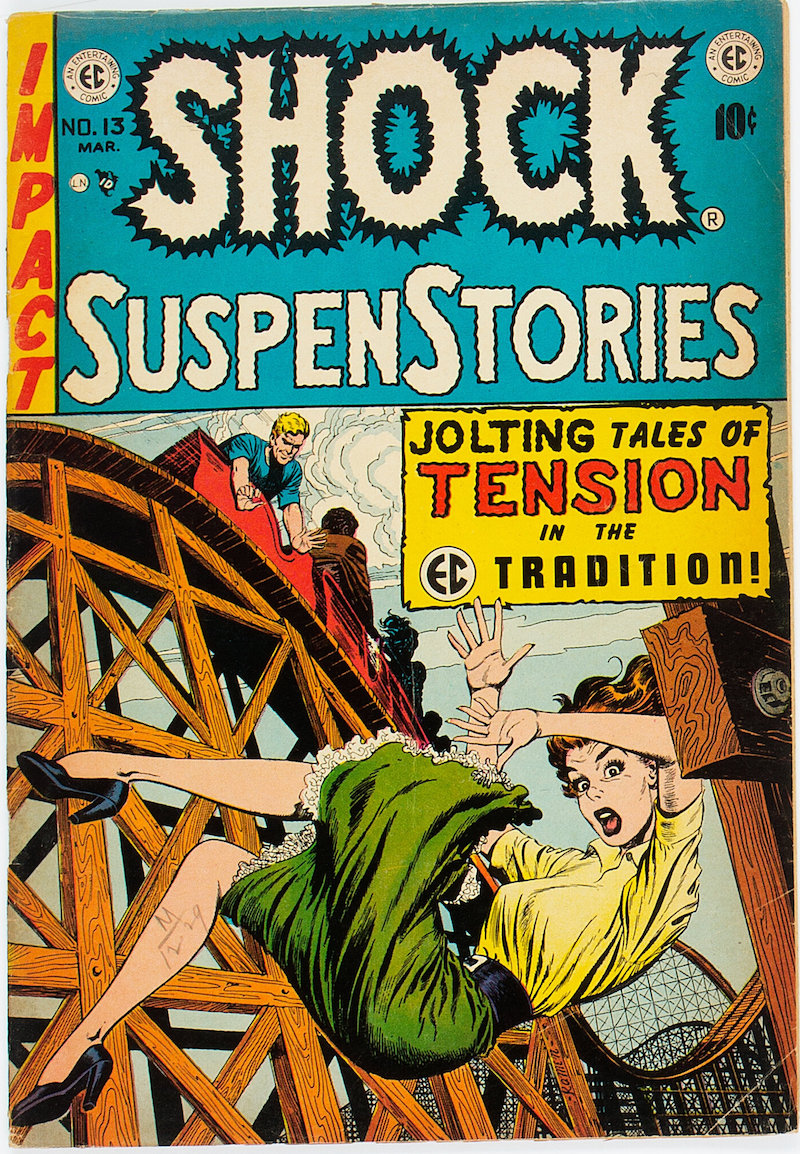 Dovetailing on the previous example, most of you know I often emphasize, we should not overlook uncertified items. When you trust the seller, you gain many of the assurances of certification for no additional cost. Most importantly that the grade is accurate, and that the book was not messed with. There are often situations where I see uncertified sales overperform, and sometimes the reason is in plain sight. Shock SuspenStories #13 is a great example. The Uncertified VG 4.0 copy above sold awhile back via Heritage for $552.00, well above both our CGC and Uncertified values at the time. Why the no-slab demand? What true collector would not want to gaze inside at the only solo story Frank Frazetta ever drew for E.C.?
Marvel Spotlight #28 (Marvel, 1st solo Moon Knight story)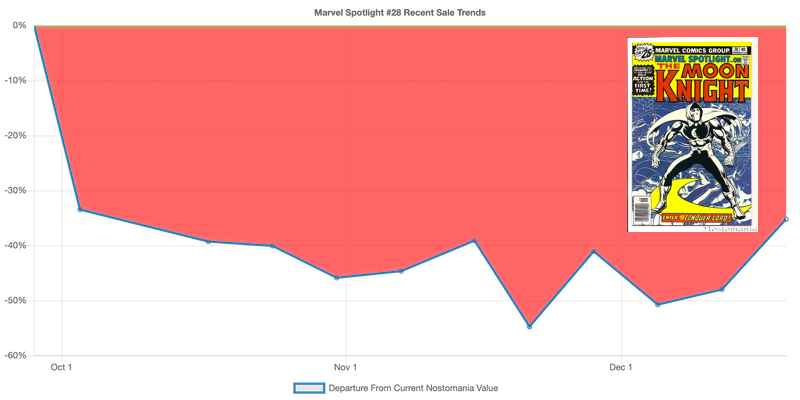 As the year wound down, one pattern that continued is the decline in sale prices for apparently overhyped and overvalued books. The trend chart shown here for Marvel Spotlight #28 is a decent example of this. Over a 90 day period, not a single sale above last quarter's Nostomania value, in any grade. The funny thing is, years back when you could get a copy for 5-10 bucks, I considered this an undervalued and overlooked book. Along came MCU buzz and by mid-2021, 9.6s were going for over $1200.00. I don't think any of us saw that coming! Now they are back down to around half that. In the end though remember, to you, a collectible is worth what you are willing to pay for it. Enjoy your purchases and enjoy your hobbies!
---
---