NostoNews, January 1, 2017
by Tommy Jasmin

New pricing for 1st Quarter 2017, market comments

The just-computed 2017 1st Quarter pricing data is here! Sign in and see how the current market is affecting your collection value. Remember, we compute separate pricing for each grading service, as well as non-professionally graded items. So if you add an item to My Lists as uncertified, your collection value will likely change much less than if that item were graded by CGC, NGC, etc. Below I make a few market observations for each supported category.


---

Comics

Key Golden Age books continue to climb in value. Here we've got the 2nd appearance of Batman, in Detective Comics 28. It took awhile for both Superman and Batman to regularly snag the cover feature in their respective titles. DC must have known they had a hit on their hands. It says right on the cover, The Batman appears "this month and every month"! Graded CGC GD 2.0, this book sold via Heritage for $16,730.00. That's a big jump in price and value, but you gotta admit it's a good looking 2.0. This book is tough to find unrestored, and any copy that hasn't been messed with is coveted.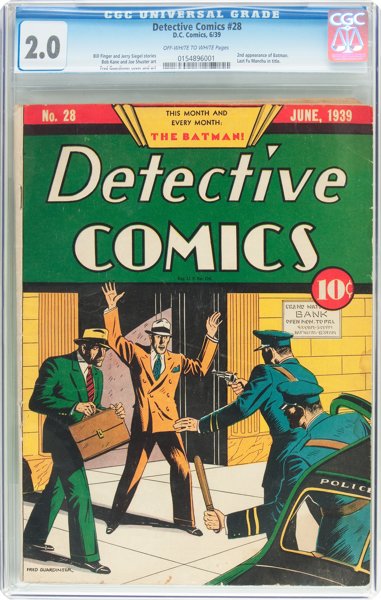 DC already knew Batman was a monthly feature


I've always found the price premiums for Marvel Bronze Age cover price variants a little puzzling. They are much scarcer, but it was pure distribution chance deciding which version was available to buyers at the time they were published. It's the exact same book, just a different cover price. It's not like one version has a much cooler cover by a preferred artist. So here we have both variants of Iron Fist 14 selling via Heritage in the same quarter, in the same grade, CGC NM 9.4. First we show the common 30 cent version, which sold for $382.40. This is actually a drop in value for this book.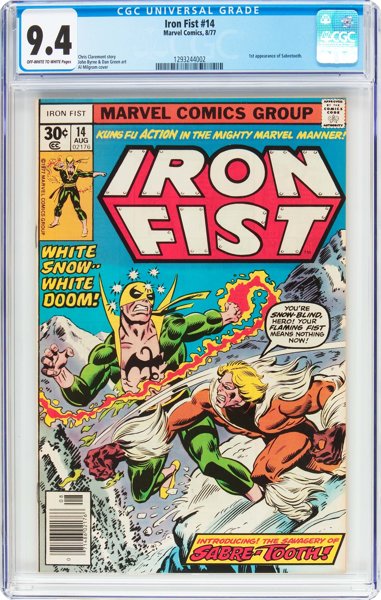 First appearance of Sabretooth


Now the 35 cent cover price variant. CGC NM 9.4, while really nice, is not one of those grades you think of as particularly wallet-wringing for Bronze Age books. Yet this book managed to pry an incredible $8,365.00 out of somebody's hands. To come up with the villain name, you can imagine the Marvel bullpen thinking "ok, what iconic alpha predator have we not used for a character name yet? Sabretooth!". Then later, they formed a bigger story around it. "Hhmm... how about if we make him Wolverine's father? Would that work? Sure, let's do it."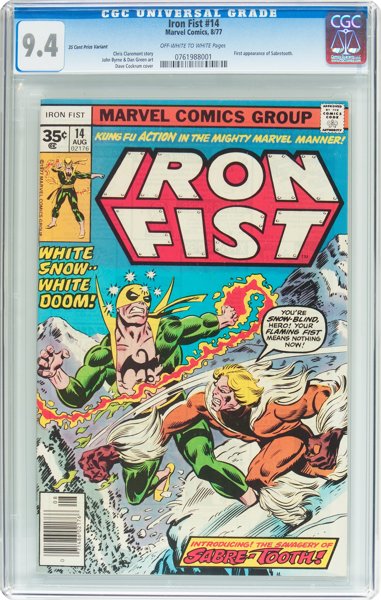 Same book, scarce 35 cent price variant


Yes, these cover price variants always command a hefty premium. You gotta wonder how many people, both collectors and dealers, initially never paid any attention to this? If only. Check out the copy of Star Wars 4, 35 cent Variant, shown below. This gorgeous CGC NM+ 9.6 copy sold recently via Heritage for $10,157.50, incredible! Partly great timing with the new Star Wars movie getting positive reviews? It sure doesn't hurt.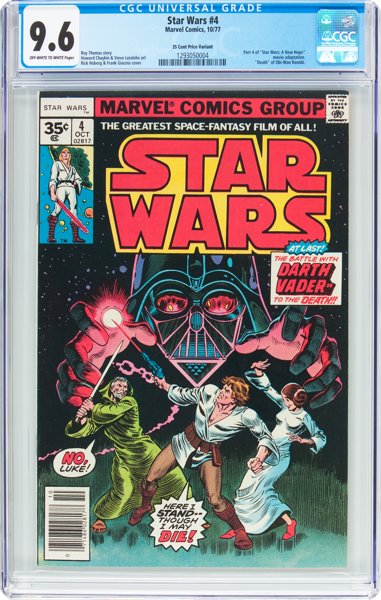 Howard Chaykin art, tied for Finest Known


These later issues in the Briefer run of Frankenstein from the mid 1950s are rising in demand. This was a period when the title moved from goofy to dark, and representative of the original Universal Studios depiction. The CGC FN/VF 7.0 of issue 30 shown below, sold recently via Heritage for $956.00. Scarce in high grade, this copy also holds the current slot for Finest Known.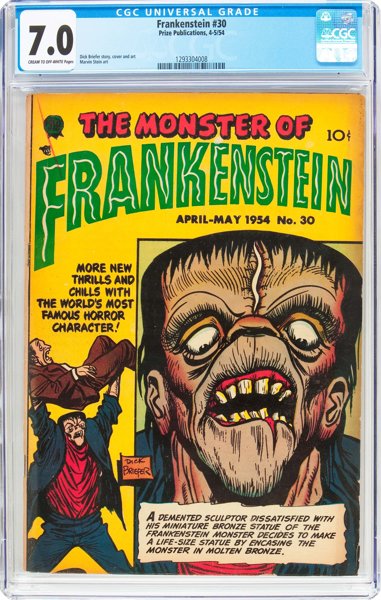 Got it? Get it graded!


You folks know I love to tout the power of a great cover. Here we've got the last issue in the Quality run of The Spirit. A ratty uncertified FR/GD 1.5, this copy still wrangled an impressive $549.70 out of someone, thanks to a killer Will Eisner cover. You mean to tell me that knife was a secret under that skin-tight dress? I don't think so. This book was cited by the New York Legislature committee during their investigation of comic books in the 1950s.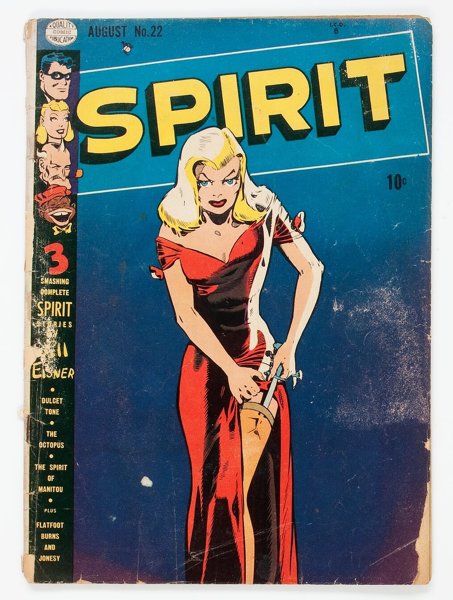 Classic youth corruptor

Other items of note:
Atlas humor - Maneely and Everett - red hot. Below: Crazy 4, Uncertified VF 8.0, $1,673.00
Yes, some older comics actually go down in value. It's from 1936, but the pool of people who care is shrinking. Below: Famous Funnies 26, CGC FN- 5.5, $69.00
First appearance New Teen Titans. Raven, Cyborg, Starfire. Below: DC Comics Presents 26, CBCS NM/MT 9.8, $687.13
Overstreet's $42.00 value is a little off on this one. Below: Showgirls 2, Uncertified FN 6.0, $776.75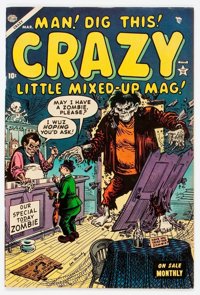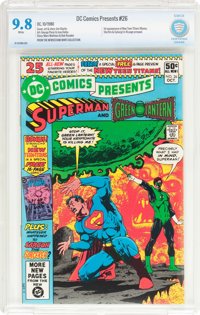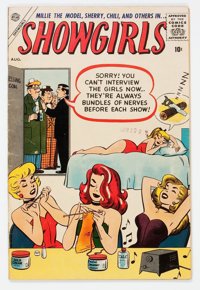 ---

Coins

I'm not sure what happened here, but this sale of a 1956 PCGS PF-69 DCAM Roosevelt Dime blew our previous pricing for this coin out of the water. The coin, shown below, sold recently via Heritage Galleries for a jaw-dropping $19,975.00. It's curious that the current PCGS value is actually somewhat close to this sale price, at $15,000.00, while the current NGC value is much closer to our previous value, at $1,750.00. Could biased agency-specific pricing actually be influencing sale prices? Let's hope not. I'm not sure how PCGS could have come up with that number, since all other pricing services, including ours, were much lower and there had been no recorded actual sales from PCGS in this grade. In PCGS's favor, it does appear they are much stingier in assigning PF-69 DCAM, with a total of three versus fifteen for NGC at the time this market report was written. Interestingly, one of the other two PCGS coins in this grade is up for auction as I type.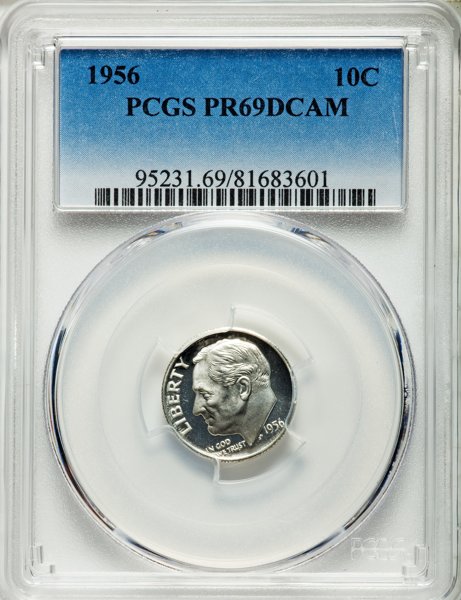 Tied for Finest Known



I can't recall the last time we featured a Stella, and here is a great example of a recent sale. What a cool series, an interesting historical oddity - a $4.00 gold coin. And this example stands out being graded PCGS PR-50. Normally we subconsciously associate any proof coin with a mint-state grade. But remember, proof is a minting process, and has nothing to do with the grade. A proof can be any grade, they just tend to be very high since they rarely circulate. This particular coin was carried around for years in pockets, and has wear and contact marks typical of general circulation coins. Auctioned recently via Heritage, this 1879 Flowing Hair Stella sold for $79,312.50.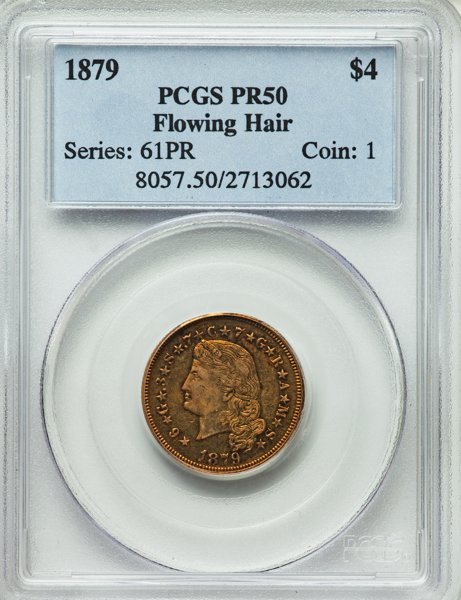 Amazing pocket change


Our last coin example exemplifies a few interesting conditions that contribute to value. It's a 1926-D Standing Liberty Quarter, graded PCGS MS-66 Full Head. The coin sold recently via Heritage for an impressive $88,125.00, this time much closer to the NGC price guide value ($80,000) than the PCGS price guide value ($60,000). Two key points here. First, the 1926-D is known as one of the most poorly struck issues in the entire Standing Liberty series, so it's very difficult to find high grade Full Head examples. Second, the certification census is very misleading for this coin, since there are now known to be many resubmissions, with the same coins being counted multiple times. This is a troubling flaw with census numbers for any certification service, and realizing and addressing the problem may drive price increases for coins such as this one going forward.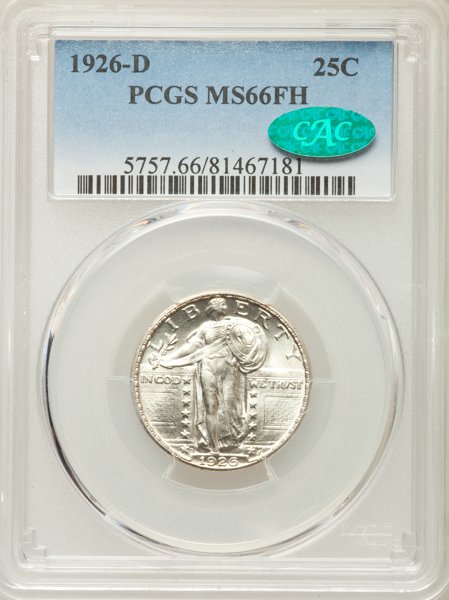 Poor strike date and many resubmissions
---

Magazines

We had an uncertified VG/FN 5.0 sale this quarter of the current #3 magazine in the Nostomania database. This mag is very scarce in high grade due to being printed on low quality, unstable paper stock. The copy shown below sold via Heritage for $382.40. Could a certified CGC NM 9.4 copy of this 1938 Dell magazine exist? Probably not, but if so, how close would our estimated current value be if such a book ever came to market? It would be great to find out, and of course watch our pricing code automatically adjust the numbers accordingly.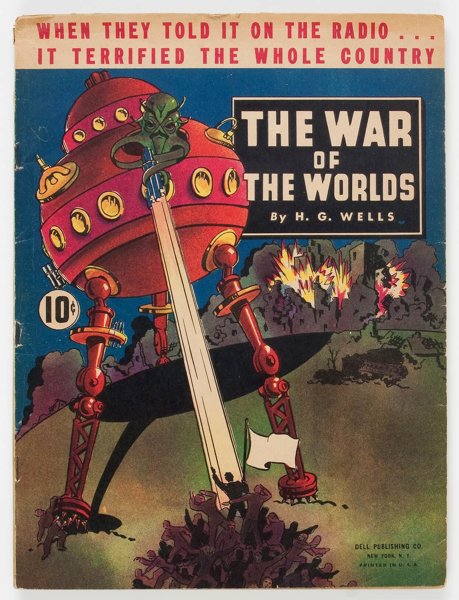 Orson Welles' broadcast, H. G. Wells story
---

Thanks, we'll see you all next month.

Visit our NostoNews Archive.