NostoNews, January 1, 2006
by Tommy Jasmin

What's hot and what's not - January 2006

The 2006 1st quarter pricing data is now available. Login and see how the current market is affecting your collection value. Below I highlight an area in each category where demand and values are increasing, and an area in each category where demand and values are dropping.


---

Comics

Hot! It looks like there may be some genuine interest in the early 1980's Whitman pre-pack issues. According to some, these issues are unusually scarce due to distribution in multi-packs only. Like the Marvel price-variant issues, greater general knowledge of these books over the past few years has resulted in increased demand. Who would have thought even five years ago that a Modern Age book like the CGC NM 9.4 Little Lulu 260 shown below would today sell (via Heritage Galleries) for $576.15? Nostomania has this item valued at $391.00 in NM 9.4. The highest value shown in Overstreet is $225.00. If you've got some time on your hands, scour the bargain bins for some of this Whitman buried treasure.

Not! Last pricing update I commented on the correction we're now seeing on pricing data for books from the glut days. I'm talking about the early days of Image Comics, when collectors were duped into believing comics with print runs in the millions were "collectibles". As further evidence of this correction, check out the Spawn 9 below. This item, graded NM 9.4 by CGC, sold on eBay recently for $1.29! Yes, that's one dollar and twenty-nine cents. For as long as eBay will allow access, a link to the actual listing can be found here. To put this one in perspective, ignoring the high cost to have CGC grade this book, this poor seller didn't even recover the original cost ($1.95) of the comic book.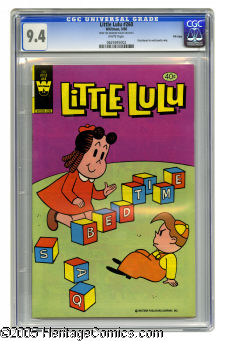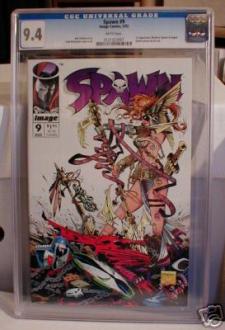 © Heritage Galleries, Whitman Publishing, Image Comics
---

Coins

Hot! Coin collectors are seeing red these days. "Red" is a designation given to copper coins that have retained bright coloring. Since copper is a chemically reactive metal which easily loses its original color over time, such pieces tend to be quite scarce. The difference in value can be dramatic for a specific coin, depending on whether it is designated Brown, Red-Brown, or Red. An example of a recent sale is the 1938 Lincoln Cent shown below. Graded ANACS MS-68 RD, it sold recently through Heritage Galleries for $6,325.00.

Not! Statehood quarter prices continue to mellow - at least the Mint-State issues. Deep Cameo Proofs continue to hold their own, but for regular issue coins, it's getting to the point where it hardly pays to have the item professionally graded if it's not MS-69 or better. A typical example is the item shown below, a PCGS graded 2005-D OR Satin Finish. It came back a nice MS-68 and sold for only $11.00 through Heritage Galleries.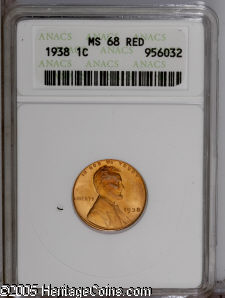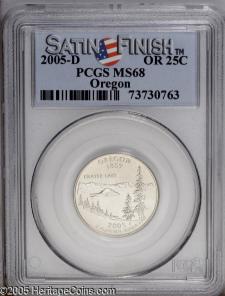 © 2006 Heritage Galleries
---

Prizes

Don't forget, all you have to do is create a single Collection, Wantlist, or Salelist item during the appropriate month to qualify for our sweepstakes. Why not take a look and see what we're giving away (and gave away last month), free as always.


---

Thanks, we'll see you all next month.

Visit our NostoNews Archive.