NostoNews, January 1, 2005
by Tommy Jasmin

2004 year end report

Thanks to everyone for a great 2004. Last year saw tremendous growth for Nosto, with our user base more than doubling, from 13,000 registered users last January, to over 28,000 today! See the chart below which plots growth since our inception.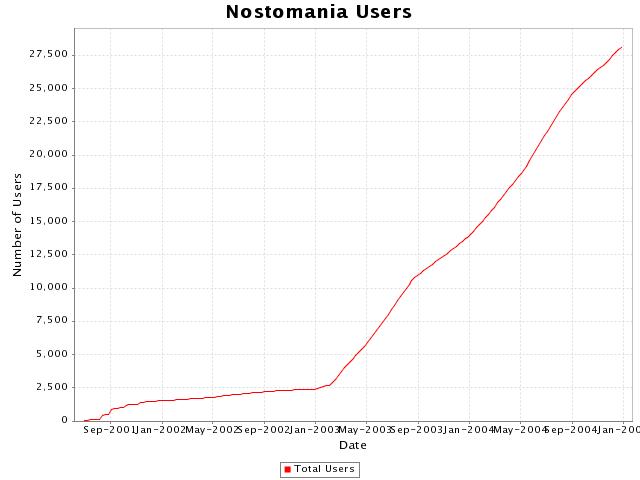 2004 brought many milestones and new features, a few of which are highlighted below:
Over one million collectibles now being tracked in Nosto collections.
Over 7,700 U.S. coins and over 130,000 comic books now being tracked and priced in all grades.
Sales history data now available to Nosto Premium Account subscribers, at the low cost of $2.99 a month.
Browsing of for-sale items opened up to non-registered visitors.
What's on tap for 2005


We will be unveiling our new Watch feature, which will alert users to Wantlist hits on eBay as well as Nosto. After a beta test period, we plan to expand this service to monitor other major auction houses and dealers, such as Heritage Galleries.

Also in the works for this year is a major overhaul of site navigation. Other fixes and enhancements will be driven by balancing and prioritizing user requests with our available time.



New pricing data


And finally, the end of the year means another pricing data update has been run. The 1st Quarter 2005 values are on the site. Check your collections and keep using Nosto's free collection management service to keep your finger on the pulse of today's market. Best wishes from Nosto to all our users and site visitors in the new year!


---

Prizes

Don't forget, all you have to do is create a single Collection, Wantlist, or Salelist item during the appropriate month to qualify for our sweepstakes. Why not take a look and see what we're giving away (and gave away last month), free as always.


---

Thanks, we'll see you all next month.

Visit our NostoNews Archive.