NostoNews, January 1, 2004

More discussion on Nosto pricing data

"Why are your prices so high?" is a question we are often asked by users.

Well, simply put, our pricing data reflects facts. We can't emphasize enough that we don't just "make up" our pricing data. We gather sales data, and at very high grades, people are currently paying very high prices. That's it. We gather these sales (almost 200,000 per quarter now) and funnel them into our elaborate pricing algorithms, and out come the new values.

Part of the differences between our prices and prices being realized in some transactions results from "wishful thinking" about grades by a few collectors and dealers. These few don't realize that in nearly all cases, what they are holding in their hands is not an MS-69 coin or a MT 9.9 comic book. Very few of those exist. When they sell, we capture the data and our pricing reflects what the market is bearing for these items. The results, as you'll see down below, can be somewhat shocking.

Here's an example. We recently had a user write in, telling us our pricing was way off, citing a recent sale on eBay of Captain Marvel (Marvel Comics, 1968) number 7 for $5.14. The user noted our MT 10.0 price of $420.00, and how ridiculously far off that was. Our reply, after reviewing the eBay page, was that the eBay item appeared to be around VF 8.0, for which our price is $5.30, and that if a true MT 10.0 copy came up for sale, it would very likely fetch close to our computed value of $420.00.

Now for a few high end examples. Each of these come from major Heritage auctions, with whom we have an agreement to capture their sales data. If you haven't been over to the Heritage comics or coins sites, we highly recommend visiting, as they continue to offer via auction simply fantastic collectibles.

First, let's look at the Mile High copy of Target Comics 7, pictured below. It grades a stunning NM+ 9.6. The current Nosto value in this grade is an astounding $55,500.00. Ridiculous? Maybe, but the fact is, this book sold in their November Signature auction for $57,500.00! By the way, Overstreet doesn't list a value in NM+ 9.6, their highest grade with a value is NM, at $6,400.00.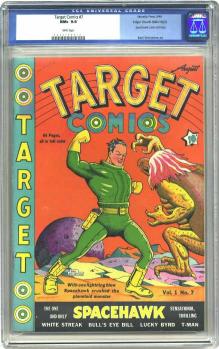 © 2003 Heritage Capital Corporation


Next, let's look at the finest known 1943S Washington Quarter, a PCGS MS-68, which sold in the Heritage September Long Beach Signature auction for a stunning $16,100.00. Nostomania is somewhat embarrassed at our MS-68 value of "only" $5,550.00, but sales datapoints like this are hard to come by. This is the only MS-68 certified by either of the major services of this item. Note Nosto is the only pricing data provider to even compute a value at this grade - Coin World and Coin Universe had nothing to show in the price guide reference for the auction. As Nosto continues to gather and process more of these high end sales, our pricing will continue to synchronize and tighten to the real market.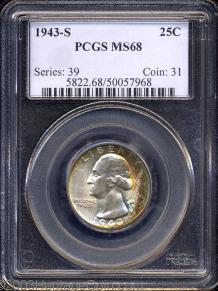 © 2003 Heritage Capital Corporation


What a year it's been

Finally, what a year it's been. Nostomania began 2003 with under 2,000 registered users. As you can see from the counter on our homepage, that number grew over five-fold to well over 13,000 today. We're very much looking forward to 2004 here, with many cool enhancements for the site in the works. Hop in and enjoy the ride if you haven't already!

Prizes

Don't forget, all you have to do is create a single Collection, Wantlist, or Salelist item each month to qualify for our sweepstakes. Why not take a look and see what we're giving away (and gave away last month), free as always.

Thanks, we'll see you all next month.

Visit our NostoNews Archive.