NostoNews, February 1, 2016
by Tommy Jasmin


CBCS INC 0.3 and INC 0.1 Grades Now Supported
In case you are still not familiar with this topic, comic grading company CBCS defined two relatively new grades lower than PR 0.5. At Nostomania we decided to add support for these two grades, which we are calling INC 0.3 and INC 0.1 (INC standing for Incomplete). This means you can add books with these grades to My Lists (noting CBCS certification if you want!), and going forward we will compute pricing for these grades, based on actual CBCS sales.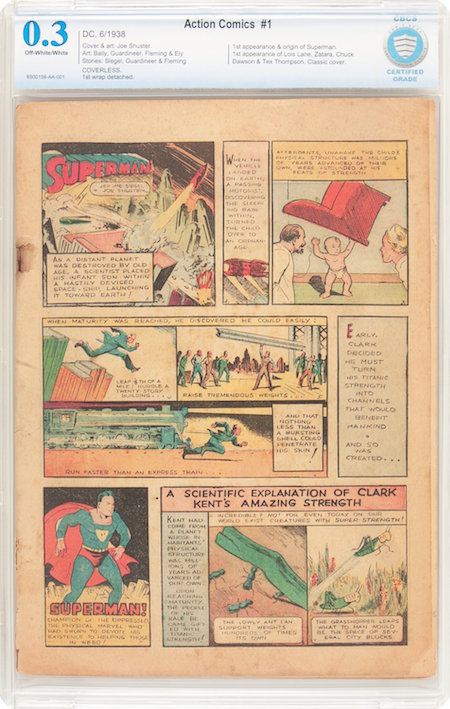 Action Comics 1, CBCS INC 0.3
What convinced us this was worth doing? Agreed - for most comics these grades are essentially irrelevant. Aren't we splitting hairs going below PR 0.5? Not for very expensive comics like the CBCS INC 0.3 Action Comics 1 shown above, which sold via Heritage Galleries for $65,725.00 in late 2016. Here's the deal - if a comic is worth tens of thousands of dollars or more in FR 1.0, then the additional 0.1 and 0.3 grades are much needed price points. Interestingly, we started noticing a few years back when running our pricing algorithms, that the PR 0.5 grade had the most variance of any grade. The sales data would fluctuate wildly, which made it difficult to compute accurate numbers. What was going on here? Simple, and CBCS realized this - everything defined in INC 0.1, INC 0.3, and PR 0.5 was getting lumped into PR 0.5 for grading purposes, and more importantly, sales.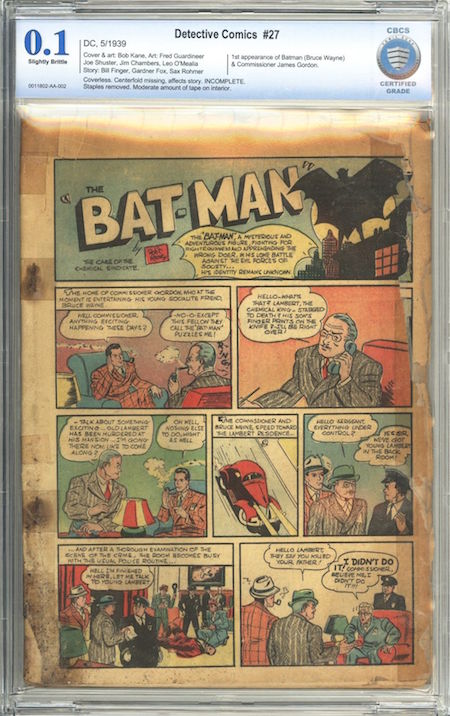 Detective Comics 27, CBCS INC 0.1
The bottom line is that some comics have so much demand that people will pay thousands of dollars for even fragments of the book. These pieces may be useful for assembling a complete, authentic copy. Some collectors may realize that they could never afford the entire book, but a page is affordable, and could be framed and displayed.
The definitions of these grades are actually fairly simple: See our online Comic Book Grading Guide for details. We have one bit of irony here based on the clear definitions of these new grades. Take a beat-to-hell Action Comics 1; no front cover, pages missing, ragged, stained, defaced, and brittle. This book technically grades at PR 0.5. Now take a second Action Comics 1; coverless, but otherwise complete, with great page quality. This book strictly grades INC 0.3. Which copy would you rather own? As a result, we've mitigated, but not completely resolved the pricing variance problems at the very low end.
---

Thanks, we'll see you all next month.

Visit our NostoNews Archive.