NostoNews, Feb 1, 2010
by Tommy Jasmin

Restored, then not

Has anyone else noticed instances of this? You see a book on the market, CGC restored, then later it's on the market again unrestored? What's up with this? If it's legit, people must be cracking open slabs, and attempting to "undo" restoration done on books, then resubmitting them. I suppose I could see this as legitimate in a few, special cases. Say you have a book with a tiny color touch. Couldn't you just carefully scrape off the ink that was added? The net grade would go down of course, but at least you are rid of the dreaded purple label. I'll highlight a key example below. Fight Comics 1, Rockford pedigree. It initially sells though Heritage in 2007 as a CGC Apparent VF- 7.5, image below:



The Rockford Fight Comics 1, restored


But the same book is available again through Heritage, now a CGC FN+ 6.5 (unrestored). At least the grade went down - had it gone up we would have a real mystery.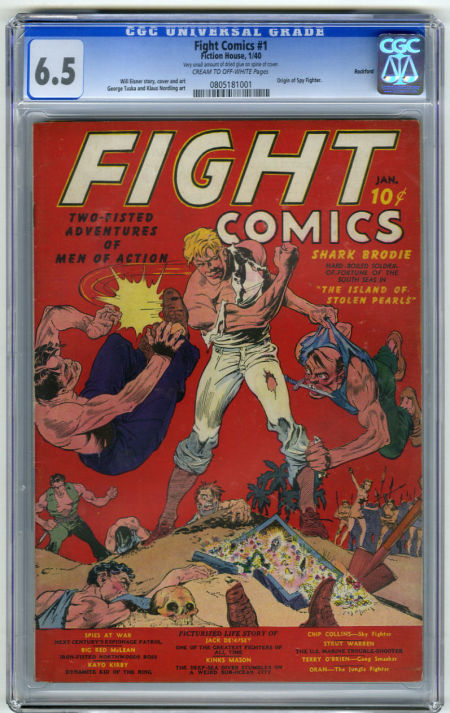 The Rockford Fight Comics 1, now unrestored



The Qualified grade must be retired

We get a lot of questions on the site about the CGC Qualified grade (Does PGX do this too? Not sure). The Qualified grade essentially says "this is the grade the book would be if we pretend a certain serious defect were not present". Below is a good example. We've got an Incredible Hulk 181, CGC Qualified NM- 9.2. A piece of the interior has been cut out. This has become one of the key Bronze Age books, featuring the first appearance of Wolverine. We think the Qualified grade should be retired - it is very misleading and confusing to buyers. The grade is basically meaningless, since you could extrapolate the definition and simply say every book is a Qulalified MT 10.0. You know - "if not for all these defects, the book would be MINT!" What we need, guys, is an actual grade. The same criteria applied too all books. This example is incomplete, so it get's a FR. Everybody wishes their books were nicer, and sure, some defects are very unfortunate, but don't use pretend grades.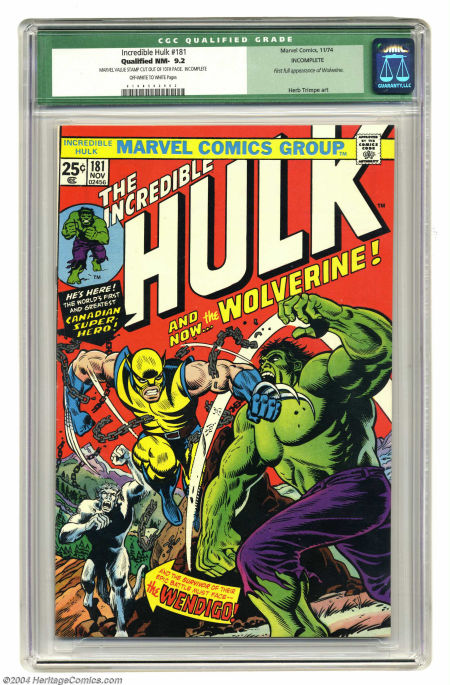 Another Qualified MT 10.0
---

Thanks, we'll see you all next month.

Visit our NostoNews Archive.