NostoNews, December 1, 2018
by Tommy Jasmin


Support for Medals and Certification Type
Awhile back we expanded coins to support palladium bullion eagles. I find it interesting that there are now investment options for precious metals beyond the traditional silver and gold coins, and wonder what might be next. Along similar lines, Premium Subscriber cbaytech recently wrote in and asked about support for medals, such as the Apollo 11 50th Anniversary Commemorative. Previously, we excluded no-denomination coins, but have reconsidered. We agree it's a good idea to expand our coverage and include this type of coin. You can find the first of these on the site now, as the screenshot below shows. Wait... why are the values all the same for the range of grades shown at this level? Simple, below a fairly high grade, the value for this type of coin is constrained by the current spot price, or "melt value". Thanks for the suggestion!


Support for Medals (no denomination) Coins Added
For years we have quietly gathered and tucked away comic and magazine sales for all certification types, not just Universal, but Restored, Qualified (despite my disdain for that category), and others. These sales are not factored in to our pricing algorithm computations; we feel strongly that certification types should not be mixed when computing a price guide. Previously, we had not exposed these sales on the site. We have now decided that users really should be able to view and research these sales as well. We just need to clearly differentiate them on the site. Please let us know what you think, and if we are adequately accomplishing this. Below is an example showing how a Restored comic might appear among sales for Fantastic Four #52. Isn't it amazing how this book was really just not that big a deal until the Black Panther movie?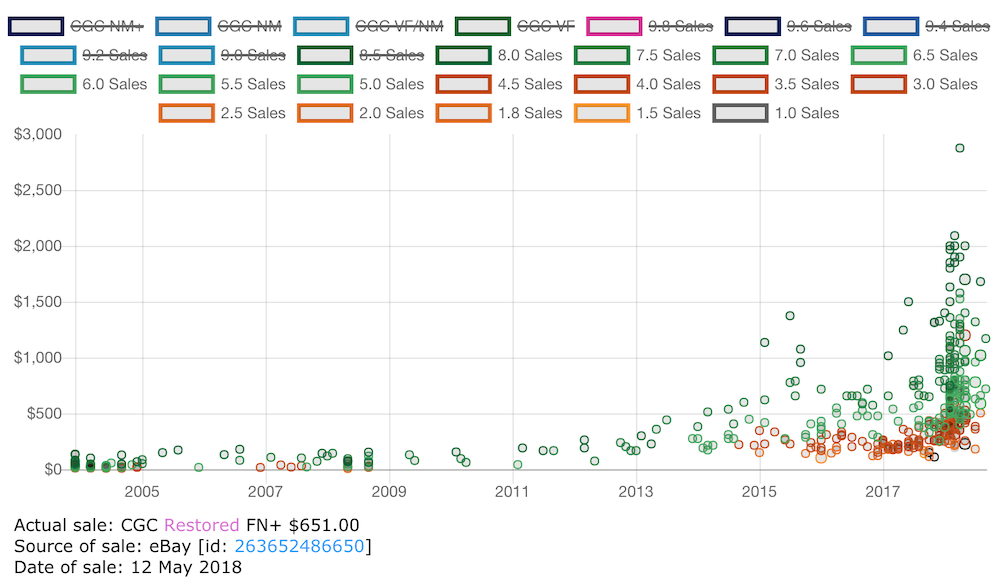 Restored sales now visible for research on the site
Below is one more example showing a Signature Series sale for the same comic, Fantastic Four #52. In general, the sig series books will price a fair amount higher than Universal, but not always. Restored books almost always price way below Universal, and if enough of you speak up, we very likely are gathering enough sales to support a restored price index. Let us know. PS, we decided the best way to highlight the various certification types is to simply mimic the color coding used by CGC on their holders.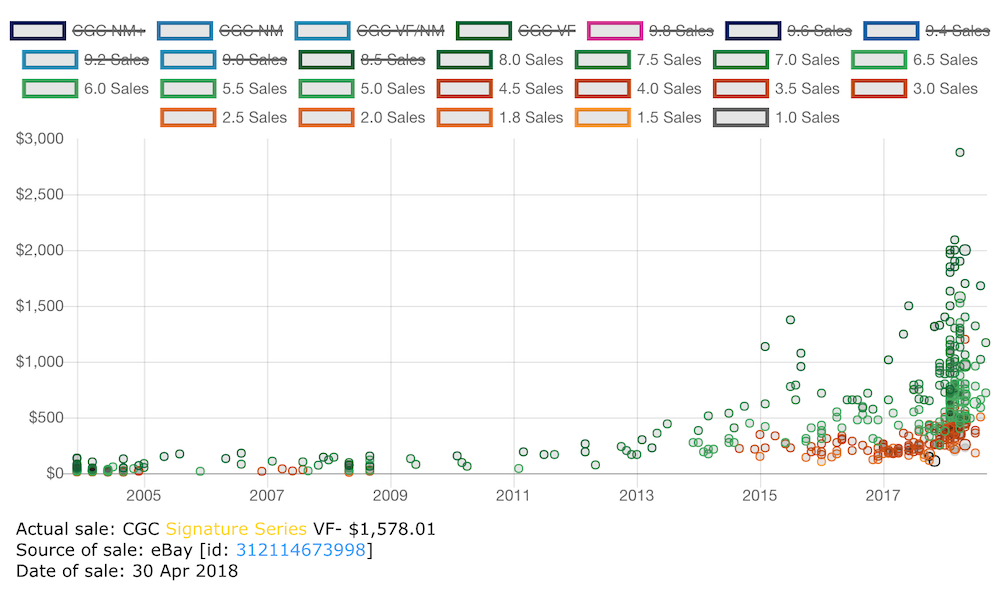 Example of a Fantastic Four #52 Signature Series sale
Next month is new pricing, and hopefully a few bigger than usual announcements regarding some other things we have been working on ;-)
---

Thanks everybody, see you back here in a month.

Visit our NostoNews Archive.