NostoNews, December 1, 2010
by Tommy Jasmin

Catching up with Mike Baron

As long-time Nosto members know, comic-book veteran Mike Baron (Flash, Punisher, Nexus to name a few) used to write regularly for Nostomania. This month we thought we'd drop him a line and see what he is working on lately. Here's what he had to say:

Several months ago an old friend who works in marketing asked if I'd be interested in creating a promotional comic book for Popeyes chicken. Sure why not I said. There would be three issues, with 12 pages of story each and I was free to create whatever I thought would work. I dreamed up a group of hi-tech chicken lovers called the HI-ROLLERS, and after going back and forth with marketing on what would and would not work I got a green light. I called on local talent, Lee Oaks, to pencil the book. Lee lived in Belgium for six years where he met his wife and worked on European comic books. He is the co-creator, with Scott Bieser, of Escape From Terra, a serial science fiction epic that can be found at Big Head Press. They also publish my graphic novel The Architect.

Lee began producing drop-dead gorgeous pages. As the deadline loomed, we realized Lee couldn't do it all himself so we reached out to Front Range talent of which there is plenty. Inkers from here to Canada pitched in. Jen Zach did the coloring. We recently received advance copies of the three books, which were all printed at once, and they are stunning. We're all very proud of the comic, not just for the art but for the readability. This is one corporate comic that everyone can enjoy. As soon as Popeyes announces the release date I'll let Nosto readers know. The comics will be available at your local Popeyes franchise. In the meantime, here is an advance look at Lee's art.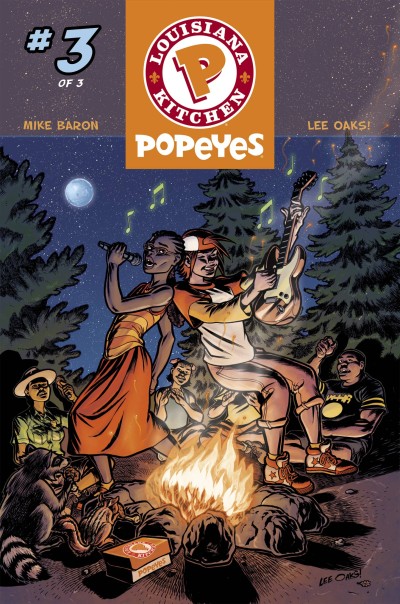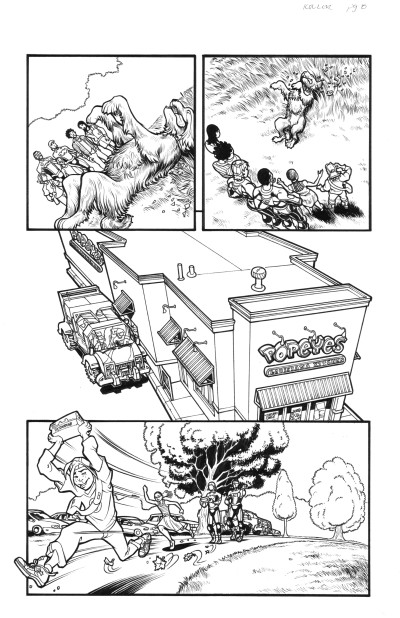 ---

Thanks, we'll see you all next month.

Visit our NostoNews Archive.