NostoNews, August 1, 2017
by Tommy Jasmin


New My Lists Feature, New Grade Names
Ok, so what got done this month? You have a relatively new user with handle Thanatos to thank for a new feature. Thanatos pointed out it would be really handy if you could specify whether items were certified or not when you first add them to your Collection, Wantlist, or Salelist. What do we mean by this? Think about the high-level entry page in My Lists, where you say you want to add items from a certain series or title. You provide just the key info here (e.g. grade), and can provide greater detail later (e.g. "Stored in Box 2", or "Bought from favorite dealer").
Thanatos simply suggested certification is now a key piece of info that you should be able to add while noting the grade. We agreed, and I promised over on the CBCS Forums I'd get it done. See the figure below for an example. This is me adding Black Goliath 2, 30 Cent Price Variant, to my Wantlist. It has to be certified CBCS, and at least NM 9.4. If anybody ever puts this up for sale on Nostomania, I get notified, and if the price is right, everybody's happy!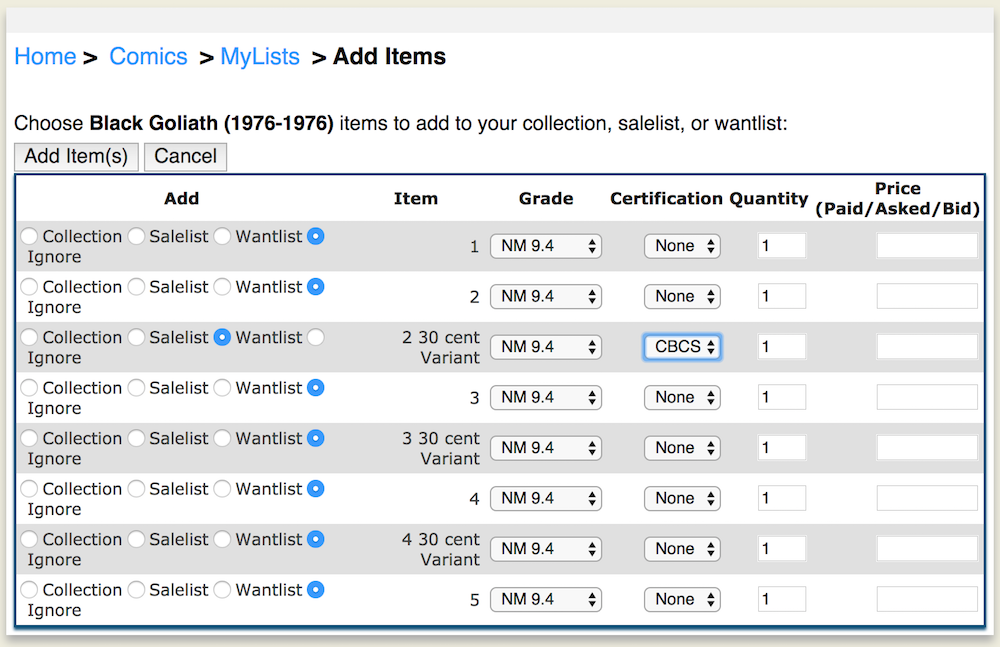 The new My Lists Add Items screen
Next, for Premium Subscriber mbruni, we fixed the bug he reported with the My Store feature, and changed our split-grade names (Comics and Magazines databases only) based on his suggestion. He thought there was an error on the site when he saw grades like "VF+/NM-". Years ago I was adamant this is what the grade names should be, and beat the others at Nostomania into submission. I have finally come around and now agree "VF/NM" is a much better term. So you'll notice this is the terminology now throughout the site - GD/VG instead of GD+/VG-. Simple, I know, but I just wanted to clarify this.
That's it this time, but I think all of you are going to love what we hope to have for you next month. See you then.
---

Thanks everybody, see you back here in a month.

Visit our NostoNews Archive.