NostoNews, August 1, 2007
by Tommy Jasmin

New collectibles category: Magazines are here!

As promised, we are expanding our highly regarded Nosto collectibles service into other categories. The first new category we have for you, which goes live this month, is magazines. Why did we pick this category? One reason is that there is now a professional grading service that will accept magazines: Certified Guaranty Company, or CGC. Another reason is we wanted to be the first to provide a magazines price guide based entirely on actual sales. Initially the number of titles and the amount of sales data we've gathered for them is a little light, so you may see some areas that haven't quite locked in with reality yet, but that will tighten up quickly over time.

The database right now is heavy on monster and science-fiction titles, but we will quickly expand to cover popular titles like Playboy and pretty much any title CGC will process. It will be very interesting to see trends emerge as the database grows, for example watching how our Top 100 Magazines list evolves. Nostomania employee Chris Costello provided some insight on the Famous Monsters run, which until now has been difficult to assess. Chris tells us:

"From the research I have done, this is what I know. The #1 (500,000 copies on the first printing and 750,000 copies on the second) and #2 are really not that rare and people always expect them to sell for much more than they do. Especially any CGC copies, for which I have seen people asking $800.00 or more for a VG+ copy (a book worth around $350.00 to $400.00). Issues #3, 5, and 7 with the Tomorrow's Monsters cover, and 8 are rarer and do command a higher price. Issues #4, 6, 7 Remember Roland cover, 7 See Zacherly cover, and 11 are scarcer. Issues #4 Ghoul's Eye and #20 are the absolute top dogs. Very scarce and there seems to be very few solid copies left. The main thing on these mags is condition. Spine splitting is what defines and sets these books apart. The #20 is notorious for full spine splits and I have only seen one copy that had an unsplit spine, and that was due to the fact it did not have any staples from the time it was published. A correctly listed Qualified VF+ that sold very well. Issues #9, 10, 12-19, 21-26 are also a bit scarcer and in high demand. After that, #27 and up have a great amount of Warren warehouse copies in circulation. Issues like #29, 30, 38 and 46 are a bit scarcer and sell for higher than the issues around them."

It's interesting now that we've run a pricing update, that according to the data we have (again, we emphasize the data is still sparse), the most valuable book in the run is not number 1, but the #4 Ghoul's Eye cover, exactly as Chris predicted above!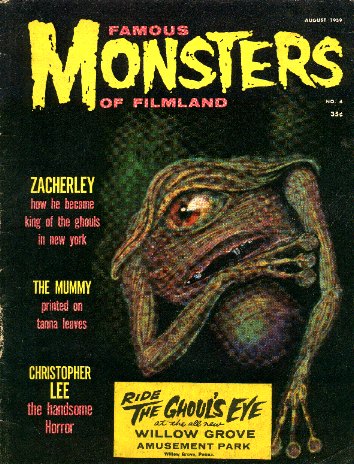 The toughest one?

Chris went on to say:

"Of the newer issues, #235 A-Cyclops cover and B-King Kong cover sell pretty high - anywhere from $50.00 to $80.00 each. The #238 was supposed to be the scarcest issue of the entire run, selling for near $200.00 at times. This is a myth. The real story is that subscriptions were at an all time high starting with that issue and that issue sold out due to higher sales. Dealers and people jumping on after that point were stuck buying copies, when they came up for sale, on eBay. I am a subscriber and I got one mailed to me and never thought about it. Famous Monsters has issued a second printing now due to the high demand. It is identical to the first printing, similar to the #1's second printing. That has shut down the high eBay sales and sure makes those that paid $150.00 to $200.00 look foolish. They will never make that money back. I am excited for this upcoming and much-needed price guide, as it will effectively wipe out all other price guides, being so current and real."

Thanks for that info Chris. To all our users, enjoy researching the new data!


---

Prizes

Don't forget, all you have to do is create a single Collection, Wantlist, or Salelist item during the appropriate month to qualify for our sweepstakes. Why not take a look and see what we're giving away (and gave away last month), free as always.


---

Thanks, we'll see you all next month.

Visit our NostoNews Archive.