NostoNews, August 1, 2005
by Tommy Jasmin

Nosto goes exclusive with PCI

One of Nostomania's primary goals has always been to level the playing field for collectors. We strive to provide access to quality tools, data, and services for all collectors. Our next step in that direction is partnering with PCI, Inc. as our recommended coin grading service. As a result, PCI will be used exclusively for our sweepstakes giveaways and will have a strong presence on our site.

The myriad of coin grading services

As most numismatics know, there are quite a few active coin grading services. Among the most well-known are PCGS and NGC. Does well-known necessarily imply the best? That's always open for debate. The most well-known web browser is Microsoft's Internet Explorer, but I prefer and use Firefox. You need to think about what's important to you as a collector. When considering grading services, for any collectible type, realize grading is not an exact science. You will always have variance, no matter who you submit to. If you submitted the same coin to all the active grading services, you'd be surprised at the different grades assigned. Even the same item submitted to the same company at a later date can come back with a different grade!

It comes down to whether you can be relatively assured the grade is close. I'm satisfied PCI meets this goal. It's not that difficult to achieve an acceptable level of accuracy. You simply need a minimum number of individuals examining each item, each with a minimum level of experience grading. PCI meets this requirement with their combined team grading experience of over 70 years.

Pairing up

Nosto believes in solid partnerships. Associating with organizations of similar philosophies and ideas is a good way to grow and build strength. Over the course of several phone conversations with PCI president Michael Heavener, it became clear they were the type of organization I respected.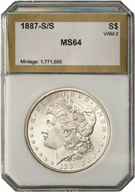 An example PCI graded coin



Here are a few of the key points that sold me on PCI.

They are not newcomers. PCI has over 15 years of experience.
They have fast turnaround. PCI's standard service has a turnaround time of five business days!
They allow direct submission. Any collector can directly submit to PCI, you don't have to be a "member dealer" or join a club.
They will not "body bag" damaged or cleaned coins.
This last point is very important. Some services will not assign a grade to damaged or cleaned coins. PCI will always assign a grade, providing a special label and noting such defects when present. After all, just because a coin was used as jewelry in the past, why would it not still have a grade? The defect just needs to be accounted for in the grade. For some scarce coins, this may be the only grade range certain collectors can afford, and exactly what they are looking for.

For Nosto this is key for two reasons. First, the accuracy of our pricing is dependent on the true grade of a collectible, not the "apparent" grade. Second, in order to provide our free collection management service, where we automatically compute the current market value of your collection, each item in your collection must be assigned a grade.

Leveling the playing field

Nostomania was created to level the playing field for collectible pricing by giving everyone up-to-date, realistic market values. We're happy to now be associated with PCI, who gives everyone equal access to a quality coin grading service.

Prizes

Don't forget, all you have to do is create a single Collection, Wantlist, or Salelist item during the appropriate month to qualify for our sweepstakes. Why not take a look and see what we're giving away (and gave away last month), free as always.

Thanks, we'll see you all next month.

Visit our NostoNews Archive.