NostoNews, April 1, 2019
by Tommy Jasmin

New pricing for 2nd Quarter 2019, market comments

Hi everyone. The just-computed 2019 2nd Quarter pricing data is here! Still a lot of green on your screen. Sign in and see how the current market is affecting your collection value. Remember, we compute separate pricing for each grading service, as well as non-professionally graded items. Depending on the item, this may result in significant value differences when using My Lists. Below, I highlight some interesting sales for our supported categories.


---

Comics

If you want a prime example of a hot comic this quarter, here it is. Speed Comics #14, Uncertified VG 4.0 - no need for slabbing, apparently. This book sold recently via Heritage auctions for $3,360.00. It's as if people are just realizing now how great of a cover this is. Just look at that "death drill"! Personally, I think I'd opt for signing the Surrender Treaty. To put this sale in perspective, all you have to do is follow the Nostomania sales and pricing trend chart back a bit. Click on the Uncertified VG- 3.5 Heritage sale from five years ago, which sold for "only" $406.30. Click on it, so you can bring up the actual sale. It's the exact same book! Interesting that Heritage gave it a slightly higher grade 2nd time around. What a return on investment for the person who bought it five years ago from Heritage and sold it this year via Heritage, well done.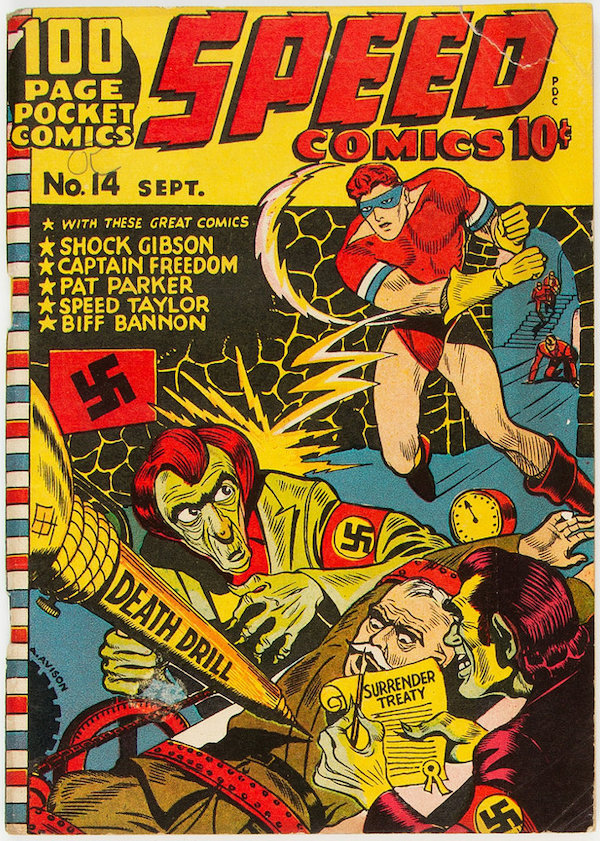 Not an April Fool's Day joke


Most things Captain Marvel are doing pretty well these days, from the Golden Age Fawcett titles to Bronze and Modern Age DC and Marvel titles like Ms. Marvel. Of course, the outperformers are keys and great covers. This is no surprise, given the established pattern of upcoming motion pictures driving demand. Here's an interesting example of a Golden Age Fawcett spiking in price. The copy of Master Comics #35 shown below, graded CGC FN- 5.5, sold recently via Heritage Auctions for $1,080.00. The sale price was multiples over both current Nostomania and Overstreet prices. That nice Mac Raboy flamethrower cover is a big factor here.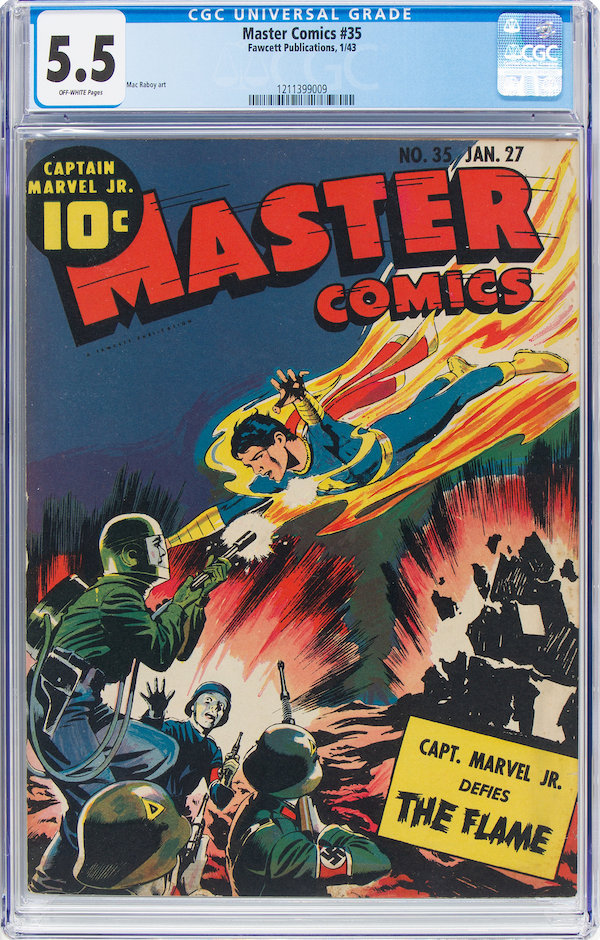 Flamethrower covers are hot, no pun intended!


This next book jumped out at me for a couple of reasons. One, it's a bizarre, great example of the classic World War II covers. Hitler gets sent to hell! Two, you just rarely see or hear anything about this book. It must be pretty scarce. This CGC VF 8.0 copy of Great Comics #3 sold recently via Heritage Auctions for $31,200.00. Once again, both Nostomania ($9,000.00) and Overstreet ($7,000.00) were way low on current value for this book - expect a correction. Go look and see what we have it at now. I don't even know yet myself; we just crunched the new numbers.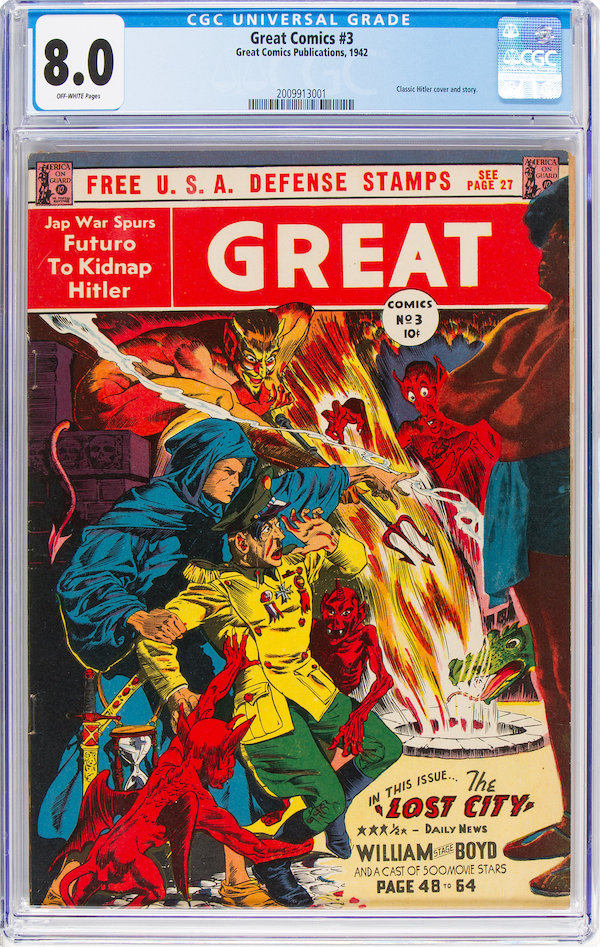 Go to Hell, Hitler.
I'm happy to say it looks like CBCS prices are getting traction. This is great news, considering nobody cares more about our hobby as a whole, for unselfish reasons, than founder Steve Borock, who also founded CGC, for the few who don't already know. When this sale flew by, it caught my eye - a Justice League of America #1 graded CBCS VF 8.0. Again, sold recently courtesy Heritage Auctions, the book went for an impressive $14,400.00. This is double the Overstreet and Nostomania values at the time of sale. Bonus: CBCS is now marking, at no extra charge, those books which have exceptional eye appeal for the grade. Yes, that is a thing. It's a thing, and you should not have to send your slab off to yet another company to determine this.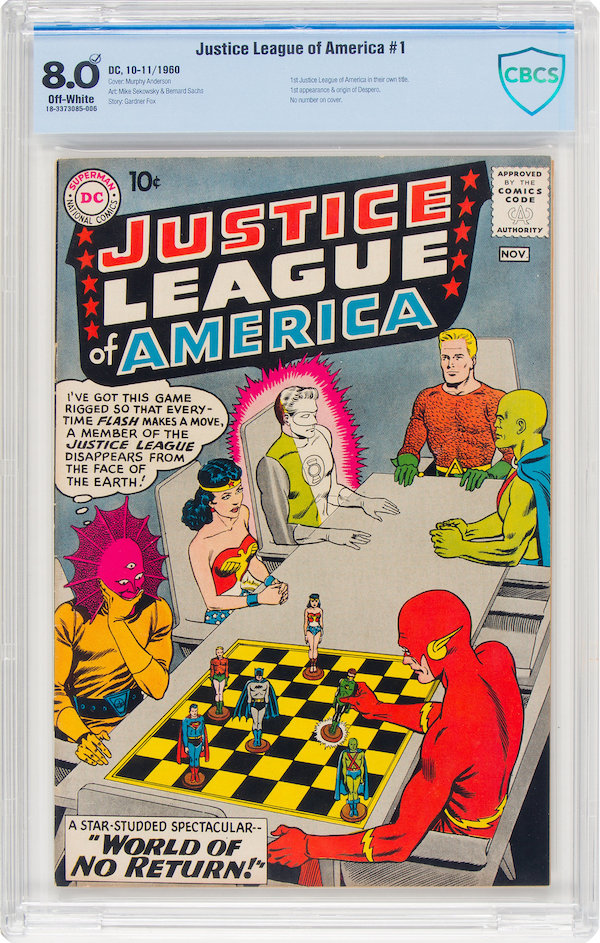 Technical Grade not always representative of eye appeal


I'm almost yawning at this point - Golden Age pre-code horror continues to sizzle. It's just remarkable. There are so many cool examples this quarter it's hard to give only one here. Ok, how about this copy of Fantastic Fears #6. It ticks all the boxes. Standout cover: check. No slabbing necessary: check. 2nd or 3rd tier publisher: check. The Uncertified VG 4.0 copy shown below sold recently via Heritage Auctions for $1,080.00. Think about that for a sec. An unslabbed 4.0 goes for over a grand, and we have many, many similar examples. Have fun sifting through the new sales data. Ok I can't resist - specifically check out the recent Chamber of Chills 23 sale. Look at that trend chart. You can't say we didn't warn you about this book!



Check out Horrific, Voodoo, and L.B. Cole covers too


Rounding out my pick-six this quarter is a copy of Four Favorites #10. Why this book? I don't think I've ever seen a copy personally. Pretty damn sure I would have remembered this cover, wow. Consider, this is Harvey Kurtzman, with a cover for Ace in 1943 that would have had even the E.C. guys going "whoa, slow down Harvey!". Not surprising, this book did really well in a recent Heritage auction, netting $3,360.00.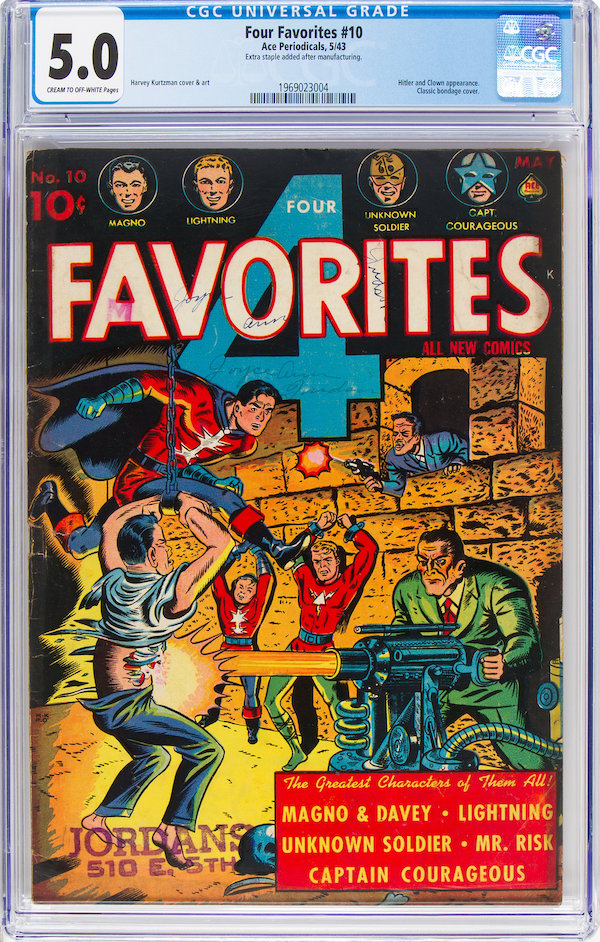 Kurtzman way before the E.C. days

Other items of note:
Galactus covers/books heating up. Origin of Galactus and a great Kirby cover.
Below: Thor #168, Uncertified VF 8.0, $168.00
First full Invincible and Omni-Man, and I'd say this is low grade for a 2003 book.
Below: Invincible #1, Uncertified VF+ 8.5, $180.00
Told you flamethrowers were hot. Yes, I know, you knew that.
Below: United States Marines #7, Uncertified FN 6.0, $384.00
What. A. Cover. And uncertified too, no slabbing necessary!
Below: Fantastic Comics #6, Uncertified VG/FN 5.0, $3,840.00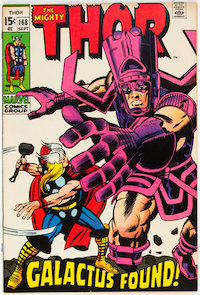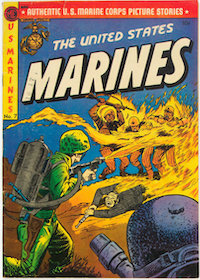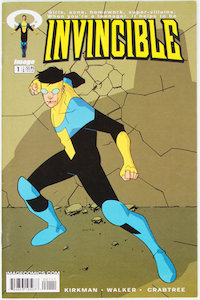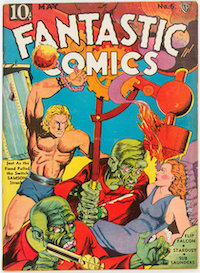 ---

Coins

It's not every day you see a coin sell for just under 4 million dollars. The 1885 Trade Dollar shown below just about got there. Sold a few months back (it just missed our last pricing update) via Heritage Auctions, this is the Eliasberg 1885 Trade Dollar, graded NGC PR-66. The sale price was a small earthquake: $3,960,000.00. With that sale price, this coin must be in our Top 10, right? Nope. And here's why - for the Top 100 list, we compare everything at the same grade. It's the only fair way to compare coins "apples to apples". There is of course a huge swing between PR-63 and PR-66 for a coin like this. The Nostomania PR-63 value is "only" $683,000.00, which puts this coin at #57 on our Top 100 list. For a detailed history of this coin, just bring up the Nostomania item detail page and click this sale, which will bring you to the Heritage auction page. The cataloging there is, as always, exceptional.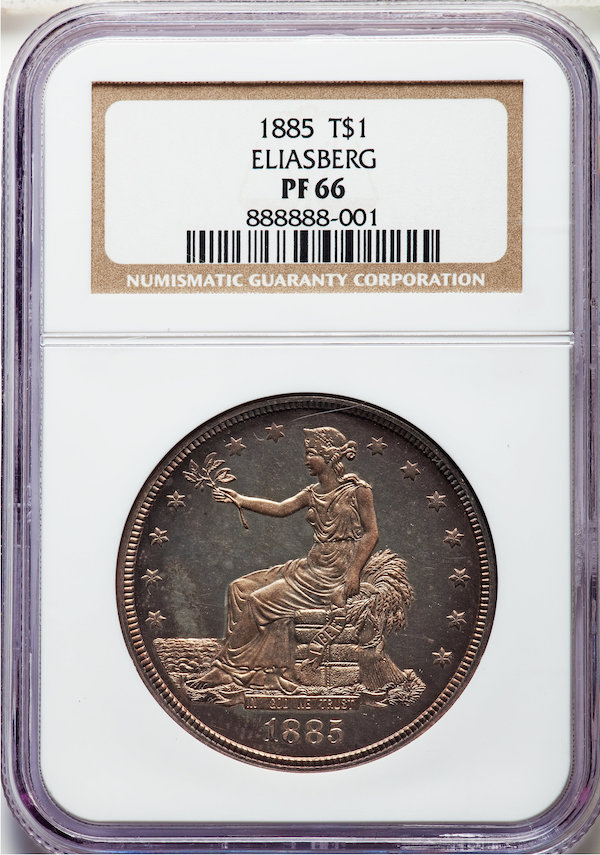 Finest of Five Known!


I guess we can only go down from there, but here is another amazing million-dollar-plus recent Heritage Auctions sale. The 1793 Large One-Cent Piece, Flowing Hair Chain Reverse, AMERI., S-1, B-1, R.4 shown below is graded PCGS MS64+ Brown. This coin is a prime example of why we really need to expand our grading range and price guide beyond 70 discreet grades. To elaborate, for this coin there is a big price difference between a coin graded MS-64, MS-64+, and MS-65. I'm not happy about the emergence of these further, confusing delineations, but it's reality. Dealing with it is something we are discussing and planning - it will happen. The sale price on this remarkable coin was $1,500,000.00. An interesting fact regarding this 1793 issue, is that it was the first copper coin struck at the U.S. Mint for use in commerce.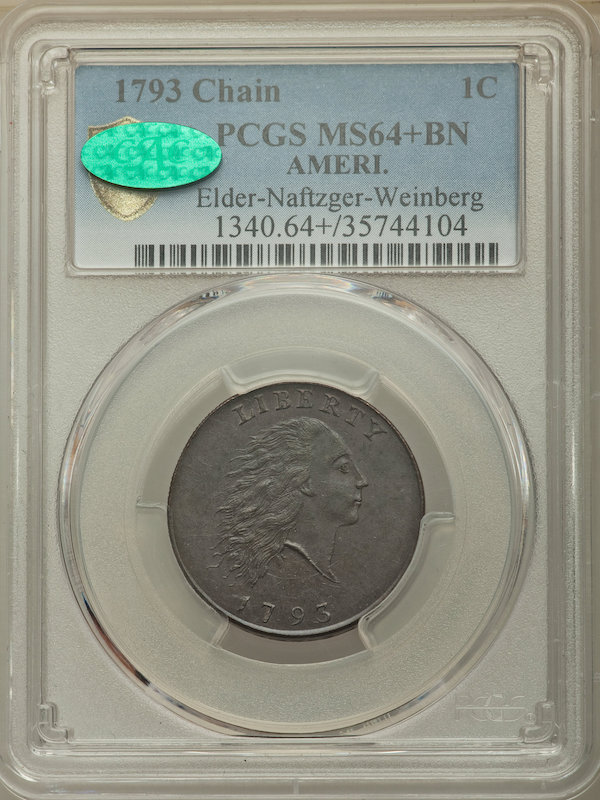 Second Finest Known Example


This next coin is also one of the two finest known. The sale price for the 1918-S Mercury Dime shown below far eclipsed previous hammer prices, at $144,000.00. It's a PCGS MS-67 Full Bands, CAC example, with one other example graded the same. There was known to be an NGC MS-68 Full Bands coin years ago, and one would assume it's still out there and will turn up again some day. I'm not sure why it isn't recognized in any census, there is some mystery here and I can only speculate as to possible explanations. There are a small number of MS-68s, but no Full Bands examples. A beautiful coin and the first of its class to break the hundred thousand dollar mark - a testament to the health of our hobbies.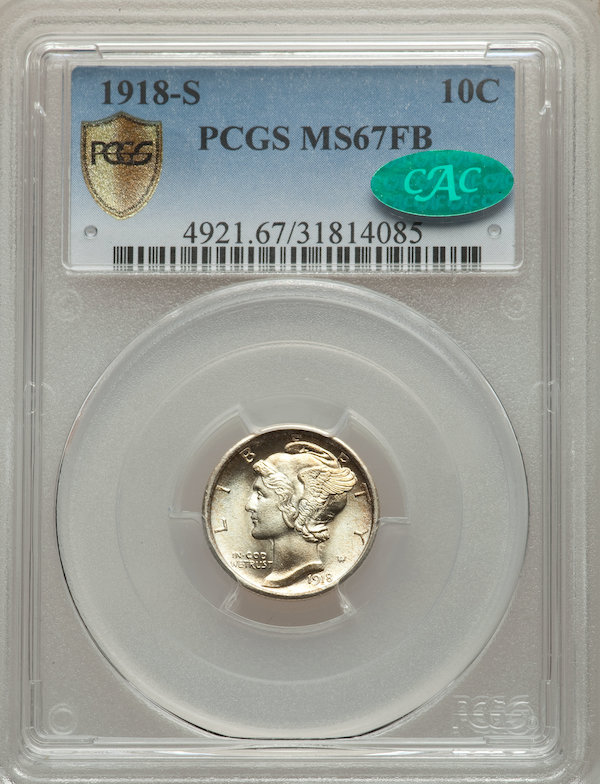 One of two in its class
---

Magazines

Most magazines are either treading water or even declining a bit in sale price, but I have to caution, sales are still a little sparse here. I believe if we get a certified high grade sale for one of the key Famous Monsters issues, either the U.K. Edition of #1, or the Ghoul's Eye Variant of #4, we'll see some heated bidding. Personally, I love the appeal of some of the early issues. Take this CGC VF+ 8.5 example of Famous Monsters of Filmland #5. Great painted Bela Lugosi cover by Albert Nuetzell from The Island of Lost Souls. This issue also has movie previews for The Return of the Fly, The Alligator People, and Revenge of the Creature - makes me want to go rewatch some of these movies I have not seen since I was a kid! This copy sold recently via Heritage for $1,020.00. So, we're breaking a thousand dollars with six better CGC examples at present floating around out there.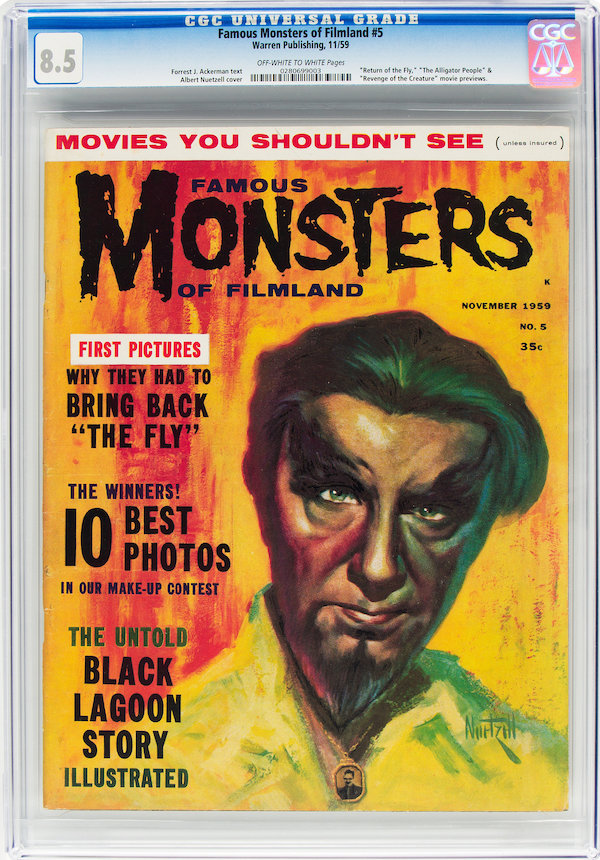 Let's see one of the 6 better copies go up for auction!
---

Thanks, we'll see you all next month.

Visit our NostoNews Archive.