NostoNews, April 1, 2017
by Tommy Jasmin

New pricing for 2nd Quarter 2017, market comments

The just-computed 2017 2nd Quarter pricing data is here! Sign in and see how the current market is affecting your collection value. Remember, we compute separate pricing for each grading service, as well as non-professionally graded items. So if you add an item to My Lists as uncertified, your collection value will likely change much less than if that item were graded by CGC, NGC, etc. Below I make a few market observations for each supported category.


---

Comics

The hottest book in the world right now has to be Chamber of Chills 23. Yes, a Harvey Publications comic from 1954. I tell you what, if I had one of those CGC VF/NM 9.0 copies, I'd be mailing it to Heritage tomorrow. The CGC VF+ 8.5 copy shown below sold in a regular old weekly Heritage auction recently, for $4,541.00. Pre-code horror has been on a tear lately.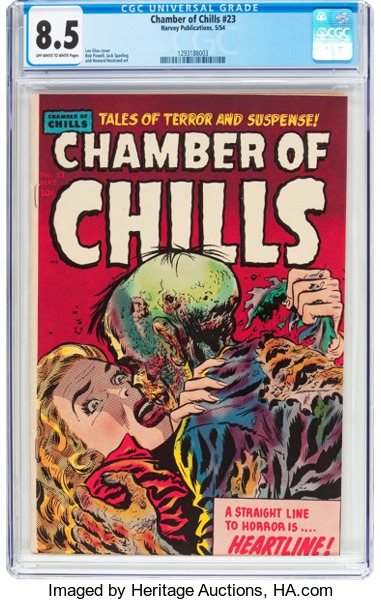 Hottest book in the world, Part 1


So you think that sale was a fluke? Absolutely not. Here is another recent sale, this copy graded CBCS FN/VF 7.0. This book was auctioned in early March by Heritage, and went for $3,346.00. 'Nuff said.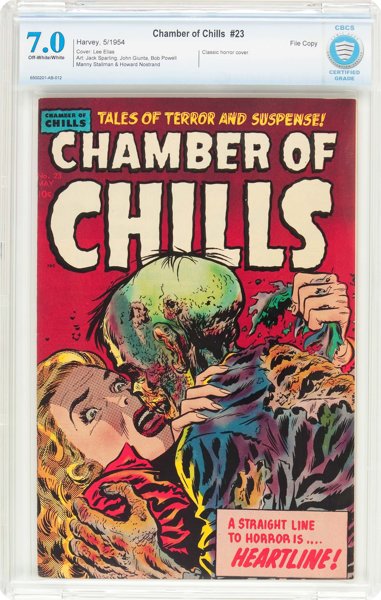 Hottest book in the world, Part 1


I have to give Nostomania Premium Subscriber Chuck Hensey credit for calling this one a mile away. He alerted me last year the Dell Lobo title from 1965 was heating up fast. Featuring the first black character to have their own title, this short-lived western only lasted two issues. I checked the Nostomania database - nothing brewing. But that's because we hadn't captured any recent sales for this book. Wow were you right on this one Chuck! Check out the recent Heritage sale of a CGC NM/MT 9.8 copy of Lobo 1, shown below. This book sold recently for $4,063.00. You can bet dealers everywhere are checking their stock and changing price tags, if they're lucky.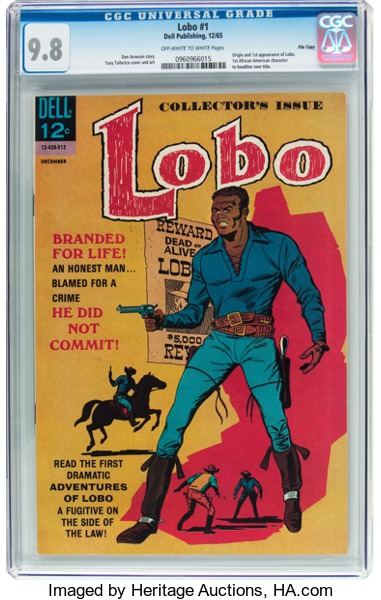 You were warned: the cover does say Collector's Issue


Continuing the puzzling trend of escalating Archie sale prices, note the recent sale of Pep Comics 23, CGC GD 2.0, for $3,585.00, wow. No mention of Archie anywhere on the (pretty damn cool) cover, but it is the 2nd appearance.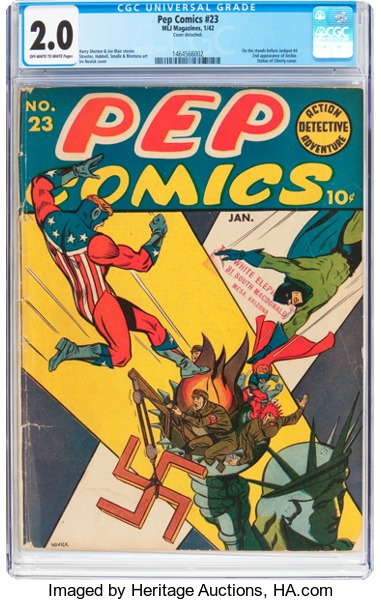 2nd appearance Archie Andrews


Nice to see some Modern Age indys doing well, there really were some quality books produced during an era overshadowed by a glut of mediocre-at-best work. The copy of Albedo 2 shown below features the first appearance of Usagi Yojimbo, by Stan Sakai. At CGC VF 8.0, a modest grade for a Modern Age book (sorry, Copper Age for you purists), this copy pulled in a very impressive $1,254.75 through Heritage Auctions.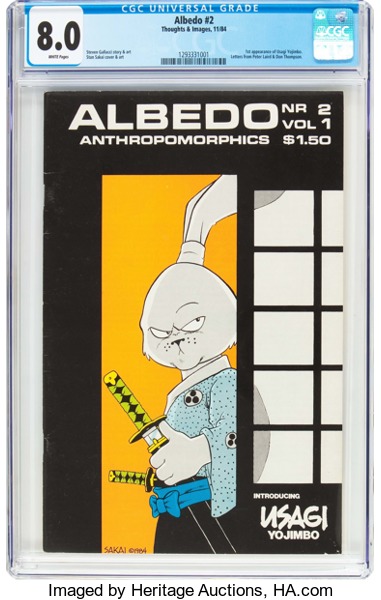 Lots of nicer copies floating out there


You just don't see many copies of later issues of Fox titles like Weird Comics or Science Comics. Each one that turns up for auction seems to break previous sale records. Here we've got a ratty uncertified Weird Comics 20, the last issue in the run. Graded Uncertified GD- 1.8, it's got tape, glue, chunks missing, but that doesn't slow it down. Hammer price: $2,868.00. Whoa.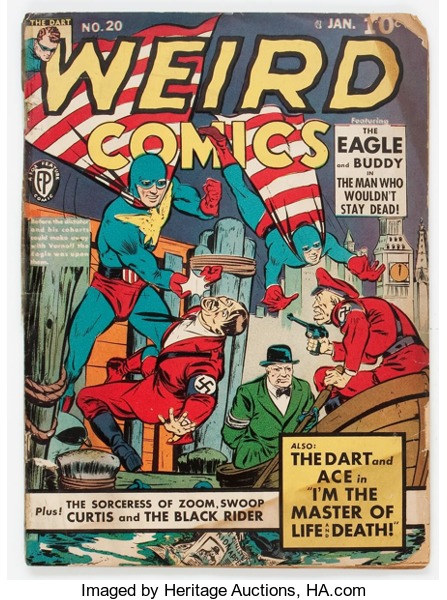 Classic Hitler and Winston Churchill Cover

Other items of note:
Can this insanity continue? It's only a GD+!
Below: Marvel Premiere 15, Uncertified GD+ 2.5, $114.00
Still not sure how to pronounce Ka'a'nga, but I sure hope he's a good shot.
Below: Jungle Comics 77, CGC NM- 9.2, $2,031.50
Dig through your run, which 50 cent book will be next hot ticket?
Below: Spectacular Spider-Man 64, Uncertified NM- 9.2, $89.00
Guess which direction this early 'Tec is heading?
Below: Detective Comics 69, Uncertified GD/VG 3.0, $3,585.00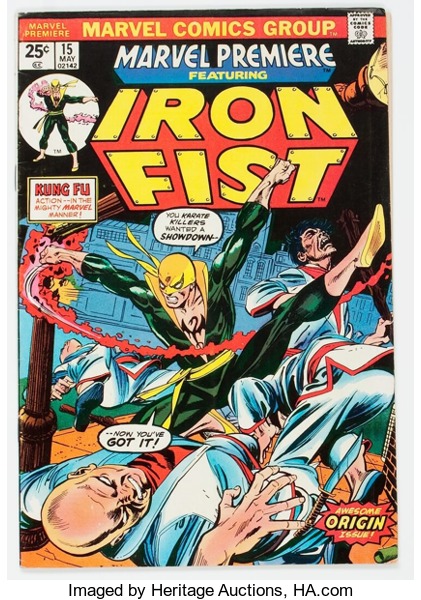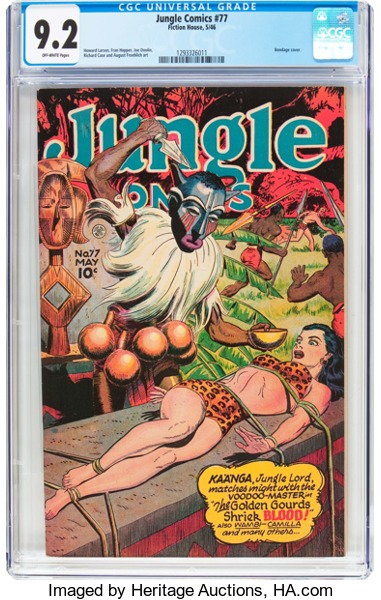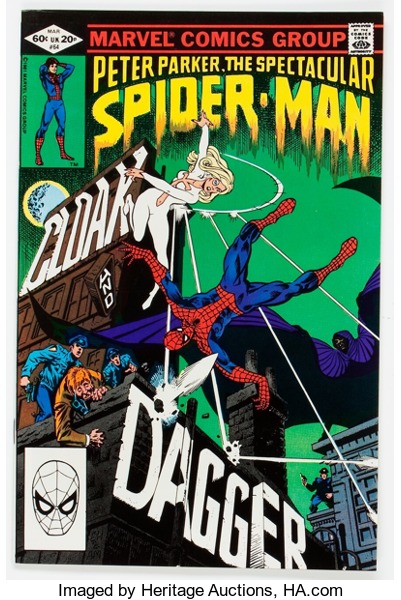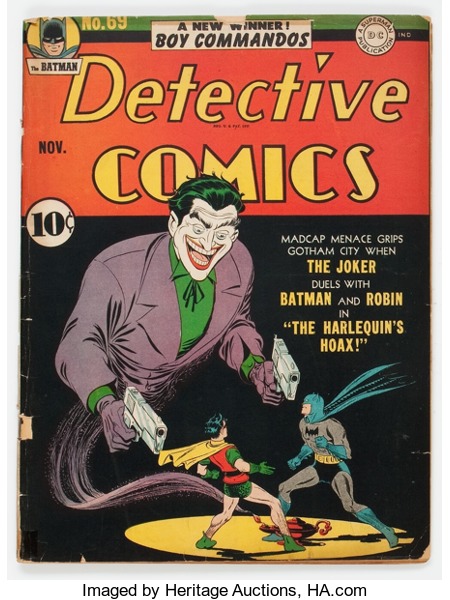 ---

Coins

We haven't featured any Olympic Commemorative Silver Dollars in the market reports yet, but here is one worthy of mention. The 1996-P High Jump Silver Dollar shown below is a perfect PCGS PR-70 Deep Cameo. It sold recently via Heritage for $5,170.00. This is actually down quite a bit from earlier sales, a common trend as the number of perfect specimens slowly climbs over time. Another somewhat shocking statistic is that examples in the next grade down, PR-69, have managed only $45.00 in the past! That is one steep pricing curve, these items can drive our pricing code nuts.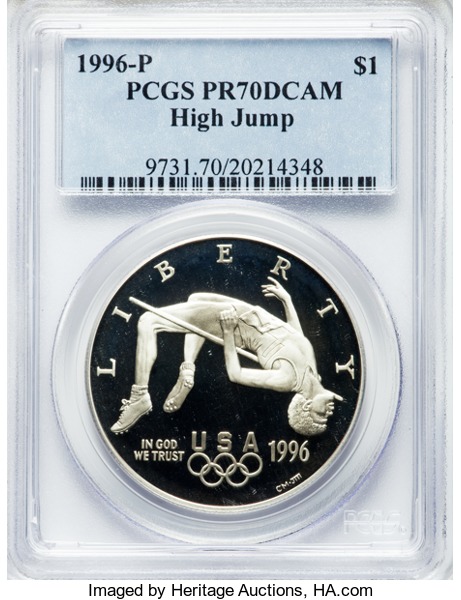 Struck for the XXVI Olympiad



Contrast the previous example with this situation, where there are no MS-70 examples, and the Finest Known is an MS-69. That holds for the 2004-D Sacagawea Dollar, with a recent sales example shown below. This piece sold recently via Heritage for an impressive $4,465.00. The PCGS price guide was pretty much right on the money with this one, at $4,500.00. I'm still not sure how to wrap my head around that conflict of interest however (PCGS making their own price guide). A better idea would be for them to refer to an unbiased third party, wink.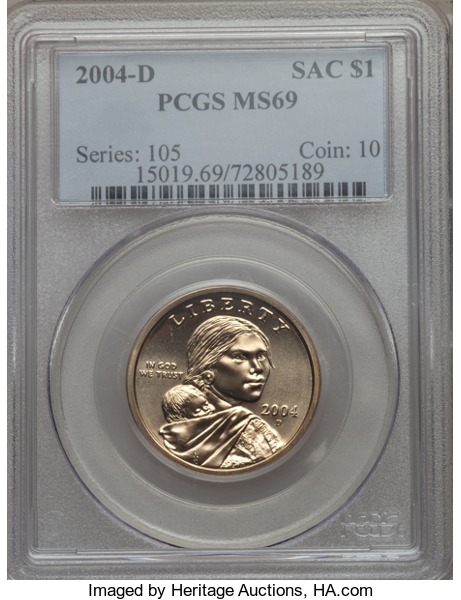 Tied for Finest Known with seven others


Here's what happens when there's only one. This 1997 One Ounce Platinum Eagle is the only example at present graded PCGS MS-70. Heritage called it technically perfect, partly contrasted, and fully struck. Representing the first platinum coinage in United States history, this stunner sold for a hefty $28,200.00.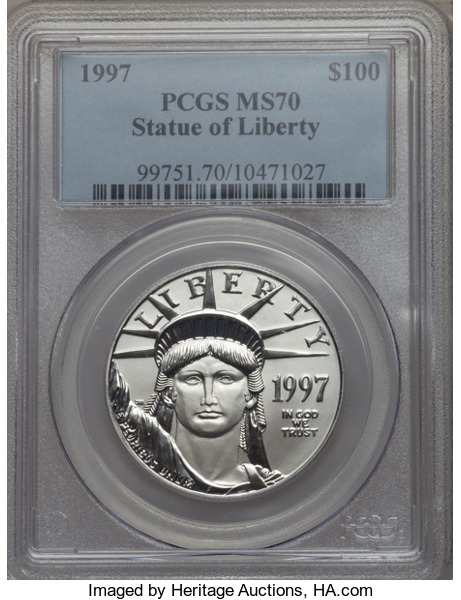 Sole MS-70, for now anyway
---

Magazines

It bums me out, but for the most part monster magazines are continuing to slump. Heck, if I would have known this nice copy of Famous Monsters 1 would go for so low on eBay recently, I might have bid on it myself. It was graded Uncertfied VF+ 8.5. The seller, with wishful thinking I guess, stated "Estimate: $700-$950". It could only muster $371.66. In hindsight putting that in the listing probably didn't help his cause.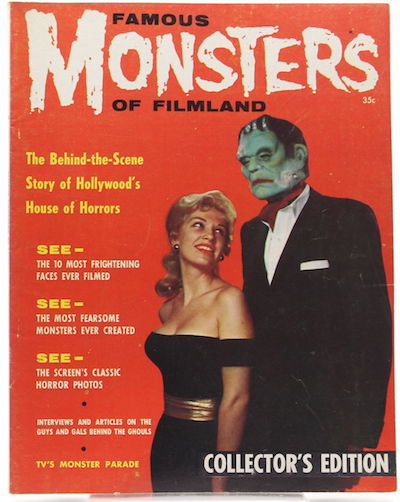 Mags continue to slump, Playboy excepting
---

Thanks, we'll see you all next month.

Visit our NostoNews Archive.