NostoNews, April 1, 2013
by Tommy Jasmin

New pricing for 2nd Quarter 2013, market comments

The just-computed 2013 2nd Quarter pricing data is here! Sign in and see how the current market is affecting your collection value. Remember, we are now computing separate pricing for each grading service, as well as non-professionally graded items. So if you add an item to My Lists as non-graded, your collection value will likely change much less than if that item were graded by CGC, NGC, etc. Below I make a few market observations for each supported category.


---

Comics

Here is another Thanos book to watch close: Captain Marvel 33. I recommend keeping an eye on the Nostomania value this year, and expect some higher grade copies to come out of the woodwork as hype builds toward the second Avengers movie. The CGC NM 9.4 copy below sold recently via Heritage for $221.08. Not too many years ago, you could have snagged this for twenty dollars or less, and probably would have never considered slabbing it.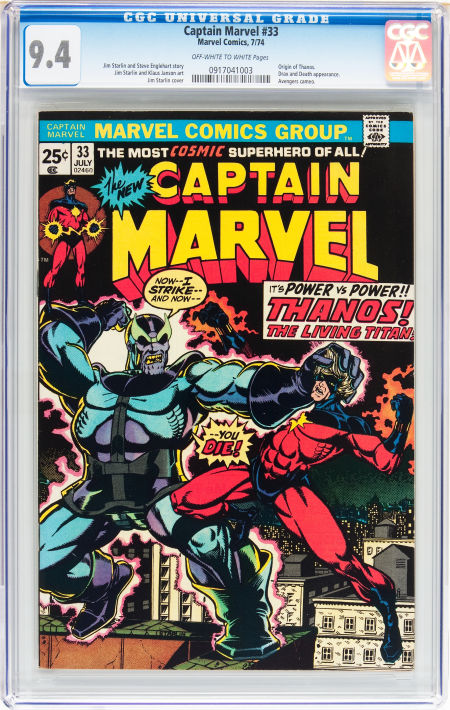 Suddenly Slabworthy


The next book holds a very special place in my heart. Conan the Barbarian 36 was the first comic book I ever bought. I was tagging along with my mom to Ross Drug Store in West St. Paul, a bored little kid, and this comic caught my eye on the spinner rack. Instantly hooked! And only 20 cents, might as well buy a couple more. What other two comics, out of the whole rack, did I find interesting enough to spend 20 cents on? ASM 131 (Aunt May marries Doc Ock) and Hulk 173 (Cobalt Man). A life-changing day. Needless to say my Conan 36 (still have it) is not this nice, the CGC NM/MT 9.8 copy below sold for a very impressive $1,254.75.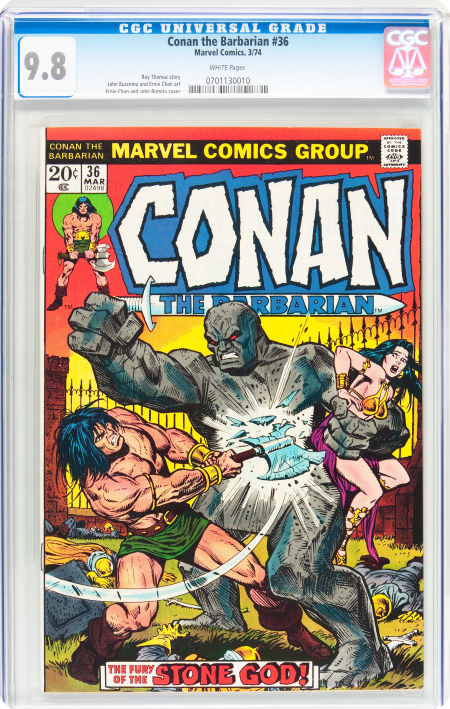 You always remember your first


This month's insanity sale is yet another example of data that drive our MT 10.0 prices miles above the 9.6 or even 9.8 pricing. The book below, Marvel Super Heroes Secret Wars 8, is tough to find in low grade. Featuring the origin of Spider-Man's black costume, the majority of certified copies (over 1,500) are NM/MT 9.8. This is not a scarce book in high grade by any means. That didn't stop the buyer from plunking down $5,377.50 for the CGC MT 10.0 copy below.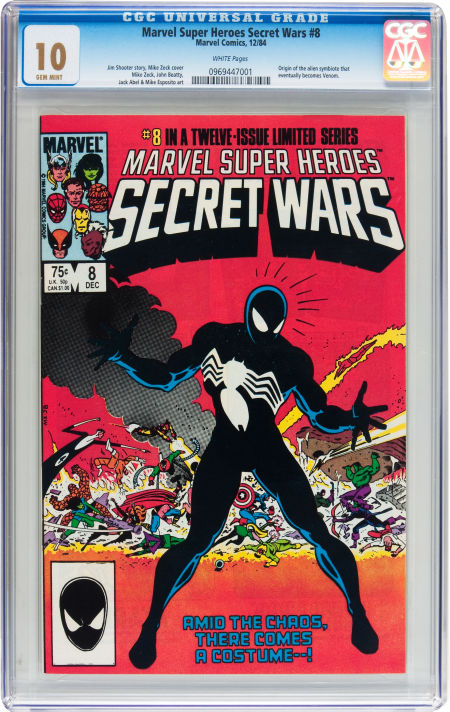 Marvel Super Dollars


Walking Dead, now arguably one of the best shows on TV, continues to gain popularity and drive up pricing on the original comics. Who would have expected a later issue like the CGC NM+ 9.6 number 19 below would be selling now for $346.55? Overstreet has it at $5.00. And the majority of CGC certified copies (over 320 at time of this writing) are graded higher at NM/MT 9.8. I expect these to continue trending up for awhile.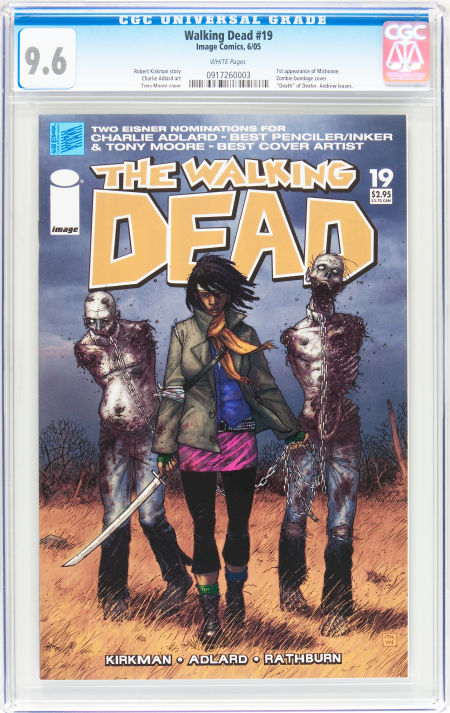 Well over 300 graded higher


Here is another book that amazes me by continuing to rise in price despite a very ample supply of high grade copies. Granted, Amazing Spider-Man 300 is a key in the run, but once again, this is not a scarce book, especially at NM 9.4. The CGC NM 9.4 copy below fetched an IMO crazy $561.65 via auction from Heritage recently. Now consider there are approximately 1,500 CGC 9.6s and 500 CGC 9.8s floating out there. I bet the handful of collectors or dealers who got 9.9s can't sleep at night knowing how close they were to clocking in the only 10.0. But seriously, would you rather have this 9.4 #300, or a 3.5 Amazing Spider-Man #2? (a recent Heritage sale for less).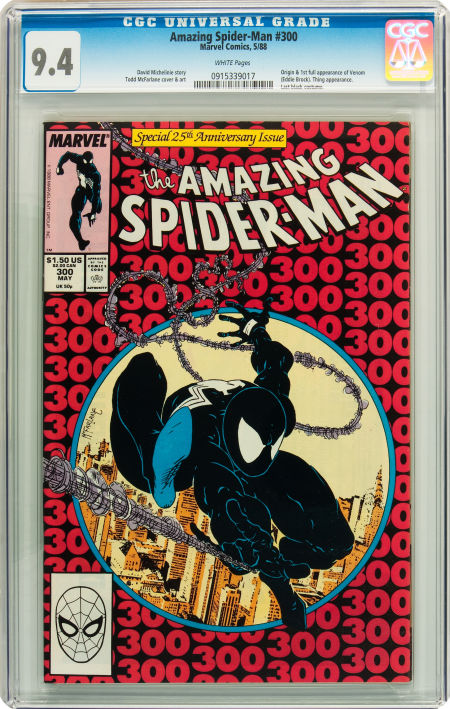 I'll take ASM 2 any day


This last example is for me a comic that oozes cool and is steeped in history. Heroic Comics 1 goes back to 1940, and with classic Bill Everett art we have the origin and 1st appearance of Hydroman, who looks coincidentally very similar to the Sub-Mariner without his mask on. The CGC FN+ 6.5 copy below sold for $334.60, and in my opinion should be a $500 book. Only five copies have been graded higher. The CGC notes do however state "slightly brittle pages". If so the book never should have been given a grade anywhere near FN+ 6.5.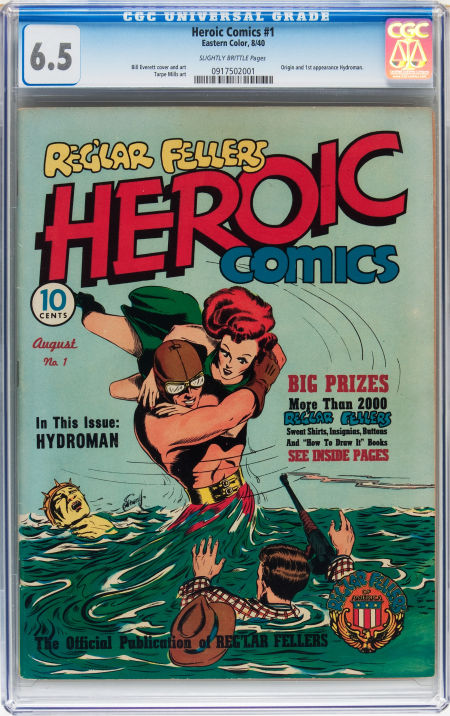 Classic Golden Age Bill Everett

Other items of note:
Pre-movie hype begins for Guardians of the Galaxy Example below: Marvel Super-Heroes 18, Uncertified VG 4.0, $49.00
Mile Highs always perform exceptionally, though this cover doesn't hurt Below, Jumbo Comics 157, CGC VF 8.0, $406.30
Even a FR 1.0 copy of this book brings nearly a grand Below, Reform School Girl, Uncertified FR 1.0, $860.40
Classic Hitler goes to Hell cover, scorching sale price Below, Great Comics 3, CGC VG+ 4.5, $3,585.00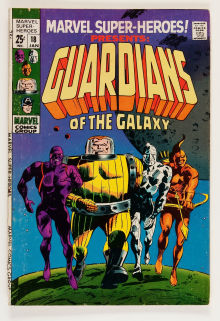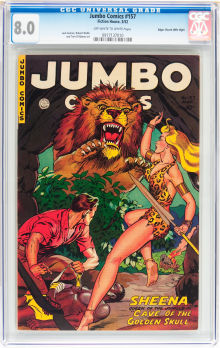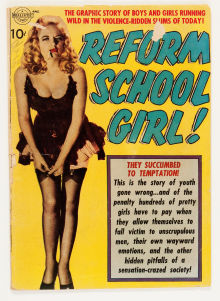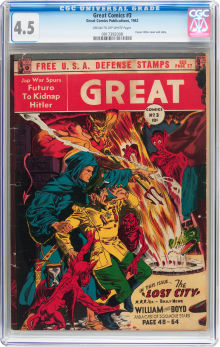 ---

Coins

I know it hasn't been that long since I featured a 3-legged Buffalo Nickel sale, but what can I say, I like this coin. Normally I would shy away from touting anything that can be faked so easily, and you should never buy this coin uncertified. That said, here you get to see the current ballpark max this coin will bring, since this piece is both PCGS certified and finest known. When the dust settled at Heritage $52,875.00 traded hands for the PCGS MS-66 coin below.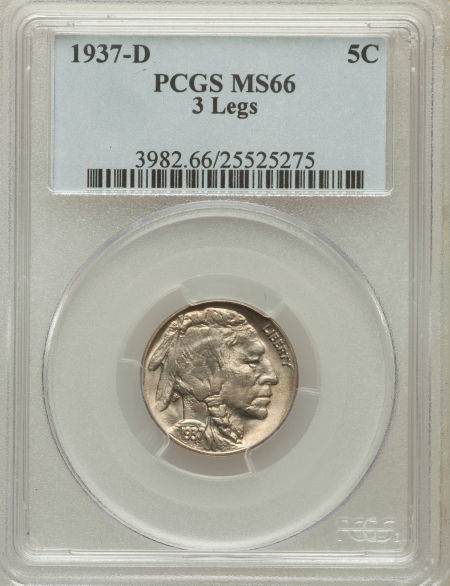 PCGS can authenticate the real deal here



Here is another personal fave I'm sure I've highlighted before - a Panama-Pacific $50. Just the idea of a $50 gold piece was always interesting to me, kindof like the idea of a $10,000.00 bill in circulation. While the octagonal version is more interesting, the round variant is scarcer, with a little under 500 making it out to the public. This 1915-S Round piece, one of a handful grading this high at NGC MS-66, sold recently through Heritage for $146,875.00.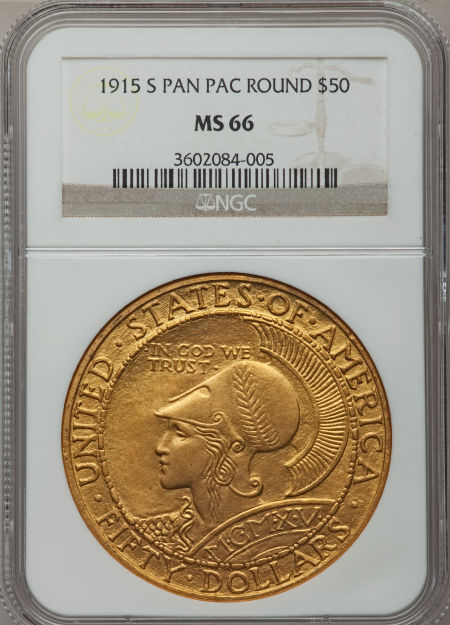 483 distributed


In an attempt to infuse at least some variety into the highlights, how about an 1806 Half Eagle, but finest known to keep it interesting. The 1806 Half Eagle below can be described as Round Top 6, 7x6 Stars, BD-6. Graded PCGS MS-65, it fetched $111,625.00 recently through Heritage. While BD-6 is a common die variety, this gem shares the top graded slot with only two other coins. While PCGS's price guide value is way high relative to this sale at $165,000.00, the Numismedia Retail value is very close to the sale price, at $115,050.00.



Early Half Eagle brings $100K
---

Magazines

We captured some good slabbed Famous Monsters sales this past quarter, thanks to Heritage Auctions. While some really nice later issues just don't seem to recoup slabbing cost (for example a CGC NM+ 9.6 #160 only fetched $20.00), the early issues in high grade are doing pretty well. Issue 7 is an interesting case since there are three variants. The nice CGC VF+ 8.5 copy below is the Tomorrow's Monsters variant, and brought a respectable $1,553.50 at auction recently. A CGC NM 9.4 copy of issue 10, tough in high grade being a 100 page white cover book, also did well bringing $1,314.50.



Nosto notes three variants of this book
---

Thanks, we'll see you all next month.

Visit our NostoNews Archive.