NostoNews, April 1, 2005
by Tommy Jasmin

What's hot and what's not.

The 2005 2nd quarter pricing data is now available. Login and see how the current market is affecting your collection value. Below I highlight an area in each category where demand and values are increasing, and an area in each category where demand and values are dropping.


---

Comics

Hot! Key Silver Age in high grade continues to climb, but now the attention turns to the 2nd tier books that were previously overshadowed by the Spideys and Batmans. For instance, the classic Denny O'Neil/Neal Adams Green Lantern/Green Arrow books. As an example, check out Green Lantern 79. The NM 9.4 book shown below sold in a Heritage auction on February 10, 2005 for a whopping $1,380.00! The 2005-2006 Overstreet guide, just out, puts this book at $90.00 in NM- 9.2, and does not provide a value for NM 9.4. The current Nosto value for this book is $361.00 in NM- 9.2, and $775.00 in NM 9.4. If you can find these books in true NM or better for under a hundred bucks, snag 'em before the rest of the comic world catches on.

Not! Taking a dive so far this year is Bronze Age Humor and Cartoon Character books. I saw some CGC'd Harlem Globetrotter books on Heritage selling for $17.00 and $18.00 - less than the cost to get them professionally graded! Somebody took a loss on those, too bad. The Plop! 13 shown below also went for less than the cost of grading, $23.00, despite being a NM+ 9.6 and having a Wally Wood cover! In the same auction, a NM 9.4 Plop! 10 went for only $16.00. The just-released Overstreet guide has Plop! 10 at $20.00 in NM- 9.2 (and again, does not provide a value for the pivotal NM 9.4 grade), while Nosto puts the current NM 9.4 value at $16.70. How's that for close?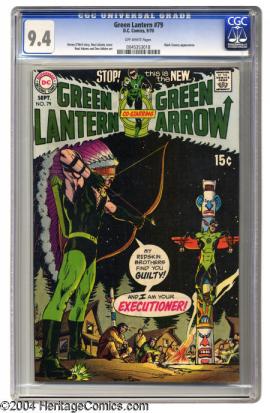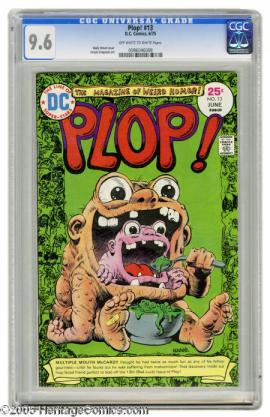 © 2005 Heritage Galleries
---

Coins

Hot! As Nosto Advisor David Albanese has been harping on, ultra-high grade Proofs from the 1800's continue to set records. And it makes sense - these are some truly rare items. There just aren't enough to fill current demand. An example shown below is an 1892 Liberty Head Five-Cent Piece, PF-68, which recently sold via Heritage for a stunning $8,337.50! None of the major pricing services even guess at a value in this grade. I understand the difficulty, as this coin is the finest known. Finest knowns are shattering records and there is little data, so it's difficult to stay in sync with the market. Nosto makes an effort based on all available data to compute a value for every grade, and had this piece at $4,780.00 in PF-68.

Not! Continuing their cooling trend are the Statehood Quarters. Remember, these coins are not scarce by any means. It was only a matter of time before the novelty started to wear off and a correction in values occurred. The piece shown below, another recent Heritage sale, is a PF-69 2000-S Proof Maryland, Silver, Deep Cameo. It sold for $18.00, much less than it was going for a year ago in the same grade. The current Nosto value in PF-69 is $22.90.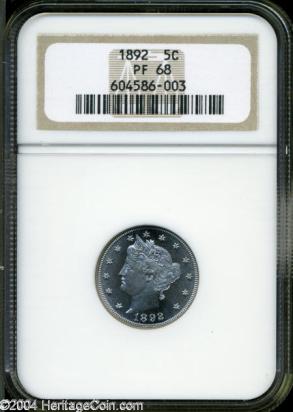 © 2005 Heritage Galleries
---

Prizes

Don't forget, all you have to do is create a single Collection, Wantlist, or Salelist item during the appropriate month to qualify for our sweepstakes. Why not take a look and see what we're giving away (and gave away last month), free as always.


---

Thanks, we'll see you all next month.

Visit our NostoNews Archive.