The Future of the Comic Book
by Mike Baron

I have been to the mountaintop.

I have been to the mountaintop. I have seen the future of the comic. It's two big stone tablets. That's the hardbound version. Future comic books will be printed on seal skin. Marvel will try to save money by printing on cat skin.

The legalization of hemp will make paper comics affordable again. And interesting. The Peoples' Republic of China will challenge DC's and Marvel's copyright and trademark of the term "superhero." Joe Quesada will replace Simon on American Idol. Kurt Busiek and George Perez announce a new maxi-series: The Manhattan White Pages. Seventeen year-old penciling superstar Swipe Philo will take over the X-Men. Bob Wayne will challenge Joe Quesada to a duel. The New York Times will switch to an all-graphic format and hire Ted Rall as editor in chief. The Nobel Committee will confer the Peace Prize on Tom Tomorrow. The Physics prize will go to Mike Nasser, whose blend of Judaism, Christianity and Islam has resulted in clean fusion energy. Art Spiegelman will pick up the Literary, for "In the Shadow of No Towers."

Wolfgang Petersen will direct The Silver Surfer starring Jude Law. Spike Lee will film The Black Panther starring Wesley Snipes. Oliver Stone will film Green Lantern/Green Arrow, starring Ben Affleck and Sean Penn. Terry Zwigoff will film The Fabulous Furry Freak Brothers starring Alec, Stephen, and Dan Baldwin. Quentin Tarantino will film Heroes for Hire starring Samuel L. Jackson and Uma Thurman. McQ will film Conan the Undefeated starring Brad Pitt.

The Church of Scientology will start a comic book line adapting the works of L. Ron Hubbard. Now Comics will go to all reprints and change its name to Then. Kitchen Sink will return with a new, ongoing monthly series by Kitchen himself, "Gotta Draw." Oni will commission John Madden to helm "All Madden Team Comics." Fantagraphics will purchase CrossGen's assets and reboot all titles with Fantagraphics artists. Jim Woodring will write and draw Sojourn. Gary Panter will do Way of the Rat. Roberta Gregory will take over El Cazador. Chuck Dixon is the new writer on Rawhide Kid. Steve Buscemi and Macauley Culkin will star in an American version of Lone Wolf and Cub.

Rob Liefeld will join the Joe Kubert School as an instructor. John Byrne will become DC's editor in chief and will write and draw every book himself. Jim Shooter will surface as head of the European Union. Archie & Jughead will switch to an all-manga format. CBS will switch to an all-manga format. Dark Horse will switch to an all-manga format. What am I saying?! They already have. Jimmy Palmiotti will write and John Romita Jr. will draw the comic version of The Sopranos. The Olsen Twins will write Binge and Purge, a new superhero title, for Vertigo. Bill O'Reilly will out Vertigo as a satanist front.


---
Seriously

There will always be a printed color comic book because collectors demand it. However, the internet has already changed the way we get our information. The Comics Buyer's Guide has gone from weekly to monthly and is trying to compete with Wizard. They are now widely distributed on the newsstand and didn't used to be. Krause is patient and will probably give it at least a year in the new format, and Krause also has excellent newsstand distribution credentials. As a news source, it has been eclipsed by comicon.com, comicbookresources.com, newsarama.com, icv2.com, and countless other sites.

Is anybody making money off web comics? Hard to say. Steven Grant points to moderntales.com, a veritable Sunday Comic Section of bright new faces. Gene Yang's monkey tale may represent the future of web comics: simple, clean animation style. Langfield and Grug's "Charlie Redeye" follows a similar animation-friendly style. The problem starts with Donna Barr's "Desert Peach." Her style is too busy for the screen. The careful line-work gets lost. Makes you want to see the comic on paper. Here's where web comics fail: they can't deliver the art experience of print on paper. Oh yeah, some nerd with teeth like a cowcatcher is going to insist that within a few years computer screen and print quality will rival Quebecor's finest. Ain't gonna happen. Because anything you print out at home is not a collectible. Collectibles are made elsewhere. If everybody had one, they wouldn't be collectible. Image's compilation TPB Flight is a compilation of comics that first appeared on the web.

Mike Manley's actionplanet.com rocks. An old animation hand, Manley understands the importance of simple graphics, bright colors, and music. Associates include Bret Blevins, Jerry Ordway, and other creators. Webcomics.com has lots of advertisers, links to related sites such as toy brokers. If you want to know why web comics are struggling, look at dieselsweeties.com. Who wants to look at that? Keenspot.com is another clearing house for college-level strips. There's some art happening here.

The printed comic is moving upscale. Trade paper backs, which used to represent the highest evolution of the species, are now the starting point. Sandman Book of Dreams is the standard. DC has already realized this.


---
Belladonna 1
Writer: Brian Pulido
Artist: Clint Hilinski
Publisher: Avatar Press, Price: $3.99 US

Avatar's fielding a raft of creator-owned projects. Pulido has Belladonna and Lady Death, Warren Ellis has four new titles. Belladonna 1 is a handsome package with beautiful, moody art. It's straight-forward revenge-in 951 a.d., Norse "filth" invade an Irish castle on Colleen's wedding day, killing everybody but Colleen, who reappears as avenging angel, slicing, dicing, skewering and muttering dire imprecations. Although expertly done, and sure to be a hit with some, Belladonna suffers from unlikelihood. Interiors of peasant homes are large and spotless, as if the Merry Maids have just left.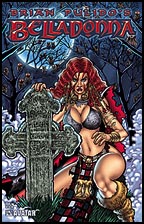 © 2004 Avatar Press



Belladonna, formerly Colleen, dispatches hairy Norsemen with the ease of Jet Li wading through an army of incompetents. She snaps forearms like Kirstie Alley breaking a breadstick. Whence came this skill and strength? Maybe Pulido's saving it for a future issue. Ireland is a cold country. I don't buy Belladonna running around in an ur-bikini. Maybe it happens during an especially warm night. Just once, I'd like to see the protagonist dress appropriately for a cold climate.


---
| | |
| --- | --- |
| Mike Baron is the creator of the award winning comic book Nexus and during his career has written an enormous variety of comics from The Flash to The Punisher. He is currently writing Faro Korbit for AP Comics, just released a Green Lantern novel for Byron Preiss (available on Amazon.com through the link on the right), and is working on several projects destined to change the face of pop culture in his secret skunkworks. | |


Visit our Comic Book News Archive.