Fort Collins Comics Collective
by Mike Baron

The Fort Collins Comics Collective includes writers Pete Brandvold and Mike Baron, and artists Nick Runge, Gabe Eltaeb, Sam Sala, Randy Yeates, and Scott Bieser, who lives in nearby Cheyenne and doesn't know he's a member. When I moved out here I started looking for artists, as I always do. Nick Runge had two paintings in a downtown gallery of undersea creatures: squids and sharks. They just popped. The color, the line reminded me of Frazetta. I sought Nick out. He was working in the kitchen of an institutional facility washing dishes. He'd never thought about drawing comics. He went home from our initial meeting and threw together a comic page based on The Last Samurai. I could tell right away he had the stuff.

Nick and I are about to dive into Obsidian, a heroic fantasy I created with Nick in mind. We have a publisher, a big new publisher, but since they haven't made their announcement I can't tell you the name. I don't even know the name. Look for an announcement in November.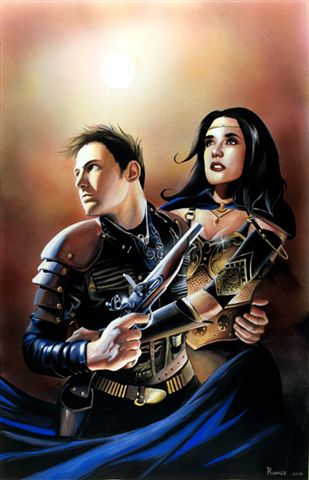 Obsidian cover by Nick Runge


Pete Brandvold sat across from me during my first Poudre Valley Authors' Day. We hit it off and became friends. (Poudre Valley Authors' Day was a humbling experience. I was thrilled to be invited. Then I learned how many authors had been invited. Six hundred.) Pete began work on a Rogue Lawman comic with artist Jeremy Delagarza, but Jeremy took a job - in Milwaukee! - and shipped out. Enter Gabe Eltaeb. Gabe and I have just finished a five issue run of The Hook on Big Head Press. The Hook will appear as a paper book.

Pete began pitching DC. He is now writing a five-issue retelling of Bat Lash, with the approval and input of Sergio Aragones, who created the character. Jordi Bernet is the artist.

The large unnamed comic company is also publishing Lord of the High Country, a sweeping historical novel that takes place in the nineteenth century. Val Mayerik is the artist. Those of you who don't know about Val are about to be stunned. He's one of those rare comic book artists who keep on improving.

Three years ago Sam Sala, Randy Yeates and I began work on a comic strip called Noizy Planet. "The Zebulons of Zub have established a listening post to monitor the noisiest planet in the galaxy." Shopped that sucker coast to coast. Not a nibble. Couple weeks ago Randy calls me up. He has sold the comic to The Chronicle, a new weekly.

Nexus will appear before next year's San Diego Convention. The script I originally wrote, which I posted on my website, is not as good as the script Dude forced me to write. O do not tell him. For he will crow 'til time immemorial. It wasn't that the first script wasn't good. It was just a stand-alone story with no further implications. Dude browbeat me into writing something much bigger. For further information, go over to SteveRude.com and sign up for the newsletter.

This very morning I received a contract from Arcana for Banshees, a five issue horror story about a satanic rock band that returns from the dead. Kevin Caron of Boulder will be the artist. Thus I am forced to conclude that the Fort Collins Comics Collective is off to a roaring start.
---
Mike Baron worked for the Boston Phoenix, Boston After Dark, and the Real Paper. He broke into comics with Nexus, his groundbreaking science fiction title co-created with illustrator Steve Rude. Baron has written Marvel's Punisher, DC's Batman, Deadman, and Flash. Nexus has garnered honors too numerous to mention, including Eisners for both creators. Baron has written Star Wars for Dark Horse, Turok, Dinosaur Hunter and Archer & Armstrong for Valiant, and has three issues of Legends of the Dark Knight in the works.

A prolific creator, Baron is at least partly responsible for The Badger, Ginger Fox, Spyke, Feud, and many other comic book titles. He currently has two new web comics up at Big Head Press. The Architect is a horror story based on the life of Frank Lloyd Wright. The Hook is rock and roll science fiction - think Farenheit 451 only instead of banning books they have banned music.

Baron lives in Colorado with his wife and dogs. He collects rocks.

Volume 3 out now!



Visit our Comic Book News Archive.