Making comics isn't pretty
by Mike Baron
Pre-launch test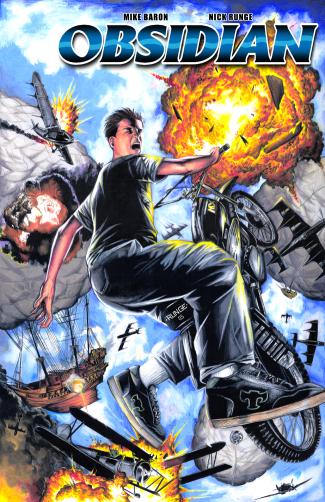 © 2005 Mike Baron


Obsidian. Nick Runge is inching toward seven complete pages, which will be lettered and colored by Gabe Eltaeb. When it's finished we will launch polished proposals at selected targets. The targets are tiny and in constant motion. Back in the day, you could show up at a comic convention, schmooze an editor, and walk away with an assignment. These days you'd be lucky to get within thirty yards of an editor before being thrown to the ground and strip-searched by security. At San Diego you can't even find an editor. Editors are a cowardly and superstitious lot. I know. I was an editor. I am the ipso facto editor on my two Image titles, Detonator (I mean Mike Baron's Detonator) and Night Club. What are those you ask?

Not a dream sequence! Not an imaginary story! Detonator 4 will be in shops this week. And a funny thing happened on the way to the Night Club. As my four faithful readers know, the series I co-created with Mike Norton ran off the rails when Marvel lured Mike away with upfront money. The redoubtable Karim Whalen stepped in to finish issue 2 before other commitments forced him to pull out. I immediately commenced a search for an artist to finish the series. Jim Lee, Frank Miller, Steve Rude, Paul Smith, I asked them all. They laughed at me. They laughed! Then the White Sox won the World Series. Mike Norton has decided to forego sleep and finish Night Club. I sent Mike a case of Red Bull and a Fifth of Jagermeister.

The comic industry today is a smaller version of the film industry. It's traded bohemian scruffiness for three piece suits. The best way to break into comics, as in the film industry, is to make a comic that attracts attention. Being a visual medium, the quality of art is paramount. Nick is twenty years old. Five of his pages appear this week, completing Detonator 4. Nick is perched on the edge of an artistic explosion. You can see it in the cover.

The two pages of continuity below are from The Hook, everything but the script by Gabe Eltaeb. We may have a publisher.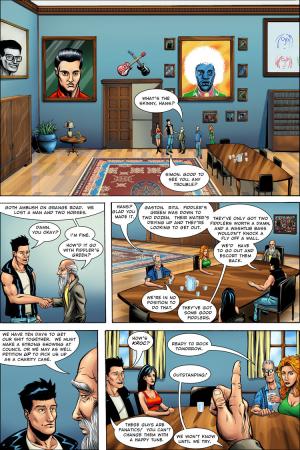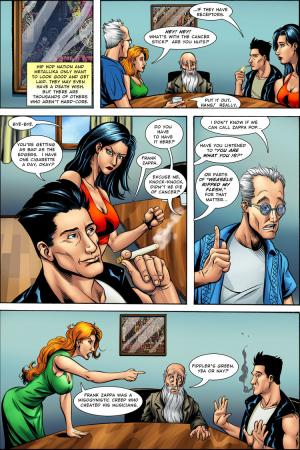 © 2005 Mike Baron
---
Mike Baron worked for the Boston Phoenix, Boston After Dark, and the Real Paper. He broke into comics with Nexus, his groundbreaking science fiction title co-created with illustrator Steve Rude. Baron has written Marvel's Punisher, DC's Batman, Deadman, and Flash. Nexus has garnered honors too numerous to mention, including Eisners for both creators. Baron has written Star Wars for Dark Horse, Turok, Dinosaur Hunter and Archer & Armstrong for Valiant, and has three issues of Legends of the Dark Knight in the works.

A prolific creator, Baron is at least partly responsible for The Badger, Ginger Fox, Spyke, Feud, and many other comic book titles. He is currently writing Detonator and Night Club for Image, and is a regular contributor to International Studio, Argosy, Nostomania.com and Popular Polar Bear.

Baron lives in Colorado with his wife and dogs. He collects rocks.

by Mike!



Visit our Comic Book News Archive.