Frank Miller's venial sin
by Mike Baron

Sin City review

Hysteric wails emanate from the MSM about the tsunami of rapine and dismemberment sweeping through the nation's cineplexes. O'Reilly has been especially vigilant. Sin City is the poster boy for Hollywood run amuck. Nobody complained about Sin City when it was just a graphic novel with a circulation in the tens of thousands. In transferring it to the screen, Frank Miller and Robert Rodriguez have accomplished the most faithful comic book adaptation ever, so faithful as to appear mannered.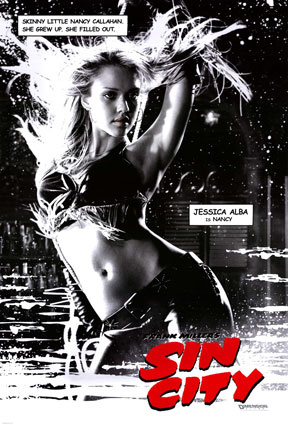 © 2005 Dimension Films



Sin City's cartoonish barbarism is more likely to inspire guffaws of disbelief than criminal acts. The Basketball Diaries has killed more kids than all comic book movies combined, including that apocryphal kid who leaped off a barn imitating Superman. There hasn't been a single violent incident associated with Sin City, unlike any number of gritty urban dramas such as You Got Served! The violence in Black Hawk Down and We Were Soldiers is infinitely more disturbing, because it's real.

Sin City roars along for ninety minutes, succeeding on sheer gasp affect. I loved the clunky, archetypal dialogue. Mickey Rourke is great as the cosmetically-challenged Marv. The final half hour, with Bruce Willis' Hartigan redux, felt forced and eventually the sheer silliness of some of the conceits begin to weigh. For example, the nasty little sex maniac played by Elijah Wood beating the bejabbers out of Mickey Rourke. This worked better in the comic, where suspension of disbelief is easier. In the closing episode, Hartigan could have solved his problem by killing the crooked mayor instead of himself. And Basin City - are there any normal people? Rosario Dawson is great in her extremely limited role as a lethal hooker. The women were less real than the men. "And tiny little Miho, with her swords"? Only in comics, fellas!

It will become a cult classic, especially in France and Japan. President Chirac will award Miller the Legion of Honor, with Mickey Rourke beaming. Rourke appeared on O'Reilly to defend the film with a hair-do appropriate to a miniature poodle. Now that was scary. If Mr. Bill is concerned about violence in media, he should check out Grand Theft Auto.


---

Detonator 3
Writer: Me
Artist: Mel Rubi
Inker: Barbara Kaalberg, colors by Brett Evans
Publisher: Image Comics, Price: $2.95 U.S.

Detonator #3 is out. There was a delay in approvals. Quebecor sent the first issue of Chuck Dixon's and Sergio Cariello's Iron Ghost to my folks' apartment at the Attic Angels Retirement Home. Lacking proofs for Detonator, I proofed Iron Ghost. The Iron Ghost is a Shadow-like figure who stalks the dying embers of the Third Reich, meting out harsh justice. Dixon's done his homework, as usual. This is an exciting film noir treatment of Nazi Germany, with sharp characterizations and a compelling villain.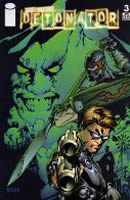 © 2005 Image Comics


Cariello's line work resembles Joe Kubert's, with some Eduardo Barreto. Too bad the whole comic's buried under a flood of sludge. I understand it was the colorists', and possibly the creators' intent to color the book as if it takes place during perpetual twilight in a fog as factories belch out burnt embers, but there's such a thing as making the page too dark. You could go blind reading this in bad light. Nice flip cover by the great Flint Henry.


---
Mike Baron worked for the Boston Phoenix, Boston After Dark, and the Real Paper. He broke into comics with Nexus, his groundbreaking science fiction title co-created with illustrator Steve Rude. Baron has written Marvel's Punisher, DC's Batman, Deadman, and Flash. Nexus has garnered honors too numerous to mention, including Eisners for both creators. Baron has written Star Wars for Dark Horse, Turok, Dinosaur Hunter and Archer & Armstrong for Valiant, and has three issues of Legends of the Dark Knight in the works.

A prolific creator, Baron is at least partly responsible for The Badger, Ginger Fox, Spyke, Feud, and many other comic book titles. He is currently writing Detonator and Night Club (May) for Image, and is a regular contributor to International Studio, Argosy, Nostomania.com and Popular Polar Bear.

Baron lives in Colorado with his wife and dogs. He collects rocks.

by Mike!



Visit our Comic Book News Archive.