What greats inspired the greats?
by Mike Baron

Joseph Clement Coll: A Legacy in Line
Franklin Booth: Painter With a Pen
Publisher: Flesk Publications, Price: $24.95 (Coll), $19.95 US (Booth)

John Fleskes has done all graphic arts enthusiasts a huge favor by publishing these legendary illustrators whose collected work had heretofore not been widely available. Upon seeing these two artists for the first time, comic fans will experience the shock of recognition that jazz fans know from their first encounter with Charlie Parker. They explain so much.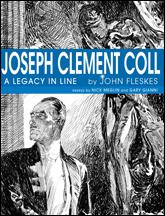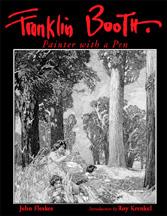 © 2005 Flesk Publications


Franklin Booth is an obvious precursor to Berni Wrightson, Frank Cho, and Roy Krenkel, whose elegant introduction shows he could write as well as he drew. Booth's exquisite line work created a four-dimensional world on paper. You can feel yourself being sucked into those sweeping vertical landscapes for which the heart yearns. He could do a terrific action illustration, as the drawing from War on the Tiger, page 13, proves. But Booth's forte was the creation of achingly romantic landscapes, terraced villages on stormy coves, thatch-roofed huts that beckon with almost atavistic longing.

Coll was Booth's complete opposite, as Gary Gianni points out in his lucid introduction. At first glance Coll's work appears to be a Rorschach blot, but like those maddening puzzle paintings that promise a hidden image of you'll stare at them long enough, Coll's pictures snap into focus with startling clarity. You find yourself spying on moments of high drama and extreme passion, figures jerking, twisting, flying. As Gianni points out, Coll often used negative space to define his characters. "In this manner Coll avoids nailing down the figure and frees it from death by excessive rendering."

Coll is probably most famous for his Fu Manchu illustrations. Wouldn't you love to see this guy illustrate a modern comic? A huge influence on Michael Kaluta and Steranko, not to mention Gianni. Flesk Publications is preparing a huge volume on Steve Rude.


---

Gun Fu: The Lost City 4
Written and inked by Howard Shum
Drawn by Joey Mason
Publisher: Axiom Comics, Price: $3.50 U.S.

Gun Fu is Howard Shum's vision, cover to cover. There are no ads, there is no filler. Howard labors over every page, showering his affection and attention on oddball filmmakers or super models. This issue contains a long interview with fashion photographer Glen Luchford, whose work has appeared in ads by Prada, Victoria's Secret, and Yves St. Laurent. He has done work for Harper's Bazaar, Vogue, and Spin. Howard should submit this article to Vanity Fair. Luchford's responses are fascinating, both technically and as entertainment. Of course there is the de rigueur Mason/Shum rendering of the photographer. Their caricatures are as fresh as Drew Friedman's or Al Hirschfeld's. Mason/Shum would fit right in at Vanity Fair and The New Yorker.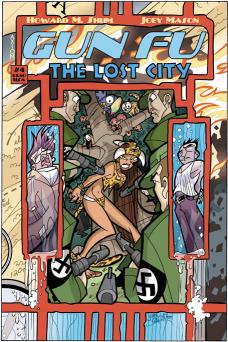 © 2005 Axiom Comics


There's also an interview and photo session with the Victoria Secret's angels, Tyra Banks, Gisele Bundchen, Heidi Klum, Allesandra Ambrosio (I'm questioning the veracity of her surname,) and Adriana Lima. Howard appears to have learned a great deal from the Luchford interview. His photographs here are heavenly, enough to keep teen-age boys awake well past puberty. It's all very tasteful, nothing like the Sports Illustrated Swimsuit issue.

In the front part of the book, Chinese detective Cheng Bo Sen concludes his Indiana Jones-like adventure with Nazis in Brazil. Visually this is the freshest thing since Pixar. Mason owes more to Von Dutch than Neal Adams. The pages explode with bold images and brilliant coloring. The story's a bouillabaisse of kung fu, homage to cheesy jungle films and Roadrunner cartoons. Howard has toned down Cheng Bo Sen's anachronistic hip-hop, but it's still jarring, like having Gilbert Gottfried do voice-over for Bruce Lee. Which is too bad, because Howard gets some real emotion going, in Cheng Bo Sen's relationship with Adrima, the Jaguar Girl. Even frumpy archaeologist Eleanor Dumple gets some dignity. Visit Howard's website.
---
| | |
| --- | --- |
| Mike Baron is the creator of the award winning comic book Nexus and during his career has written an enormous variety of comics from The Flash to The Punisher. He is currently writing Faro Korbit for AP Comics, just released a Green Lantern novel for Byron Preiss (available on Amazon.com through the link on the right), and is working on several projects destined to change the face of pop culture in his secret skunkworks. | |

Visit our Comic Book News Archive.