Spider sense for Spider-Man 2
thoughts and premonitions, by Tommy Jasmin

By the time you read this, Spider-Man 2 will be in theatres, and there's a good chance you'll have seen it. But since we have to create the July news before July, I decided to share my thoughts on the movie before seeing it, and before reading any reviews (reviews for advanced screenings were out at the time I wrote this, but I prefer not to read any until after I've seen it).

The Bad

I have to admit, for a long time I had a really bad feeling about Spider-Man 2. Sequels almost always suck. I suppose there are many plausible reasons for this, but by now those reasons should be known, understood, and in theory accounted for during production.

One factor - success breeds contempt. For many experiences, there's nothing like the first time, and for actors making movies I suppose this often holds true. You could see this becoming an issue early on with Tobey Maguire.

I should clarify that for the first go-around, there were two camps, those who thought he was a brilliant choice to play Peter Parker, and those who thought he was a lousy choice. I was in the first camp. But since then I've grown to dislike his attitude.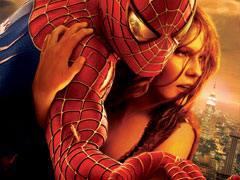 © 2004 Marvel Entertainment


Maguire signed on to make three Spider-Man movies. After the enormous success of the first movie, he decided the measly $8 million he would get paid for Spider-Man 2 wasn't enough. This is all too common among professional athletes, and typifies American greed. I don't get it - when you look up the word "contract" in the dictionary, is the definition "a meaningless piece of paper"? Due to his most recent film, Seabiscuit, aggravating recurrent back problems, and lining his pockets with a fat paycheck, Maguire decided he needed more money for less work on Spider-Man 2.

What almost happened next would have really pleased me. Columbia had director Sam Raimi fire Maguire. And they had in my opinion a perfect replacement - Jake Gyllenhaal. Who? If you don't know who Gyllenhaal is, I have two words: Donnie Darko. Donnie Darko was a real sleeper, and to me that's a real shame because it was my favorite movie of 2001, had a cast including Drew Barrymore, Noah Wyle, and Patrick Swayze, and amazingly a total budget of half Maguire's original $8 million salary for Spider-Man 2. I admit, on first viewing I couldn't decide if Donnie Darko was ingenious and I just didn't quite get it, or if there was nothing to get. I watched a second time with director commentary on, and decided it was ingenious.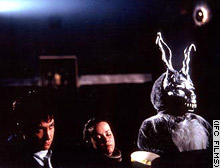 Jake Gyllenhaal, Jena Malone and Frank in Donnie Darko


Why would Gyllenhaal have worked so well? First, he looks quite a bit like Maguire. More importantly, he is a relatively unknown up-and-coming actor with a similar acting style but with the bonus of having a soulful cool about him while capable of being slightly geeky. Another ironic twist in the story - Gyllenhaal is currently dating Kirsten Dunst, who was involved with Maguire during filming of the first Spider-Man.

Once word was out about this, Maguire's back starting feeling a lot better, and Columbia caved and coughed up more money. Too bad for Gyllenhaal, but there is some poetic justice. Donnie Darko has since become a cult classic on DVD. It earned a paltry $500 thousand at the box office, but has since earned over $10 million in DVD sales and rentals! The best news? It's going to be re-released this summer, with more footage and music. Your assignment: go see it.

Another reason I had a bad feeling about Spider-Man 2 was the villain. Same problem I had with Spider-Man 1 - you need something believable. They pulled it off in Spider-Man 1, but barely. Some of the toughest scenes to swallow were those with the Green Goblin's over-the-top costume. Sure, you want to be true to the myth, but really, there is an arsenal of classic Spidey villains to choose from. Good thing they got an actor of Willem DaFoe's calibre to help pull it off.

I wasn't happy about Doc Ock as the choice for Spider-Man 2. Again, I just think other villains would have been more believeable. Like Kingpin for example - just a big, fat, tough mob boss. That's real!

The Good

Recently though, I found myself inexplicably changing my tune. Maybe it's partly wishful thinking, just hoping as the date draws near that this sequel defy the odds and prove better than the first. But again, this hope is rooted in some reality for me.

At the core - and I said this with the first movie, choosing Sam Raimi as director was a fantastic move on the studio's part. I've always been a huge Raimi fan. I'm an old sci-fi and horror guy, going all the way back to talking my parents into letting me and my sibling-age nephews stay up to watch Horror Incorporated late at night, which ran Universal classics. The Evil Dead series sold me on Raimi's talent, and I knew this dog's day would come.

More recently, I learned something that cemented my hopes. Raimi's choice for screenwriter. I had no idea it was Michael Chabon. Hopefully, no "who?" this time. Pulitzer Prize winning author of The Amazing Adventures of Kavalier and Clay, a fantastic novel centered around the dawn of the Golden Age of comics. No true comics fan should pass Go without reading this book. Now I'm getting excited - this could be a great movie after all!

Was I right? Right now, I wonder. By the time you read this, we'll all know...


---
Tommy Jasmin is a Nostomania.com founder.

Visit our Comic Book News Archive.